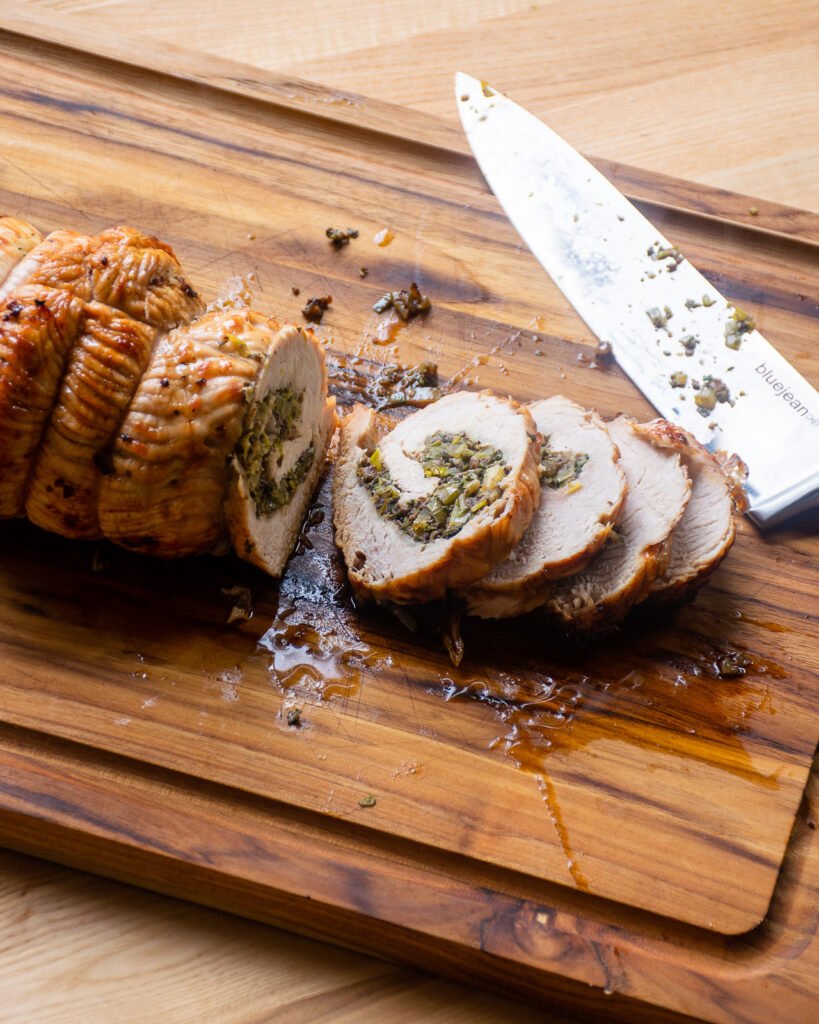 What is Turkey Roulade?
A roulade is simply a dish that is cooked or served as a roll. Sometimes it is a sweet dish, like a cake rolled around a mousse filling, and sometimes it is a savory dish where a flat piece of meat or fish is rolled around a filling. This turkey roulade is made with a skinless, boneless turkey breast which gets double-butterflied and rolled around a mixture of leeks, mushrooms and marsala before being roasted and eventually sliced. It's a fantastic option for Thanksgiving, but honestly it shouldn't be reserved for only one day a year.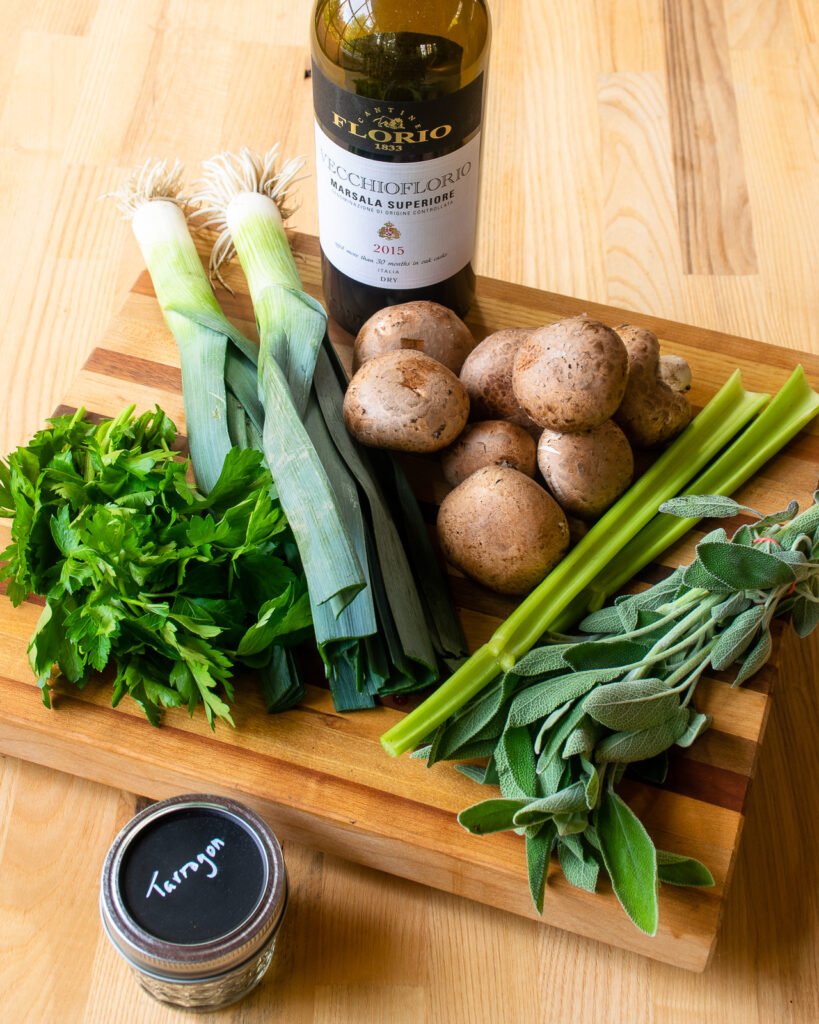 Leek and Mushroom Filling
This filling is super tasty, which is exactly what we want to complement turkey, which for the most part is not the most vibrant exciting flavor in the food world. The combination of mushrooms and marsala wine is reminiscent of chicken marsala, while the addition of sage and parsley give it a traditional turkey flavor. The dried tarragon that is thrown in at the beginning gives the filling a different vibe – an unexpected something you can't necessarily nail down. I love leeks and tarragon together and mushrooms and marsala just go together like, well… mushrooms and marsala. All these flavors make this filling perfect to liven up turkey breast.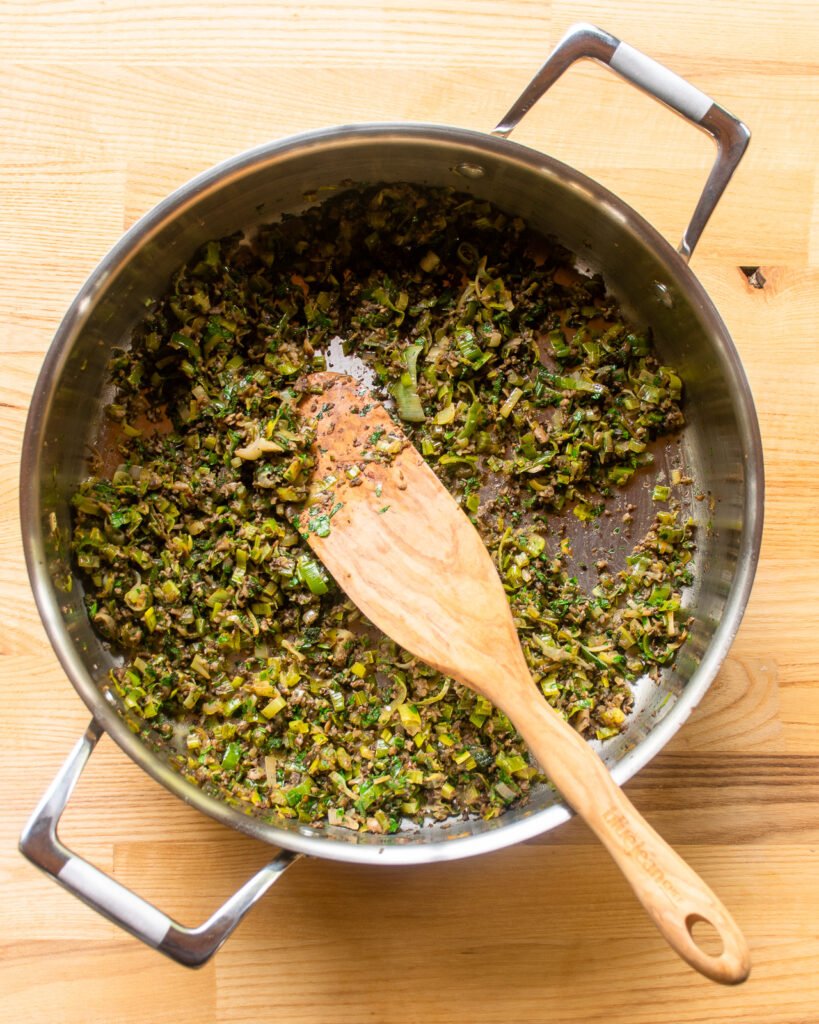 Filling, not Stuffing
Make no mistake, the mixture that is inside the rolled turkey is not stuffing or dressing or anything remotely similar to what you might expect on a Thanksgiving table. If you are serving this turkey roulade for Thanksgiving and want all the traditional side dishes, you will want to make your stuffing separately. This filling is just that – a super flavorful mixture of herbs and vegetables that adds a ton of flavor to the inside of the turkey roll. A filling.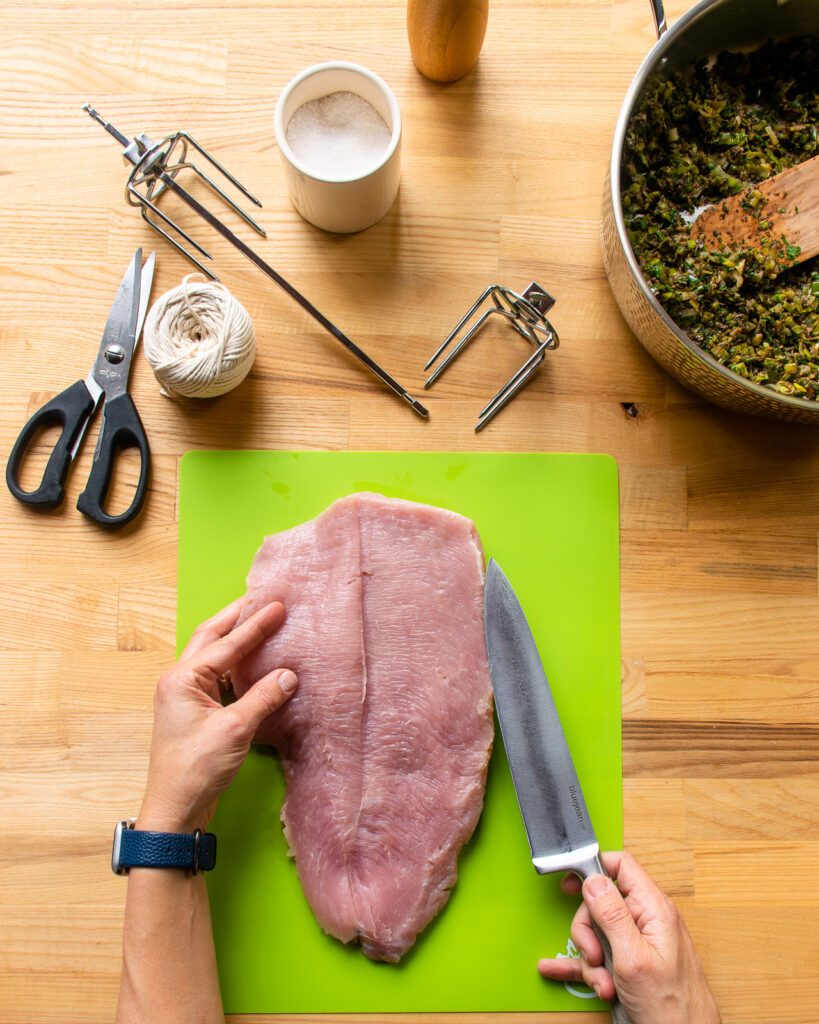 How to Double Butterfly a Turkey Breast
The tricky part to this recipe involves preparing the turkey breast and then tying it up. The first thing you need to do is double-butterfly the turkey breast. Butterflying the breast means to cut into the breast, but not all the way through so that you can open it like a book. Double-butterflying means you do this twice so that you can open the turkey like an accordion, making an even bigger flat piece of turkey. I give you instructions in the recipe for how to do this, but I also have a separate article on how to do this with step-by-step photographs here. Don't abandon this recipe because of this step – it's really not that hard and it is very forgiving. You can make a mistake and all is not lost! If there is a hole in the turkey, you simply roll it up around the hole.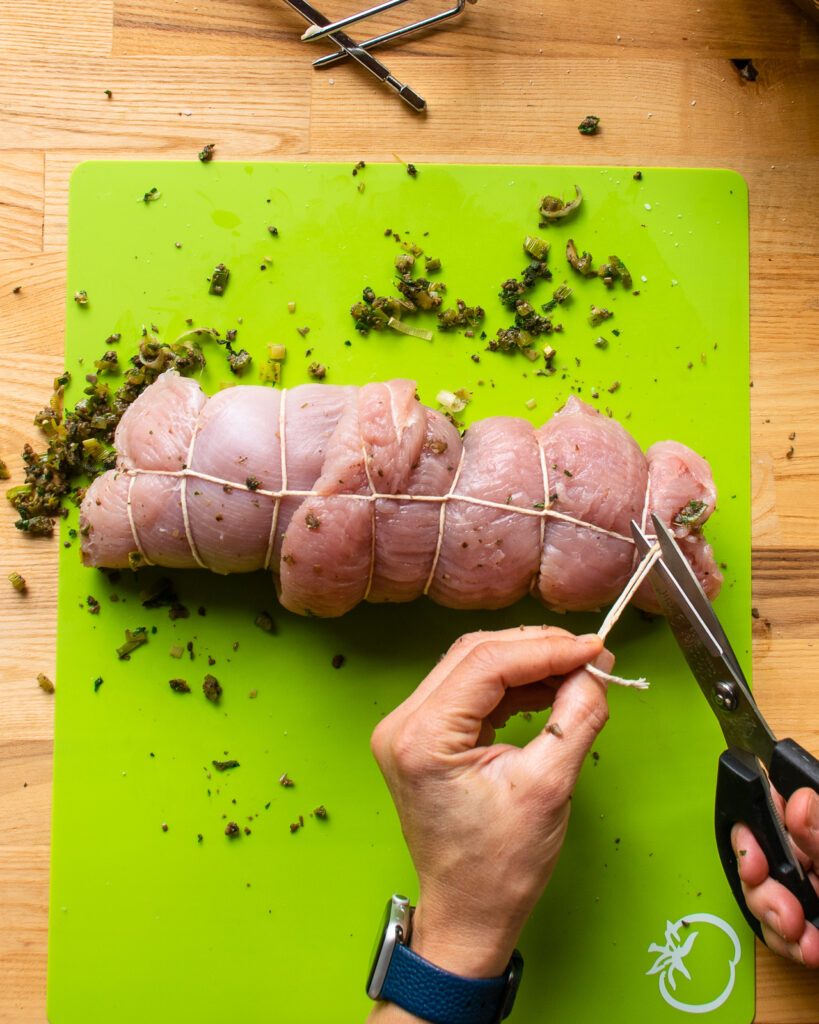 How to Tie Turkey Roulade
Once you've butterflied the turkey, added the filling and rolled the turkey breast up, the next step is tying it. There are many ways to do this. You could simply tie individual pieces of string around the turkey breast at regular intervals, or if you'd like to learn how to tie the roulade with one piece of twine, check out my article on how to do just that here.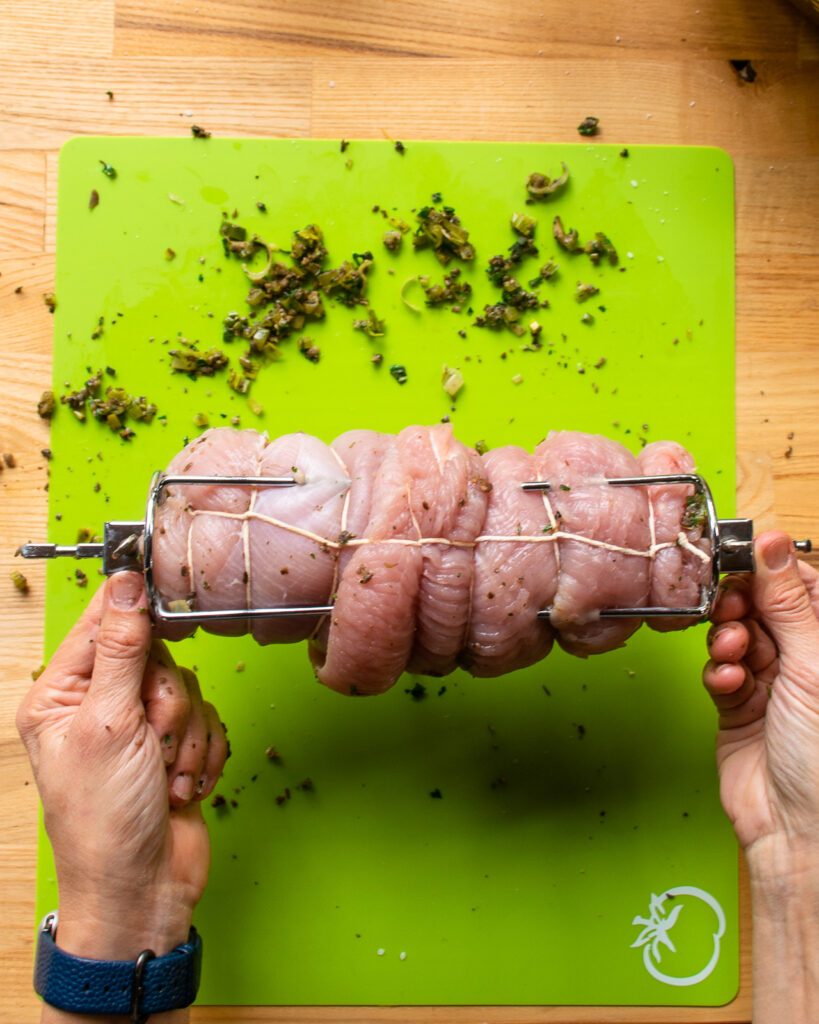 Use Your Rotisserie
If you have a rotisserie at your disposal – use it! Rotisserie cooking is a great way to roast this turkey roulade. The constant rotation of the meat helps move the juices around the turkey, keeping it moist all the way through and evenly browned on the outside.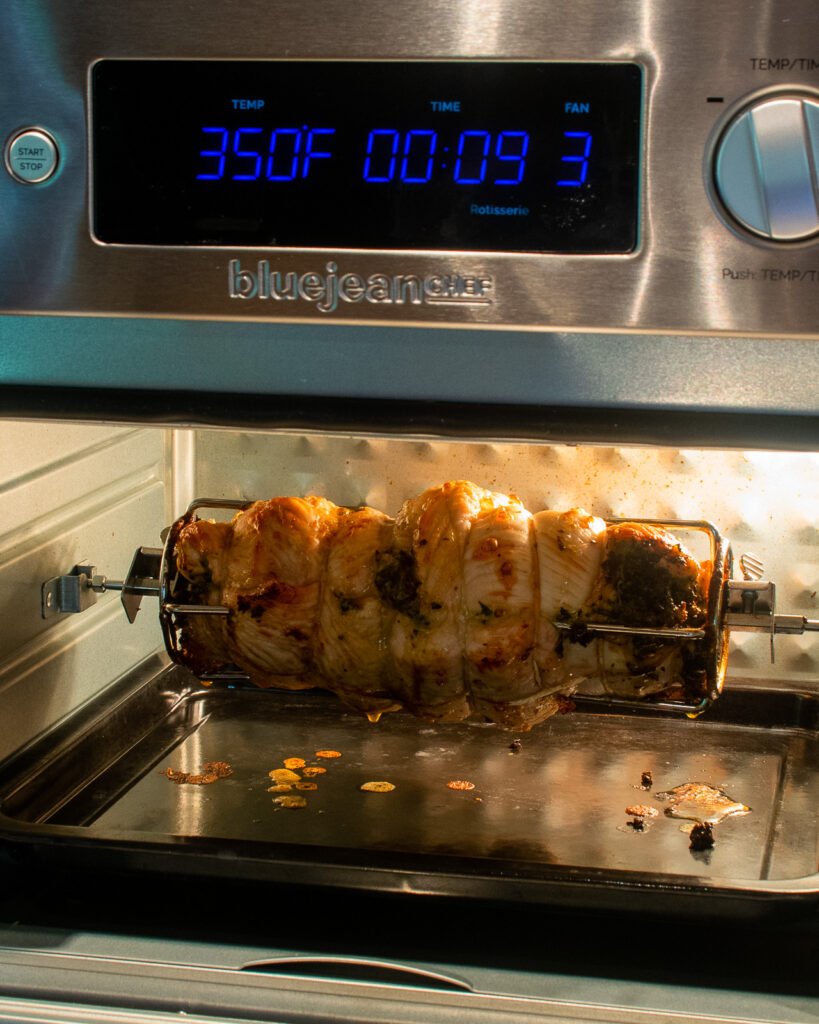 How Long to Air-Fry Turkey Roulade
If you don't have a rotisserie, but you do have an air-fryer – use it! Air-frying gets foods browner and crispier on the outside while keeping them moist on the inside because it cooks faster than a regular oven. A 2 to 2.5 pound turkey breast should take between 60 to 75 minutes at 350ºF in your air fryer, rotating the turkey every 20 minutes.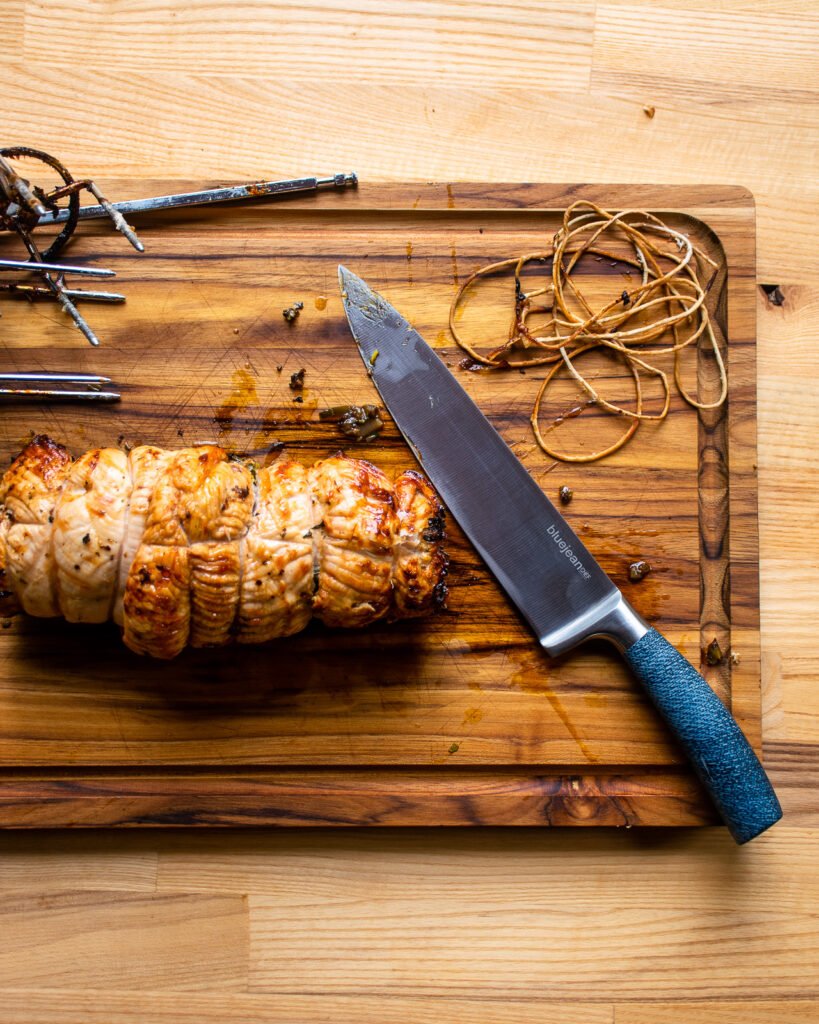 How Long to Oven Roast Turkey Roulade
If you don't have an air fryer, you can roast this roulade in the oven. Place the turkey on a rack in a roasting pan or over a sheet pan. Roast at 375˚F for 75 minutes or until an instant read thermometer registers 160˚F at the thickest part.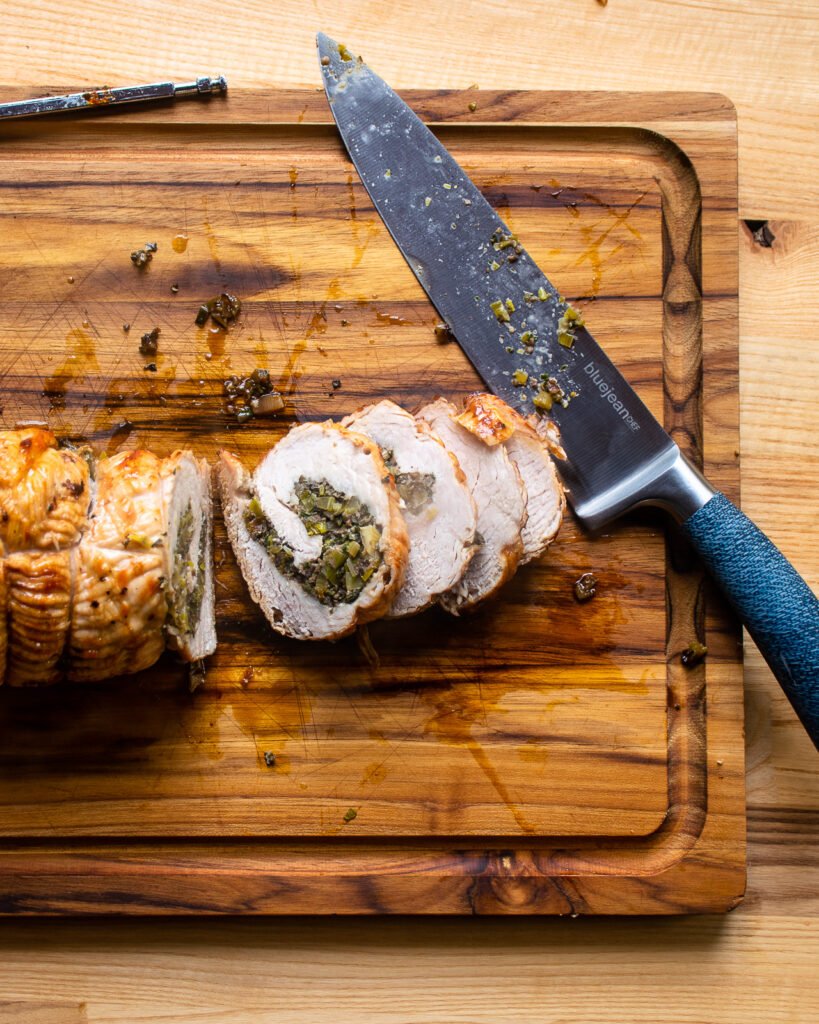 How to Slice Turkey Roulade
Here's where you become very happy that you made a turkey roulade instead of a roast turkey. Slicing the roulade changes it from looking like a lump of meat into something fancy, and it really couldn't be easier. There are no bones to work around, no skin to tear, just simple easy slices that look beautiful shingled on a plate.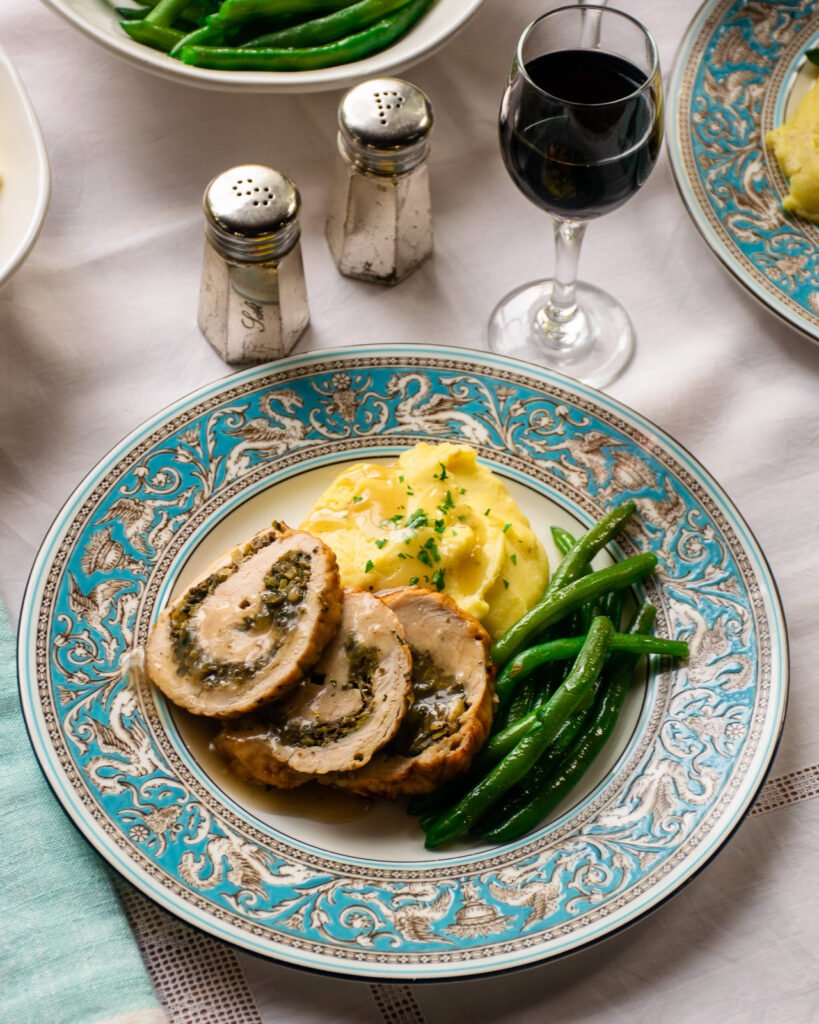 What To Serve with Turkey Roulade
If you're making this turkey roulade for Thanksgiving, you probably already have side dishes in mind, like Balsamic Glazed Carrots, or Green Beans with Pearl Onions and Bacon, or Mashed Potatoes and Slow Cooker Thanksgiving Stuffing (a personal favorite). If it's just a regular dinner or dinner party, you really can serve turkey roulade with anything – some basmati rice and any green vegetable like asparagus or Brussels sprouts (depending on the time of year). It's versatile yet impressive, but mostly just delicious.