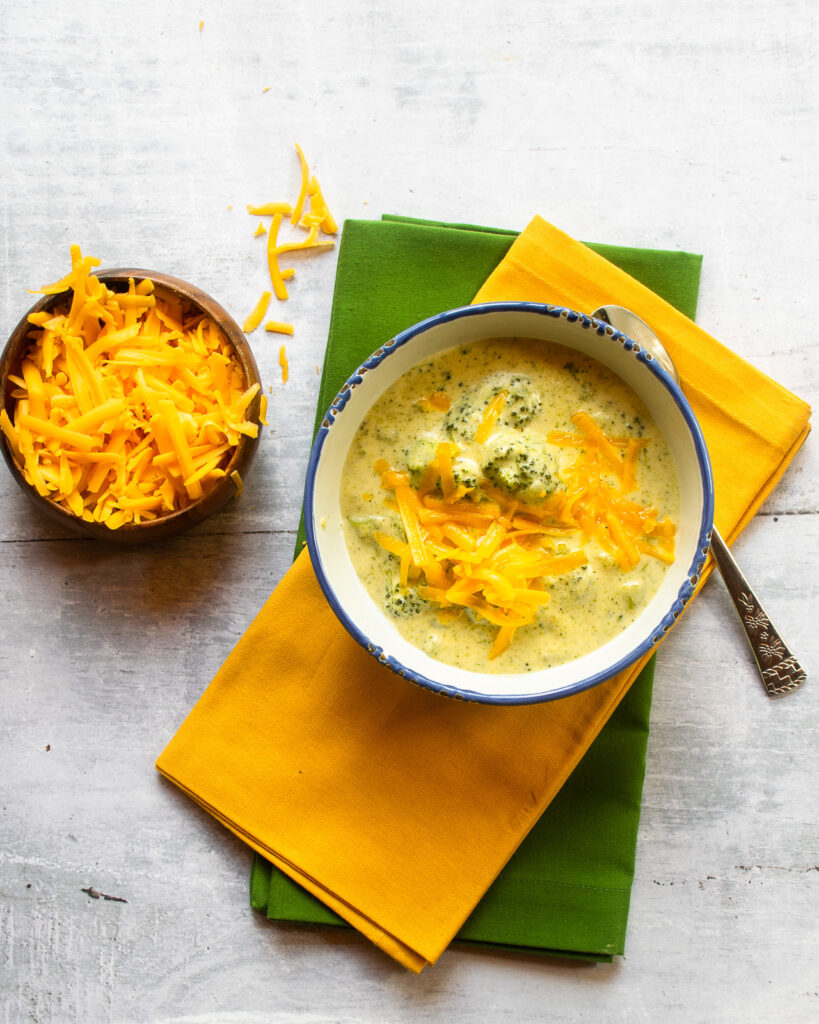 Soup Good for Year Round
There are some soups I can't imagine eating any other time than in the middle of winter – like a Beef and Barley Soup or a French Onion Soup. but Broccoli Cheddar soup is not like that. Although broccoli is really in season in the winter (from October to April), most of us enjoy broccoli all year round and can find it in stores easily. This delicious, creamy and cheesy broccoli soup is decadent, but I'm not restricting it to winter. I wouldn't choose it for the summer months, but when fall starts to arrive, a bowl of this soup fits the bill.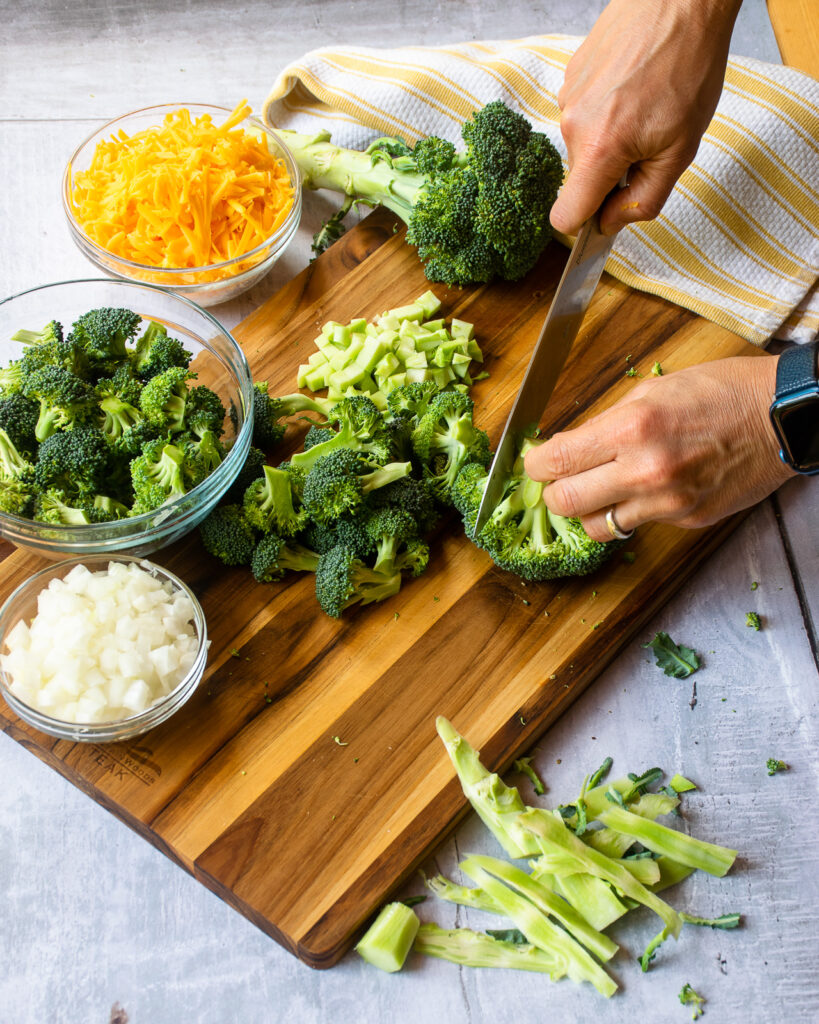 How to Make Broccoli Cheddar Soup
When you're making broccoli Cheddar soup, you start by sautéing onion with the broccoli stems, diced into small pieces. You then make the thickened base of the soup with flour, stock and half-and-half. It's like making a cheese sauce, but not adding the cheese just yet. Add and simmer the broccoli florets in the soup base until tender. The cheese only gets added to the soup at the very end, allowing it to melt into the soup smoothly without seizing or becoming gluey.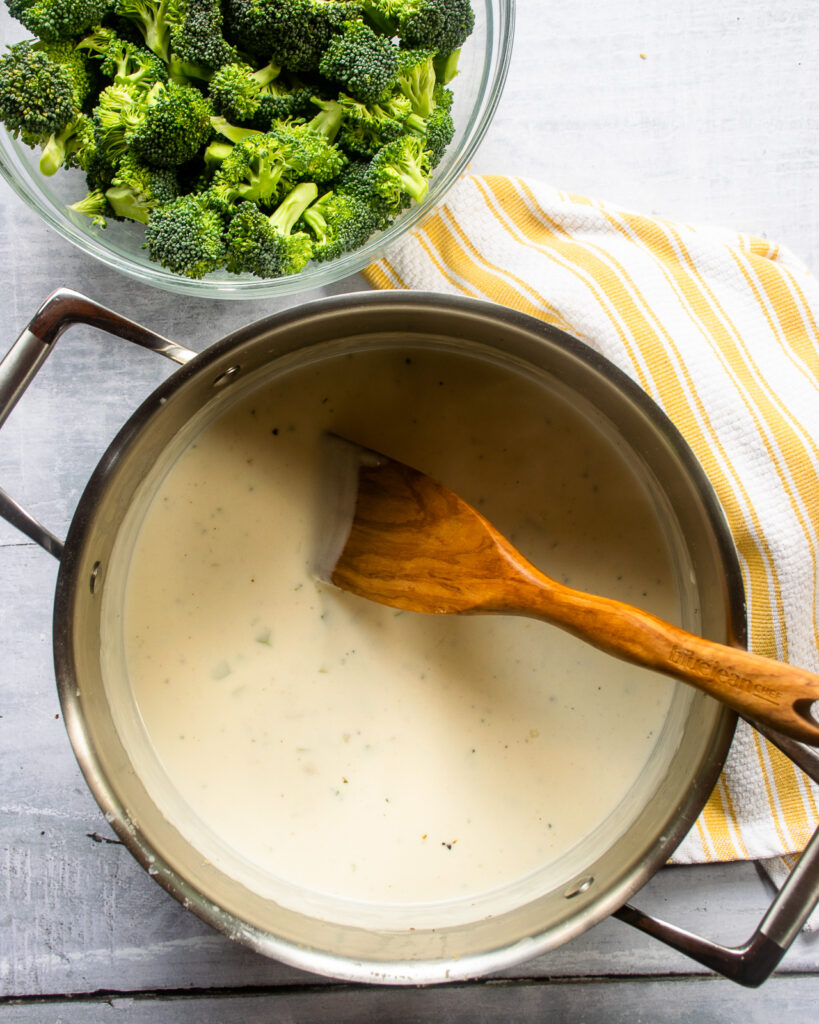 How to Thicken Broccoli Cheddar Soup
This broccoli Cheddar soup is primarily thickened with flour. Cooking the flour with the sautéing onions and broccoli stems makes a roux, which then thickens the stock once it has been added. Bringing the liquid to a simmer is a critical step here, because the starch in the flour will only do its job of thickening at a temperature just below the boiling point. Adding half-and-half to the soup base also helps to thicken the soup with a creamy component. You could add whole milk if you prefer, but I'd recommend just adding less half-and-half instead if you're trying to add less fat.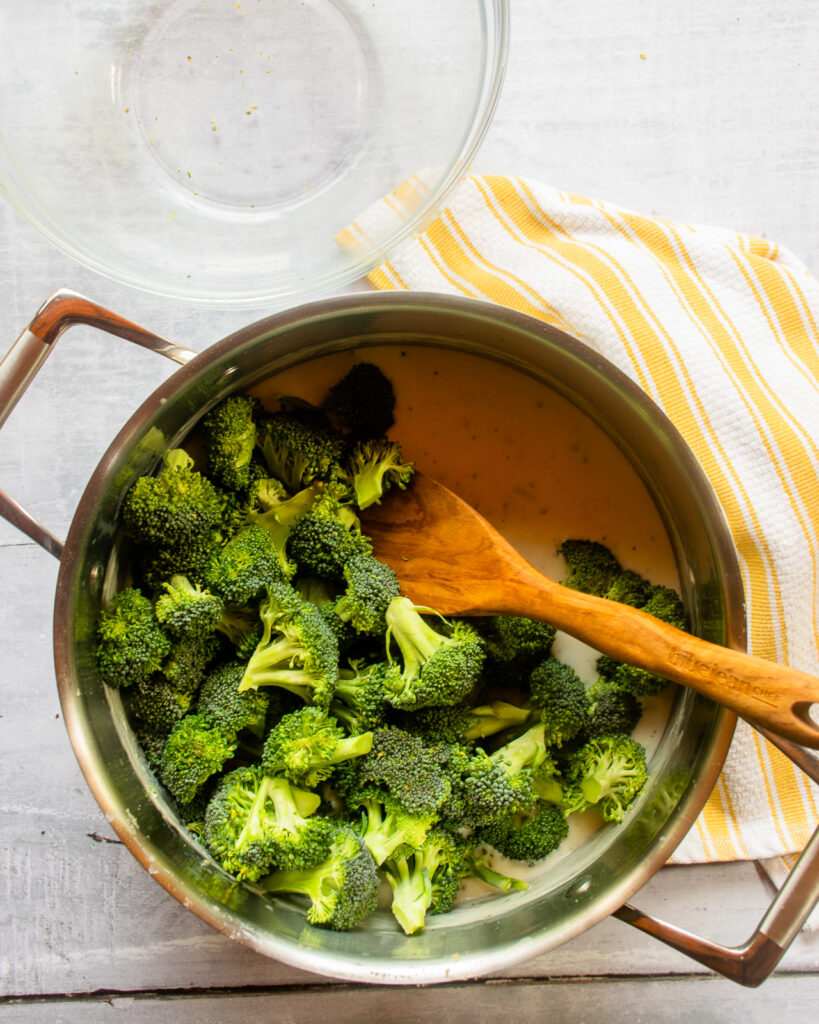 Florets and Stems
I love that this recipe uses both broccoli florets and the stems. The stems have so much flavor and it's a crying shame to ever discard them (Hazel and Loulou whole-heartedly agree!). Dicing the stems into small pieces and sautéing them with the onions at the beginning gives your soup a nice broccoli-flavor head start. Adding the florets to the soup base and letting them cook in the soup base adds more broccoli flavor as well as gives the soup texture and visual appeal.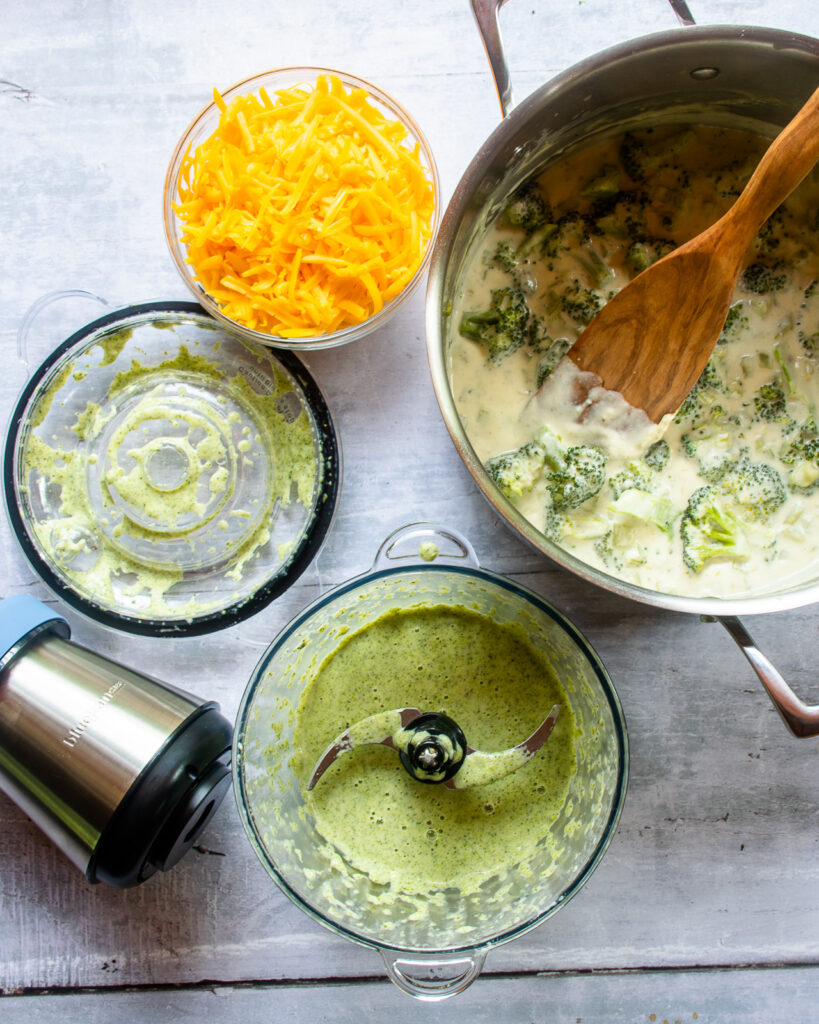 Puréeing Broccoli Soup
Puréeing a portion of the soup is another way to thicken this broccoli Cheddar soup. It also is a nice way to increase the green color of the soup overall, rather than having a cream colored soup with green florets in it. It takes just a moment, but does make a difference.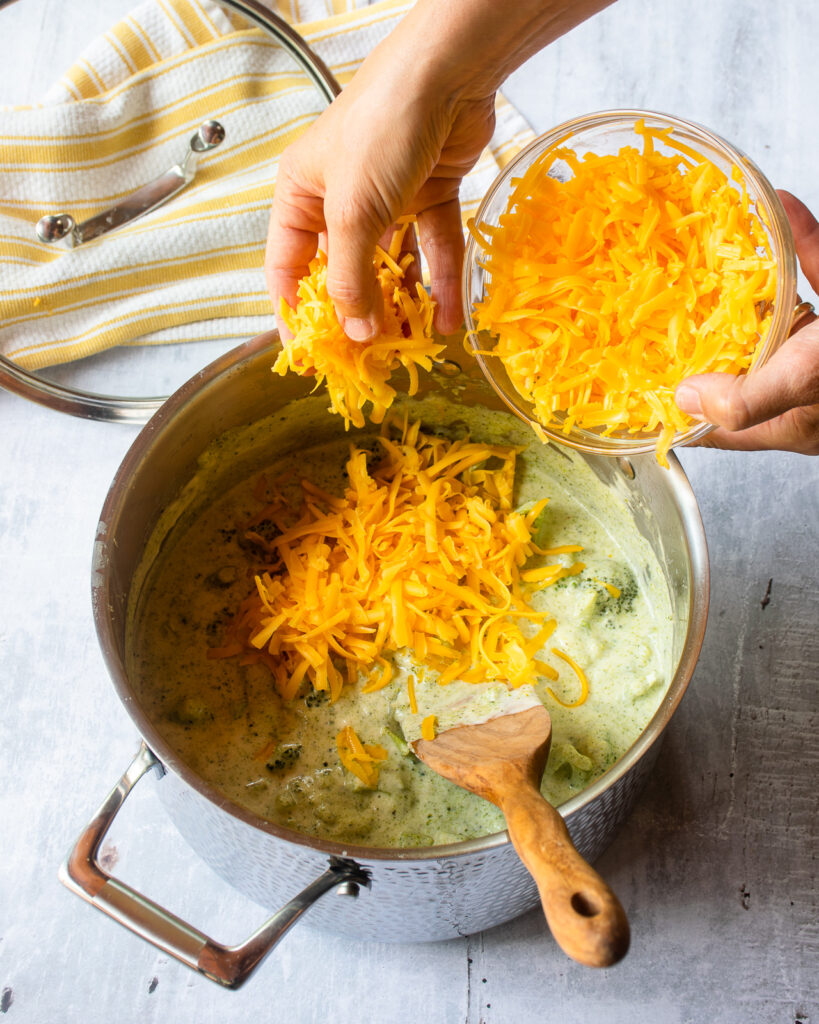 Cheese for Broccoli Cheddar Soup
Cheese has a tendency to seize when it gets too hot – it gets gluey and stringy. So, make sure you add the soup at the very end of cooking, once the pot has been removed from the heat. I like to use a sharp Cheddar for this recipe, so I get more bang for my buck in the flavor department. Plus, I just like sharp Cheddar cheese! If you're not a fan of strong Cheddar flavor, you can use a medium or mild Cheddar if you prefer (but I do wonder why you're making this soup if you don't like Cheddar).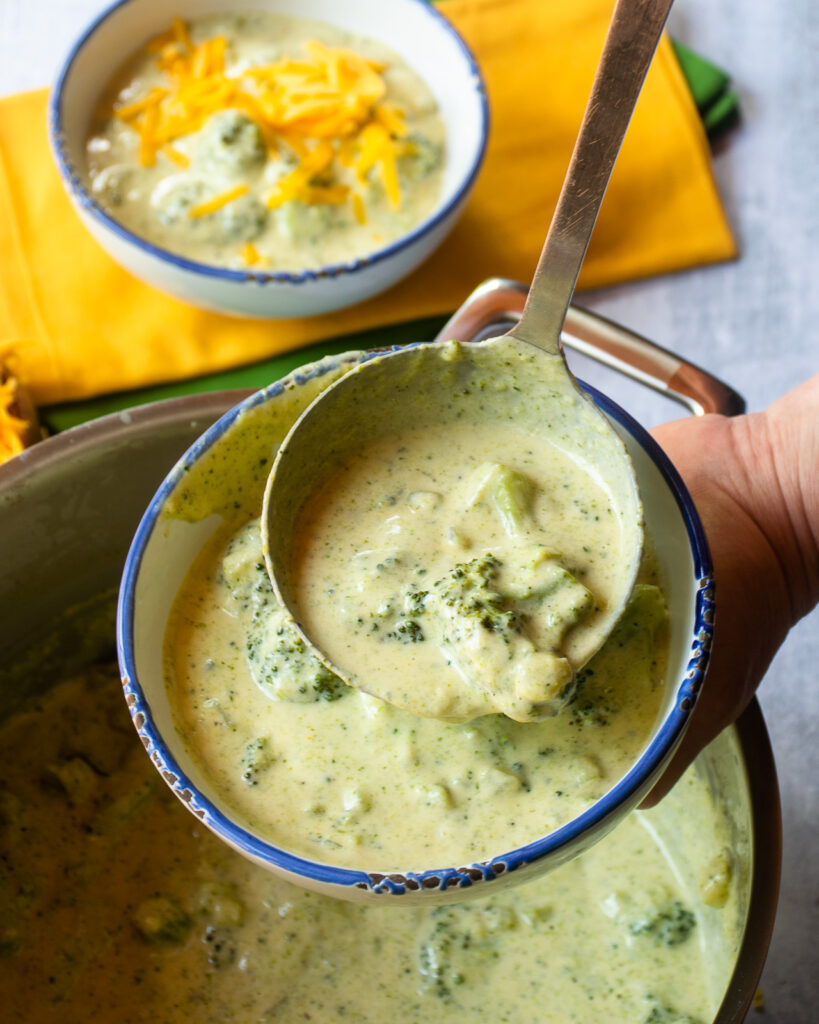 How to Serve Broccoli Cheddar Soup
Ladle the broccoli Cheddar soup into bowls and serve with a nice crusty baguette to sop up any leftovers or with little croutons on top if you like. If you're an over-achiever, why not serve it with some roasted cherry tomato focaccia on the side for a complete, delicious and beautiful meal. (Wow. I'm already impressed that you're thinking about it!)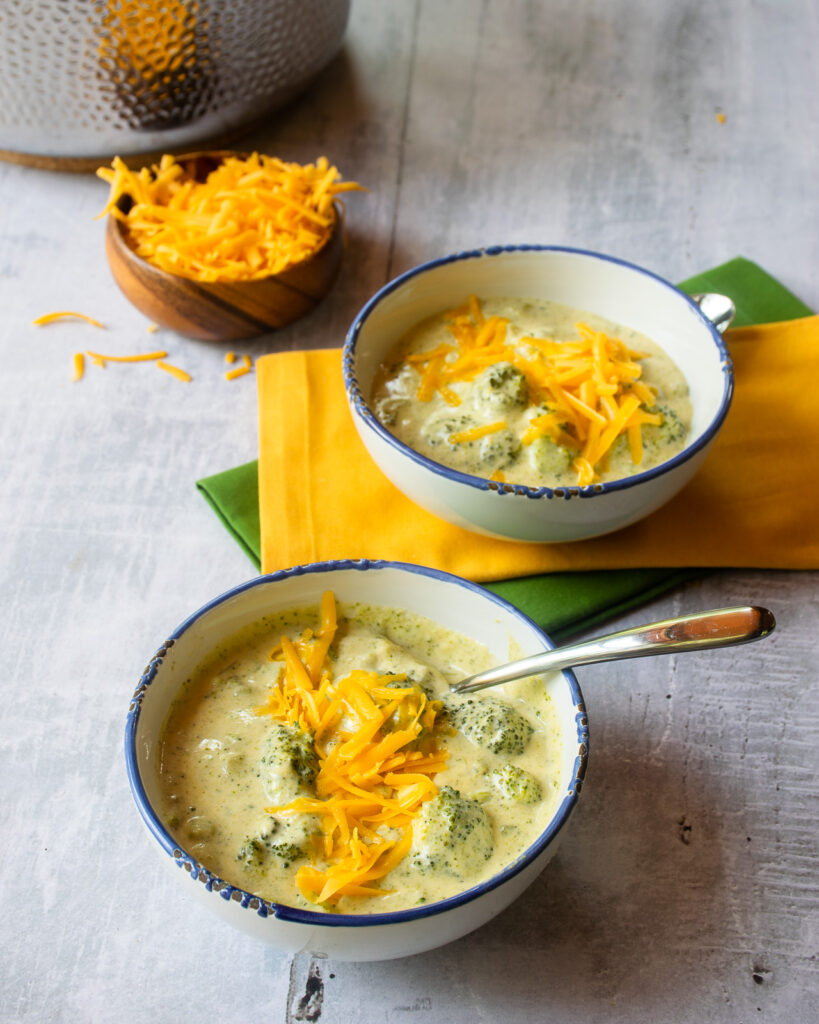 Storing and Freezing Broccoli Cheddar Soup
Should you have leftover soup, it freezes well and can last in your freezer for 3 months. Ladle it into containers with as little surface area and air as possible and freeze. Re-heat the soup gently on the stovetop when you're ready to eat. What a treat to have a bowl of this ready to go any time.