It's amazing how easy it is to make a beautiful roast turkey breast in your air fryer. Honestly – I'm amazed every time. You'd think that it would get too brown or burn on top, being so close to the element, but it doesn't. Instead, it turns a gorgeous brown and only needs to be flipped over a couple of times – ending with the turkey skin side up is key for crispy skin.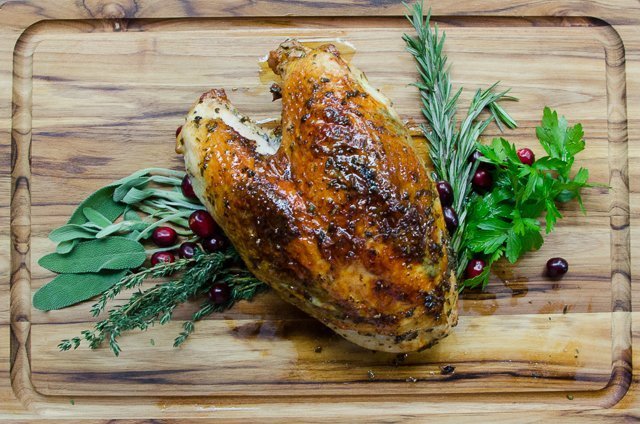 You can really use any combination of herbs that you like. I use parsley, sage, rosemary and thyme because I'm a big Simon and Garfunkel fan and love singing. (true story) If you wanted to put lemon zest and oregano in the butter instead, go for it! Or perhaps orange and tarragon… You can really put any combination together that you like. Just remember to use unsalted butter and add salt so you're in control of the seasoning.
Once the turkey is roasting, the butter will obviously melt, but the nice thing about the air fryer is that the butter will collect along with the turkey juices in the drawer below. You can scoop that beautiful liquid up with a bulb baster and baste your turkey each time you flip it. Plus, at the end of roasting, you can put those juices into a fat separator, let the fat rise to the surface and then pour the delicious juice from below into your gravy.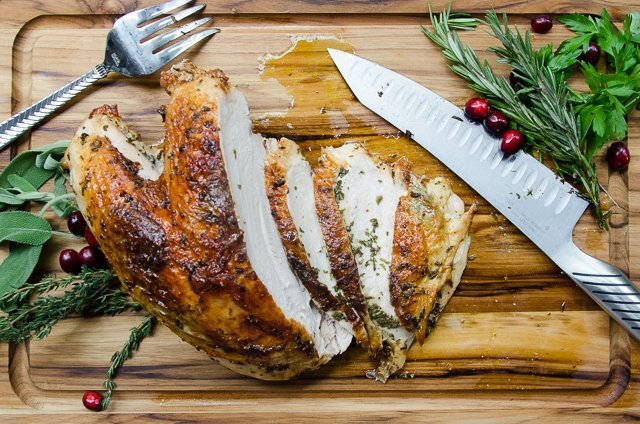 The air fryer really can make your Thanksgiving meal easier if you just let it. You could use it to cook an additional turkey breast if you're having a lot of company, or if you're only feeding a small crowd cooking the turkey in the air fryer leaves your oven available to do all the side dishes. The air fryer is an honest-to-god life saver. (You should say "thank you".)