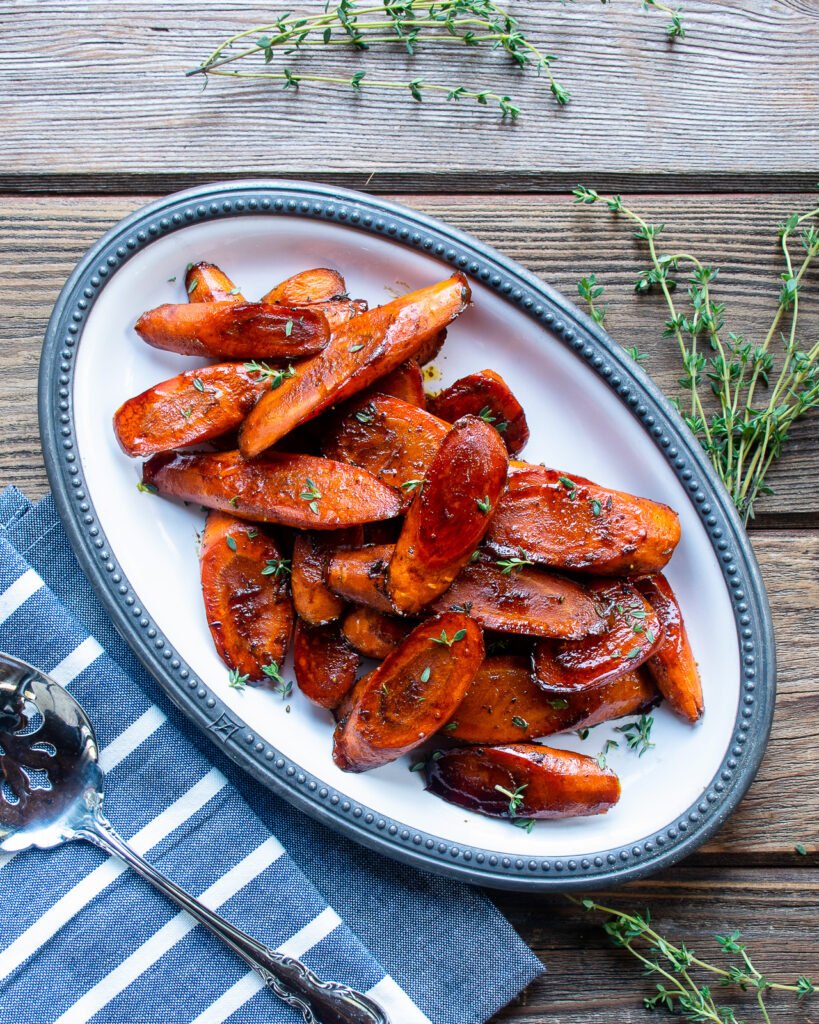 The Overlooked Carrot
The poor carrot. The bright orange root vegetable that we always have on hand in our refrigerators is usually relegated to a crudités platter or being tossed into the start of a recipe as one component of mirepoix (onions, carrots and celery). The carrot rarely is given the opportunity to shine on its own. This recipe for balsamic glazed roasted carrots, however, puts the carrot front and center, points a spotlight on this sweet colorful vegetable and really lets it stand alone at center stage. Isn't it time we gave carrots its due?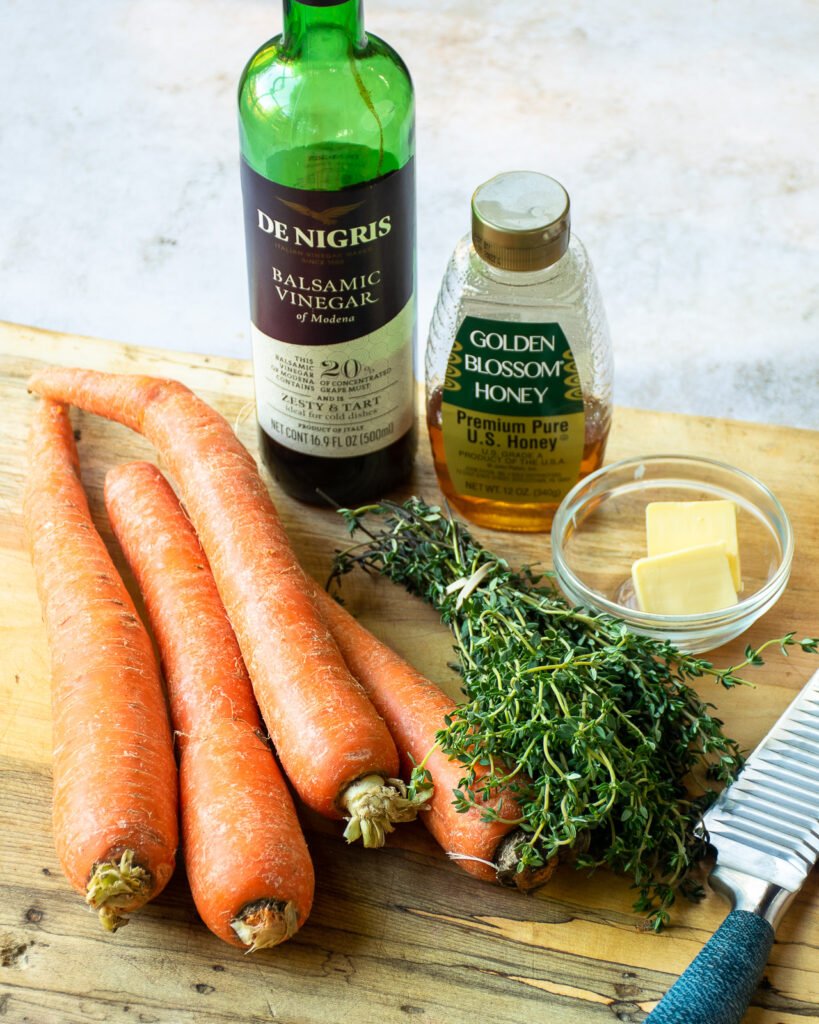 5 Simple Ingredient Side Dish
I love a recipe with as few ingredients as possible and this side dish has only 5 ingredients. All the ingredients are common and easy to find – another plus – and they all play a distinct role in the recipe. The balsamic vinegar adds flavor and acid, the honey gives sweetness, the butter rounds out and counteracts the acid, the thyme gives flavor and depth and then there's the star of the show – the carrots. Remember, we're letting the carrots shine so the fewer ingredients the better.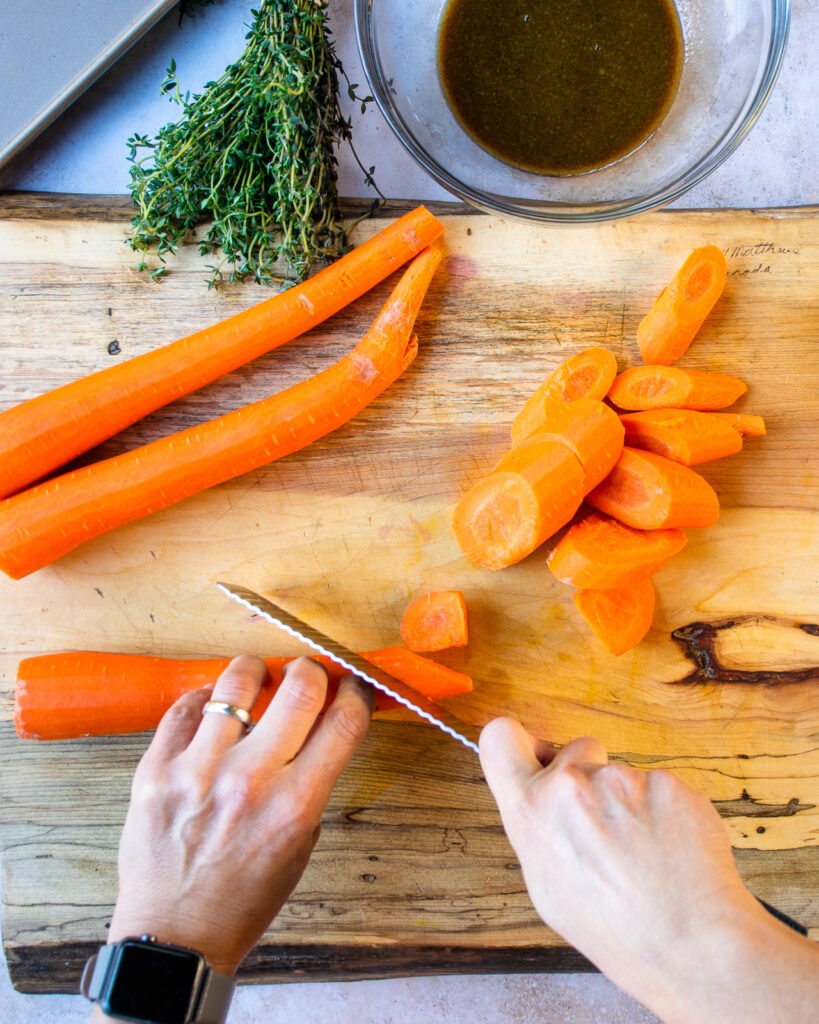 Cut Carrots on the Bias
You may have seen the words "cut on the bias" in many recipes. It simply means to cut at a diagonal rather than straight across. Cutting on the bias is especially important for this recipe, because the cut of carrot is what is going to make this dish attractive. You need to cut on a severe bias, an extreme diagonal to really make the angle noticeable, so set your knife to what you think is a bias and then turn it just a little farther, making the angle even more severe. The carrots should be about 1-inch thick. That's thick, I know, but you want them that thick to have enough time in the oven to glaze and roast properly. Too thin and they will over cook before the glaze reduces.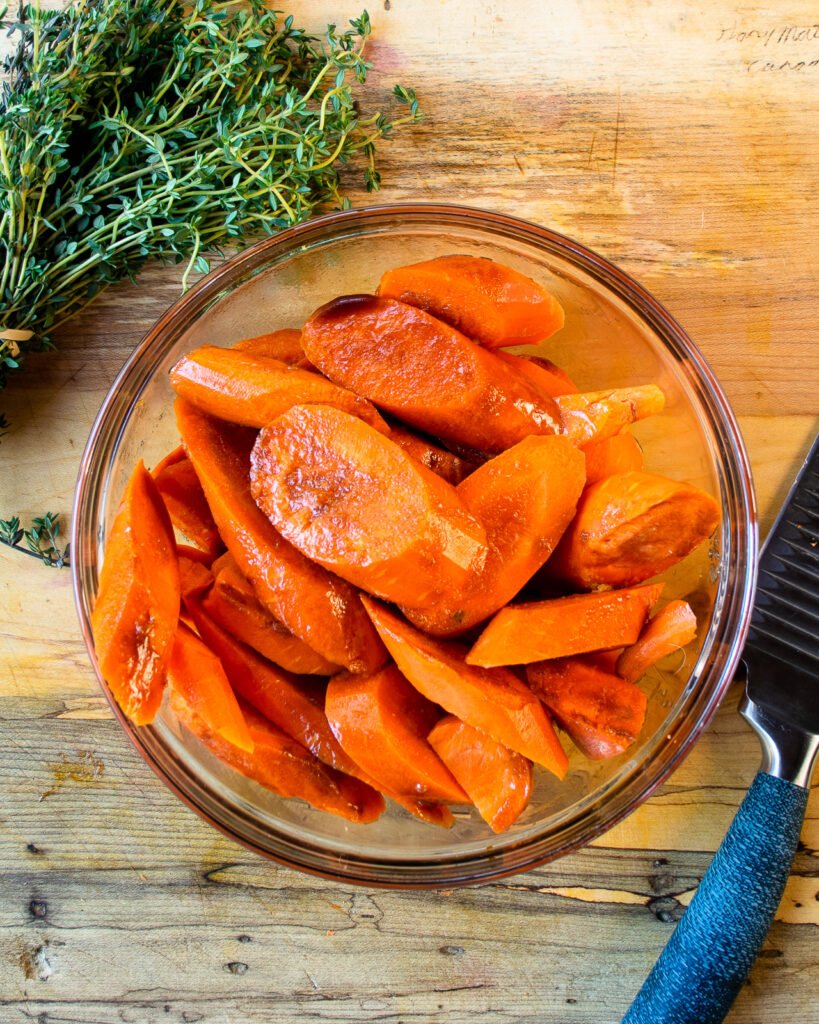 Glaze for Carrots
The glaze has just three ingredients – honey, vinegar and butter. Simple. Melt the butter and combine the three ingredients in a bowl, season with salt and pepper and toss the carrots around before spreading them in one even layer on a baking sheet.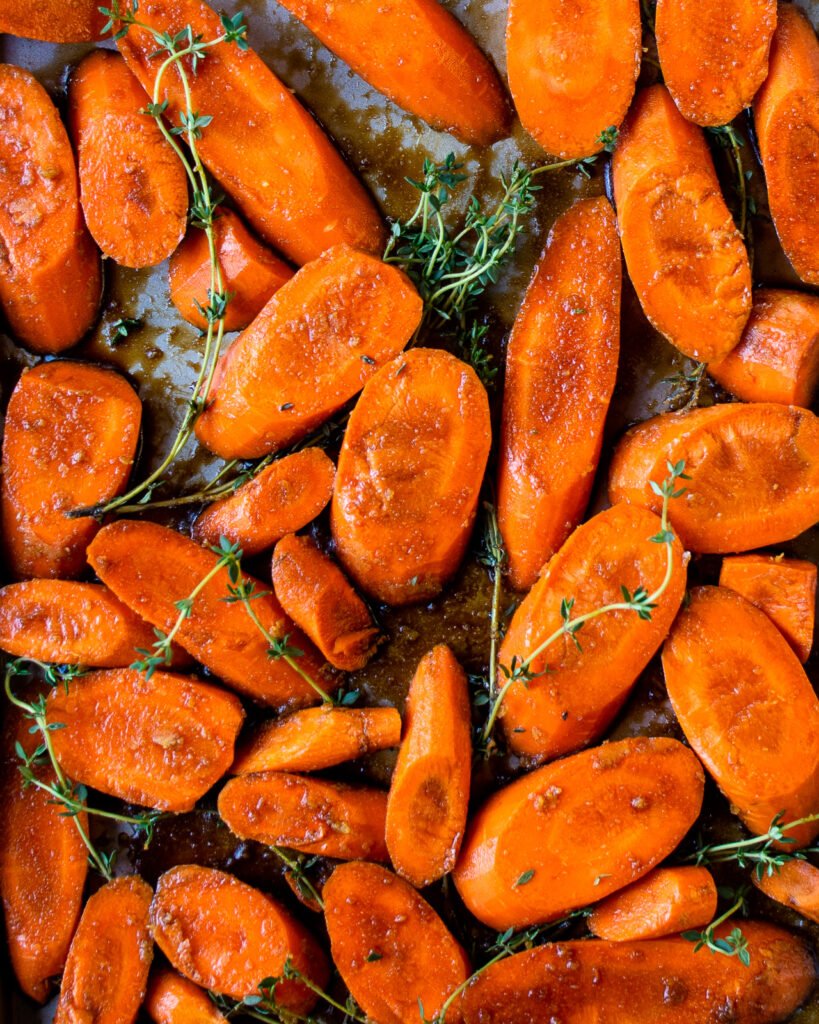 How Long to Roast Carrots
How long to cook the carrots depends on how thick and big they are. Hopefully, you've cut them into 1-inch thick slices on a severe bias which means they should take 30 to 40 minutes in the oven to roast properly. Give them a shake and turn them over part way through so you get even browning on both sides.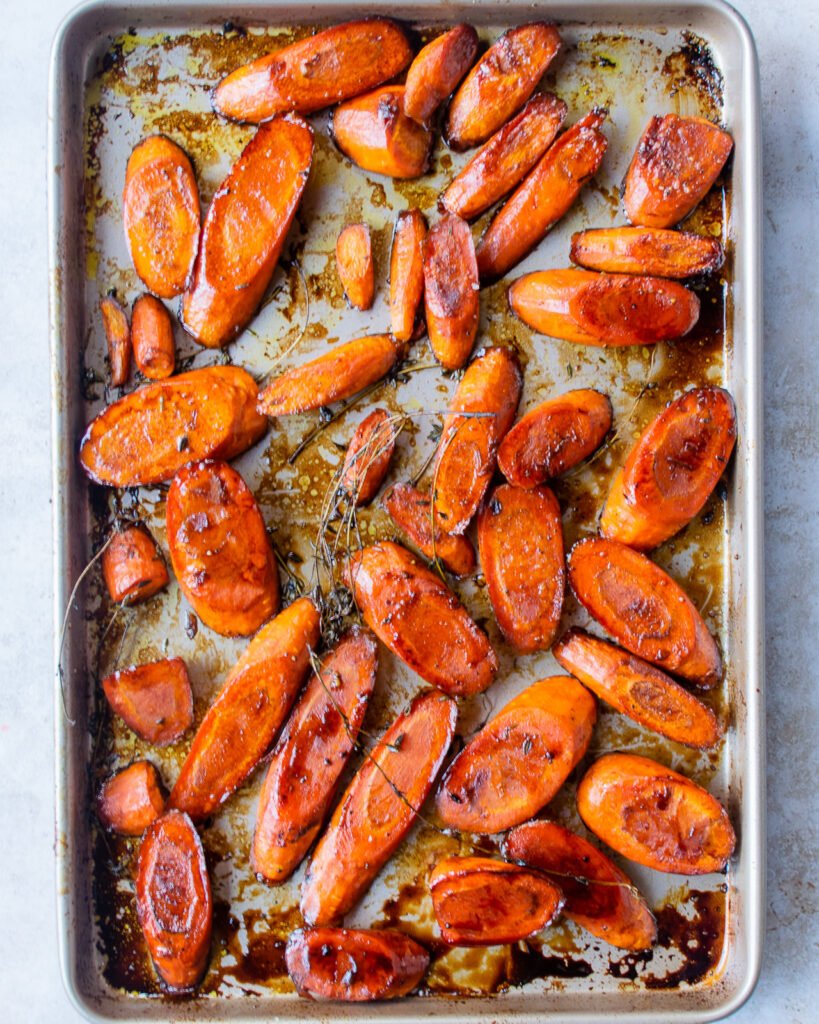 White vs Regular Balsamic Vinegar
You could use white balsamic vinegar for this recipe instead of the usual dark vinegar if you wanted to, but our intention is to get some color on our carrots to give them a roasted look. The dark balsamic vinegar does a good job of helping the carrots acquire color so I suggest sticking with the regular. If you don't want too much color on the carrots, or if you only have white balsamic vinegar on hand, go head and use it. It will still be delicious.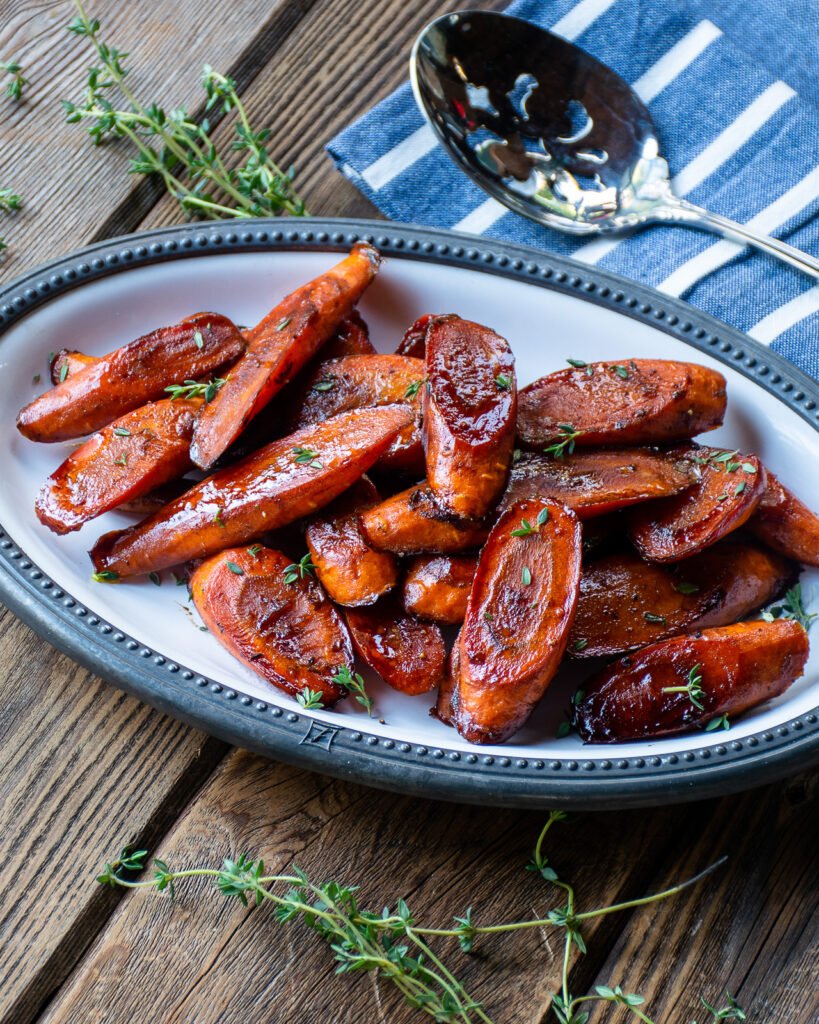 What to Serve with Roasted Carrots
Obviously, these balsamic glazed roasted carrots are a side dish, and every side dish needs a main and perhaps another side dish or two. These carrots would go very well with a roast turkey or a baked ham and nice side dishes to compliment would be this asparagus with crispy Parmesan breadcrumbs or some good Cheddar garlic smashed potatoes. If you have any leftovers, cut them down in size a little and toss them into a green salad with a simple vinaigrette.