What is an Air Fryer Oven?
An air fryer oven takes the latest craze of air fryers that use convection heat to cook rapidly in a confined space and combines it in a toaster oven with other cooking functions, like baking, broiling, toasting and sometimes rotisserie-cooking and dehydrating too. It is basically a multi-function countertop convection oven with a motorized fan on top of the unit that blows the hot air down directly on foods, rather than circulating the air around the oven cavity. It's perfect for the cook who would like to have the ability to air fry, but wants to have multiple cooking functions without sacrificing more counter space.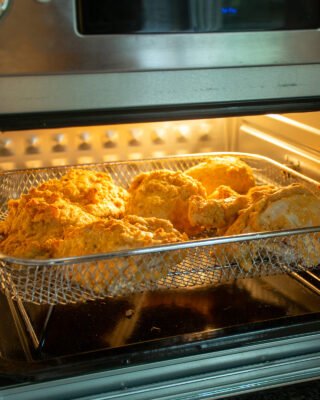 Why an Air Fryer Oven is a Good Idea
In addition to having multiple functions, air fryer ovens tend to have a larger capacity than basket-style air fryers – usually 5 to 10 quarts – and being square or rectangular in shape makes them more space efficient than round air fryers. That gives you the ability to cook more at one time without having to do batches of air frying. The larger cavity also allows you to use other vessels in the kitchen inside the oven, like quarter sheet pans, 2-quart casserole dishes and larger cake and baking pans. 
Air fryer ovens also come with adjustable rack positions. This gives you the ability to move the food closer to, or farther away from the source of heat at the top of the oven – handy if you want to really brown something quickly (like an air fried rib eye steak), or don't want to over-brown an item (such as baked goods like Cheddar Cheese Biscuits). Some ovens claim that you can cook multiple racks of food at one time, but that's not really true or effective. There's no way three racks of food in an air fryer can cook evenly, unless you rotate the racks in the oven during the cooking process. The top rack position will always get more heat than anything below it, so take that claim with a grain of salt. Still, it's nice to be able to adjust the rack position in the oven.
There are other advantages to an air fryer oven. Most come with a glass door so you can see your food as it cooks making it possible to judge how it is coming along. They also tend to be a little quieter than basket-style air fryers. 
Easier to Clean
This could be a deciding factor for you, and could be debatable, but I find air fryer ovens easier to clean than basket-style air fryers. You have better access to the inside of the oven and can wipe down the sides, back and top of most ovens. Also, most of the accessories inside an air fryer oven are dishwasher safe or can be cleaned easily in the sink. Air fryer baskets and drawers tend to be a little more cumbersome.
Advertisement - Continue Below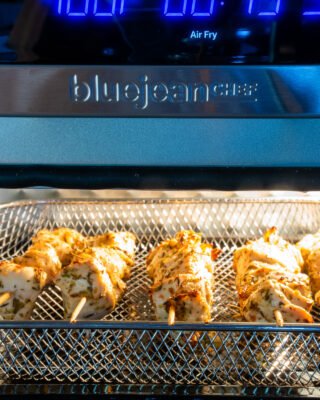 Things to Consider Before Buying
Of course, there's always a price to pay for advantages and in the case of air fryer ovens, that is often the price! Air fryer ovens tend to be more expensive than basket-style air fryers, but you do get multiple functions out of one appliance, so it might be worth it to you.
The other big consideration if you are thinking of adding an air fryer oven to your kitchen is the space it takes up. It's usually a larger footprint on your countertop and it's not an appliance that you can easily put away in a cabinet, so make sure you have the room for it before you bring it home and be sure you like the look of it too!
Air fryer ovens can take a little longer to pre-heat (5 minutes instead of 2 minutes) and it can project more heat into your kitchen, but I don't think these two cons are significant enough to dissuade you if you think a multi-function convenience is for you.
When looking at different air fryer ovens, consider the following:
Do you like the design or look of the oven.
Where will it go in your kitchen – will it fit under your cabinets?
What other functions do you want in your oven – need rotisserie? Want to dehydrate?
What accessories are included? Will you use them and where will you store them?
Advertisement - Continue Below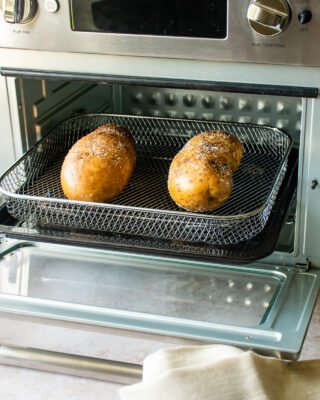 What to Cook in an Air Fryer Oven
So, you've decided to get an air fryer oven! Congratulations! Now you need to know what foods are really suited to air frying. Browse through the air frying recipes section of the website to find all sorts of meals and snacks designed just for your new toy.
If you'd like to figure out how to convert your favorite traditional recipes to the air fryer, click here for a lesson on converting recipes. If you like to cook without a recipe, you'll find the cooking time charts super helpful. Or, if you're looking for some tips to get the most out of your new kitchen helper, click here!
The Blue Jean Chef® Air Fryer Toaster Oven
I personally like air fryer ovens too! So much so that I worked to develop an air fryer oven with all the features that I like – a digital control for precision, two easy to turn dials controlling function, temperature, time and fan speed, a toggle light switch so you can see what's going on inside, etc… If you are interested in learning more about this oven, you can read more here, or watch the video below to see how the oven works.