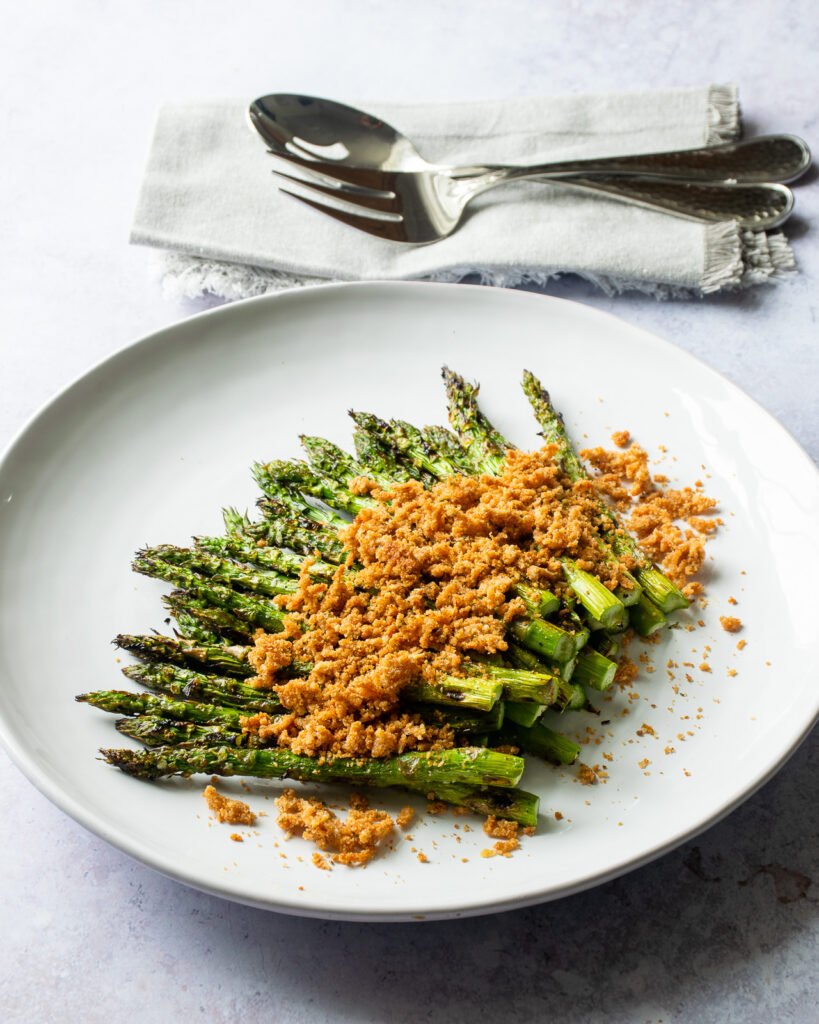 Making Asparagus Elegant or Casual
I've always felt that asparagus is a rather royal vegetable. It stands straight and proud and almost looks like a stick person (a really skinny stick person) with a crown on its head. Dressing asparagus up with some crispy parmesan breadcrumbs is just enough to dress up the royal vegetable to give it some pizzaz and it takes just about 3 minutes to do so!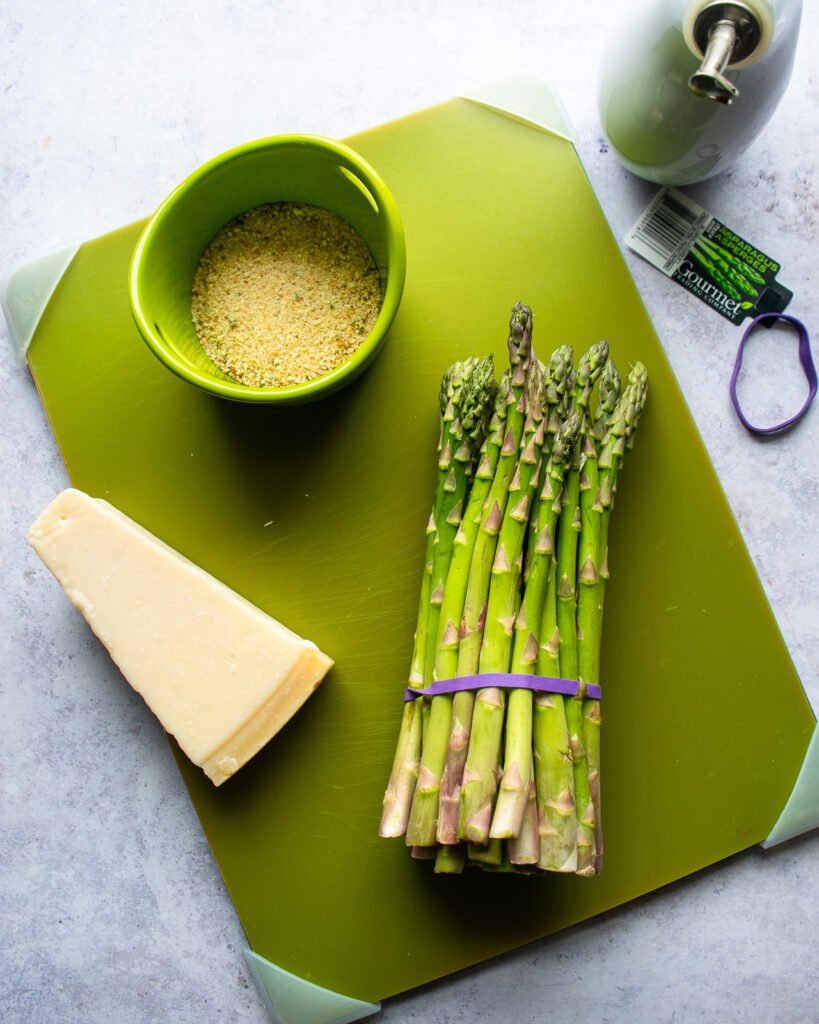 Simple Ingredient Side Dish
Because the ingredients are so simple in this dish, it's important that you use the very best ingredients you can. Asparagus doesn't last long once purchased, so try to use it within a day or two of buying it. There's nothing quite like aged Parmigiano-Reggiano cheese and though it is expensive, you don't need much at any one time because it is so flavorful. This recipe only calls for 2 tablespoons, so go for the good stuff. As for the breadcrumbs, you can use seasoned dry breadcrumbs or you can make your own fresh breadcrumbs – both will toast the same way, but the fresh will just take a couple more minutes in the pan.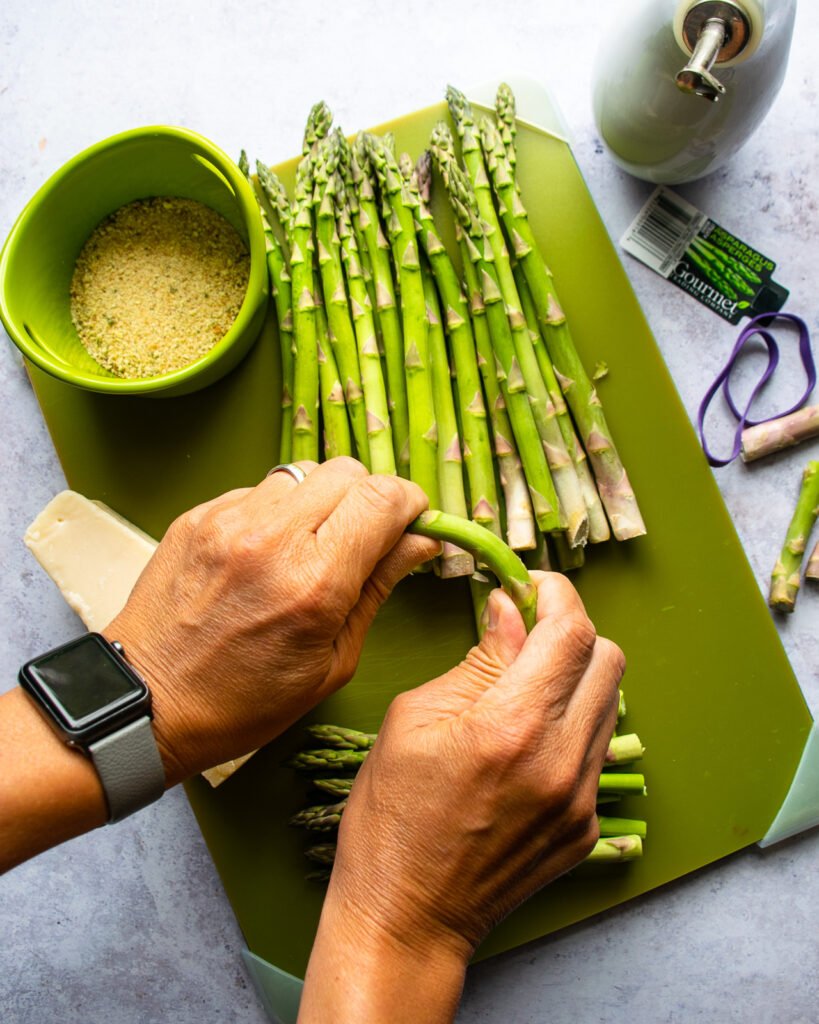 How to Prep Asparagus
Asparagus is always more tender at the top than at the bottom and in fact the spears can get quite woody and tough at the base, so you need to trim asparagus before cooking it. You can grab the spear at both ends and bend and it will naturally break at the point where it should be trimmed. You'll find that if you bend and break each stalk this way, they will more than likely all break at roughly the same point and end up being the same length. Once trimmed, this asparagus only needs some olive oil, salt and freshly ground black pepper before being cooked.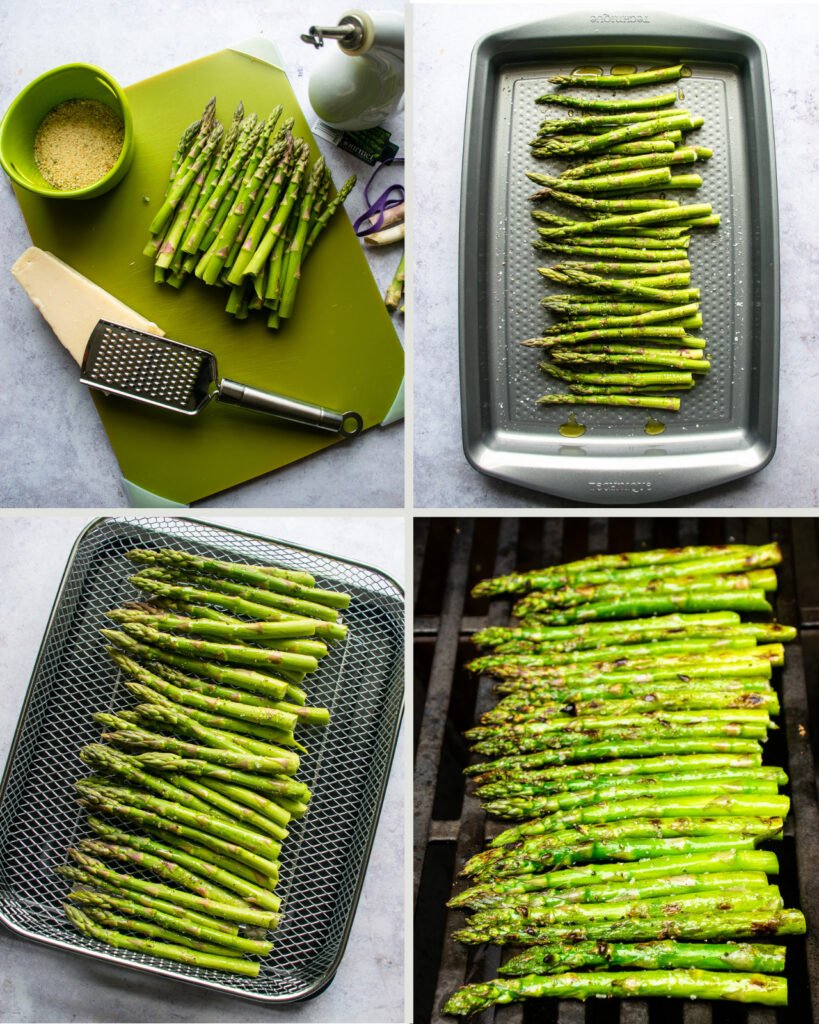 Grill… Air-fry… OR Oven-Roast Asparagus
Just HOW you cook the asparagus is up to you… You can grill asparagus beautifully on an outdoor grill in just about 8 to 10 minutes. Sure, asparagus spears can fall through grill grates, but that's why you always put the spears perpendicular to the grates and it shouldn't be a problem, no matter how thin the spears are. 
Popping your asparagus into an air fryer is another great option. If you have an air fryer oven, the spears should fit perfectly in the basket/tray included, but you can also toss them around in a round basket style air fryer too. It takes about 6 to 8 minutes to air fry asparagus at 400ºF.
Finally, of course you could oven-roast your asparagus. Put the spears on a baking sheet and transfer them to a 425ºF oven for about 10 minutes.
No matter which way you cook the asparagus, the timing will depend on how thick or thin the spears are. The only way to know when the asparagus is properly cooked is to give it a taste. So, be prepared to flex on the timing, subtracting time for thin spears and adding a minute or two for really thick spears.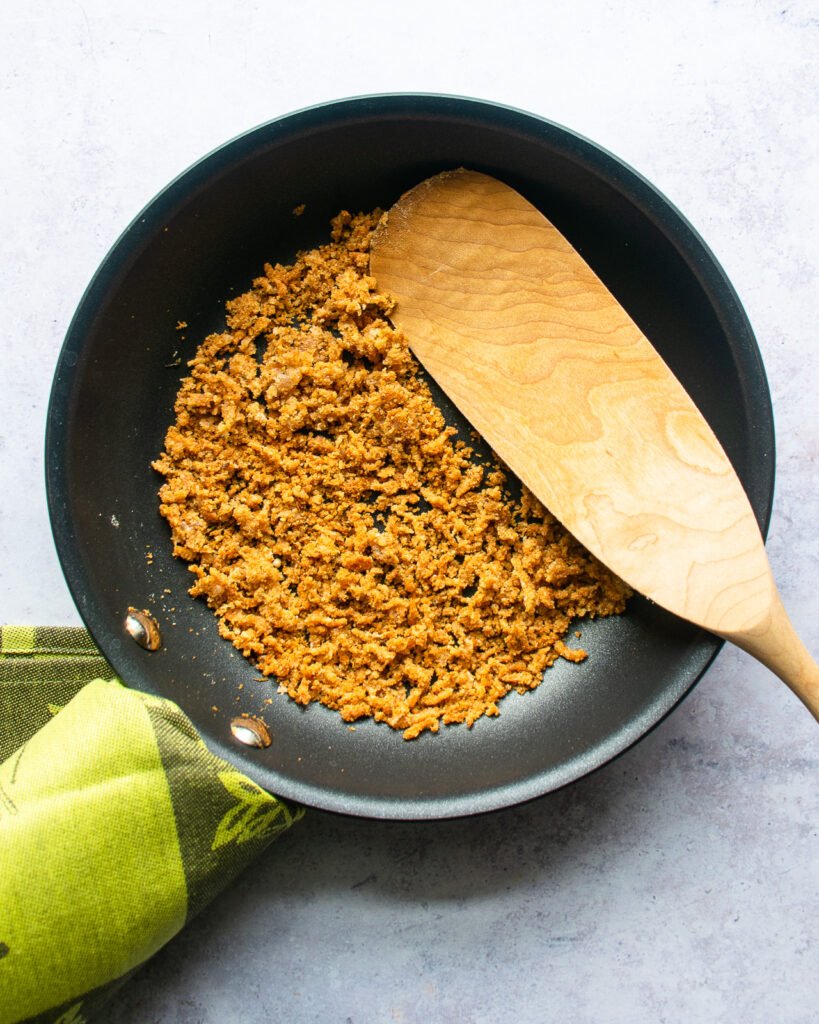 Crispy Parmesan Breadcrumbs
The crispy Parmesan breadcrumbs really make this asparagus something special and they only take a few minutes. You can toast them up before you even start cooking the asparagus – they don't need to be hot when you toss them on the vegetables. Once you see how easy these are to make, and how delicious they are (try not to snack on all of them before you serve), you'll be tempted to toss them on all sorts of vegetables – broccoli, cauliflower, etc… Please do!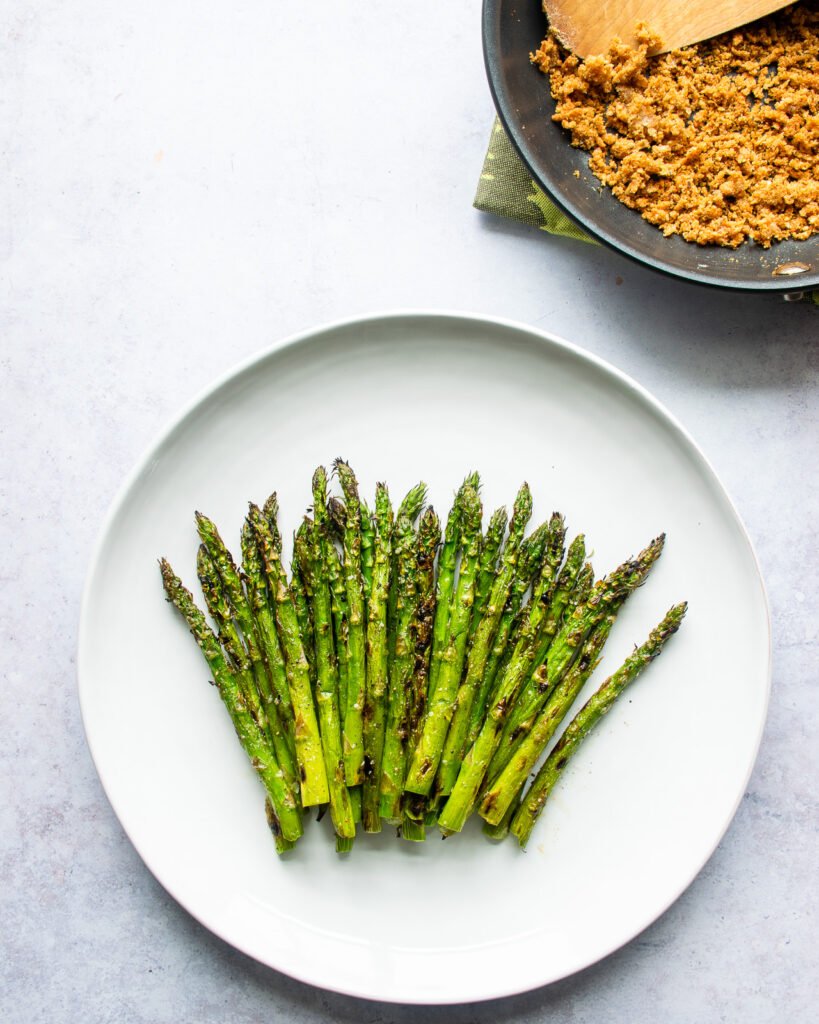 Two Ways to Dress Asparagus
You have two different ways to serve the asparagus once it is cooked – you can toss the crumbs with all the spears or you can simply spoon the crumbs across the asparagus. It's totally your call, but whichever way you choose to do it, make sure all the spears are pointing in the same direction for the best presentation. (it's the little things…)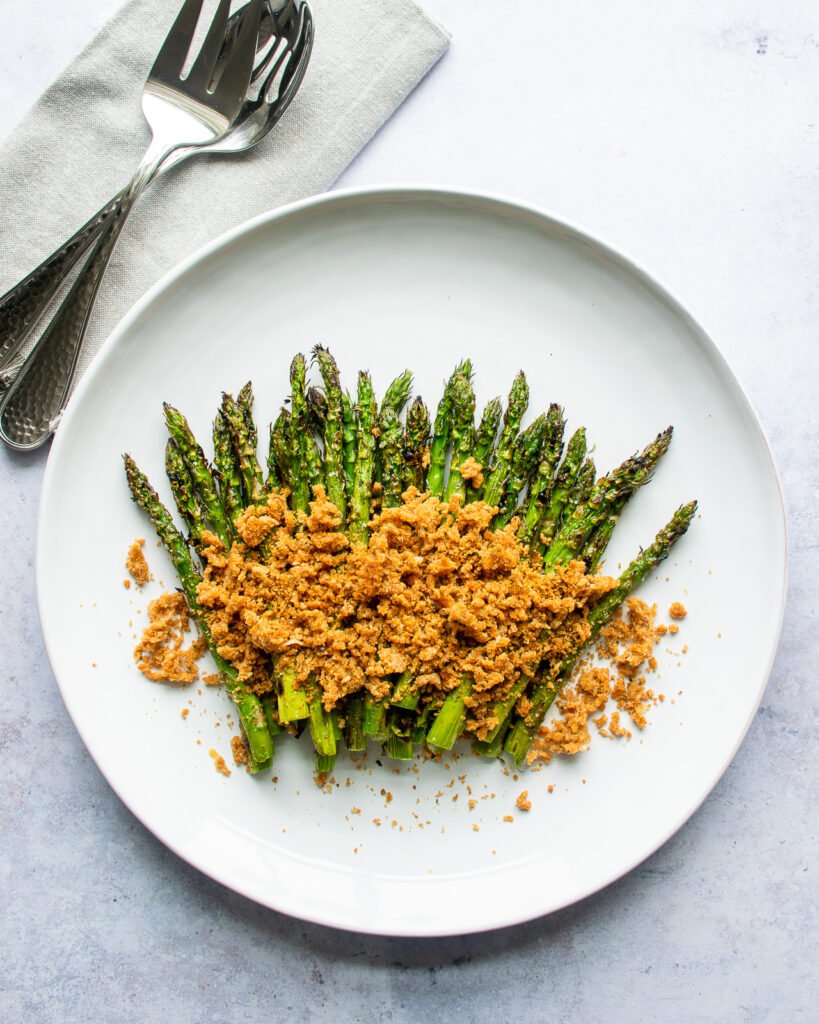 What to Serve with Asparagus
Asparagus with crispy Parmesan breadcrumbs can honestly go with anything, but I think it would make a nice side dish to a perfectly cooked filet mignon or some pan roasted salmon fillets. If you can manage the last minute preparation, asparagus would be a lovely side dish next to a baked ham, and this dish could also be a side dish for a brunch buffet next to some eggs benedict bread puddings (you could even dip some of the asparagus in the Hollandaise sauce if you're a devil!).