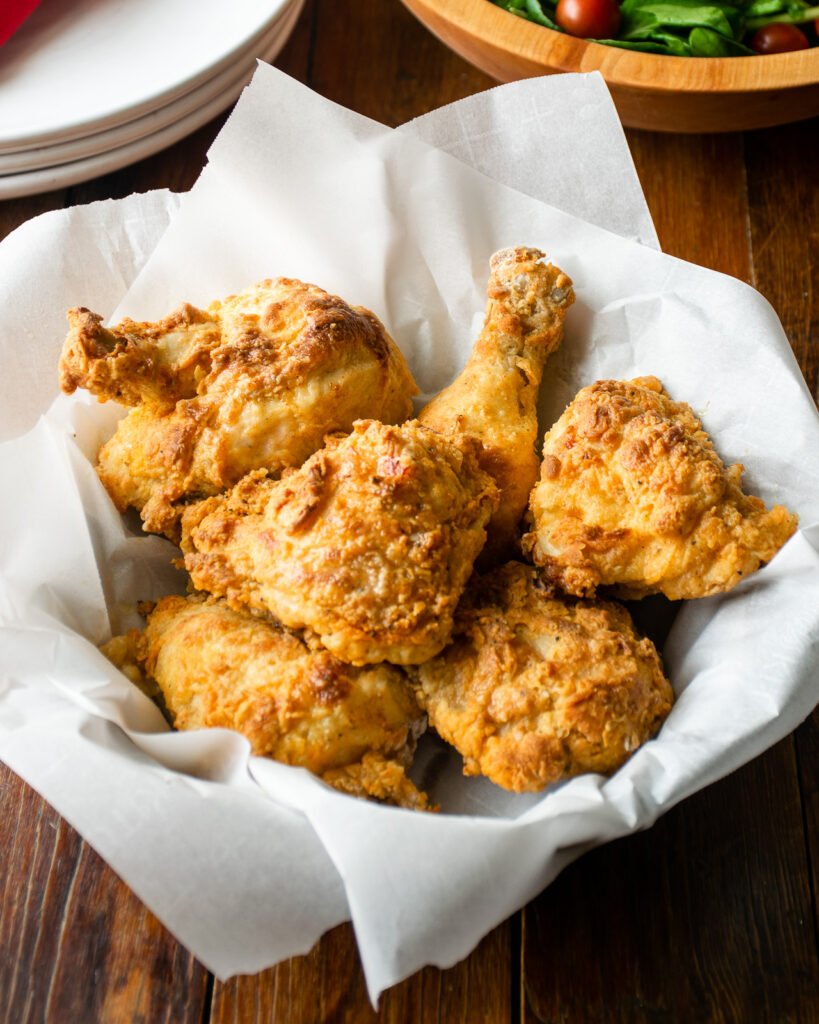 How to Make Fried Chicken in the Air Fryer
It's hard to resist delicious fried chicken. You know the kind… the juicy moist and tender chicken inside a crunchy crispy coating that breaks off the chicken as you take a bite. Trouble is making that fried chicken requires time and labor in the kitchen, a heavy pot of oil on the stovetop and must be done right in order not to be too greasy. I have nothing against traditional deep-fried chicken and there are tricks to making it easier and tastier, but I confess I do tend to feel somewhat guilty after indulging in that deep fried favorite and tend to make it a rare treat as a result. So, it's nice to know that by swapping out the pot of oil for an air fryer, and eliminating almost all the oil, you can enjoy air fryer fried chicken more often and save yourself the guilty feelings.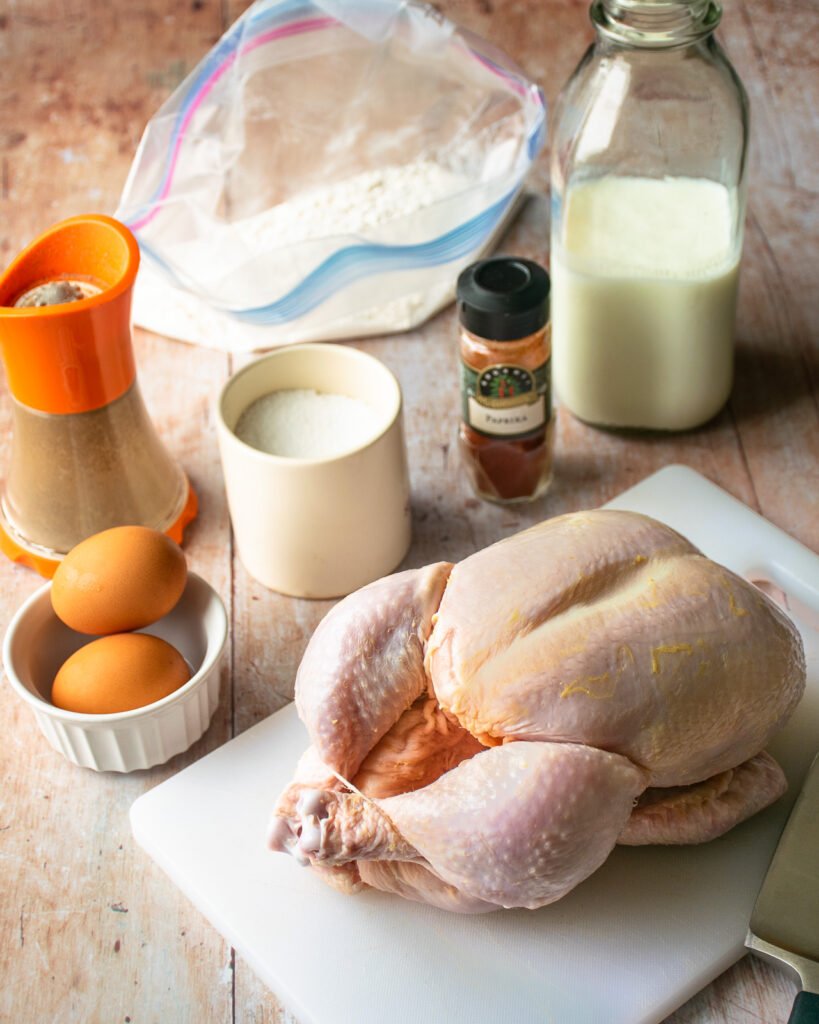 What Pieces of the Chicken to Use
Everyone has their favorite piece of chicken. Some folks only like the white meat; others prefer dark meat; some like wings; others want to grab a drumstick. So, my answer is cut up a whole chicken and make everyone happy. Sure, the wings are going to cook faster than the drumsticks, which will cook faster than the breasts, but you can just remove those pieces as they are finished and warm them up at the end. Of course, you can buy a whole chicken already cut up for you, but if you want to learn how to do it yourself and practice your knife skills, I have a lesson on just that here.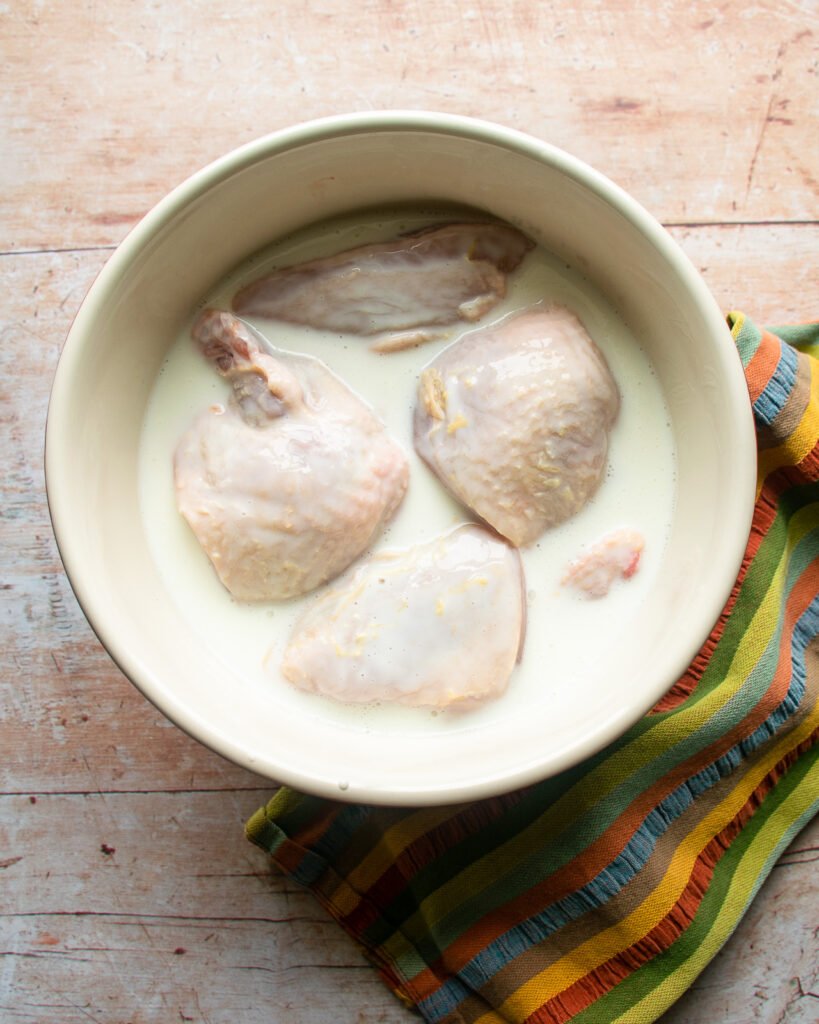 Substitute for Buttermilk
Marinating the chicken in buttermilk is the first step to juicy, moist fried chicken. Buttermilk's acidity tenderizes the chicken and the thickness of the buttermilk helps the flour coating (which comes later) stick to the chicken. Using buttermilk to marinate chicken is a great way to use up any buttermilk you have leftover in the refrigerator (if perhaps you just made buttermilk pancakes or some buttermilk biscuits), but if you don't have any buttermilk there are a few substitutions you can use.
2 cups whole milk + 1 tablespoon lemon juice
2 cups whole milk + 1 tablespoon white vinegar
1¾ cups whole milk yogurt + ¼ cup milk
Not having any buttermilk on hand is never an excuse to not make fried chicken. You always have options. Of course, if you bought some buttermilk, you'd have leftovers for buttermilk pancakes or biscuits! Just sayin'…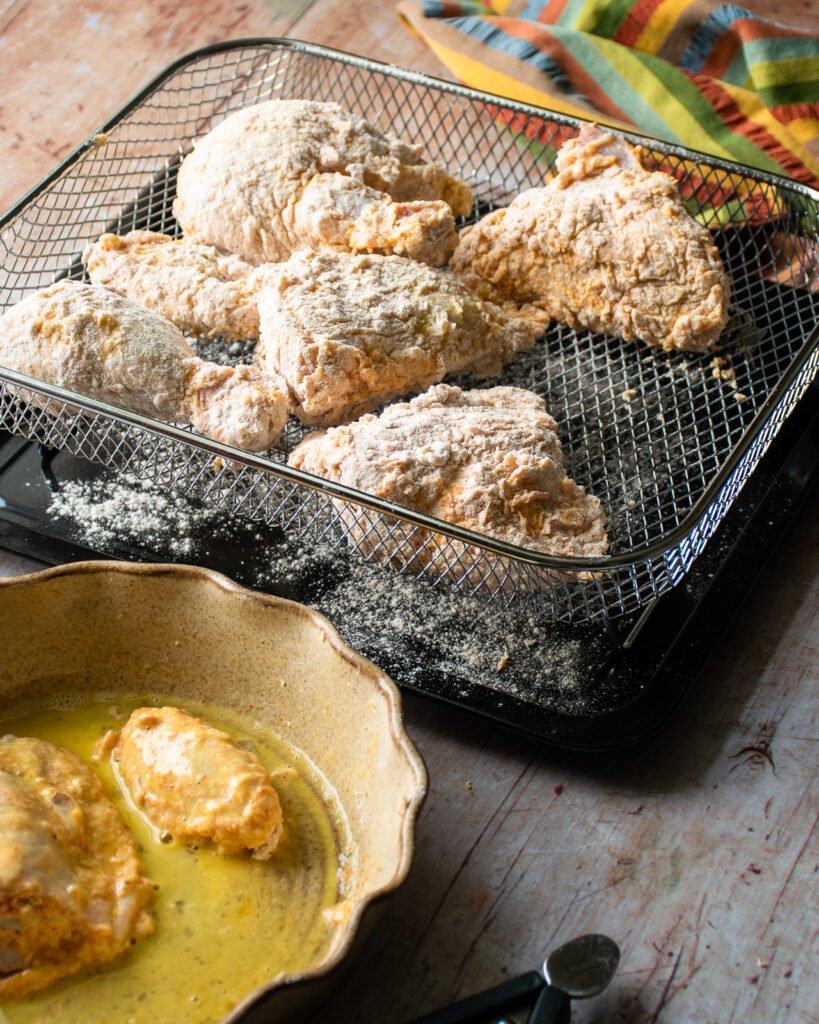 Coating for Fried Chicken
Once the chicken has marinated in the buttermilk, applying the coating is the next step. Our goal is to get enough coating on the chicken and to make sure it doesn't fall off during the cooking process. You can learn all about how to properly dredge and bread foods here, but to ensure that coating doesn't come off the fried chicken we double dredge it. That means remove the chicken from the buttermilk and dredge in seasoned flour. Then, coat the chicken in egg and dredge again. Double dredging.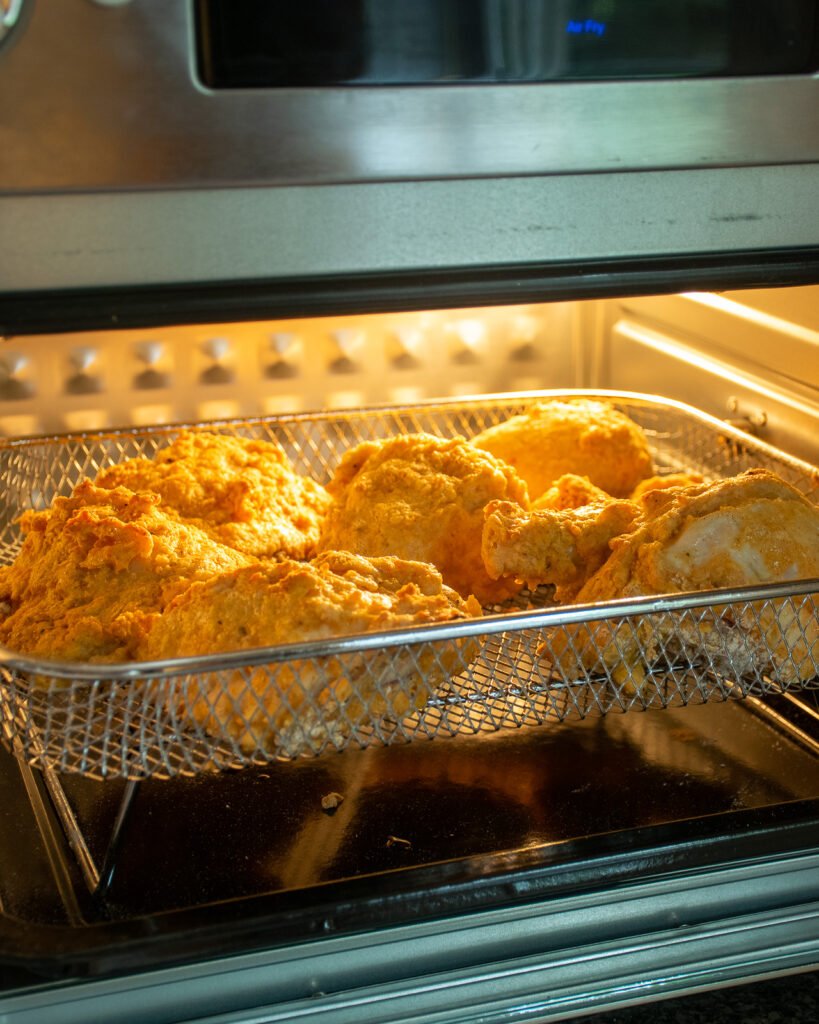 How to Make CRISPY Air Fryer Fried Chicken
Now the key to really crispy air fryer fried chicken is twofold. First of all, make sure that you spritz the entire chicken with oil. You shouldn't see any raw dry flour left on the chicken pieces. No matter how much oil you spritz on the chicken, you will be using less oil than if you were deep-frying the chicken, so coat the chicken liberally. An olive oil sprayer like this makes it very easy.
Next, make sure you air fry the chicken in a single layer. I know it's tempting to pile the food into your air fryer so you only have to do one batch, but trust me, you'll end up spending more time trying to get the chicken crispy. If your air fryer is not big enough to do it all at once in one layer, just do two batches and reheat everything together at the end.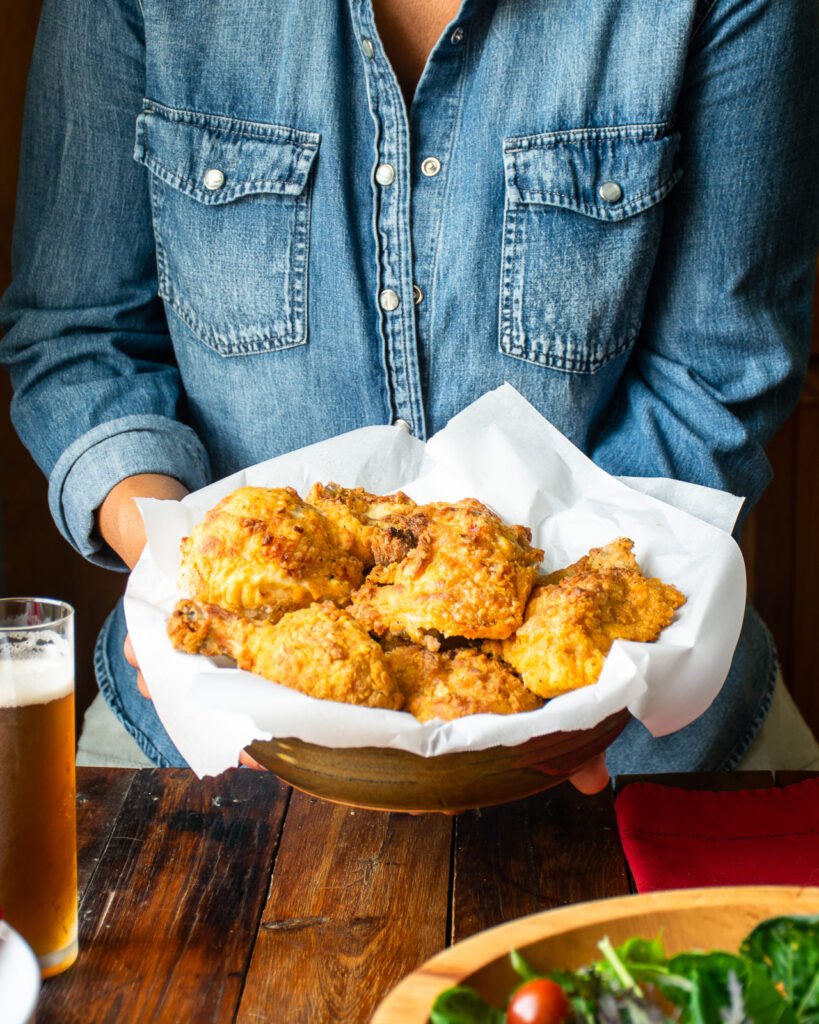 How to Store and Re-heat Air Fryer Fried Chicken
In the unlikely event that you have leftover fried chicken, just store it in the refrigerator in a sealed container for up to 3 days. When you are ready to enjoy it again, the air fryer is the perfect re-heating tool. Just pre-heat the air fryer to 350ºF and then re-heat your fried chicken for about 7 to 10 minutes until it reaches 165ºF on an instant read thermometer.
Serving Suggestions
What goes well with air fryer fried chicken? What doesn't?! You could make some coleslaw or potato salad.. or both! Or if you prefer warm side dishes, go with perfect fluffy mashed potatoes and perhaps some grilled corn on the cob. It's hard to compete with a star like fried chicken, but every star needs a good supporting cast.