Air Frying Basics
In the simplest of terms, an air-fryer is a compact cylindrical countertop convection oven. It's a kitchen appliance that uses superheated air to cook foods, giving results very similar to deep-frying or high-temperature roasting. Many of us have convection ovens in our kitchens. In a standard oven, air is heated and the hot air cooks the food. In a convection oven, air is heated and then blown around by a fan. This creates more energy and consequently cooks foods faster and more evenly.
Air fryers use the same technology as convection ovens, but instead of blowing the air around a large rectangular box, it is blown around in a compact cylinder and the food sits in a perforated basket. This is much more efficient and creates an intense environment of heat from which the food cannot escape. The result is food with a crispy brown exterior and moist tender interior – results similar to deep-frying, but without all the oil and fat needed to deep-fry. In fact, when you are air-frying, you usually use no more than one tablespoon of oil!
Better still, an air fryer doesn't just cook foods that you would usually deep-fry. It can cook any foods that you would normally cook in your oven or microwave as well. It is a great tool for re-heating foods without making them rubbery, and is a perfect and quick way to prepare ingredients as well as make meals. To me, it is the best new kitchen appliance that has been introduced in recent years.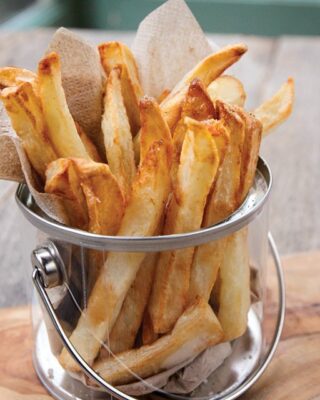 Health Benefits
Obviously, because it can produce results similar to deep-frying using a tiny fraction of the oil needed to deep-fry, the health benefits are apparent. When deep-frying, you submerge the food in oil and oil is inevitably absorbed by the food. In an air fryer, you still use oil because oil is what helps crisp and brown many foods, but you really don't need more than one tablespoon at a time. Instead of putting the tablespoon of oil in the air fryer, you simply toss foods with oil and then place them in the air fryer basket. In fact, spraying the foods lightly with oil is an even easier way to get foods evenly coated with the least amount of oil. Investing in a kitchen spray bottle is a great idea if you have an air fryer.
Quick and Energy Efficient
We all know that sometimes it can take fifteen to twenty minutes to pre-heat our standard ovens. Because the air fryer is so compact, that pre-heat time is cut down to two or three minutes! That's a huge savings in time as well as energy. In the summer, you can pre-heat your air fryer and not heat up the whole kitchen. In addition, the intense heat created in the air fryer cooks foods quickly, about 20% faster than in an oven, so you're saving time and energy there as well. No one these days seems to have time to spare, so this should please everyone!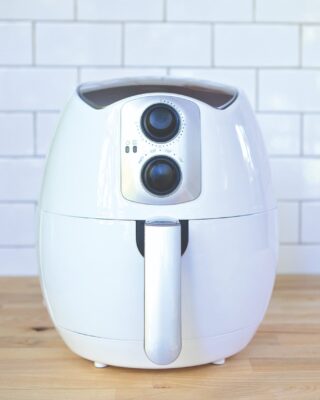 Safe and Easy to Use
Air-frying is safer and easier than deep-frying. Most air fryers have settings for time and temperature. You simply enter both and press start. It doesn't get much easier than that! When deep-frying, you have to heat a large pot of oil on the stovetop, use a deep-frying thermometer to register the temperature and then monitor the heat below the pot to maintain that temperature. On top of it all, you are dealing with a lot of oil, which can be heavy to move, dangerous if it gets too hot, and is cumbersome and annoying to drain and dispose of. Why bother if you can get the same results so much more easily with an air fryer?
Clean and Tidy
I didn't earn the "Miss Tidy Bed" badge in brownies for no reason! I love keeping the kitchen clean and tidy when I'm cooking and after I've been cooking. The air fryer fits into my world perfectly. It cooks foods in a contained space and that keeps the food from splattering anywhere. Period. You can even cook bacon in the air fryer without making a mess (do remember the tip to put a little water in the drawer below to prevent the bacon grease from smoking). It is simple and straightforward to clean and keep clean, and you know what they say about cleanliness…
Using Air Fryers to Prepare Ingredients
So often, I find myself turning to the air fryer to cook ingredients for meals that might not even call for an air fryer. Don't underestimate the convenience of quickly toasting some nuts for a salad, or roasting a pepper for pasta, or quickly cooking bacon for an egg sandwich. Ingredients in recipes often come with a qualifier – "walnuts, toasted", or "bread cubes, toasted" – and the air fryer comes to the rescue, once again saving precious time.