This is your classic mayonnaise-based potato salad recipe that is as simple to put together as anything. There are only a few decisions to make. The first is what sort of potatoes to use. There are three general groups of potatoes – starchy (Russet, Idaho, etc..), waxy (Red Bliss, fingerling, etc…) and all-purpose (Yukon Gold). The way to decide which of these types of potatoes to use depends on what sort of potato salad you want. Starchy potatoes will break down more easily, which means that your potato salad will be thicker, more uniform in texture with fuzzier chunks of potatoes (if you know what I mean). Waxy potatoes tend to hold their shape better and can handle being stirred with mayonnaise without crumbling. Generally, waxy potatoes are used for potato salad. I, however, like my potato salad to be somewhere in the middle between crushed, fuzzy chunks and slippery, solid chunks and so I use an all-purpose potato, the Yukon Gold. In a pinch, you can use any potato on hand, but if you're out shopping for ingredients, pick the potato that will give you the potato salad you're looking for.
The second decision to make is whether or not to peel the potato. Much of this depends on what type of potato you are using. If you're going for the starchy potato, I would peel it first, then cut it into bite-sized pieces and boil it. Other potatoes have thinner skin and I think seeing the skin of potato adds some interest to the salad. You might disagree or want a more uniform look in which case, grab your peeler.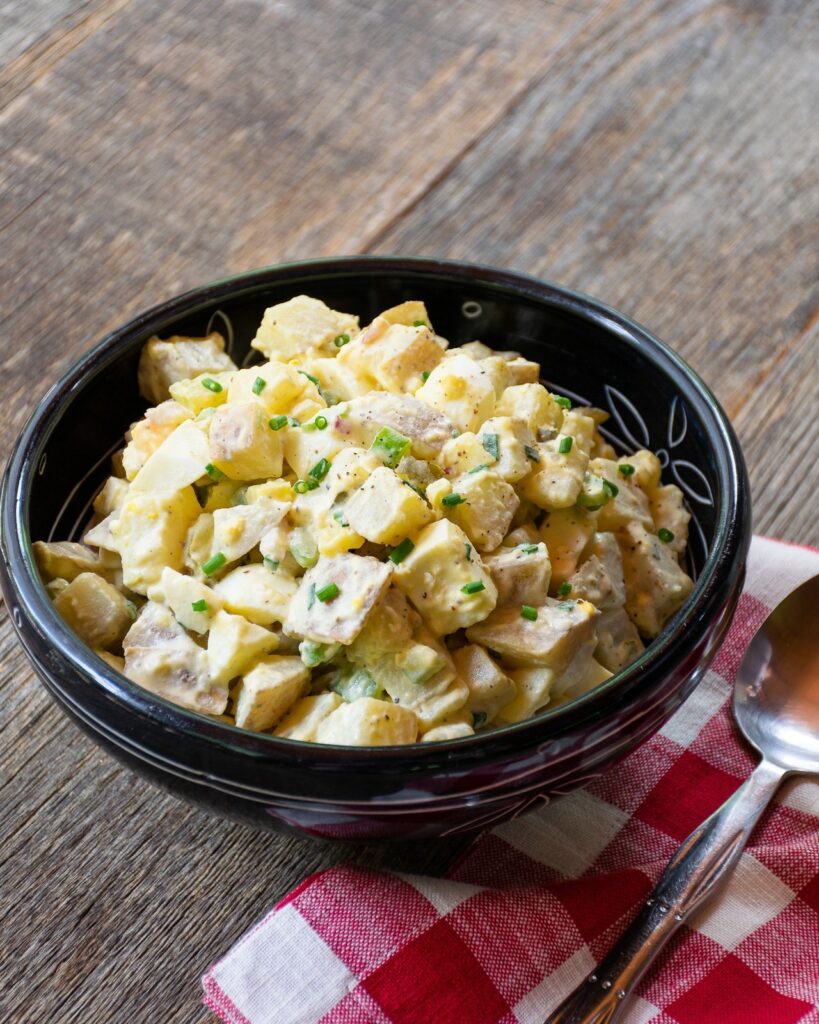 Finally, you'll need to decide if you want to rinse your diced potatoes after you've boiled them. I'm a rinser. Rinsing washes off some of the starch from the potatoes so that the potato chunks are more defined and easily coated with the dressing. Rinsing the potatoes in cold water also stops the cooking process so you know exactly what texture your potatoes will be and won't risk over-cooking. If you want your potato salad to be a little thicker, starchier, then don't rinse the starch away, but spread the potatoes out on a baking sheet to cool and make sure you drain them out of the boiling water just before you think they are perfect. 
That's it. Just a few decisions to make and then you can roll into auto-pilot and put together a delicious potato salad to go with burgers, sandwiches, fried chicken, the list goes on…