How to Make Flaky Buttermilk Biscuits
I wanted a biscuit that crumbled as you bit into it and yet wasn't dry inside. I wanted it to be easy to make and yet full of flavor. I borrowed some technique from Shirley Corriher (a cookbook author whom I greatly admire) and played with different soft self-rising flours (settling on this one here).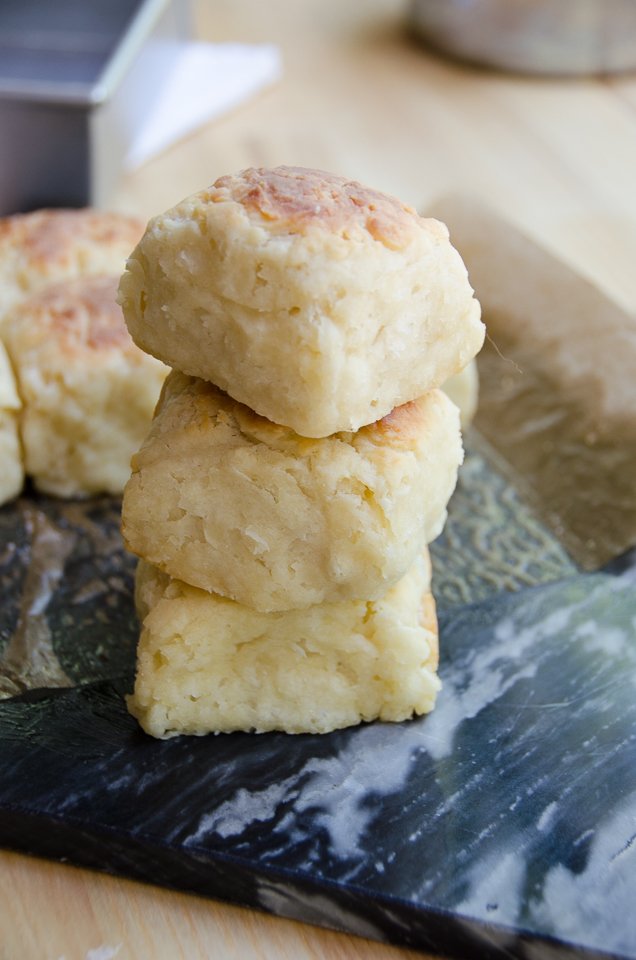 I think the technique of grating the butter into the flour is a fantastic trick to have in your toolkit. It creates morsels of butter that are just the right size without having to cut the butter into the flour with a fork or two knives.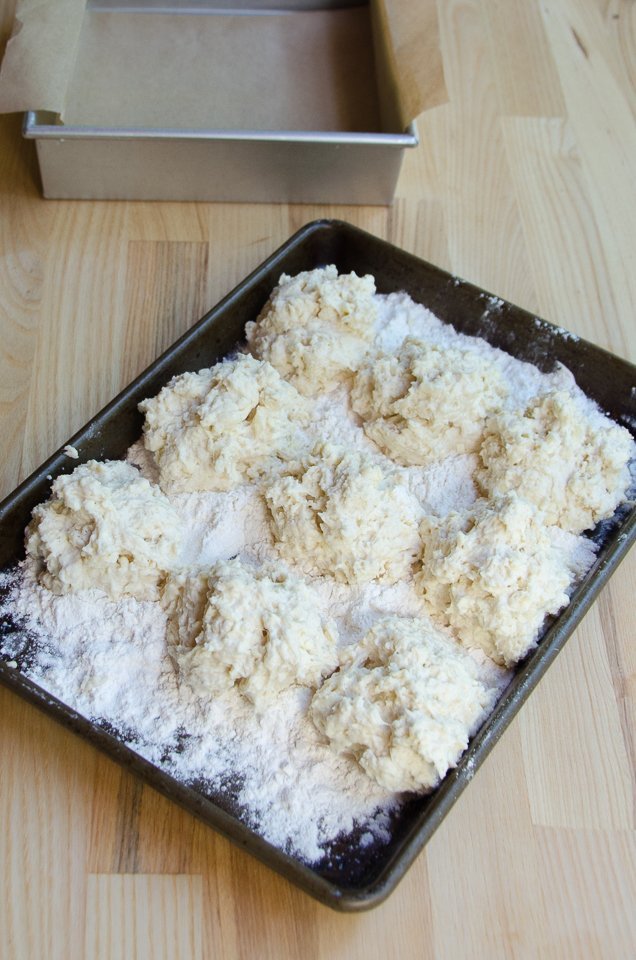 The resulting batter is quite wet and soft, but there's no need to roll it out – just scoop it into your floured hands, tossing it back and forth to shape it ever to slightly and put it right next to its neighbor in the baking pan.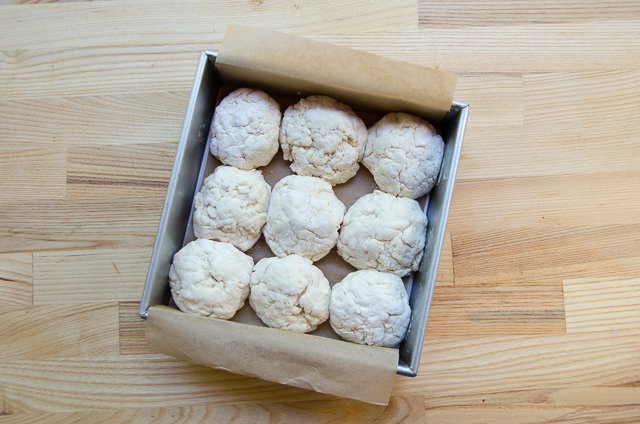 These biscuits rise up nicely and with the tops brushes with a little butter, you'll be in heaven in about half an hour.
Can I make these biscuits ahead?
I am going to be quite honest with you here. These biscuits are best served the day you make them. But the good news is, they are super easy so you can make them quickly, even on a busy day or holiday. To prep the day before, you can measure out all the ingredients and cut the butter into the flour. Add the buttermilk right before you are ready to bake them. Do not let the batter sit too long before baking because the baking powder will start to activate.  Of course if you really have to bake your biscuits the day before, you can reheat them by wrapping the biscuits in foil and baking at 350°F for about 15 minutes. This will also work for leftover biscuits (that is if you have any!).
Substitues for Self-Rising Flour and Buttermilk
You might not have either of these ingredients on hand and in a pinch, there are some substitutions you can make. If you are fresh out of buttermilk, for every cup, add 1 tablespoon of white vinegar or lemon juice to a measuring cup. Add enough milk to measure 1 cup. Let it stand for 5 minutes. For self-rising flour, for every cup use 1 cup of all-purpose flour plus 1 1/2 teaspoons baking powder and 1/4 teaspoon salt. For this recipe you will need:
1 1/3 cup of Buttermilk = 1 1/3 cup milk + 1 tablespoon and 1 teaspoon of vinegar or lemon juice
2 1/3 cups Self-Rising Flour = 2 1/3 cups All-purpose flour + 3 1/2 teaspoons baking powder + 1/2 teaspoon salt
What to Serve with Buttermilk Biscuits?
Well for me, you can serve these biscuits with just about anything! I especially love them with foods I consider comfort food like my Beef Stew, Classic Pot Roast, Chicken Noodle Soup and Fried Chicken. For variations on these plain buttermilk biscuits try making Cranberry Orange Biscuits or Bacon Cheddar Biscuit Bread.