Dredging is a culinary technique used to coat a wet ingredient with a dry ingredient before cooking. For instance, sometimes we dredge meats with flour before sautéing to enhance browning and to create a crispier texture on the outside. Some foods are not just dredged in flour, but breaded too in order to enhance flavor and texture.  It's this exterior breading that is so important to the finished dish, so consequently the process of breading is a very important step. The keys to successful breading is to make sure the food is tasty AND to make sure the breading stays on the food and doesn't fall off during cooking. Here's how you can achieve both of those goals.
Remember – flour first, then egg, then crumbs…
There are usually three steps to breading foods and they are all important so don't skip a step! Although it might feel counter-intuitive, the first step in breading is to coat with flour. The flour creates a dry surface on the wet or moist food and it's this dry surface that the egg will hold on to in the next step. If you didn't coat a chicken breast in flour, for instance, the egg would just slide right off the slippery chicken. It's the flour that will bind the two together and keep your breading where you want it to be – on the food. The egg (or buttermilk) is the next step and it works as the glue between the flour and the crumbs. The crumbs can't hold onto the flour, so it's the egg in between that keep the two together.
To every thing, there is a season… or at least there should be!
In most cases, you should season both the flour and the breadcrumb stages of your breading process. The only way to season the surface of the food is if you add salt and pepper to the first stage of breading. Season the flour with salt and pepper, or season the food before dredging it in the flour. In order for the breading to be properly seasoned as well, however, you also need to season the breadcrumbs. The exception to this rule is when there is an ingredient in the mix that is inherently salty – like Parmesan cheese, pre-seasoned breadcrumbs or salted nuts.
Chill out
While it's not completely necessary, chilling your breaded foods in the refrigerator for 10 to 15 minutes before pan frying or air-frying will give the breading more time to adhere to the food.
Spritz with oil
While with air-frying and oven baking you don't submerge breaded foods in oil as you do with deep-frying, you will still need oil on the breading in order to optimize the browning. Oil will not only help brown the food, but also helps to keep the breadcrumbs or flour coating moist and prevents them from drying out. In deep-frying, oil plays a big role in cooking the food, browning and keeping it moist. We still need the oil with other cooking methods, but we can get away with using a whole lot less.
Crumb options…
There are a lot of different types of breadcrumbs used in breading mixtures. Sometimes it can get a little confusing, so below are all the different types of breadcrumbs that you'll see called for in recipes.
Panko breadcrumbs are made from a crust-less white bread (although you can find a tan variety that is made with crusts as well) and are lighter, flakier and crispier than regular breadcrumbs. Because they resist absorbing oils, they will give you a crispier finish.
Plain or fresh breadcrumbs are made from fresh bread and are finer than panko breadcrumbs. They produce a softer coating or crust on foods.
Toasted or dried breadcrumbs are made from bread that has been previously toasted and consequently will give you a crispier coating than fresh breadcrumbs, but not as crispy as panko breadcrumbs.
Seasoned breadcrumbs can be purchased from stores and are breadcrumbs with a mixture of Italian dried herbs mixed in.
If you're in a hurry, buying breadcrumbs is convenient, but it's also very easy to make your own version of fresh, dried or seasoned breadcrumbs and they will probably taste better than a store-bought variety. Use a food processor or blender to process fresh bread to the right consistency to make fresh breadcrumbs, process toasted bread to make toasted or dried breadcrumbs, and process toasted bread along with some Italian dried herbs (like oregano and thyme) to make seasoned breadcrumbs.
You don't need to limit your breading mixtures to just breadcrumbs, however. You could put anything in crumb form on the outside of your breaded foods. Try ground nuts, grated Parmesan cheese, cornflake crumbs, potato flakes, potato chips, tortilla chips. If you can grind it up into crumbs, you can use it in your breading.
Gluten free possibilities
Many people are looking for gluten-free substitutions these days and those searching to replicate fried foods will be relieved to know that there is a way! Here are some gluten-free substitutions for the flour in the first stage of breading, although you might experience a slight difference in flavor.
Gluten-free flour
Chickpea flour
Rice flour (brown and white)
Potato Flour
Almond flour (and other nut flours)
Spelt flour
Millet flour
Coconut flour
Corn flour
Cornstarch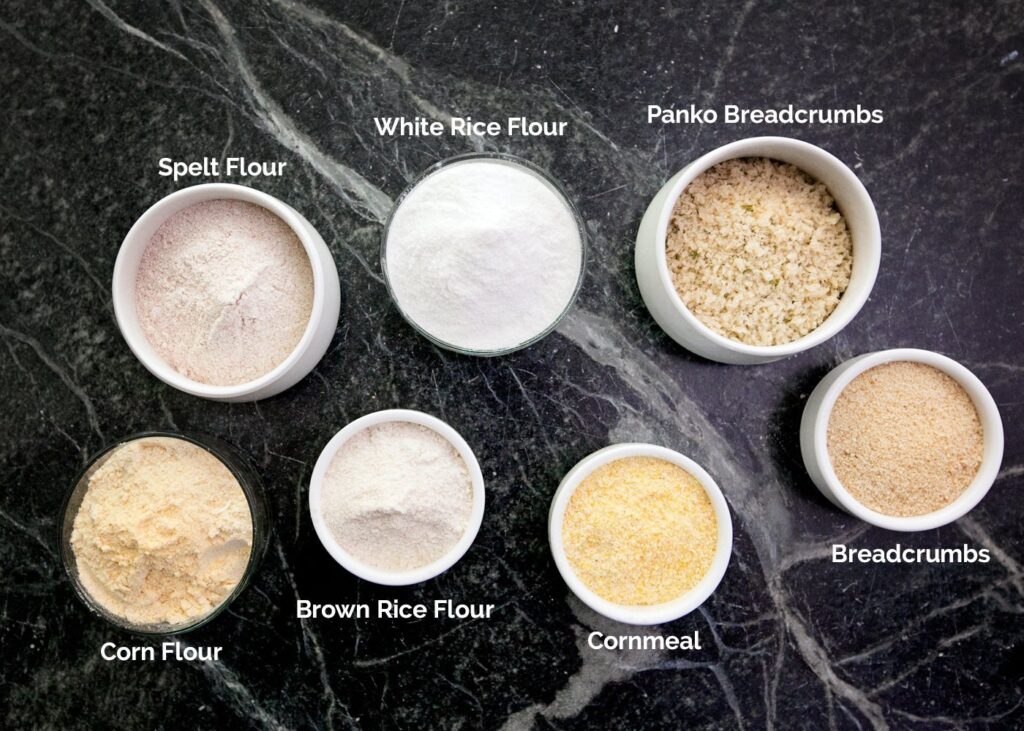 There are also great gluten-free substitutions for the third stage of breadcrumbs too:
Gluten-free breadcrumbs
Gluten-free panko breadcrumbs
Gluten-free crackers, ground in a food processor
Corn tortilla chips, ground in a food processor
Cornmeal
Ground nuts
---
Quick Notes:
The correct dredging order is flour first, then egg, then crumbs.
Season all stages of breading foods. That means season the flour with salt and pepper and season the crumbs with salt and pepper. The only exception is when the crumb mixture includes salty ingredients.
Chilling breaded foods in the fridge before frying or air-frying will help the breading stay on the food.
If you're not deep frying breaded foods, spritz them with oil before pan-frying or air-frying so that you maximize the color and texture of the food.
There are many gluten free substitutions for flour when dredging. Some are:

Gluten-free flour
Chickpea flour
Rice flour (brown and white)
Potato Flour
Almond flour (and other nut flours)
Spelt flour
Millet flour
Coconut flour
Corn flour
Cornstarch

There are also gluten free substitutions for breadcrumbs when breading. Some are:

Gluten-free breadcrumbs
Gluten-free panko breadcrumbs
Gluten-free crackers, ground in a food processor
Corn tortilla chips, ground in a food processor
Cornmeal
Ground nuts
---
Lesson: How to Dredge and Bread Foods | Blue Jean Chef