When you're looking for that super simple recipe that both kids and adults enjoy, look no farther than these air fryer chip crusted chicken nuggets. This recipe is so easy to make for two reasons. First of all, the coating is made of crushed up potato chips which means you don't have to fuss with breadcrumbs AND the seasoning on the chips can act as the seasoning for your crumb coating. Secondly, these nuggets cook in the air fryer, which is far easier than deep-frying at home and has the added benefit of being a little better for you than the traditional chicken nuggets. So, if you're looking for simple… here it is!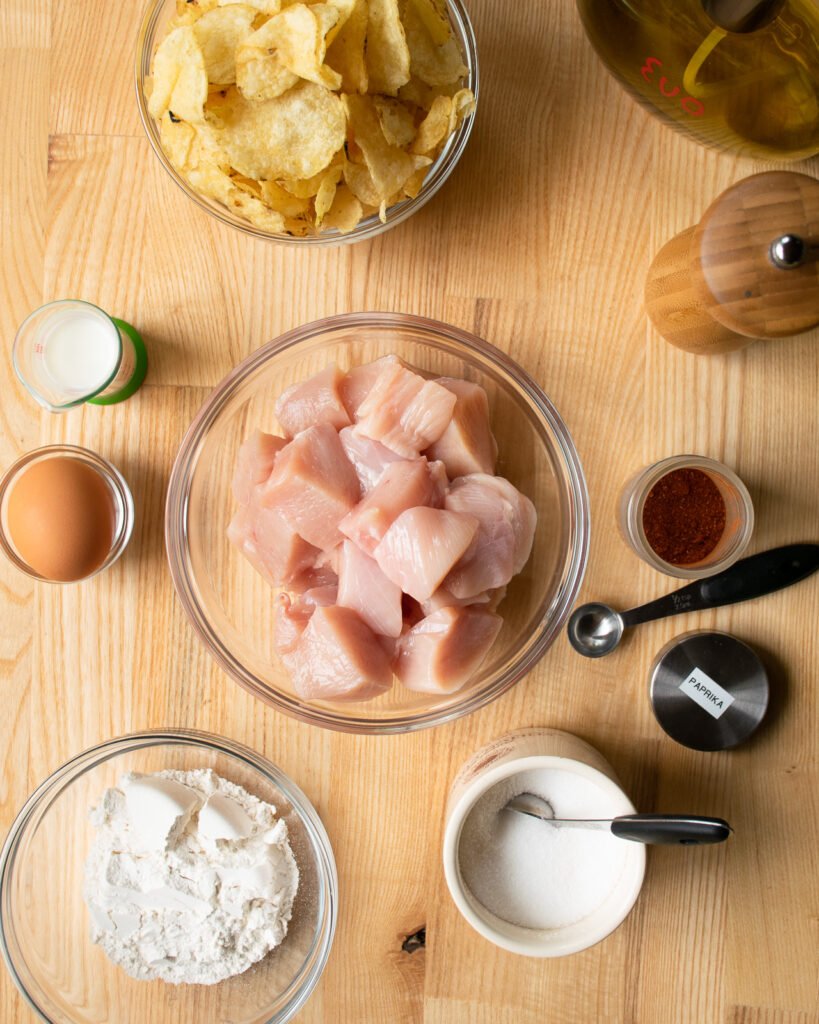 Ingredients for Homemade Chicken Nuggets
It's really not about what ingredients you use to make homemade chicken nuggets. It's about what ingredients you don't use when you make homemade chicken nuggets. As you can see above, you really need very little – some flour, some seasonings, an egg, a drop of milk, some flour and of course the chicken and potato chips. What you don't see in the photo above are preservatives and ingredients that you can't pronounce. There's a feel-good moment for you!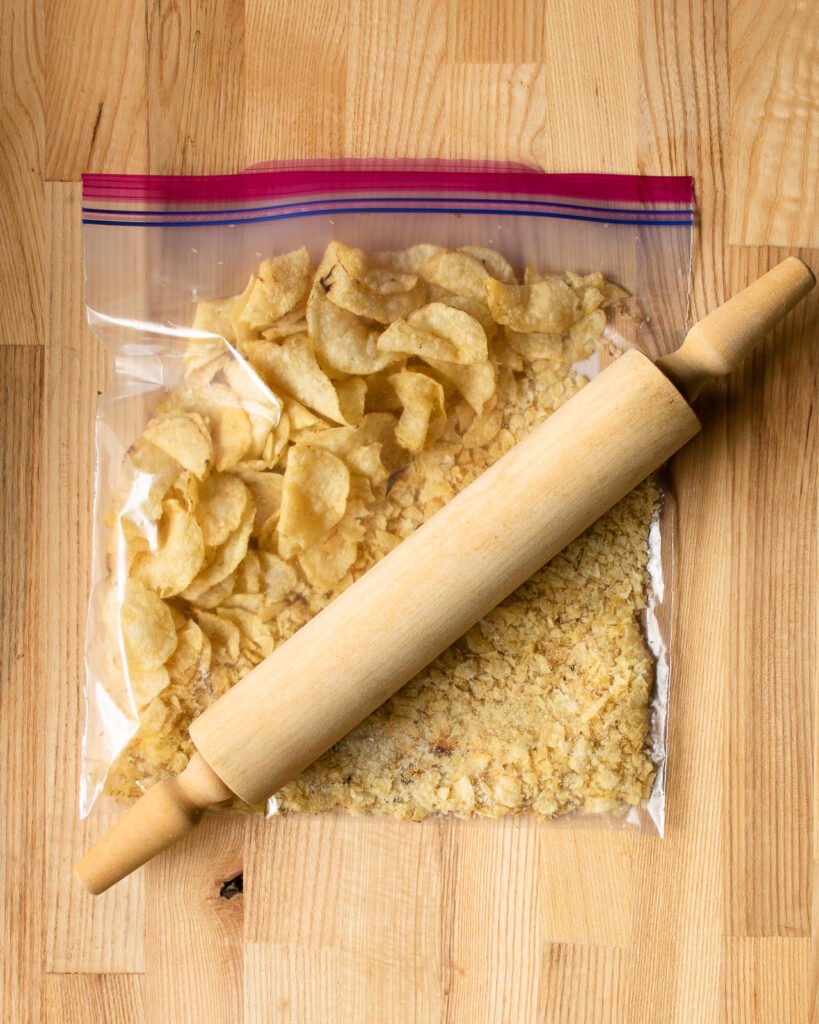 What Chips to Use
You can honestly use whichever chips are your favorite for this chip crusted chicken nugget recipe. I happen to love Cape Cod potato chips and that's what you see above, but you could go with your favorite brand AND your favorite flavor. If you love BBQ chips, try BBQ chicken nuggets. Sour cream and onion chips or black pepper potato chips make tasty coatings too, but make sure they suit your guests (especially if your guests are under the age of 12!).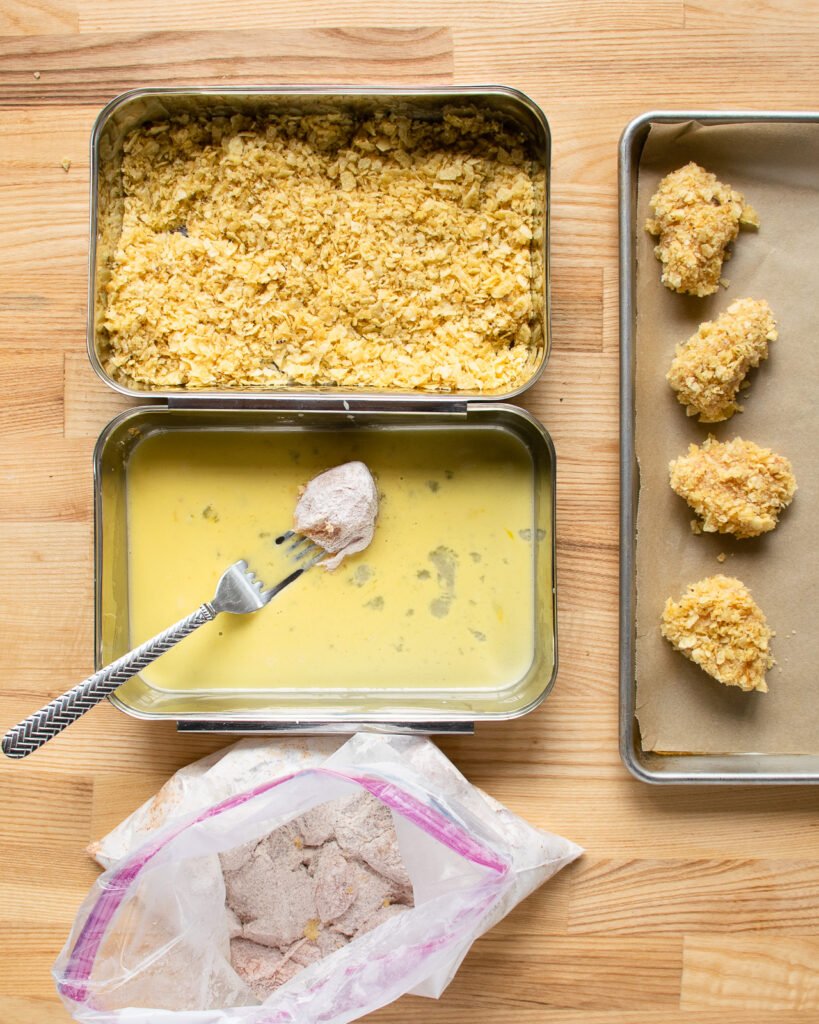 How to Dredge Properly
Coating the chicken the right way makes all the difference to whether or not your coating stays on or falls away from the chicken pieces as they cook. You can read all about how to dredge and bread foods here, but basically what you need to know is that you always coat the chicken with seasoned flour first, THEN the egg and finally the crumbs.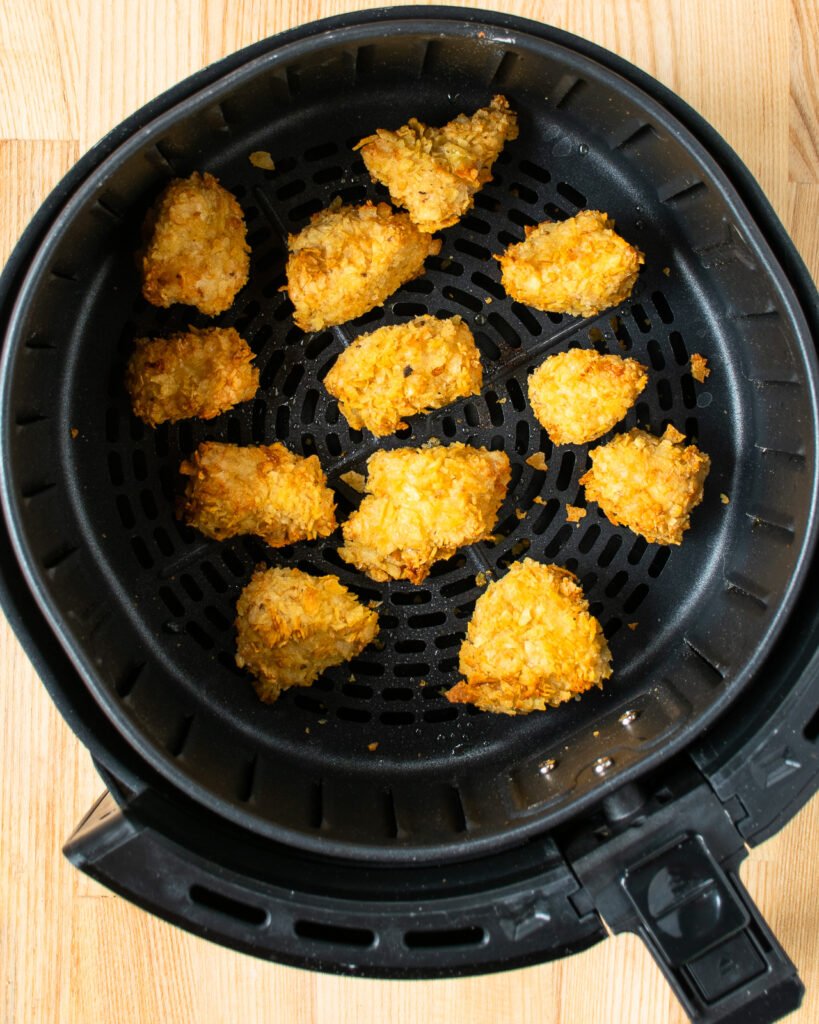 Air Fryer Chicken Nuggets
Not only do these chicken nuggets have no preservatives or artificial ingredients, they also come with a lot less guilt cooked in because they are air-fried instead of deep-fried. Win-win! Just remember the keys to successful air frying. First of all, remember not to overcrowd the air fryer basket. If you try to save time by cooking all the nuggets at once, you'll regret it because you'll end up with soggy nuggets. Leave lots of room around the pieces of chicken so that the hot dry air can do it's thing and make the nuggets crispy all the way around. You might even find that you don't need to flip them over if you've left enough empty space around them. Secondly, don't forget to lightly spritz the chicken pieces with oil. You won't need much, but a little spray will enhance the browning and the crispiness.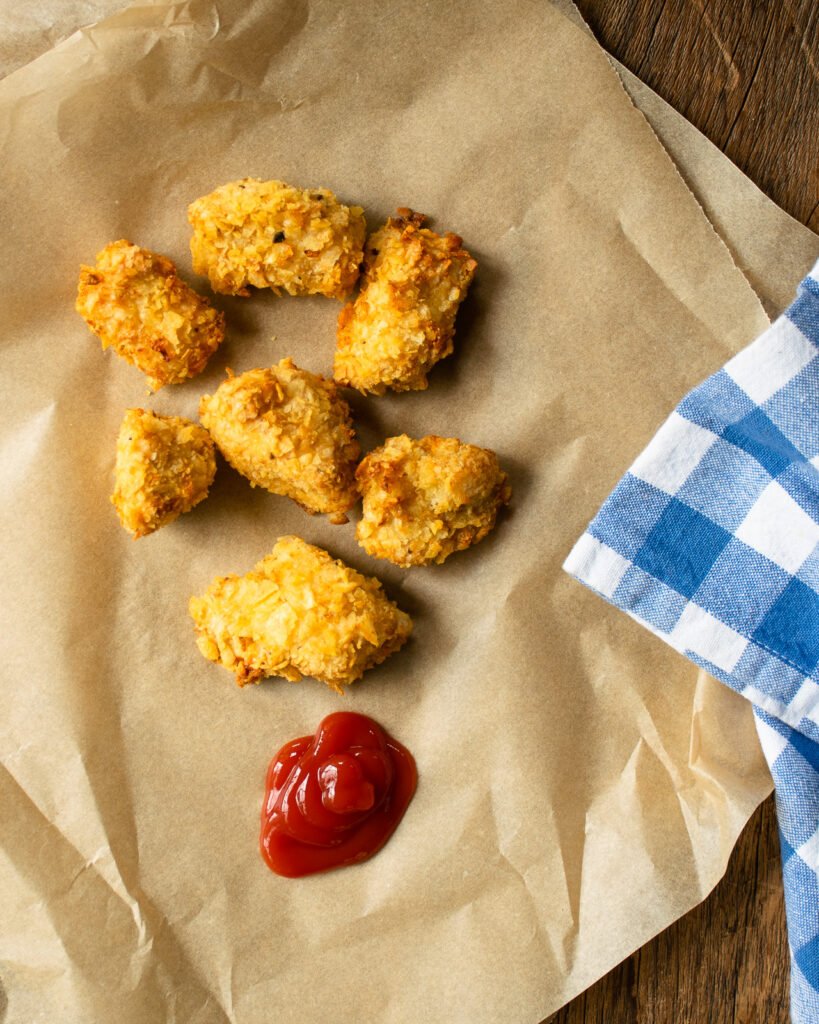 Dips for Nuggets
Most kids just like to dip nuggets into ketchup and who can blame them. There's a reason ketchup has become a household name and pantry staple. If you want to venture away from ketchup, however, you do have a lot of options. Mixing spicy brown mustard together with honey will give you a simple honey-mustard dip. You can also try the dipping sauce from my air fryer blooming onion recipe, the Creole dipping sauce in my Cajun Fries recipe, the special sauce in the air-fried chicken sandwich recipe, or one of these buttermilk dips – basil buttermilk dipping sauce, lemon dill buttermilk dressing. With all these options, maybe you can pick two or three and give people a choice.