Why Brine Chicken in Pickle Juice?
How many times have you finished a jar of pickles and then just tossed the juice and seasonings down the drain? I bet you've probably done that every time you've finished a jar of pickles! Well, don't. That salty flavorful pickle juice is perfect for brining chicken. Pickle brined fried chicken not only uses up what you would otherwise throw out, it's also some of the juiciest, tastiest fried chicken you will ever make.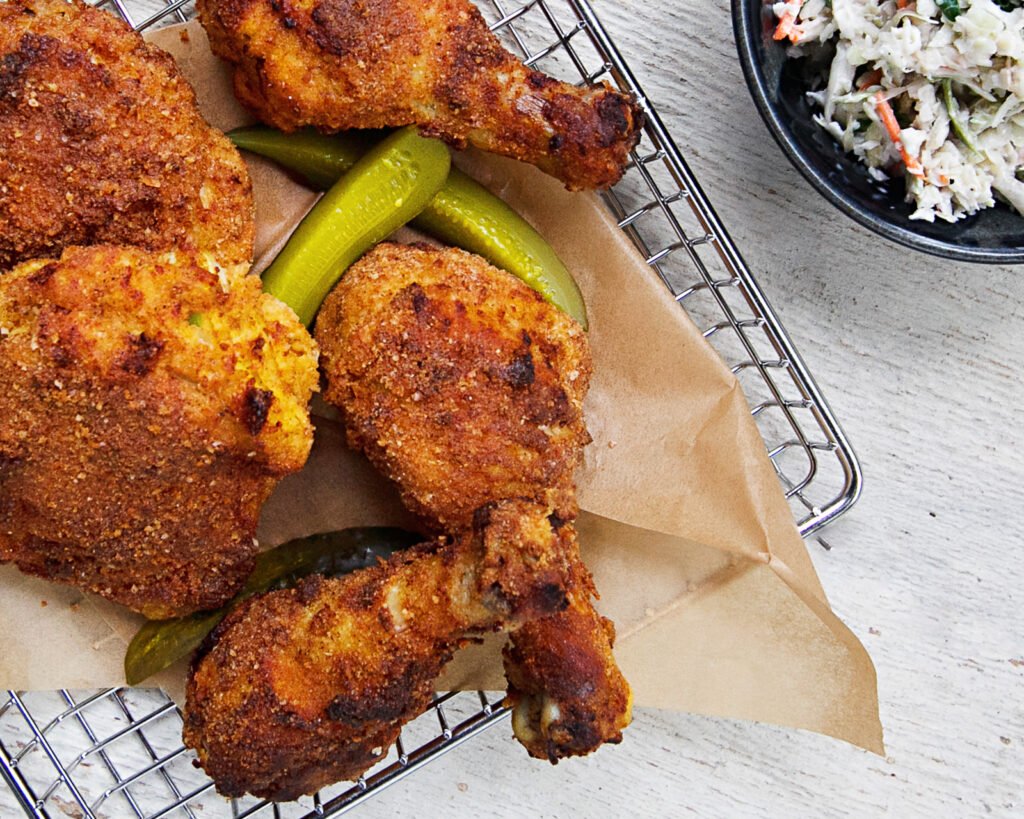 What is Brining?
Brining became all the rage several years ago when people started brining their turkeys for Thanksgiving, but the technique has been around forever. (You can see how to brine a turkey here.) Basically, brining means to soak or marinate a meat in a salty liquid. The salty liquid initially draws the moisture out of the meat, but then the meat draws the liquid back in, taking all the flavors of the liquid with it. The meat ends up with a high moisture content and is seasoned throughout. The result once cooked is super juicy, tender and well seasoned.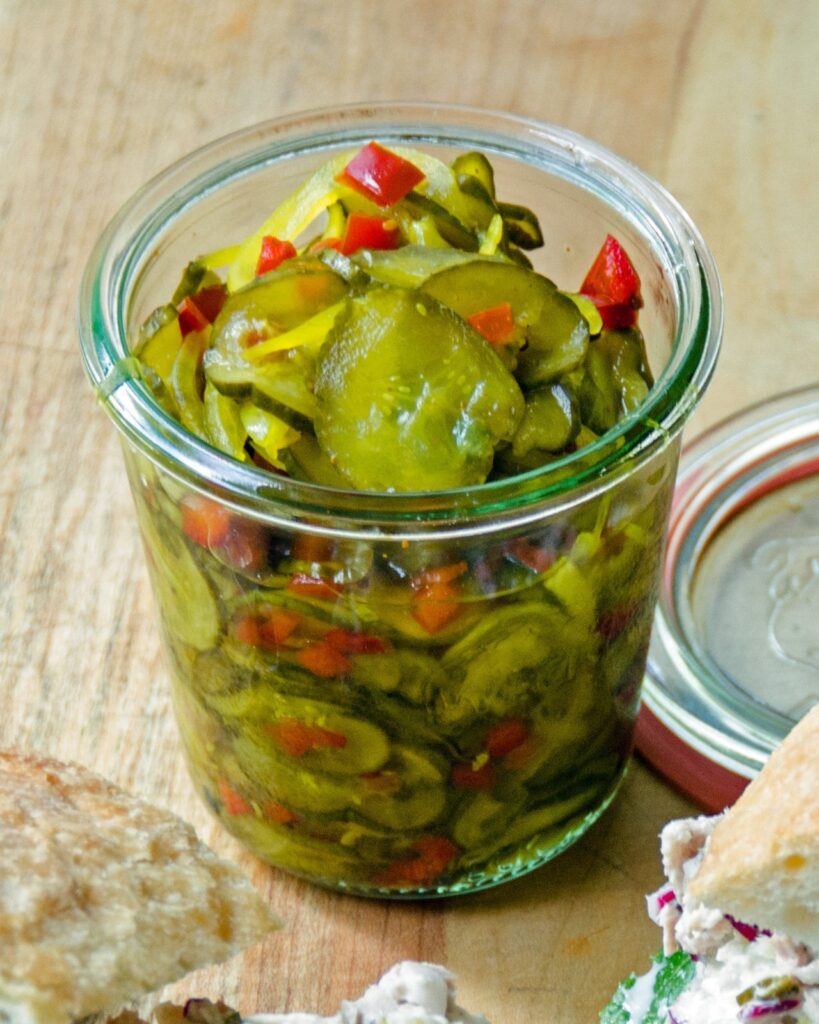 What if you don't have Pickle Juice?
Once you've made this pickle brined fried chicken once, you'll probably want to make it again in less time than it takes to eat a whole jar of pickles in order to have leftover pickle juice. What to do? Well, just make your own pickle juice brine. You can add whatever seasonings you like to the brine, but here's a basic recipe:
1 cup vinegar (apple cider or white wine)
1 cup water
2 tablespoons kosher salt
2 tablespoons sugar
2 teaspoons mustard seed
2 teaspoons coriander seed
1 teaspoon black peppercorns
½ teaspoon whole cloves
½ cup fresh dill leaves (or 1 tsp dried dill)
2 cups ice cubes
Combine everything except the ice cubes in a small saucepan and bring to a boil to dissolve the salt and sugar. Then, remove the pan from the heat and add the ice cubes to dilute and cool the brine. It's very important that the brine be cold before you pour it over the chicken.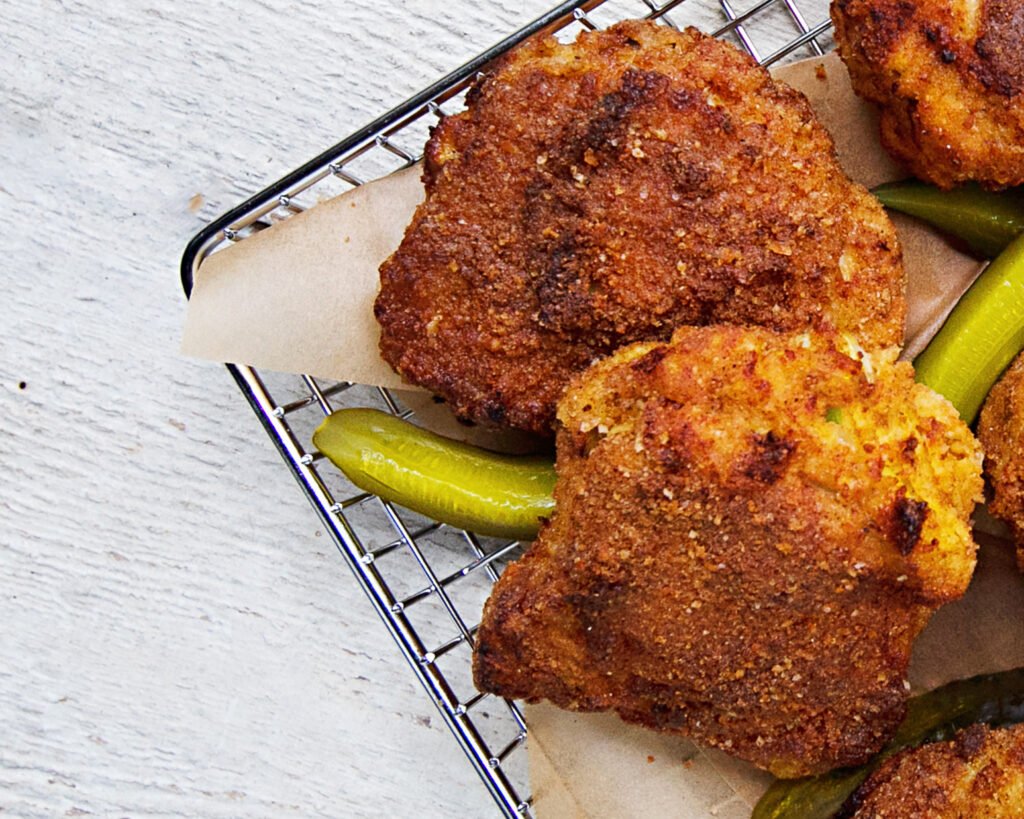 How to Make This in the Oven
This recipe calls for an air-fryer to cook the chicken, which is a lot easier and less messy than deep-frying. It also makes you feel a little better about enjoying fried chicken because the calorie and fat count is a lot lower. If you don't have an air fryer, don't fret. You can bake this chicken in your oven. Place the breaded chicken on a rack on a baking sheet. If you have a regular oven, bake it at 400ºF for about 30 minutes. If you have a convection oven, bake it at 375ºF for about 20 to 25 minutes. Whichever oven you're using, remember to flip the chicken over halfway through the cooking time. The timing will depend on the size of your chicken pieces, so be prepared to adjust the time accordingly and check the chicken with an instant read thermometer. Insert the thermometer into the thickest part of the chicken – it should register 165ºF when fully cooked.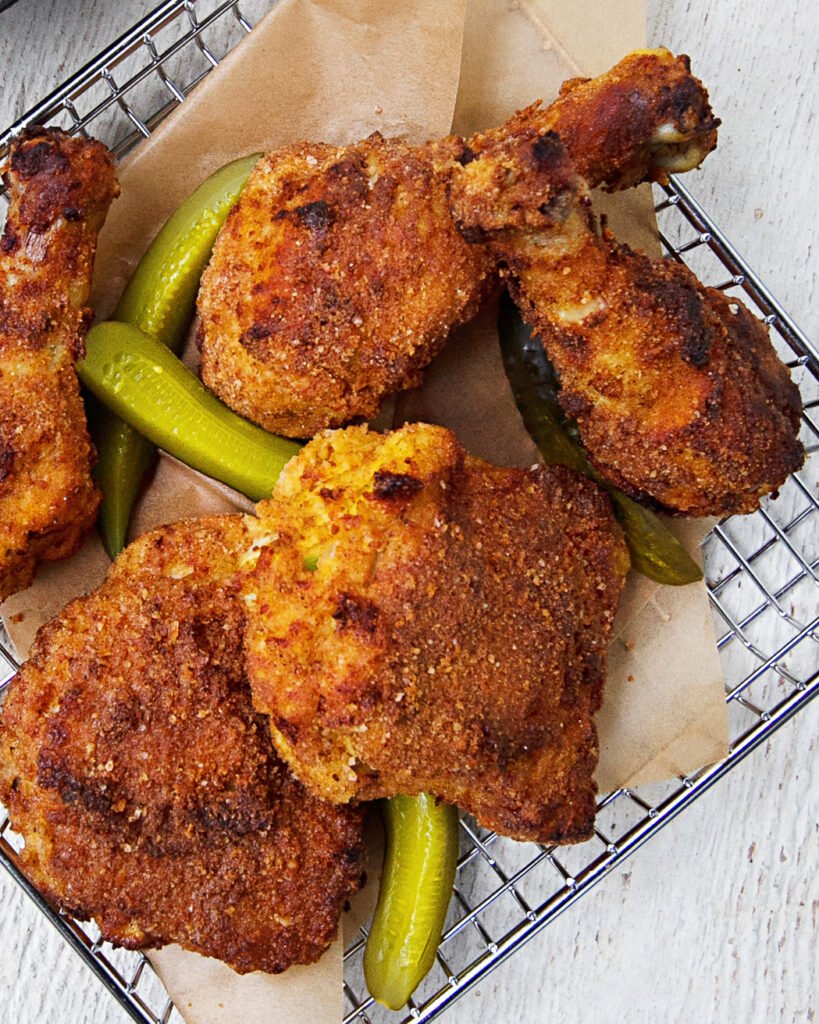 What to Serve with Pickle-Brined Fried Chicken
You can serve all the usual fried chicken sides with pickle brined fried chicken. A good coleslaw is always a great choice. I prefer a mayonnaise-based coleslaw dressing over a vinaigrette to accompany the briny chicken. You could also serve a macaroni and cheese or a great potato salad. A bread roll or biscuit would be a nice touch on the side as well. Oh, and don't forget a pickle spear or two.