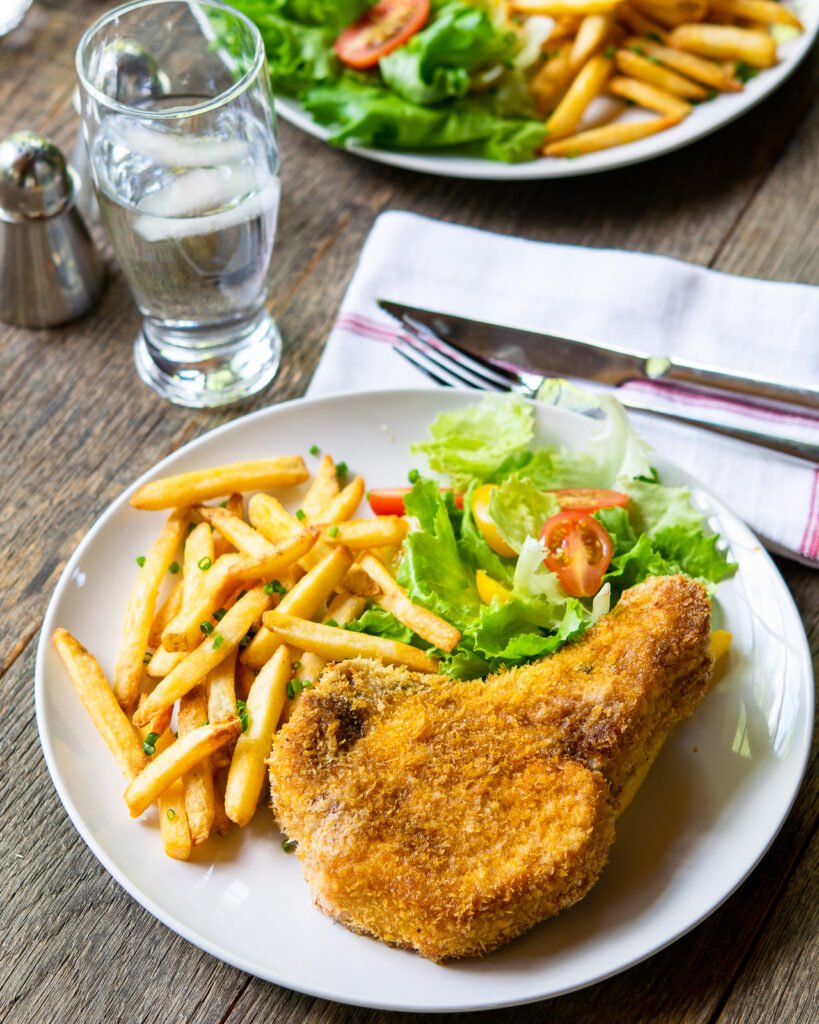 How to Make Juicy Pork Chops
Dry pork chops haunt many cooks, but they needn't. While it is relatively easy to over-cook pork and dry it out, there are a few ways to easily avoid this problem in the kitchen and this recipe for air fryer breaded pork chops incorporates all of them.
The first way to avoid dry chops is to buy thicker pork chops. Very thin pork chops cook all the way through and dry out before the outside really has time to brown. Thicker pork chops, on the other hand, take longer to cook through, giving you enough time to get the exterior of the chops brown (or crispy if that's what you're going for) before they over-cook. 
The second way to avoid making dry pork chops is to brine the chops first. Now, this does take some forethought since brining should really be done for a minimum of 6 hours, but it is so worth it in the end.
The third way to make juicy chops is to use your air fryer. Air frying is faster than baking because of the intense heat and as a result the chops don't have as much time to dry out. If you brine chops that are 1-½ inches thick and then air fry them, you're destined for a nice juicy pork chop dinner!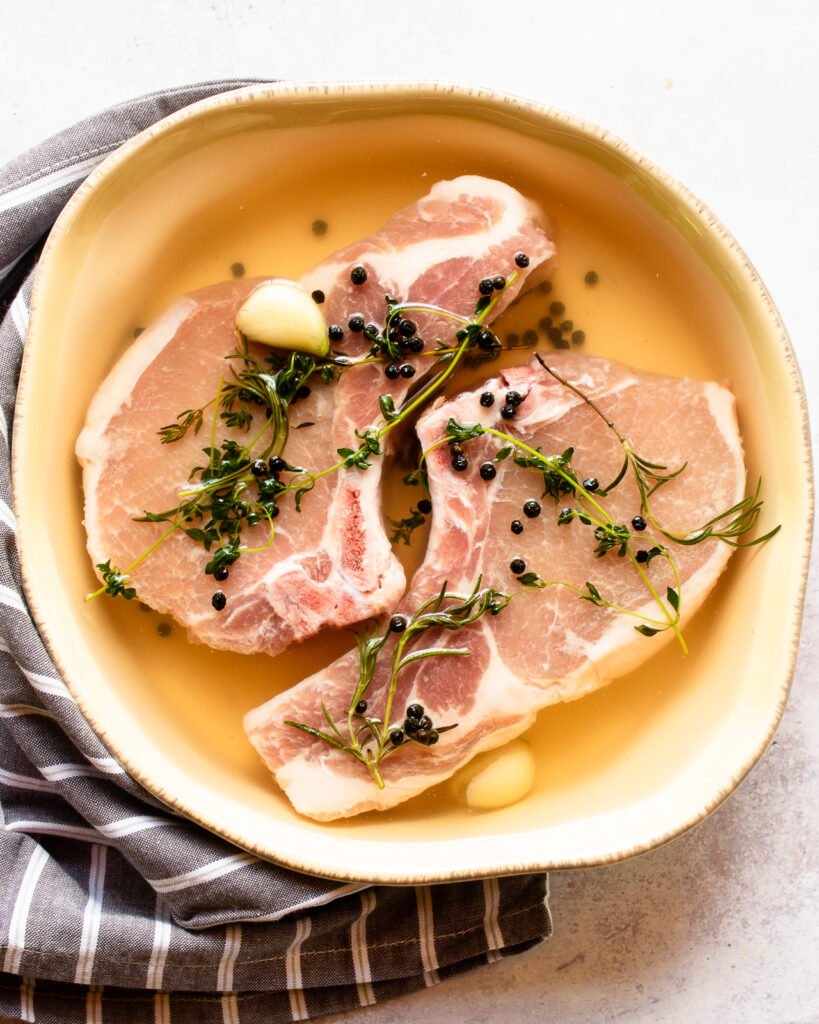 Brining Pork Chops
Brining simply means to pre-salt your chops. You can dry-brine the chops with a salty spice rub (as is the case with these Honey BBQ Pork Chops), or you can wet brine the chops with a salty water solution. Either way, the salt draws moisture out of (yes, out of) the chops. But then the movement of water reverses and the chops draw the moisture back in. When that happens, the flavors that you've put into your spice rub or salty marinade also get drawn into the meat and you're left with pork chops that are seasoned on the inside. That moisture and flavor remains in the chops when you cook and the increased moisture level makes it more difficult to over-cook the pork. Result: juicy pork chops.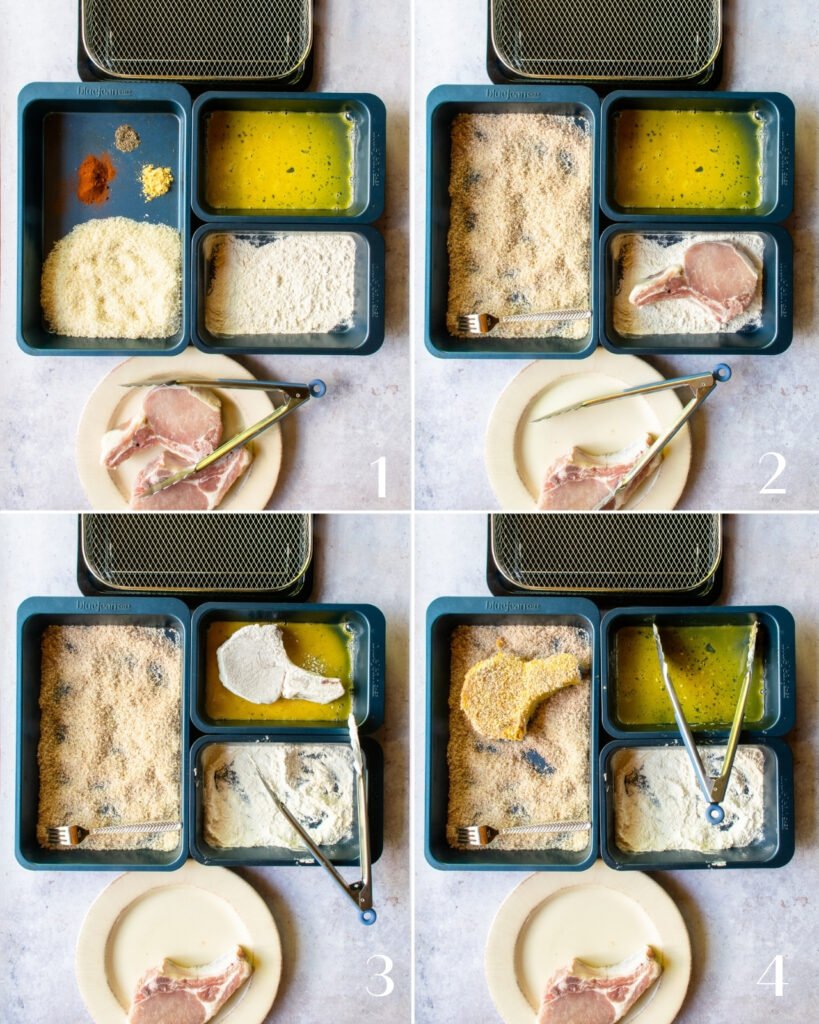 Breading Pork Chops
Once we've brined our thick chops and ensured they will be juicy on the inside, it's time to dredge and bread the chops so that they are crispy on the outside. There is a right way to do this and it might not be naturally intuitive to you. You can read all about breading and dredging in this cooking school lesson, but at the most basic level you need to know that you always start dredging or breading with flour, THEN egg, THEN crumbs. Push the crumbs onto the chops to make sure they are well coated.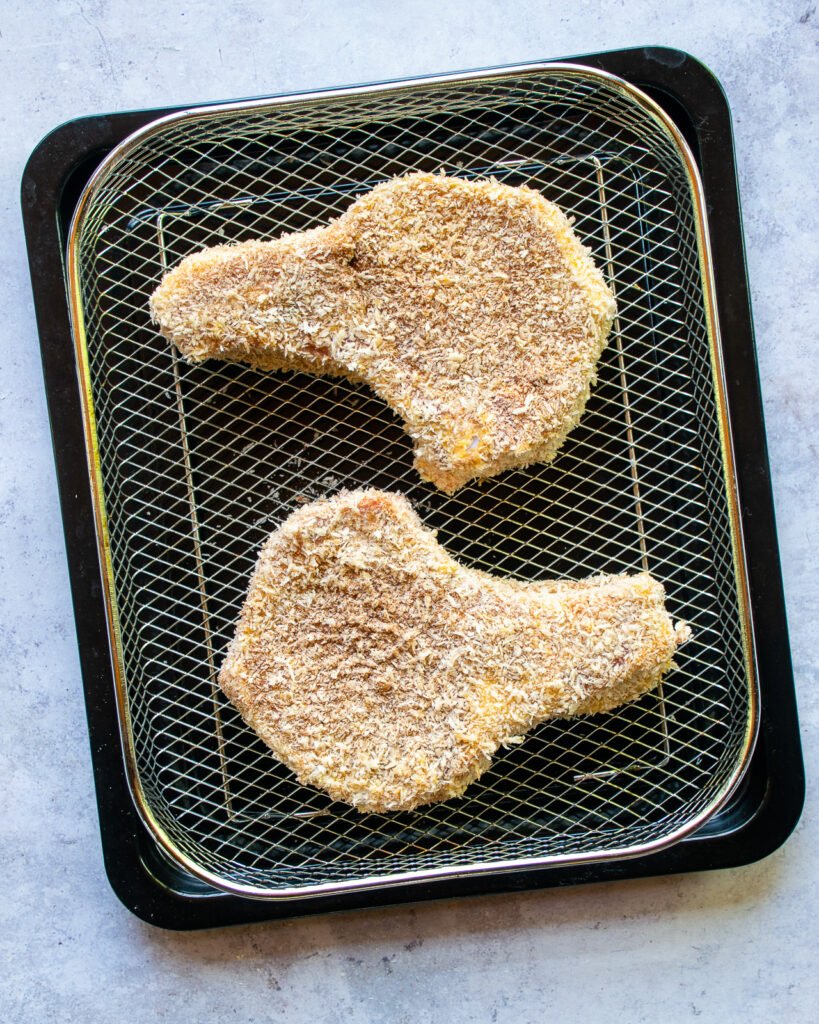 How Long to Air-Fry Pork Chops
Once the chops are coated, place them into your air fryer basket and give them a good spray with oil. It's important for the crumbs to be evenly coated with oil so that they brown and crisp well. If you have patches of dry crumbs when you put the chops into the air fryer, you'll have patches of dry, flavorless crumbs when they are done. That's why I recommend using a spray bottle to coat your breaded food items – so that you can evenly coat the crumbs with oil without over-doing it. 
The time it takes to cook your chops in the air fryer will depend entirely on how thick they are. Bone-in chops that are about 1 ½ inches thick will take about 15 minutes. If your chops are thinner than that, they'll cook faster so just drop the time down a little. When the chops are fully cooked, they will feel firm to the touch, but you can always check them with an instant read thermometer. They should reach 150ºF at their thickest point when cooked. 
To Go Alongside…
I'm sure I don't need to tell you what to serve with your beautiful juicy air fryer breaded pork chops, but if you were looking for inspiration, a potato dish would be nice. You could go for some homemade French fries or a delicious potato salad or some smashed potatoes. For a vegetable, you could make a quick green salad or this spring green salad, or you could serve some minted green peas or just some steamed broccoli alongside. Serve whatever vegetable you like. All eyes will be on the pork anyway!