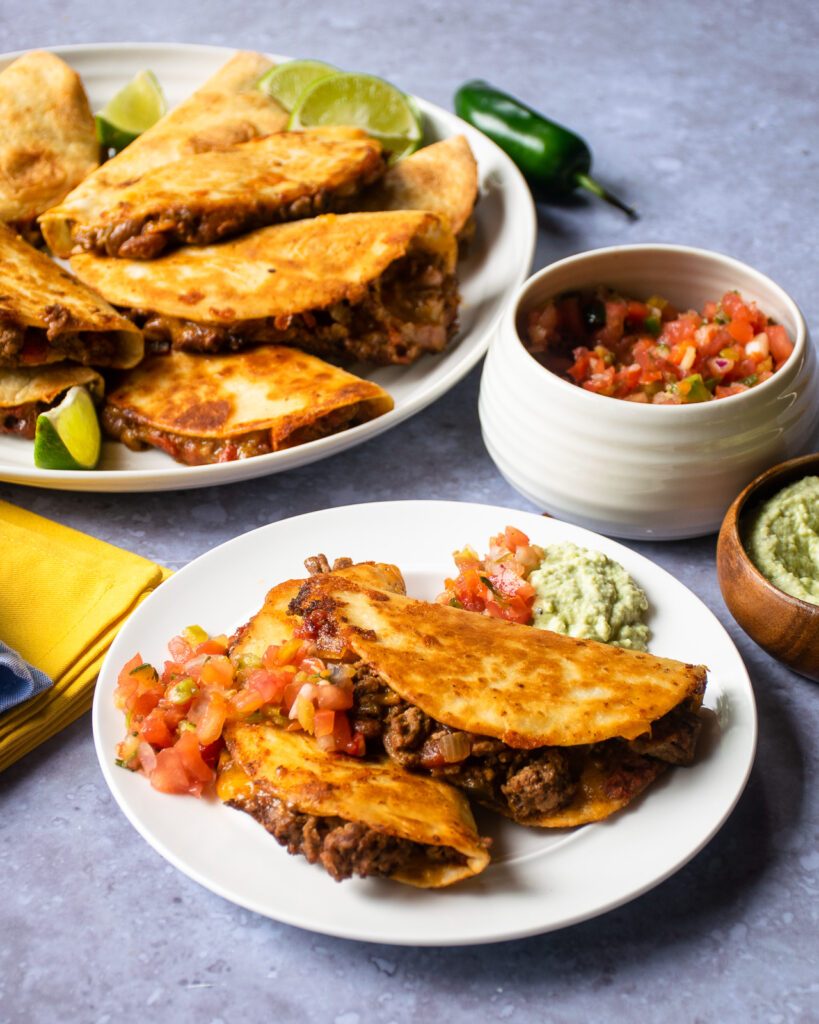 Better Than Taco Shells
I remember taco night as a kid. My mum would buy the crispy taco shells that came with the spice mix. She'd sauté ground beef with the spice mix and we'd make our own tacos, filling them to the rim with the beef mixture, shredded lettuce, tomato and cheese. I'd fill my taco so carefully and then take my first bite and my plate would instantly be full of taco salad. Those hard taco shells were impossible to keep in one piece and inevitably broke as soon as my little hands picked it up. These crispy beef tacos take me back to those taco nights as a kid, but by using soft flour tortillas and crisping them up myself – in the oven, on the stovetop or in the air fryer – they are more forgiving and more manageable, no matter how big or small your hands are.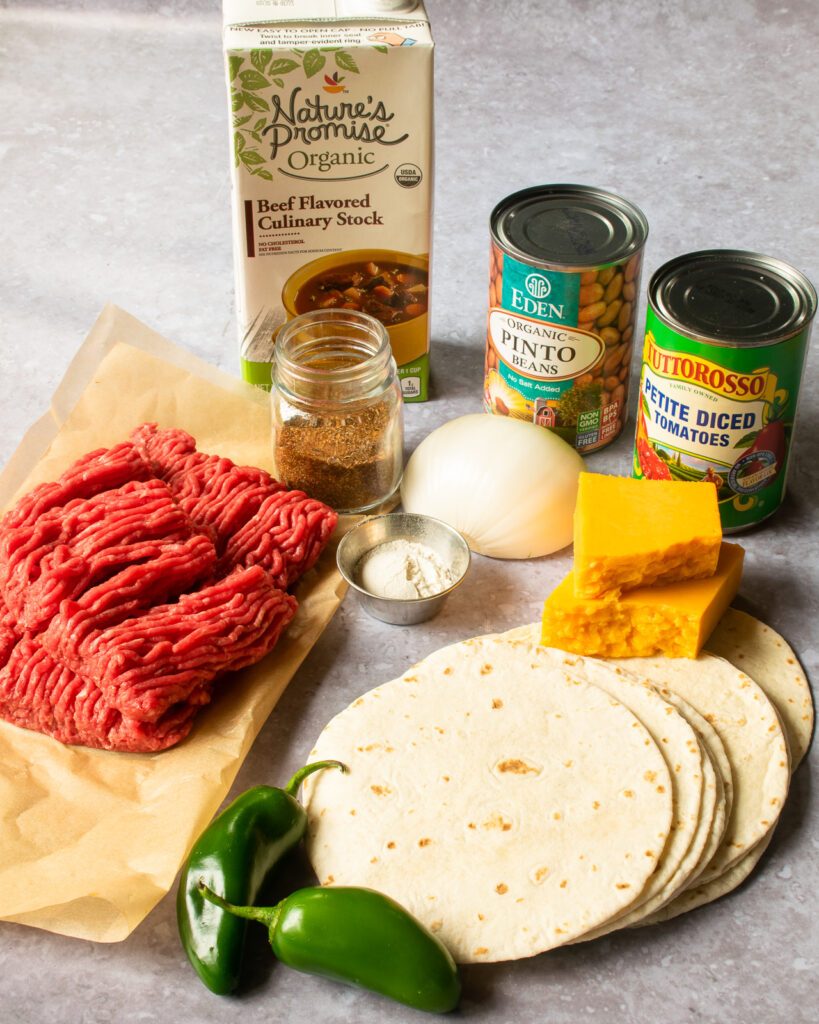 Ingredients for Crispy Beef Tacos
The ingredients for the beef taco are simple. Grab some ground beef (medium or lean), your favorite canned beans (I like pinto, but you could use black or white beans), some canned tomatoes, onion, a little flour and some taco seasoning. You'll need some cheese and tortillas and then whatever vessel you are going to use to cook them – a skillet, an air fryer or a sheet pan.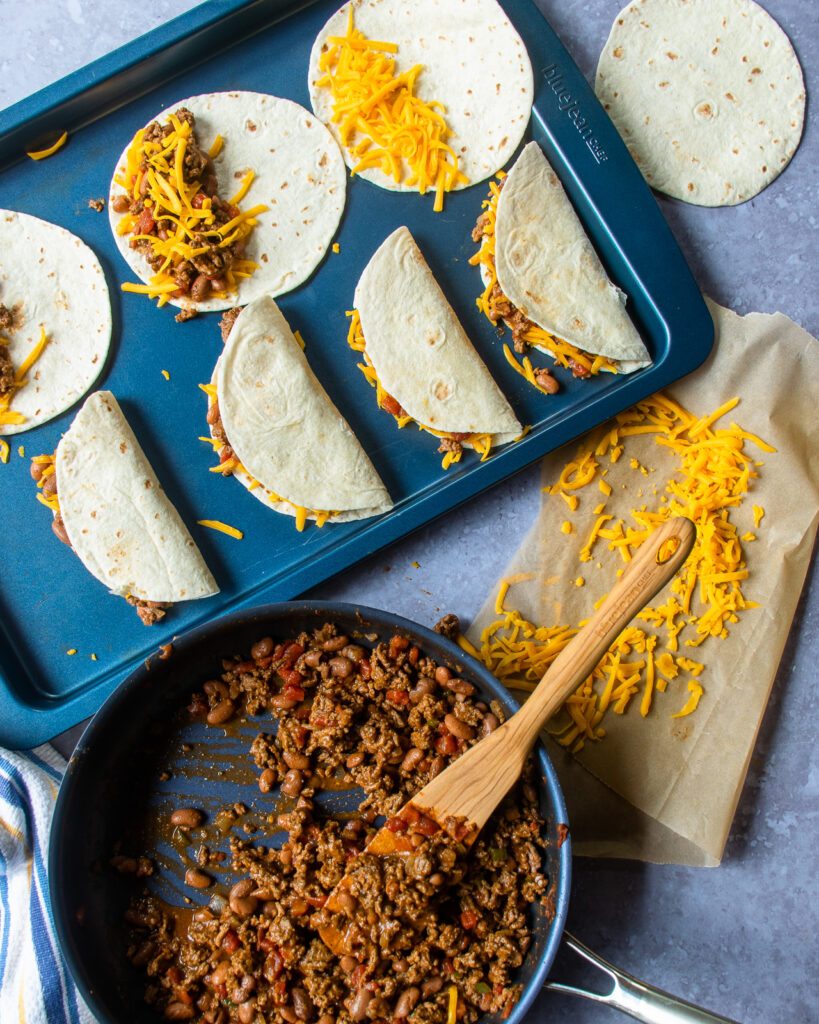 Homemade Taco Seasoning
You could buy taco seasoning if you really want to, but it's so easy to make yourself.  There are just 6 different spices, some salt and pepper and if you make a big batch, it will keep nicely in your spice cabinet until you're ready to use it again. You can find a recipe for homemade taco seasoning here.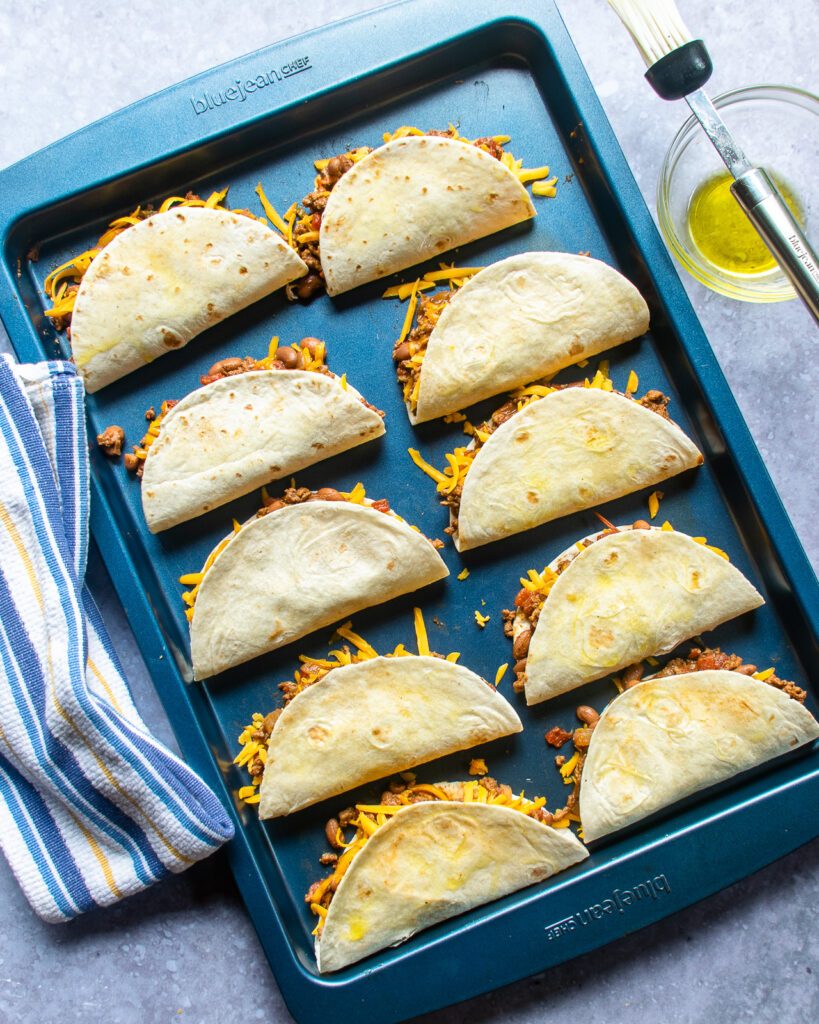 Oven Tacos
To make these tacos in the oven, brush the tortillas with oil and lay the assembled tacos out on a large sheet pan. Pre-heat the oven to 400˚F and bake the tacos for 10 minutes. Flip them over and bake for another 5 to 10 minutes and you'll be ready to go.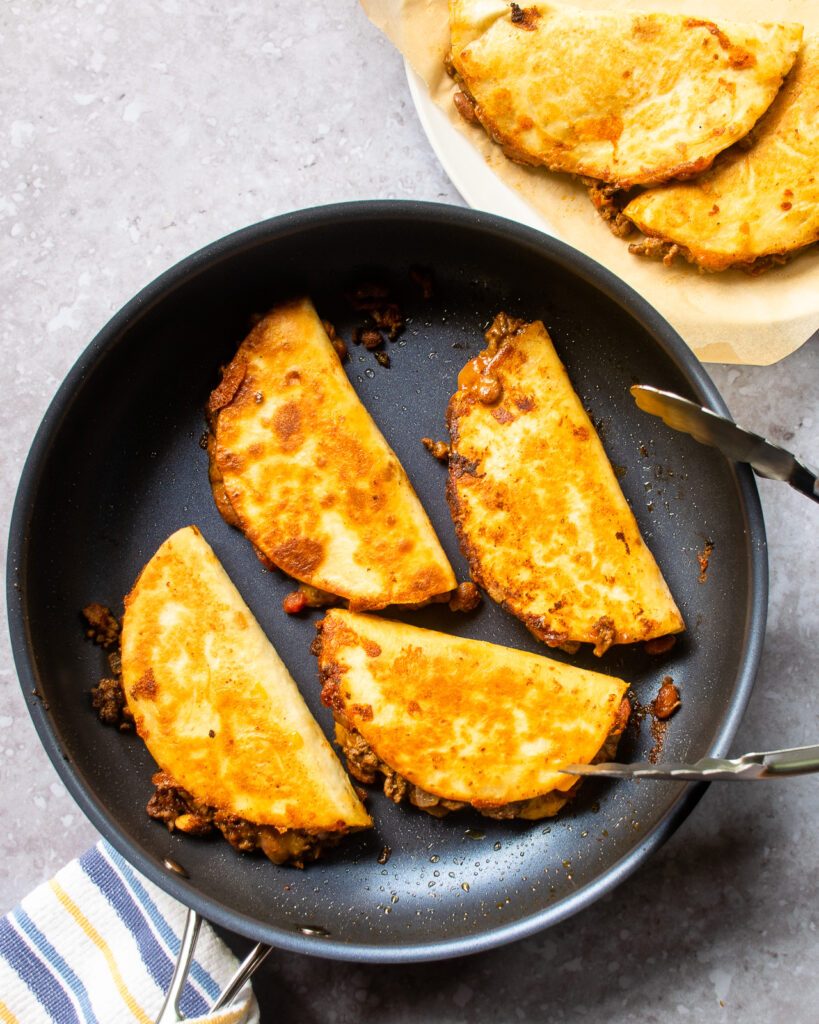 Pan-Fried Tacos
The tacos really crisp up well on the stovetop. Pan-fry them in oil for just a few minutes on each side and serve hot. This is the fastest way to prepare these crispy beef tacos and you already have a skillet in use from making the beef mixture, making it convenient too.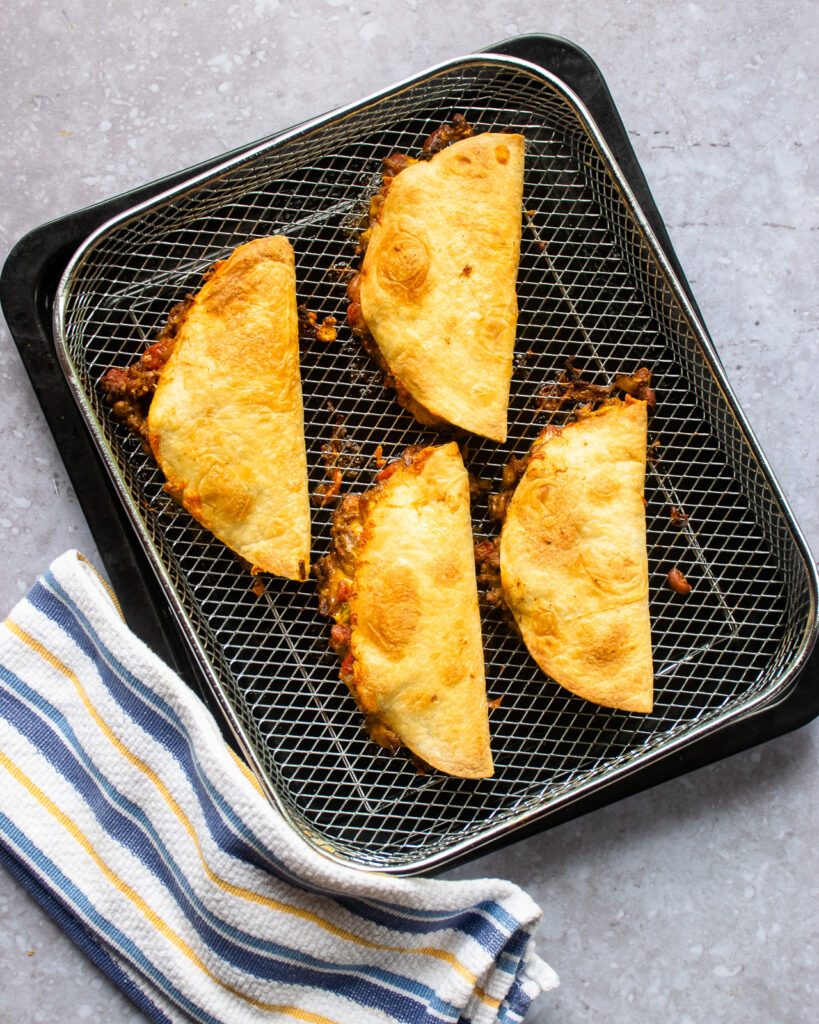 Air-fried Tacos
If you're watching how much oil you intake, the air fryer might be your best choice for these tacos. Spritz both sides of the assembled tacos with oil and then air-fry at 400˚F for 5 minutes on one side, flip over and air-fry for another 3 to 5 minutes on the other.
Avocado Crema
You could serve the tacos with guacamole or with this bright lime-y avocado crema. It's made easily in a food chopper or in a bowl and includes avocado, sour cream, cumin, cayenne pepper and lime juice. It is a nice light accompaniment to the beefy tacos.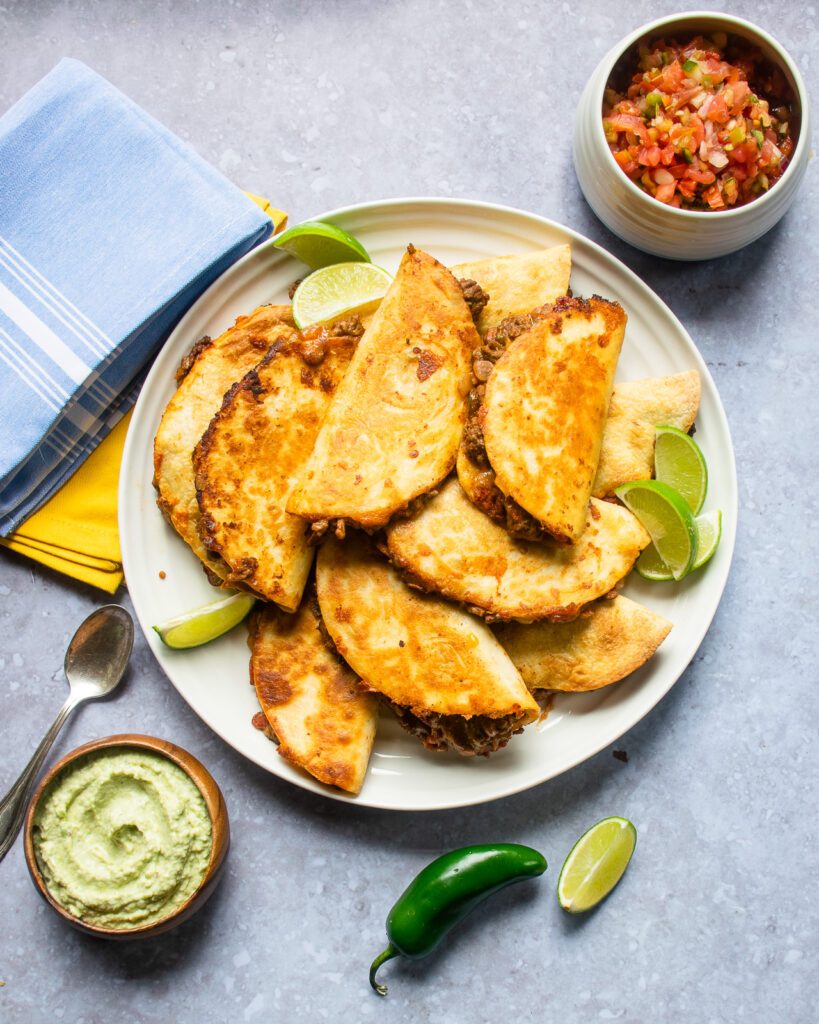 How to Serve Crispy Beef Tacos
These crispy beef tacos are best served warm right out of the pan, oven or air-fryer. I like a fresh salsa to go with it, whether that's a traditional pico de gallo, some mango salsa or a smooth and smoky tomato chipotle salsa. Oh, and don't forget some napkins and a plate to catch all that falls. They're not completely mess proof!