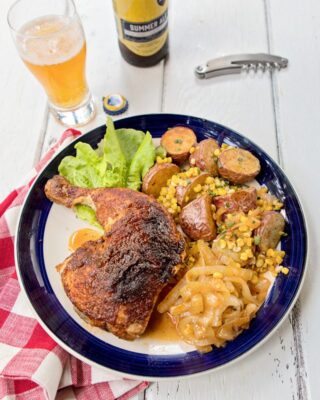 Converting From Traditional Recipes
You can use your air fryer to cook recipes that have instructions for cooking in the oven. Summer Ale Chicken leg with onions, corn and potatoes on a blue rimmed white plate and a glass of summer ale beer.Because the heat in the air fryer is more intense than a standard oven, reduce the suggested temperature by 25ºF to 50ºF and cut the time by roughly 20%. So, if a recipe calls for cooking in the oven at 425ºF for 60 minutes (like the Summer Ale Chicken, for instance), instead you can air-fry the chicken at 400ºF for aout 40 minutes. Some of the recipes on this website have instructions for multiple appliances. For those recipes that don't, or for your favorite recipe from another author, try using the cooking charts on this page to help determine the right cooking time for foods. Always remember to turn foods over halfway through the cooking time (as you would in a skillet or on the grill) and check the foods for your desired degree of doneness as you approach the finish line.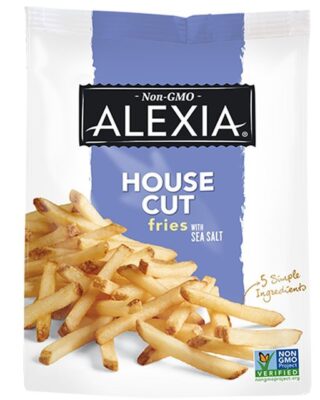 Converting From Packaged Foods Instructions
The same rule applies to prepared foods that you might buy at the grocery store. If a bag of frozen French fries suggests cooking in the oven at 450ºF for 18 minutes, air-fry the fries at 400ºF (50ºF lower) and start checking them at 15 minutes (a little earlier than the package directions), remembering to shake the basket once or twice during the cooking process to help the fries brown evenly.
Converting to Different Sized Air-Fryers
White air fryer on a wooden counter.Larger air fryers can make life a little easier, especially if you're cooking for 4 or more people. Because the baskets in these air fryers are larger, you can cook more food at one time and do not have to cook the food in batches as specified in many of these recipes. Just remember not to over-fill the air fryer basket, since that will just slow down the overall cooking time and result in foods that are not as crispy as you'd like them to be. In addition, some larger air fryers with more power might cook foods slightly faster than smaller, lower wattage air fryers. This will not be a significant difference, but might save you a couple of minutes on some recipes. As with all things you cook in the air fryer, it makes sense to pull open the air fryer drawer and check the foods as they cook. That way, you'll avoid over-cooking anything.