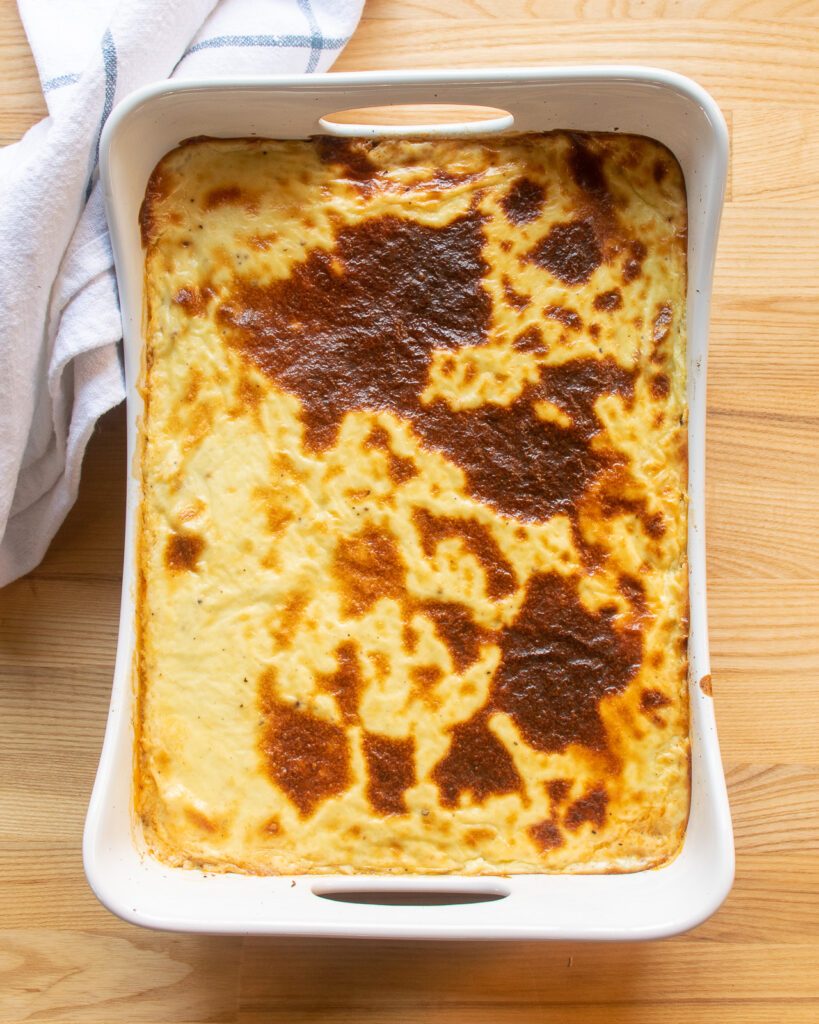 What is Moussaka?
Moussaka is a Mediterranean savory layered casserole made with eggplant, potatoes and ground meat – sometimes beef, sometimes lamb – topped with a Béchamel sauce before being baked. It's one of my favorite Greek dishes and is a great way to feed a crowd, along with a big Greek salad. 
Meat Sauce for Moussaka
The meat sauce for moussaka is special because of the spices included. Oregano should be no surprise to you in a meat sauce, but the addition of cinnamon, allspice and nutmeg give this sauce a warmth and Mediterranean flavor that you're bound to recognize if you're fond of Greek foods. This meat sauce only takes about 15 to 20 minutes to make, but if you wanted to break up the preparation of this moussaka over a day or two, this is one step you can do a day ahead of time. Just store it in the refrigerator overnight.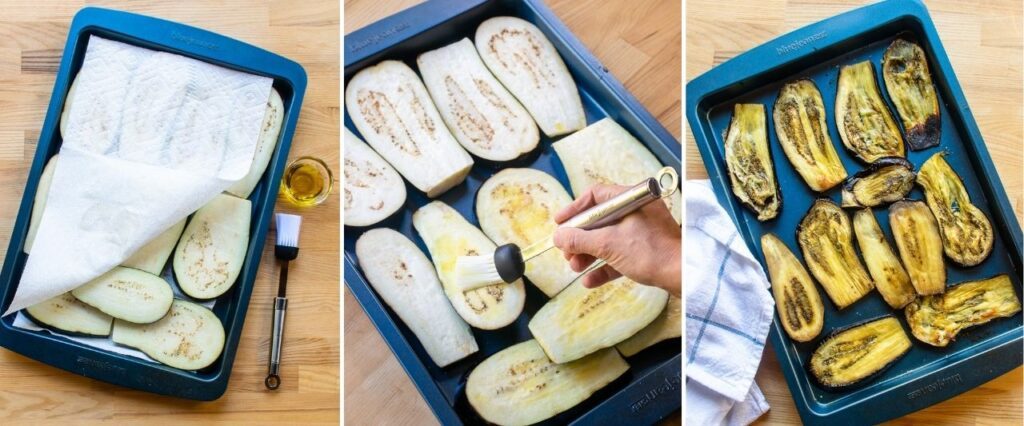 How to Prepare Eggplant for Moussaka
The eggplant layer in moussaka must be pre-cooked. You could sauté, grill or air-fry the eggplant slices, but I prefer to simply bake them in the oven. It's a step that you can do while you're preparing the other components of the dish. Salting eggplant before roasting is optional. Although many of us have been salting egglant for years, it really only has an effect on the eggplant if you're going to be frying it. Salting will help the eggplant soften and have a creamy interior. That's not really necessary here in this moussaka casserole, so if you don't have time to do the salting, skip it! Do, however, brush the eggplant liberally with oil. Eggplant soaks up a lot of oil and need that oil in order to stay moist and to brown nicely.
Making the Béchamel for Moussaka
The Béchamel sauce for moussaka is a little thicker than a regular Béchamel sauce because it needs to set firmly on top of the casserole. In order to give it that strength, we use more flour and we reinforce the sauce with egg yolks, which will cook in the sauce as the casserole bakes. Once you've made the Béchamel sauce on the stovetop, temper the egg yolks into the hot sauce by first whisking a small amount of sauce into the egg yolks to bring their temperature up a little. Then, return the loosened egg yolks to the saucepan and whisk it all together. Finally, stir in the Parmesan cheese. This also helps to thicken the sauce a little, but more than that, its salty flavor helps season the topping.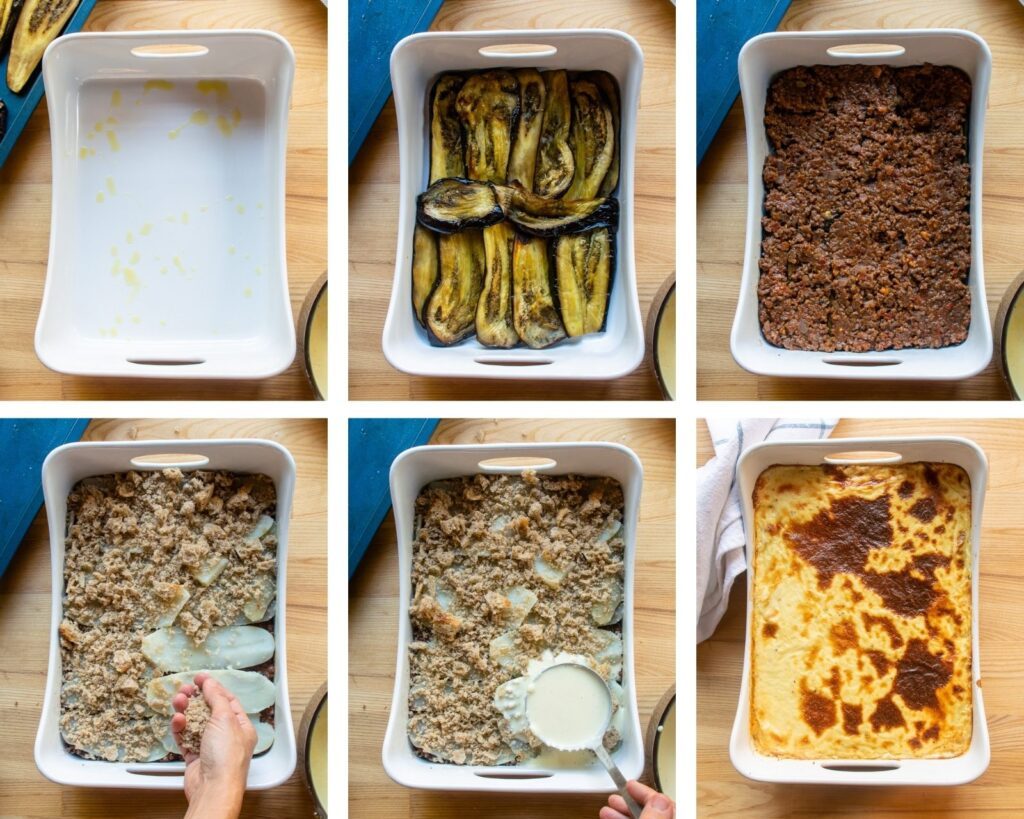 Building the Moussaka
Once you have all your moussaka components ready – meat sauce, boiled potato slices, baked eggplant slices, fresh breadcrumbs and Béchamel sauce, you're ready to build the casserole. Just layer in the components as you see above (oil the dish, eggplant, meat sauce, potatoes, breadcrumbs, Béchamel) and transfer the casserole to the oven. It's a wise idea to put a large baking tray on the rack below the moussaka to catch any possible drips.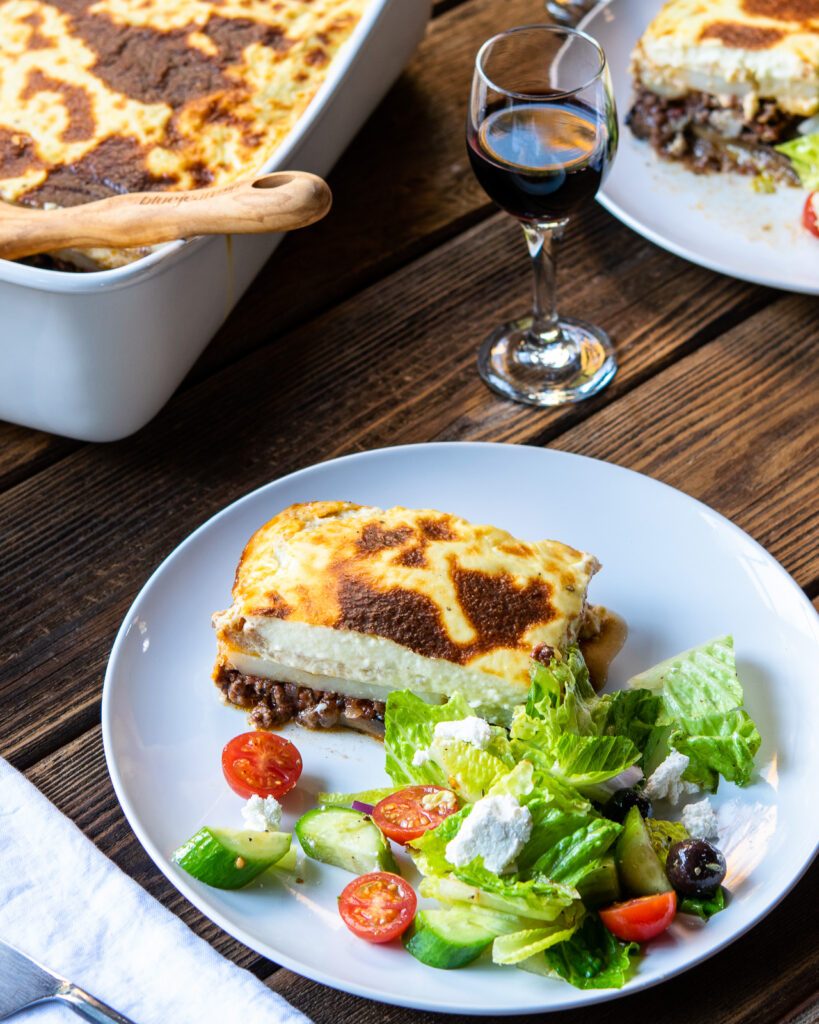 Make Ahead Moussaka
If you want to prepare the moussaka ahead of time, you can prepare all the components and layer everything, stopping before you add the Béchamel. Leave the top layer until you are getting ready to bake the dish. That way, the Béchamel sauce won't get absorbed by the breadcrumbs. You'll find that the ingredients are actually easier to layer when they are cold, so feel free to think and prep ahead of time.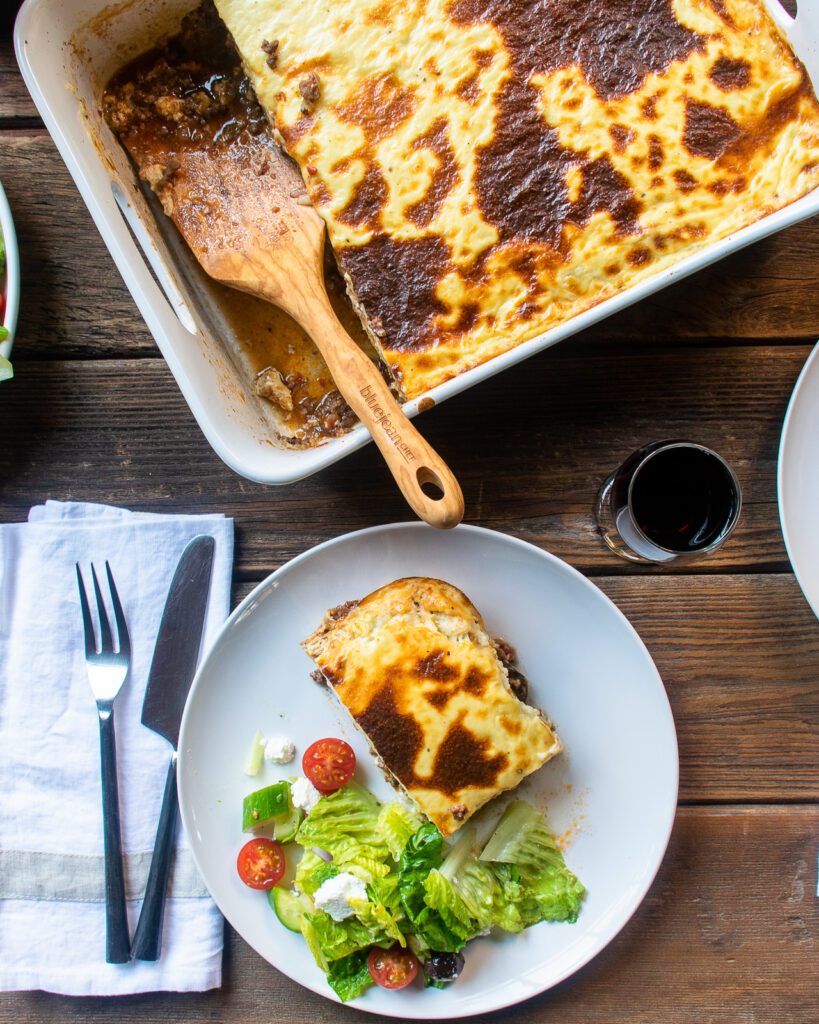 What to Serve with Moussaka
I find that moussaka is very enjoyable when served simply with a Greek green salad, but it's often just one part of a meal with many other items. If you are feeding a crowd, you might like to have the moussaka as one option and serve it with chicken souvlaki, Greek pasta salad, Tzatziki sauce, pita bread and some Greek potato wedges for a big Greek feast! You can always save leftover moussaka for the next day, re-heating it in the microwave or in the oven, or freeze it for a rainy day.