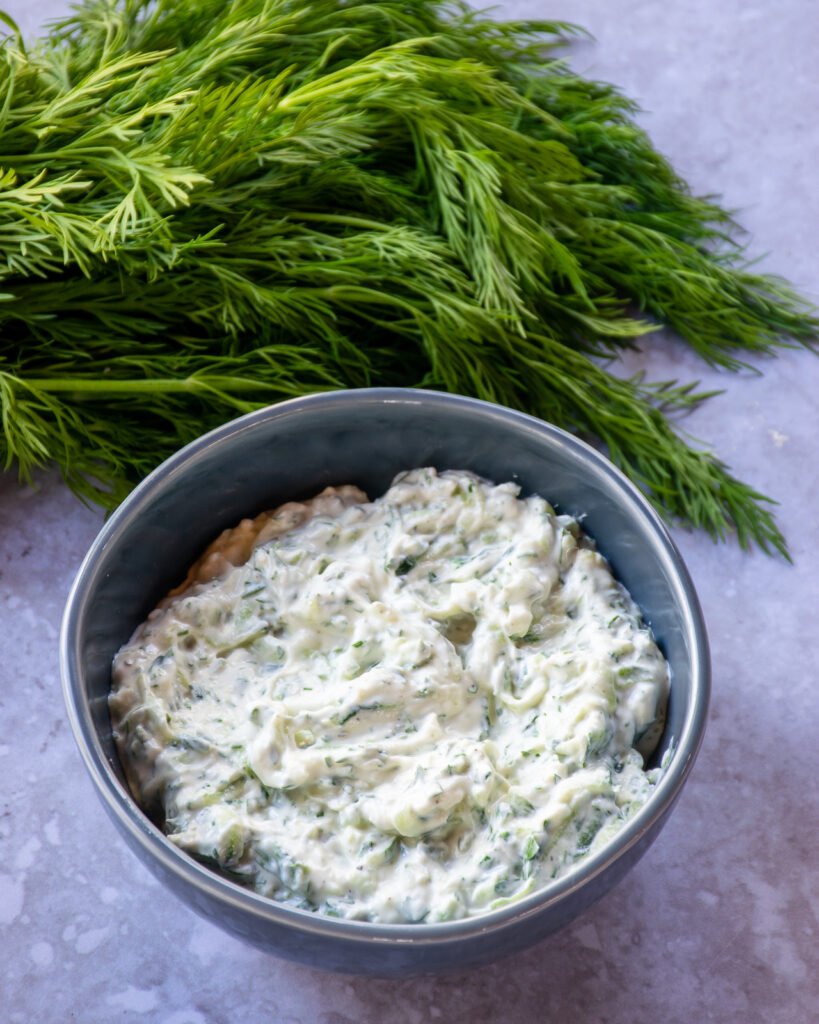 What is Tzatziki Sauce?
Tzatziki sauce is a creamy Greek condiment made with yogurt, cucumber and garlic and is a staple of the quintessential Greek table. I can remember going out to eat as a university student to a local cafe and enjoying Tzatziki sauce and pita bread for dinner many a night. Though I definitely enjoyed it at the time, one of the side effects of that inexpensive dinner was that I would be tasting garlic in my mouth for days. In this version of Tzatziki sauce, I've tamed the garlic flavor a lot and left it up to you to customize how much you'd like to use.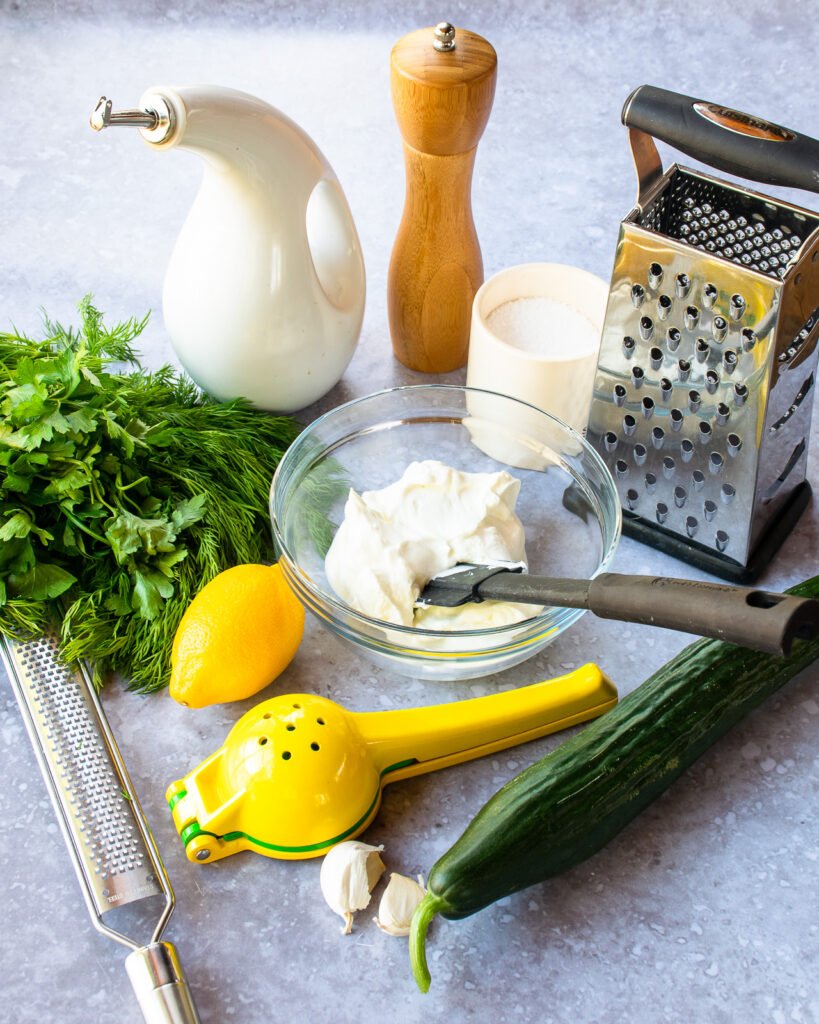 What is in Tzatziki Sauce?
The ingredients for this quickly made condiment are simple: Greek Yogurt, cucumber, garlic, lemon juice, olive oil and some fresh herbs – I like dill and parsley. It's handy if you have a box grater (for the cucumber), microplane (to really mince the garlic) and lemon squeezer (you know what this is for!), but you can adapt if you need to.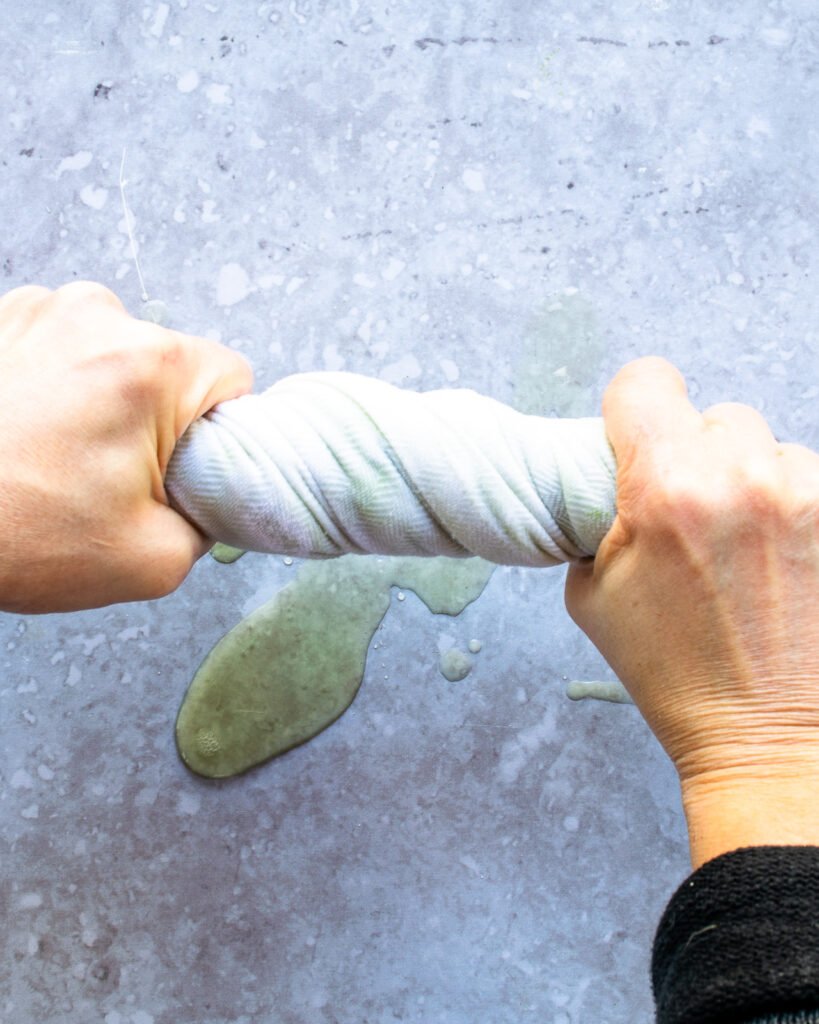 Preparing the Cucumber
I like to use an English cucumber for Tzatziki because there are fewer bitter seeds. Cucumbers have a very high water content and once you cut into (or grate) the cucumber, that liquid will start to leech out of the vegetable. Getting that liquid out before you mix the cucumber with the yogurt will help keep your sauce thick and won't dilute the flavors. This takes a little elbow grease, but squeeze your cucumber in a clean kitchen towel and you'll see the liquid that is released. You can also salt the cucumber which will draw out the liquid and let it drain in a colander for 30 minutes or so. Just remember if you do this not to season with salt later on. I also choose not to peel the English cucumber before I grate it. Peeling the cucumber can take off too much of the flesh and seems wasteful when the peel is perfectly edible, plus it adds some green to the sauce. If you are not using an English cucumber, however, I would peel and seed the cucumber before grating.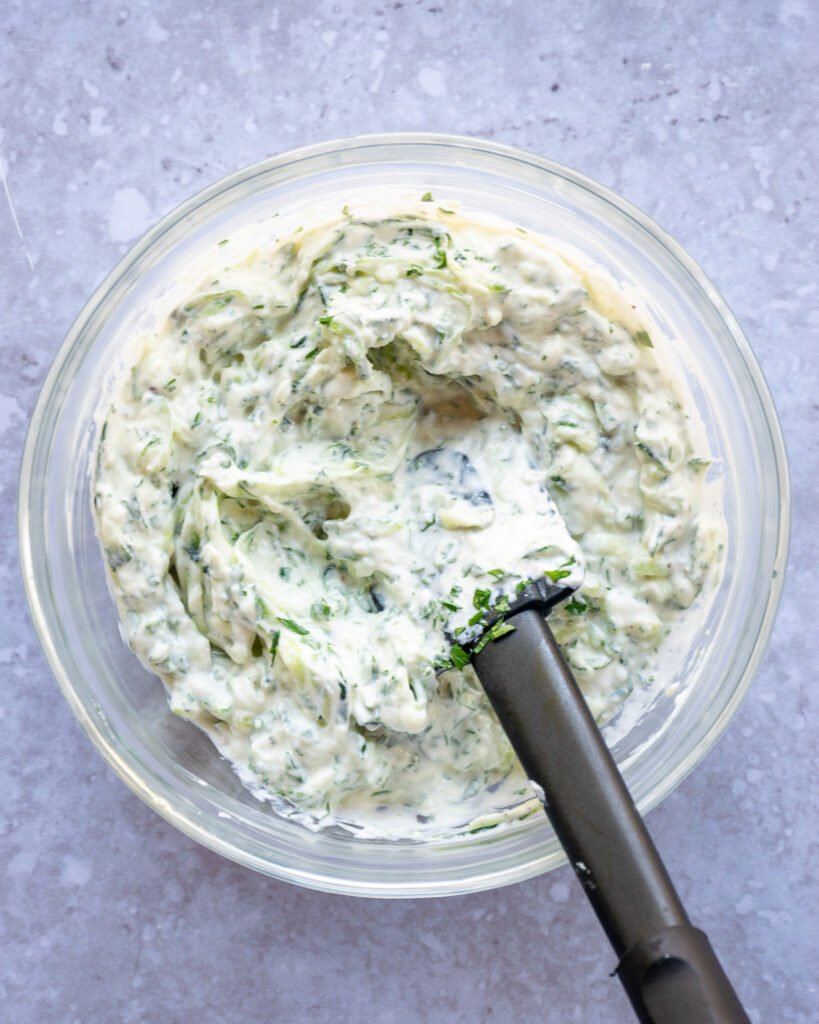 How to Make Tzatziki Sauce
Once the cucumber has been prepared, this recipe couldn't be easier. Just mix everything together and season it to taste. Greek yogurt will give you a thicker sauce, while plain yogurt will be thinner. You can use whichever depending on what you plan on doing with the sauce. If you are using the Tzatziki as a drizzle over Chicken Souvlaki in some homemade pita bread, you might like it thinner. If, on the other hand, you plan on scooping the Tzatziki up with pita for dinner as I did as a poor student, a thicker sauce will go farther. 
One note on the garlic… a very small amount of garlic will flavor this sauce AND that garlic flavor will become more intense over time. I use half a clove of garlic, grated on a microplane. If you love garlic, go for more! It's your Tzatziki.