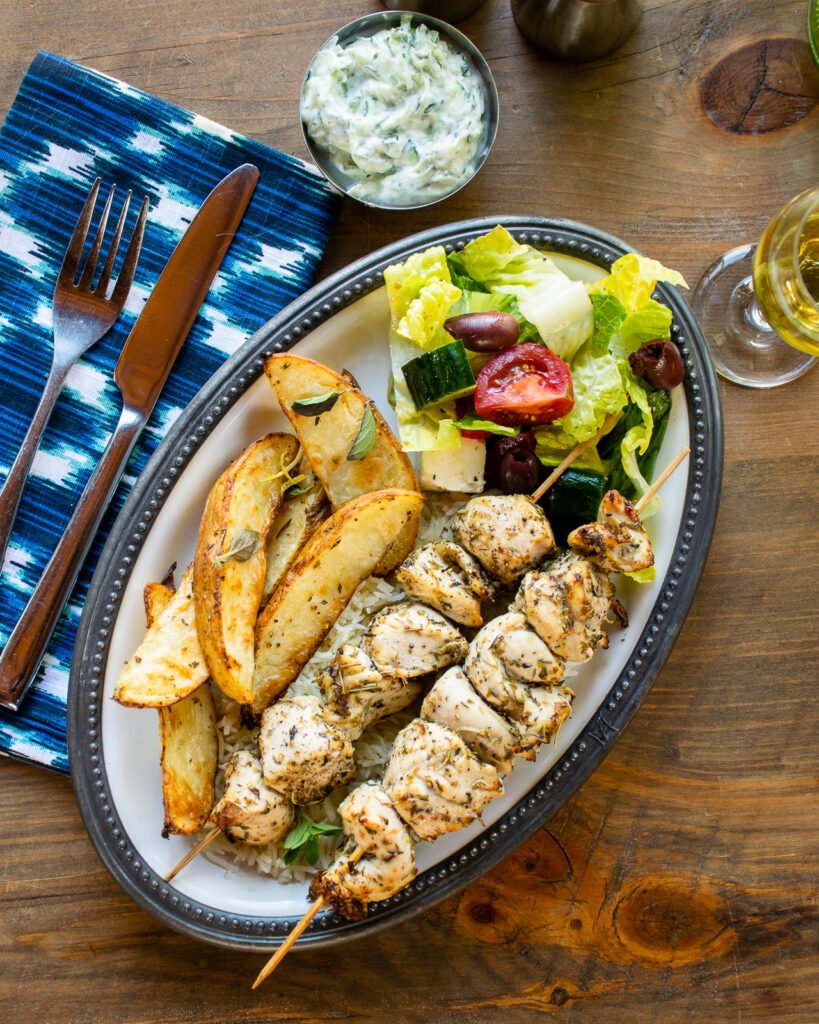 What is Souvlaki?
Souvlaki is a popular Greek fast food and literally means "meat on skewers". Chicken souvlaki, then, is pieces of chicken that are grilled on skewers. What makes souvlaki really memorable is the delicious Mediterranean herb, garlic and lemon marinade that gives it so much flavor. And while traditionally souvlaki is grilled and served in a pita, you can use your air fryer with similar results and serve it in a pita or on a dinner platter with rice, Greek potatoes and a salad or green vegetable for a delicious meal. 
Marinade for Souvlaki
The marinade for chicken souvlaki is very simple. It consists of lemon juice, white wine, olive oil, garlic and more herbs that you might be accustomed to using in a marinade. Most souvlaki recipes call for minced garlic, but I prefer to smash my garlic cloves instead so that the garlic flavor doesn't overpower all the other flavors.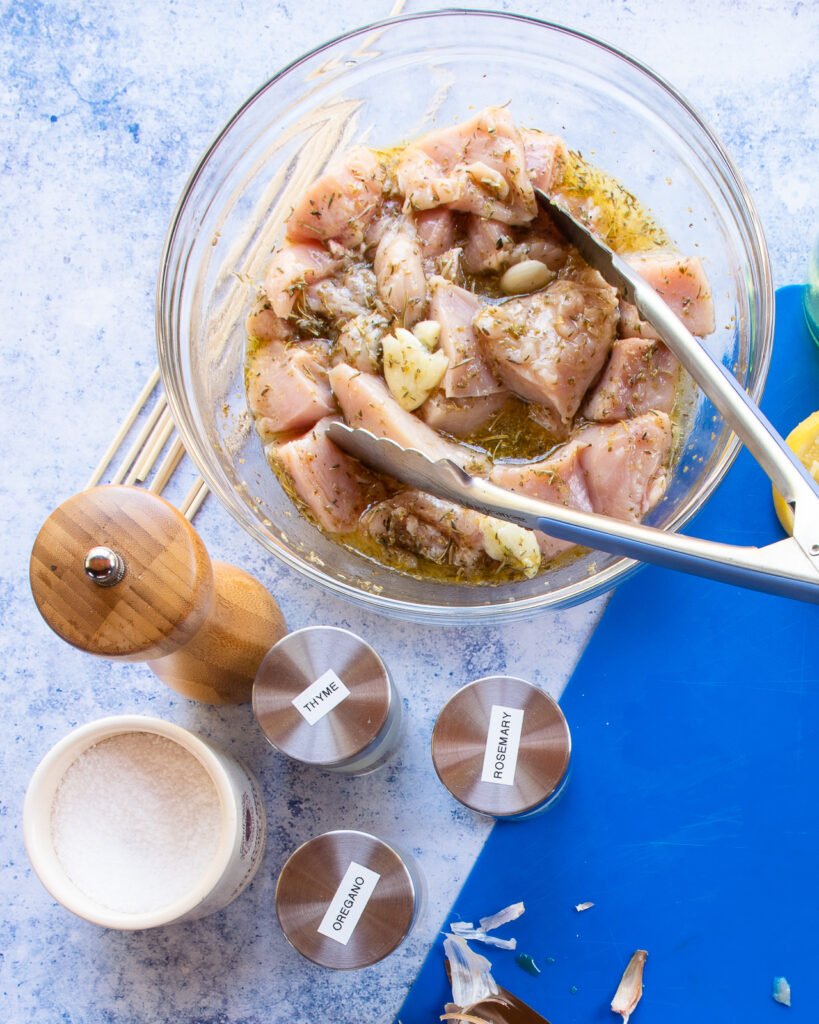 Marinating time for Souvlaki
You don't need a long time to marinate the chicken for souvlaki. A minimum of 2 hours is good and as long as 12 hours is great, but because we're using chicken (which is more delicate than pork, beef or lamb) and the flavors of the marinade are so strong you can get away with a shorter marinating time.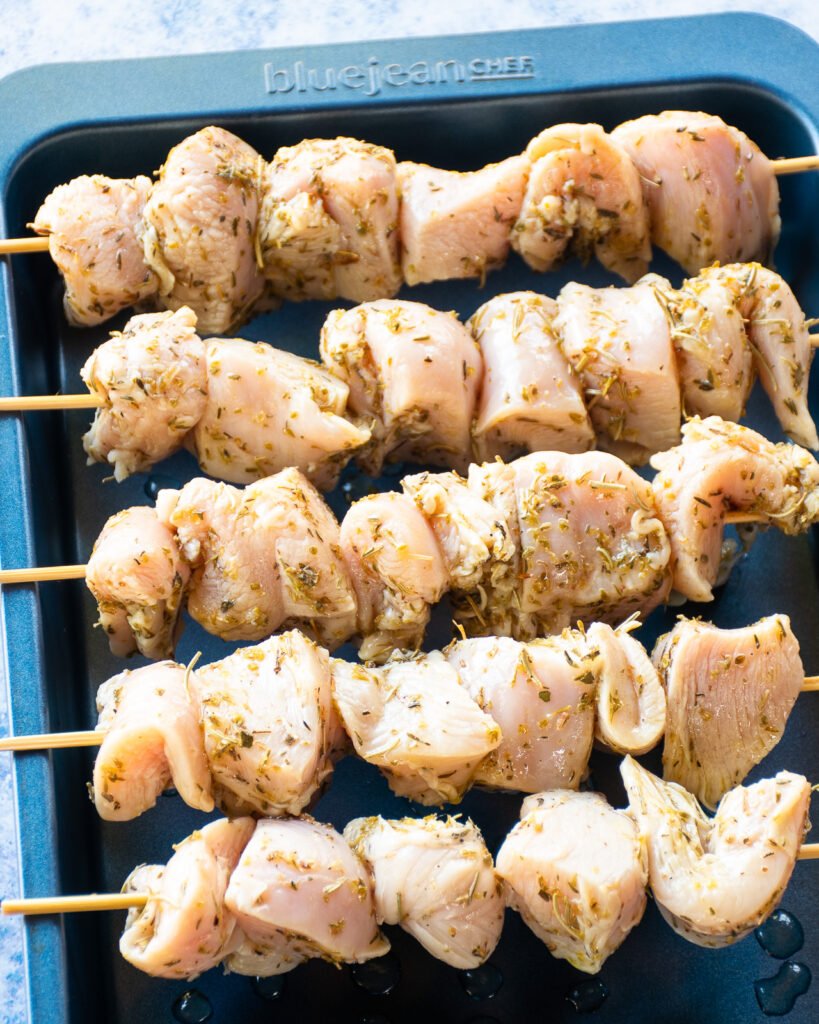 Skewering the Chicken
Remember when you're cutting the chicken into pieces for the souvlaki, to leave them a little larger than you think. The chicken will shrink as it cooks and larger pieces of chicken will remain more moist and tender. It's also a lot easier to skewer larger pieces than smaller pieces. Also remember to soak your wooden skewers in water before you skewer the chicken to prevent burning the skewers as you grill or air-fry the souvlaki.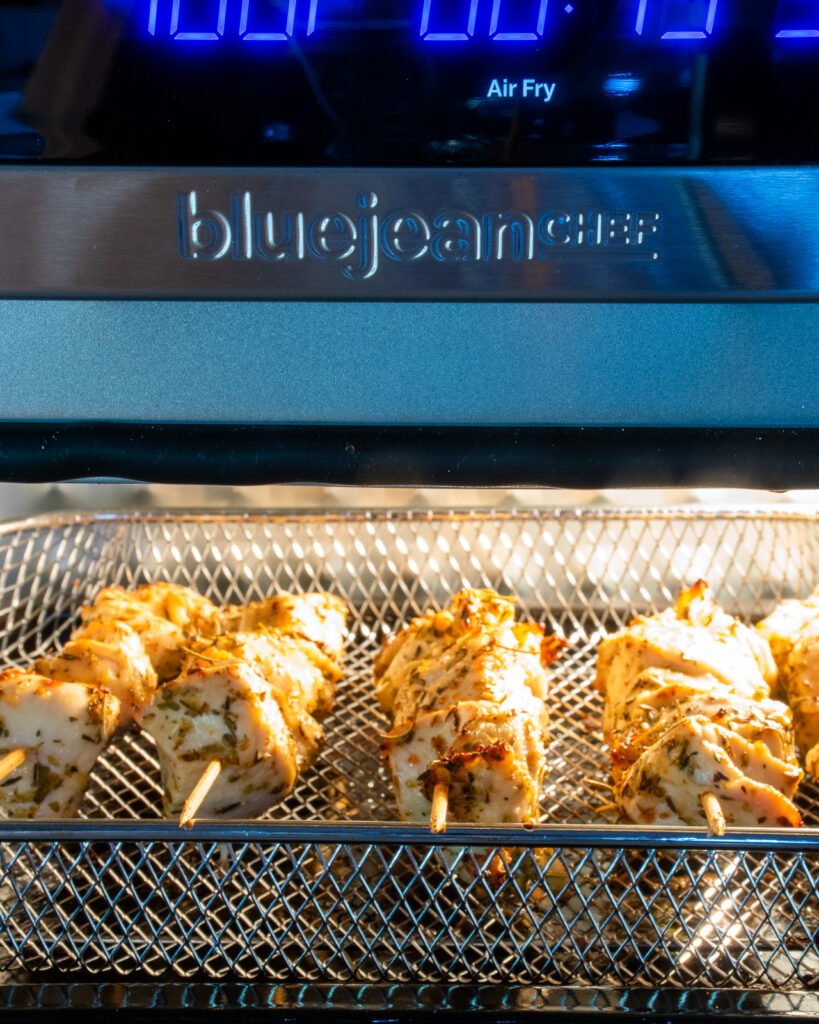 Air-fried Chicken Souvlaki
Most people think of an air fryer as a way to replicate deep-fried foods, but it does a great job of replacing your grill too. Obviously, the skewers are super important if you're grilling the chicken – so you have a way of turning the chicken without losing the pieces through the grill grates. In the air fryer, however, because the chicken will cook in a basket, you can choose to skewer the chicken or not. If it's easier and you don't intend to hand your guests a skewer of meat, you could just toss the marinated chicken cubes into the air fryer basket instead. They'll take about 12 – 15 minutes in the air fryer at 400ºF, with a toss halfway through the cooking time.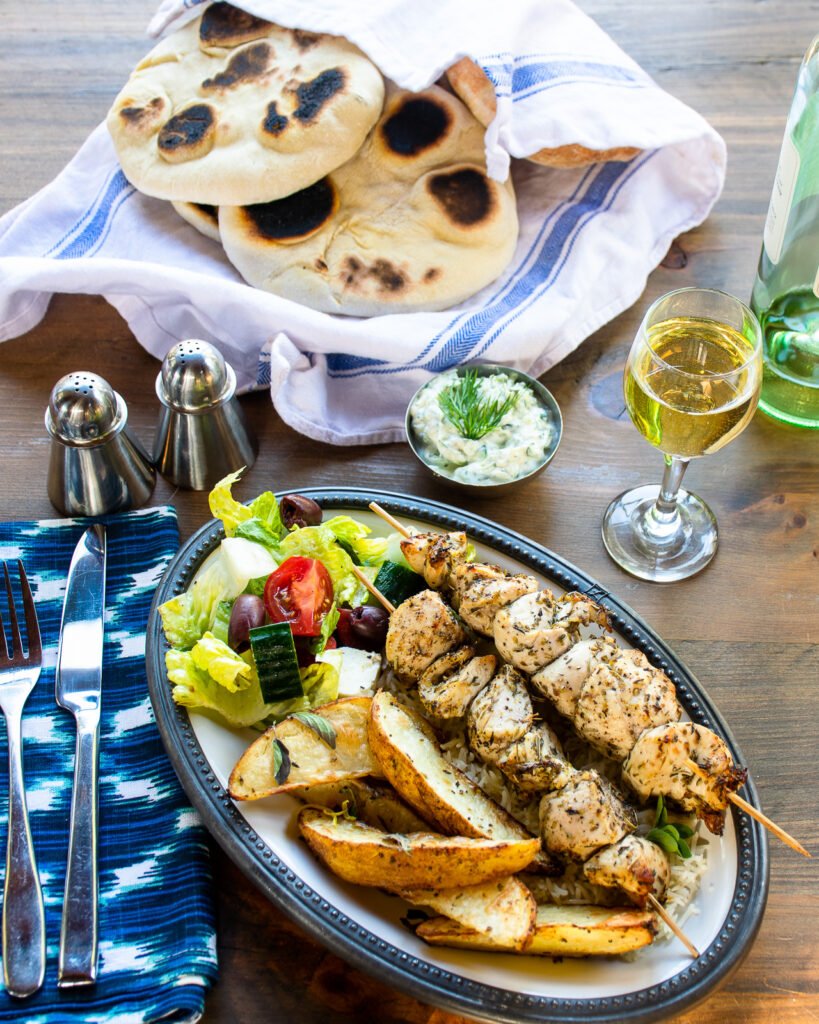 What to Serve with Chicken Souvlaki
If you're creating a Greek dinner platter with your chicken souvlaki, it's nice to serve them on a bed of rice with a Greek salad and some Greek Potato Wedges. You could also take this Greek pasta salad and toss some of the chicken souvlaki pieces into the salad for added protein. OR, you could serve the chicken souvlaki wrapped in a homemade pita bread with some delicious garlicky tzatziki sauce, cucumber, tomato and red onion. Yum!