How to Make Classic Cheese Sauce
A cheese sauce starts with a basic Béchamel sauce, which is made simply with butter, flour and milk. You can learn more about the basics of a Béchamel here. (Quick refresher tips: be sure to cook your roux, use room temperature milk, use a whisk, and bring the liquid to a boil.)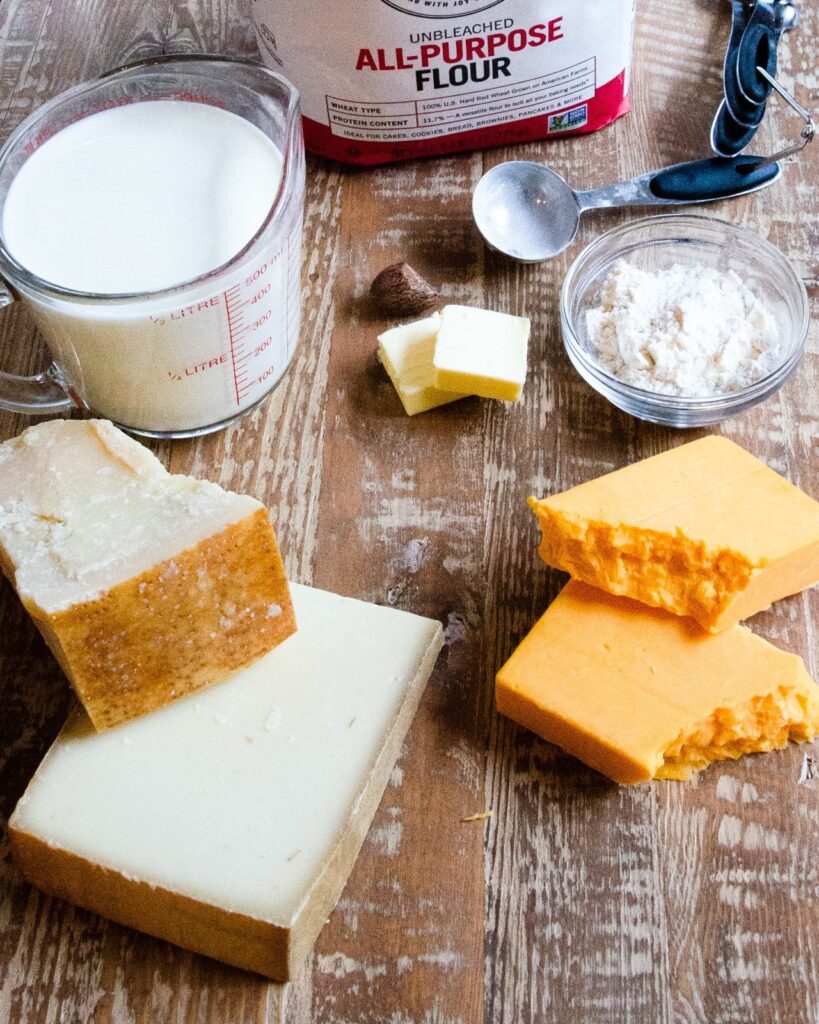 What Cheeses to Use in a Cheese Sauce?
Then, it really comes down to which cheeses  you use. I always like to include one cheese for flavor (in this case a good sharp Cheddar), one cheese for texture and melt-ability (here I'm using a Swiss Gruyère), and one for a dose of salty seasoning (Parmigiano-Reggiano). Whatever you decide to use, make sure that your cheeses are the best quality you can buy because they are going to make up all the flavor and you can't make something great out of mediocre ingredients. At the very least, make sure you are using blocks of cheese rather than pre-grated cheeses which don't melt well and have a grainy texture. 
When to Add the Cheese
The most important rule with cheese sauce is to turn the heat OFF before you add the cheese. If cheese gets too hot, it can become stringy or gluey and you don't want either quality. The heat from the white sauce that you make will be enough to melt the cheeses beautifully so they blend into the sauce making it creamy and silky. 
How to Season a Cheese Sauce
Finish with a grating of nutmeg and season to taste with salt and pepper. Then you'll have the hardest decision ahead…. What to put it on! (I'm sure you'll come up with something, but just in case… mac and cheese would be a good start!)
---
Quick Notes:
Cheese sauce starts with a Béchamel sauce, which starts with a roux (butter and flour, cooked).
Three cheeses are combined in this sauce:

Gruyère is an excellent melting cheese with a relatively mild flavor – good body
Cheddar (sharp) has a stronger flavor, but one that is very amenable to all tastes
Parmesan adds a nutty flavor with a salty finish

Adding warm milk to your roux helps avoid lumps in your sauce.
Whisk vigorously to help avoid lumps.
Bring the sauce to a boil to get the sauce to thicken.
Turn off the heat before adding the cheese.
Seasoning with salt, pepper and nutmeg.
---