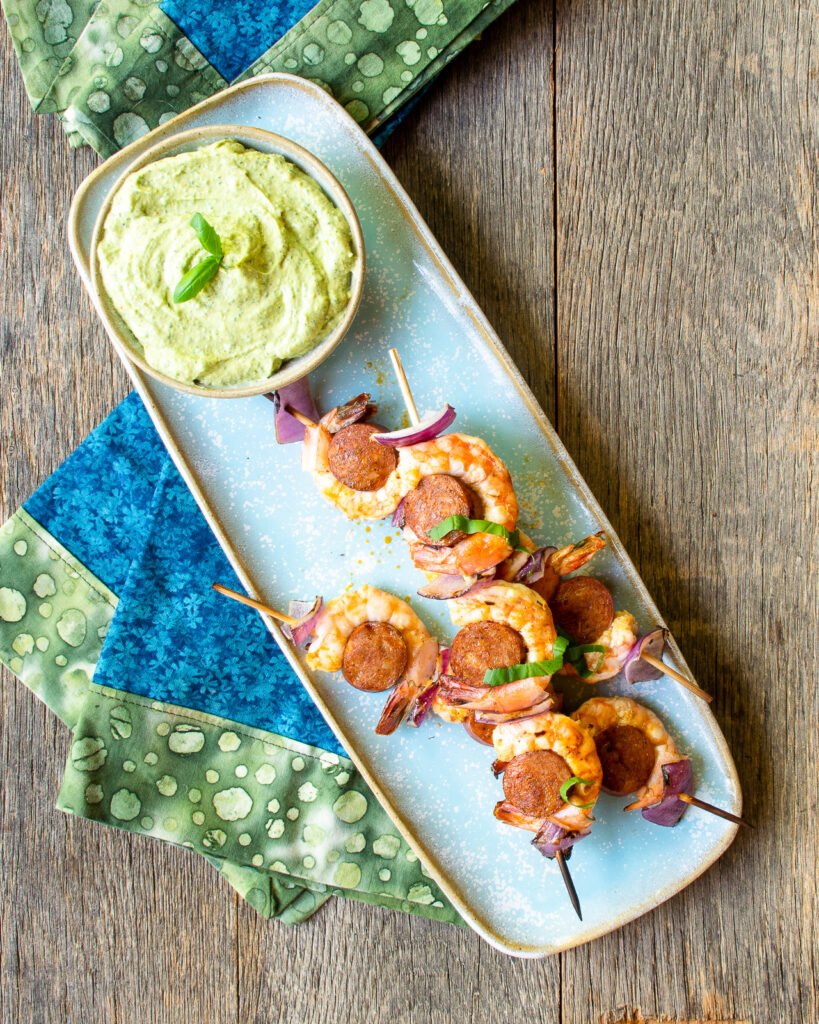 Easy Summer Grilling
It's always nice to come across an easy grilling recipe that you can throw together quickly. These grilled shrimp chorizo skewers are just that and they are a tasty change from the usual grilled fare. You need very few ingredients and you can skewer the shrimp around the chorizo for a pretty presentation.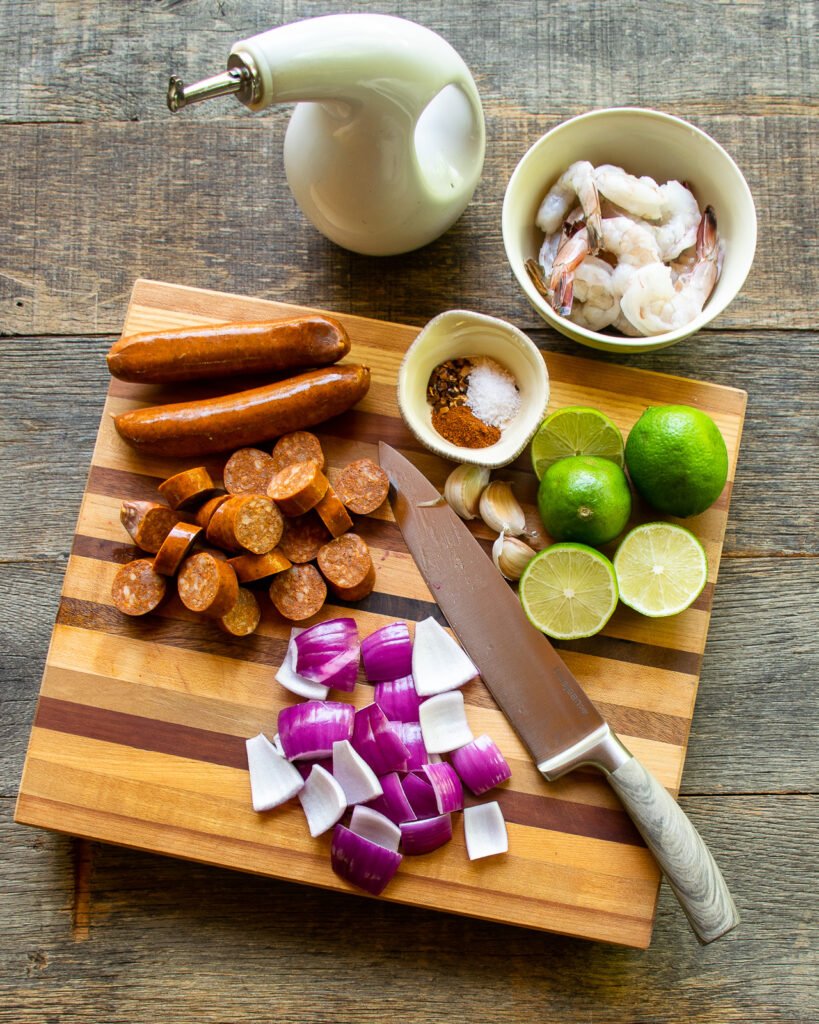 Simple Ingredients
There are few ingredients in this recipe which always causes me to reinforce my rule about the quality of your ingredients. You should always try to use the best ingredients you can, but especially when there are so few ingredients. In this recipe, it's important to get shrimp that are big enough to circle around the sausage slices. Use extra-large (26/30) or bigger shrimp and make sure they are peeled and deveined. You can buy them that way, or you could peel and devein the shrimp yourself – it's not hard, but does take a little time.
It's also important to get cured chorizo sausage. That means that the sausage is already fully cooked rather than raw. While I love raw chorizo, it's important for this recipe that the chorizo be already cooked because the shrimp take no time at all. If you use raw chorizo, you run the risk of over-cooking the shrimp waiting for the sausage to be fully cooked through.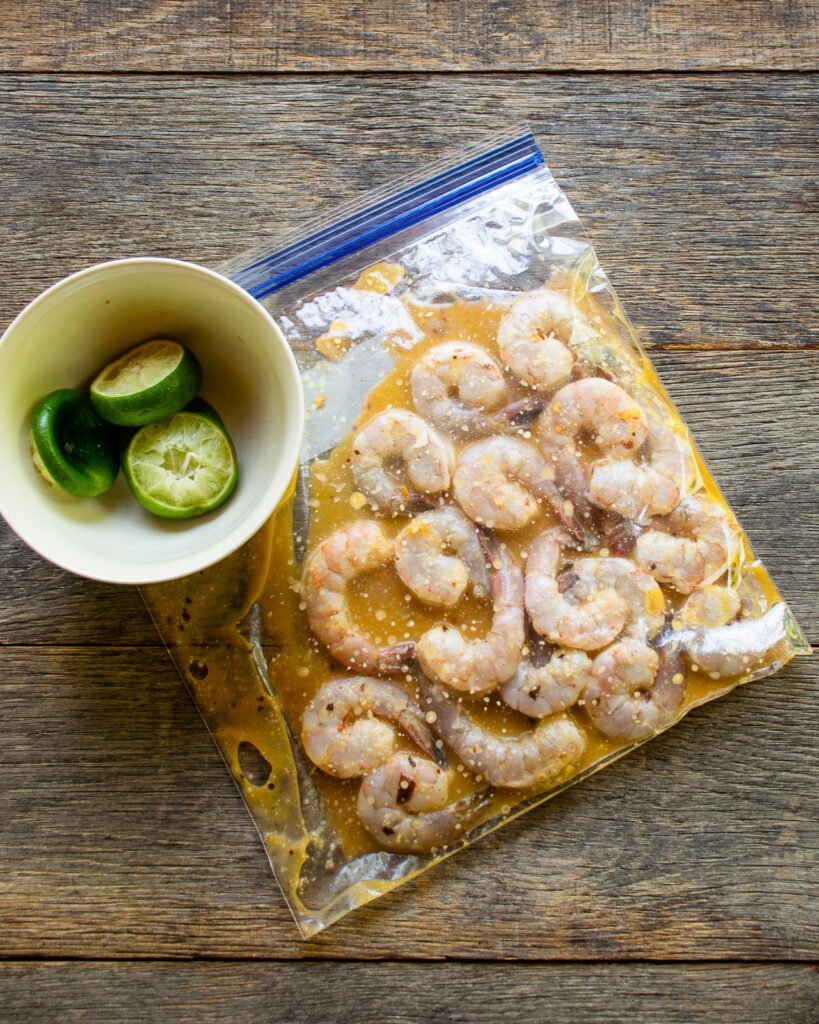 Marinating Time for Shrimp
Most of the flavor in this dish comes from the spicy chorizo, but it's still important to give the shrimp a little zip of their own. A quick marinade takes no time at all and adds a nice bright contrast to the chorizo with lime juice and garlic. You can pop the shrimp into the marinade (no longer than 30 minutes) while you prepare the remaining ingredients. Feel free to add more chili flake if you like foods on the spicy side.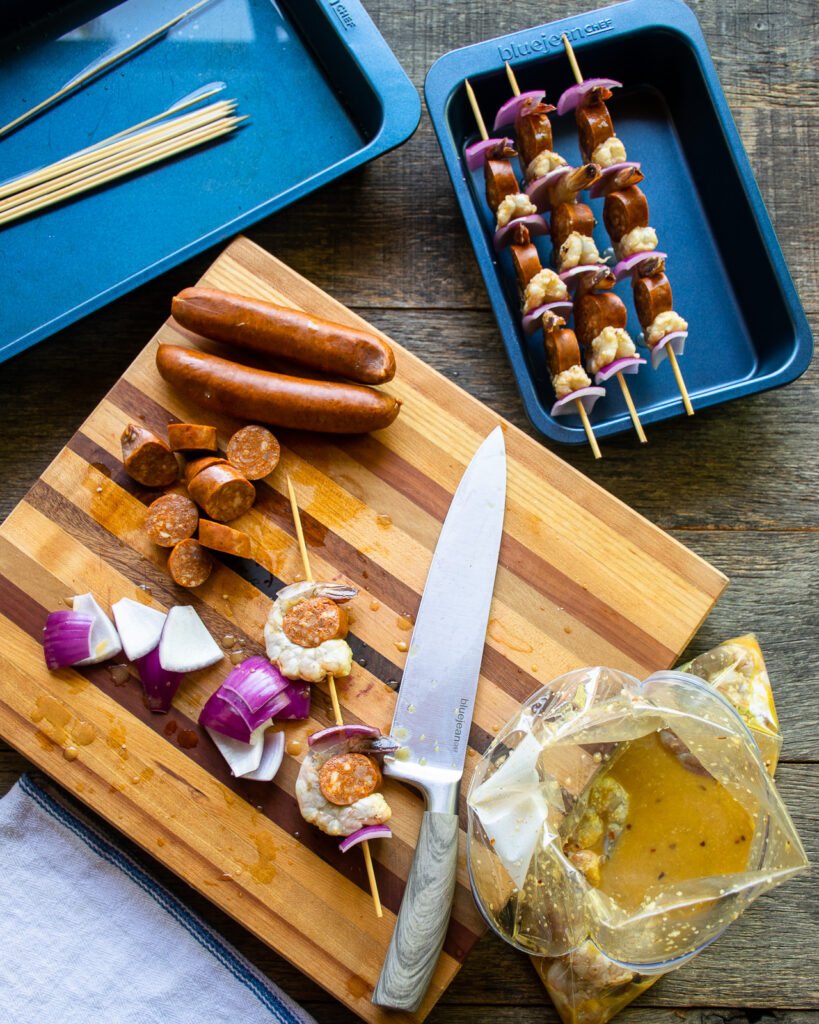 How to Skewer Shrimp and Chorizo
Skewering the shrimp and chorizo together is actually fun. Start with a piece of red onion (don't leave the onion out because it really does add to the flavor of the whole skewer) and then push the skewer through one end of the shrimp, pass it all the way through the sausage and then into the other end of the shrimp. You should get about three shrimp-chorizo curls on one skewer with red onion sandwiching them in. Not only is this the prettiest way to make these skewers, it also allows as much shrimp as possible to come into contact with the spicy sausage and keeps the shrimp in a nice curved shape.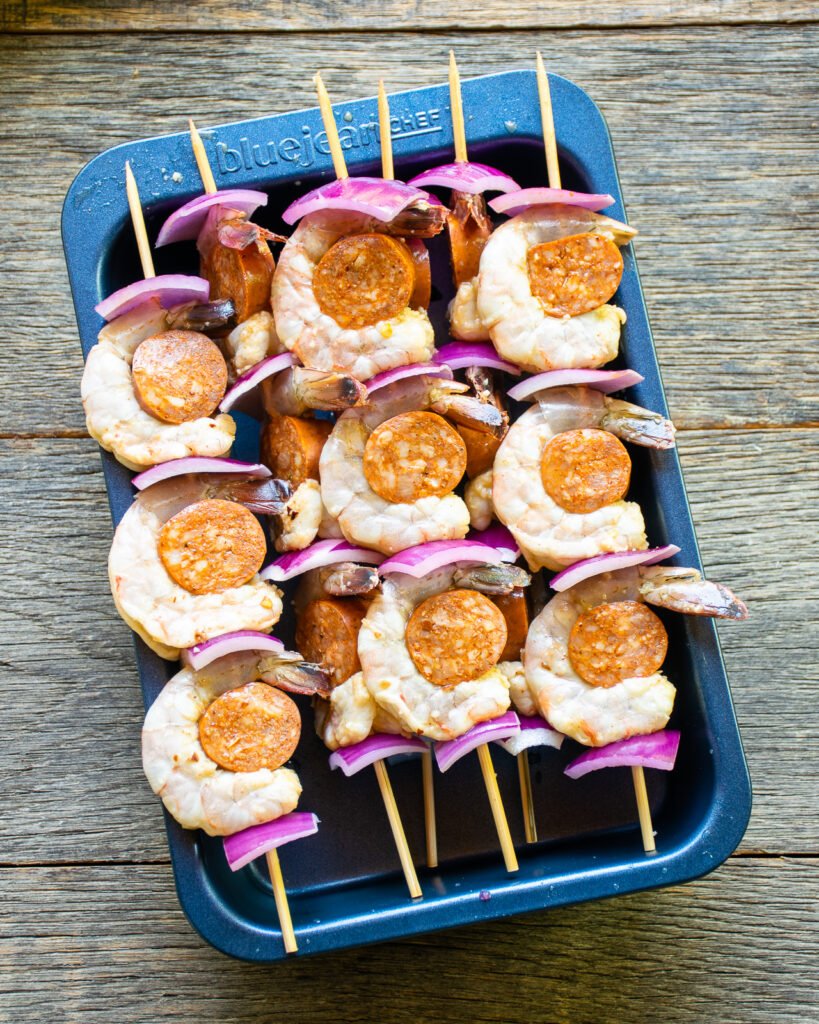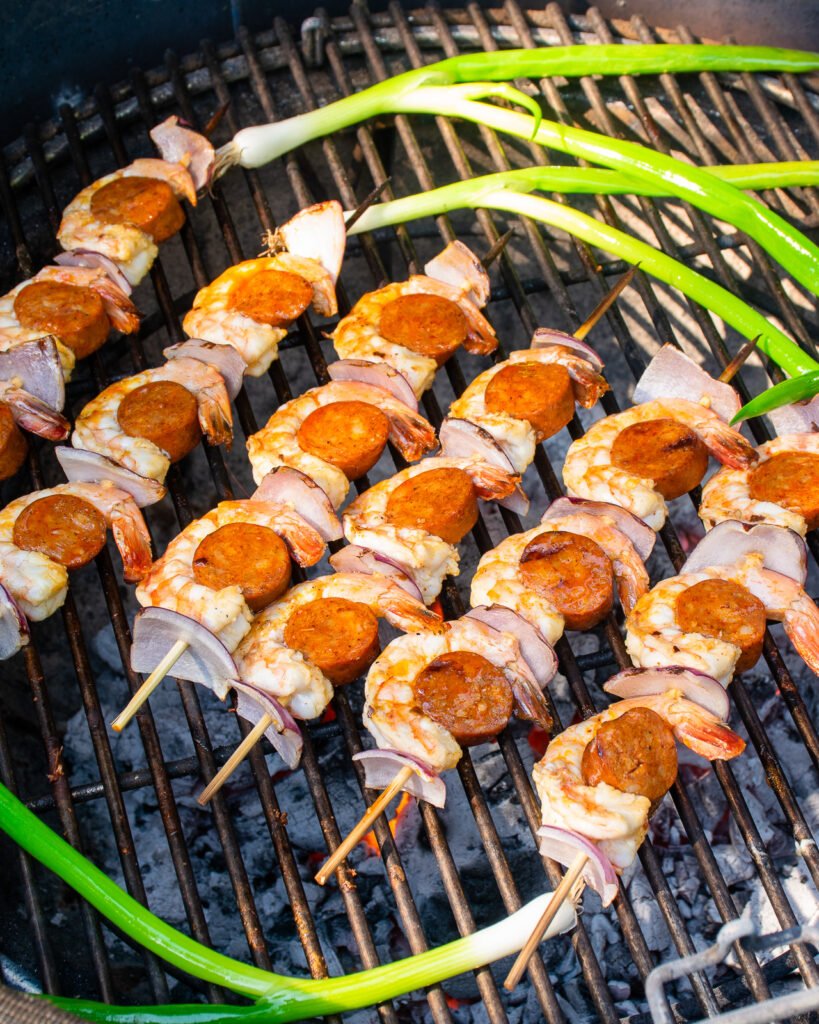 Grilling Time for Shrimp
Shrimp take no time at all to cook and they come with a built-in "I'm done" indicator – they turn pink. On a hot grill, extra large shrimp should only take about 2 to 3 minutes per side. That is also enough time to heat the sausage through and take the sharpest bite out of the onion pieces, which will still remain a little crisp. Do make sure to soak your skewers before you build them so that they don't catch on fire on the grill.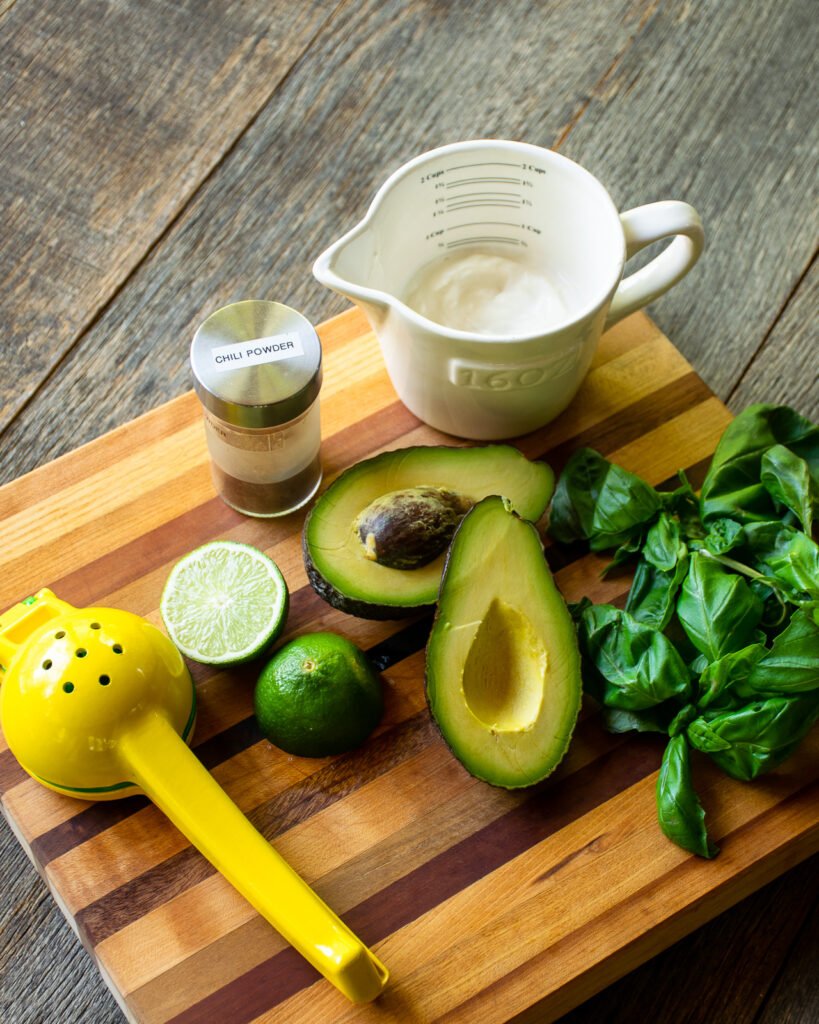 Creamy Avocado Basil Dip
I love this simple avocado dip for the shrimp and chorizo. You simply blitz the ingredients in a mini chopper and season with salt and lime juice to taste. This dip is yogurt-based, but you could substitute sour cream if you prefer. You'll probably have some dip left over if you only make the six skewers, but it would be delicious with crudités or chips too.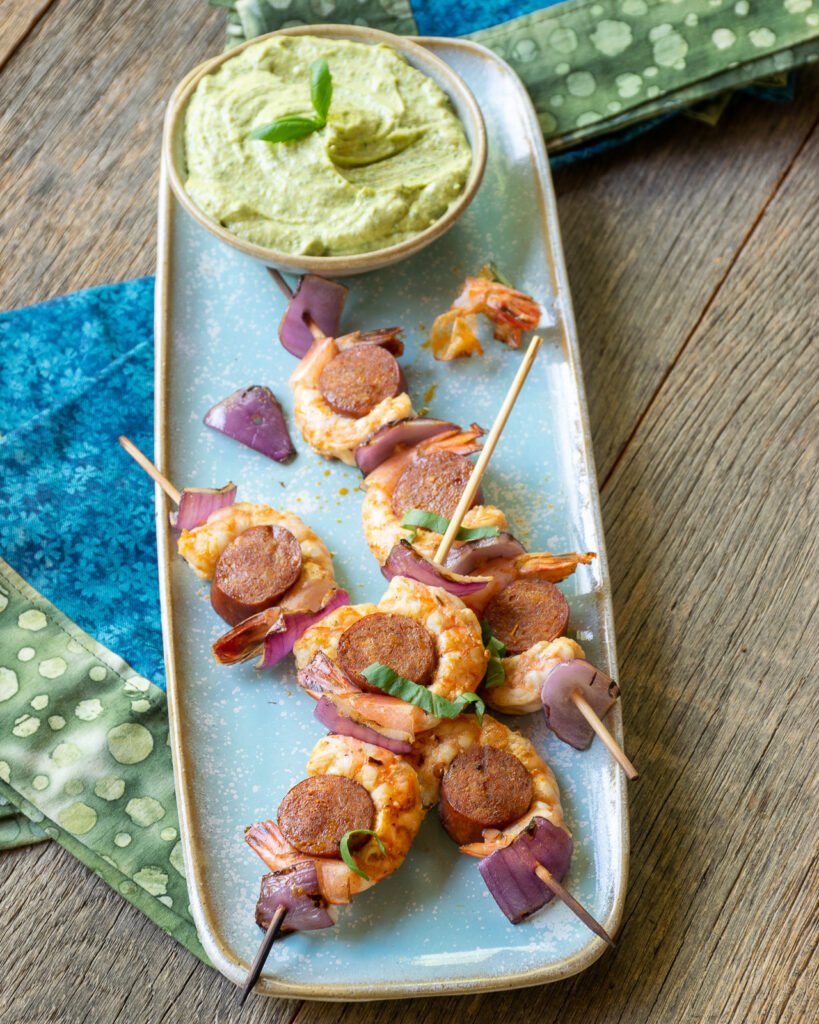 How to Serve and What to Serve Alongside
These skewers could make a carb-free dinner for two or three, or you could make them as appetizers for a small group. I like these skewers hot off the grill, but they are actually quite nice at room temperature too if your guests are grazing and the skewers cool a little. You can serve the dip on the side, or you could thin the dip with a little water and drizzle it over the top before serving. You could serve these over rice with an arugula side salad, or as part of a meal with Grilled Parmesan Corn and Zucchini or an Avocado Tomato Salad or Grilled Panzanella Salad.