I generally prefer to buy shrimp still in their shell and peel and devein them myself. Shrimp in their shell tend to be higher quality than those that come peeled and deveined because they haven't been handled as much, plus you can use the shells for a seafood stock to flavor soups or stews. Just keep the shells in a bag in the freezer until you're ready to use them.
Before you start peeling shrimp, decide how much of it you'd like to peel. Will you be keeping the tail on or removing it? Leaving the tail on does make for a prettier presentation, but your guests will have to remove the tail themselves. I generally like to leave the tail on. Start by holding the shrimp at the last segment before the tail. This will ensure that you don't pull the tail off by accident. Then, pull the rest of the tail off working from the underside of one side of the shrimp where the legs are and pull around the shrimp to the other side.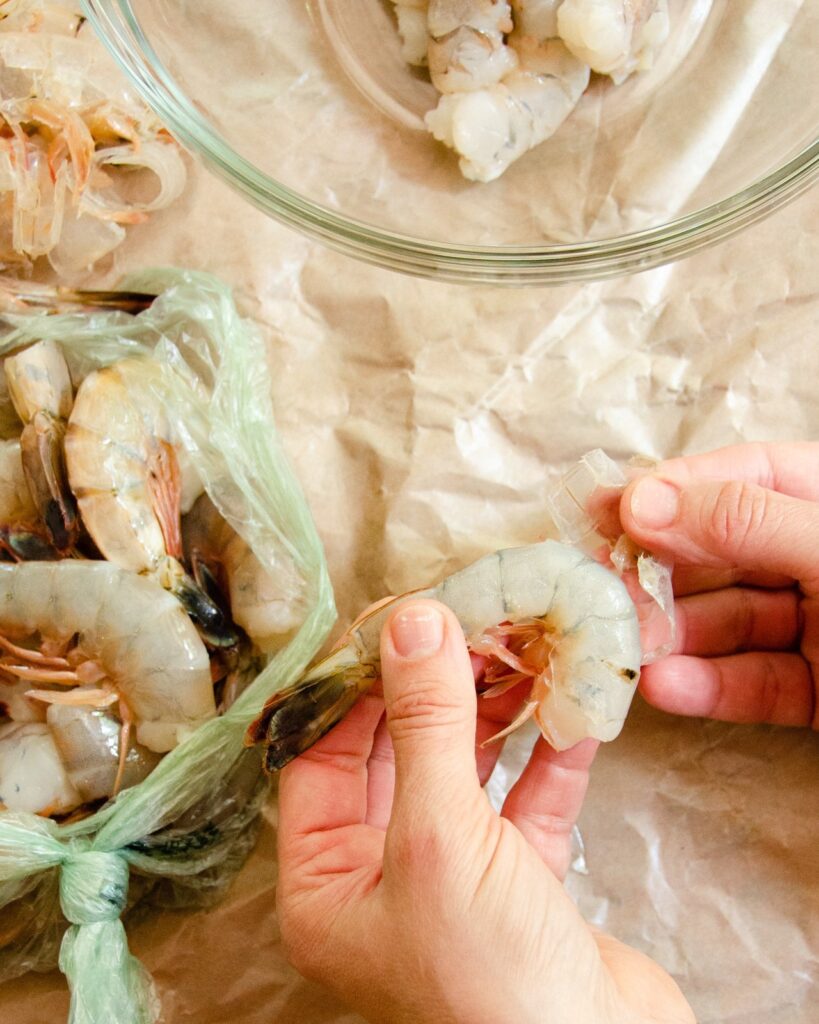 Deveining the shrimp is an important step. You're not actually removing a vein, but the digestive tract/intestine of the shrimp. While it won't hurt to eat it, it's rather unpleasant to think about. Place a piece of paper towel down on the countertop nearby. Make a shallow incision down the back of the shrimp with a paring knife so that the digestive tract is exposed.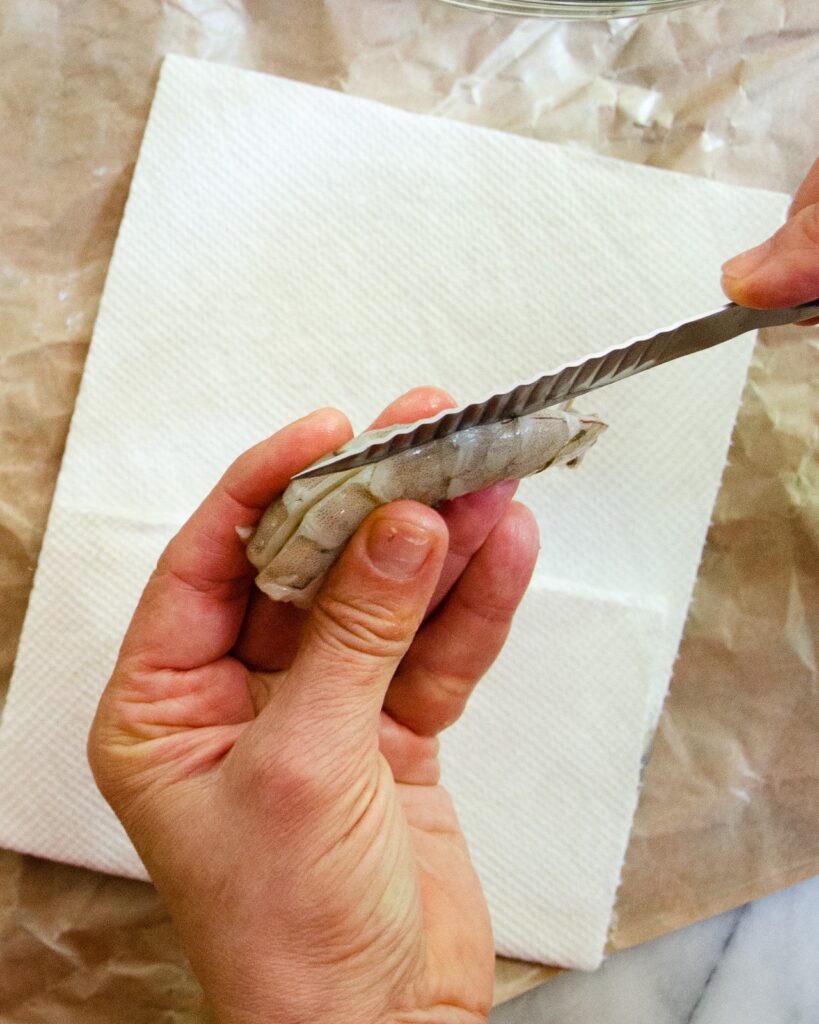 Then, using your paring knife, remove the intestine and wipe it on the paper towel.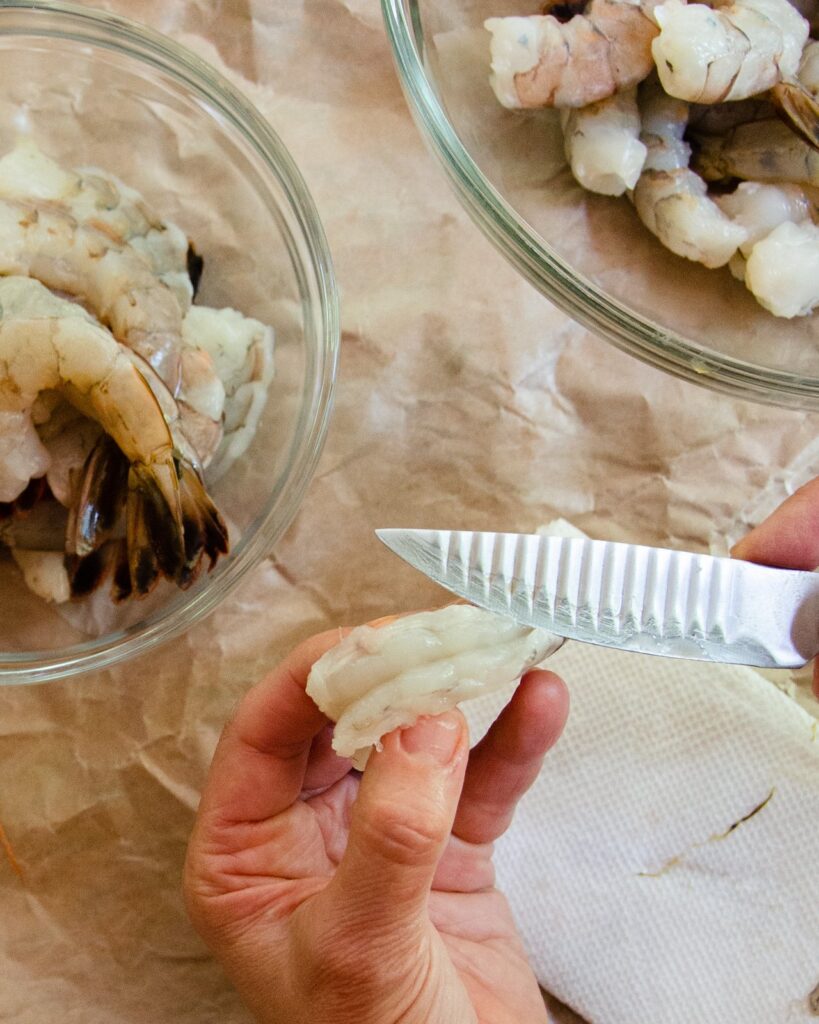 There is one more step to properly peeling shrimp that is not always mentioned. It's helpful to remove the "law suit fin" from the tail. In the middle of the tail there is one very sharp and pointed fin that no restaurant wants its patrons to encounter (hence the name!). Simply pull that fin backwards and remove it so that there is nothing sharp that could prick your guests when they handle or eat the shrimp.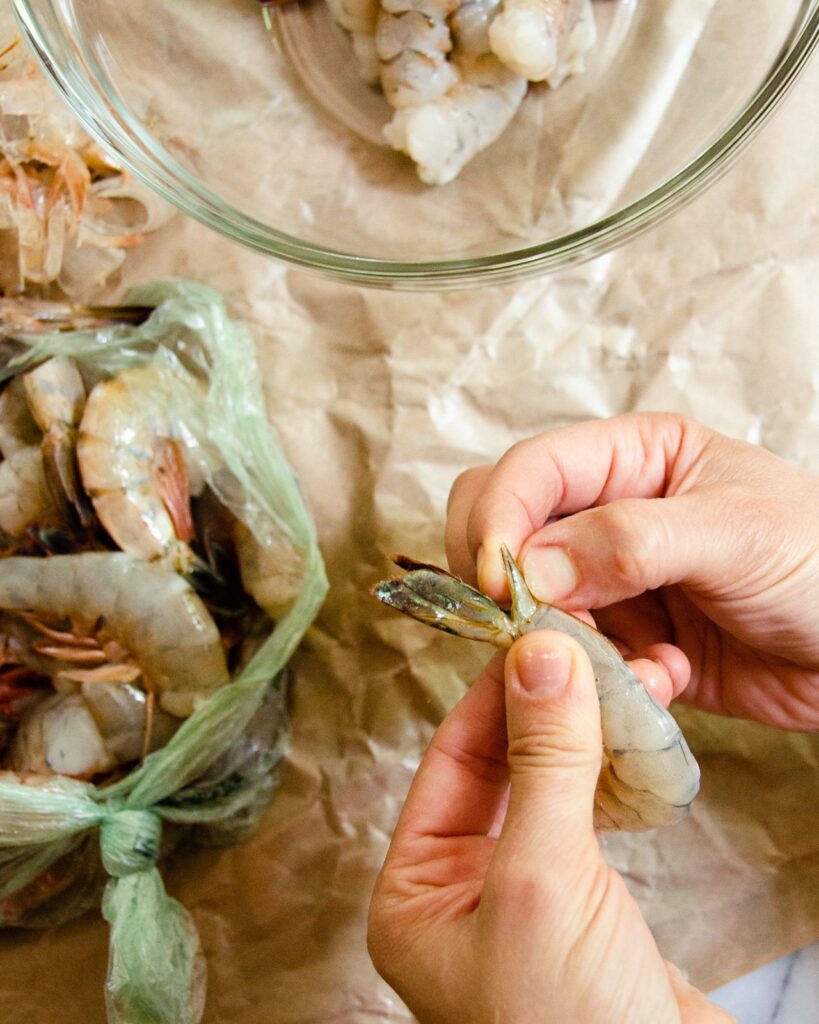 Then your shrimp are ready to go! Make a couple meals that involve shrimp and you'll be an expert – practice makes perfect, after all!
---
Quick Notes:
Shrimp in their shells tend to be in better condition than peeled and deveined shrimp.
Hold the shrimp by the last segment before the tail in order to keep the tail intact (unless you are peeling the tail too).
Pull the shell starting from the underside of the shrimp where the legs are attached and around to the other side.
Use a sharp paring knife to make a shallow incision in the back exposing the black "vein".
Remove the "vein" with the tip of the paring knife and wipe it onto the paper towel.
Don't forget to remove the sharp pointed "law suit fin" in the tail.
You don't need to rinse the shrimp at the end, but you can. Dry well before cooking.
---