What's in a "Salad"?
When we hear the word "salad", we often think of lettuces and famous salads like Caesar Salad or Cobb Salad or just a tossed green salad, and we forget that a salad can be any mixture of raw or cooked vegetables tossed with a vinaigrette or dressing. This avocado tomato salad doesn't include any salad greens – the avocado and tomato are tossed with corn, black beans and red onion. Besides being a great flavor compliment to each other, another good feature of this combination of ingredients is that they can all handle being dressed and sitting for a while without wilting. That makes this salad a pretty great salad to serve at a family gathering or picnic where people might not eat right away.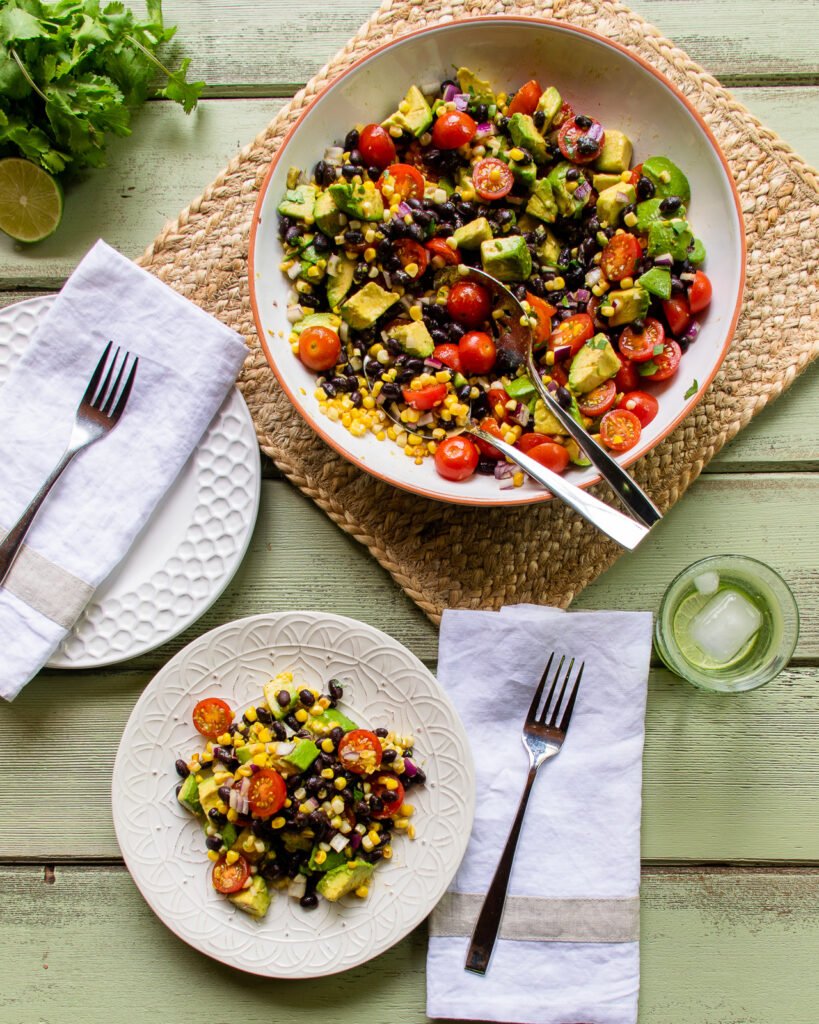 How to Make Easy Avocado Salad
There is absolutely nothing to making this salad. It is quite literally a toss-and-stir recipe. There are just five ingredients and the dressing. So, the key to making this salad great is to make sure you have the best ingredients – ripe avocados, tender corn kernels, red onion that has been soaked to remove some of the harsh flavor, and juicy ripe tomatoes. Once you have the ingredients, you will need to cook the corn kernels and you can do that any way you like. Throw the ears of corn on the grill (there are five ways to do that and you can read about them here), or pop them under the broiler. You could also boil the corn or you could cut the kernels off the cob raw and give them a quick sauté.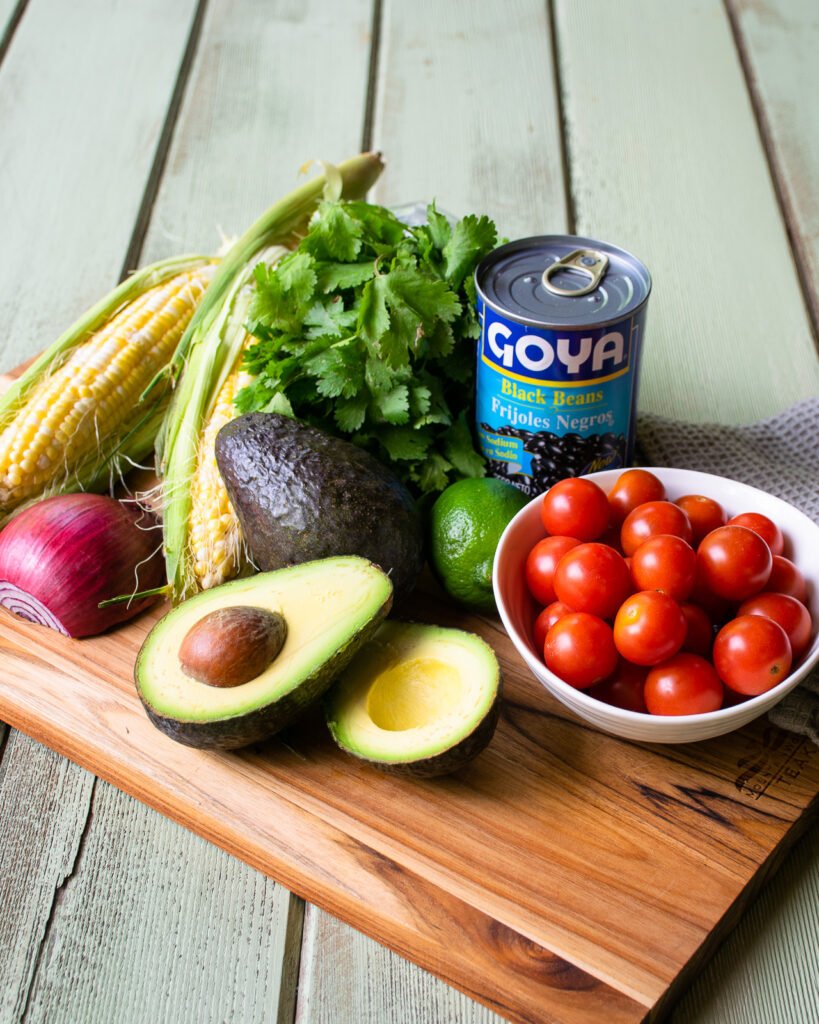 How to Choose an Avocado
Since avocado is the primary ingredient, it's good to focus on that and make sure that the avocados you are using are ripe. It's always disappointing to cut into an avocado and find it either under-ripe and tasteless or over-ripe and brown. This salad really needs avocados at their peak, so pick up the avocados a couple of days before you want to make this salad and let them ripen in your kitchen. They should give just a tiny bit under the pressure of your fingers when you squeeze them. Check out the video below to learn how to choose an avocado.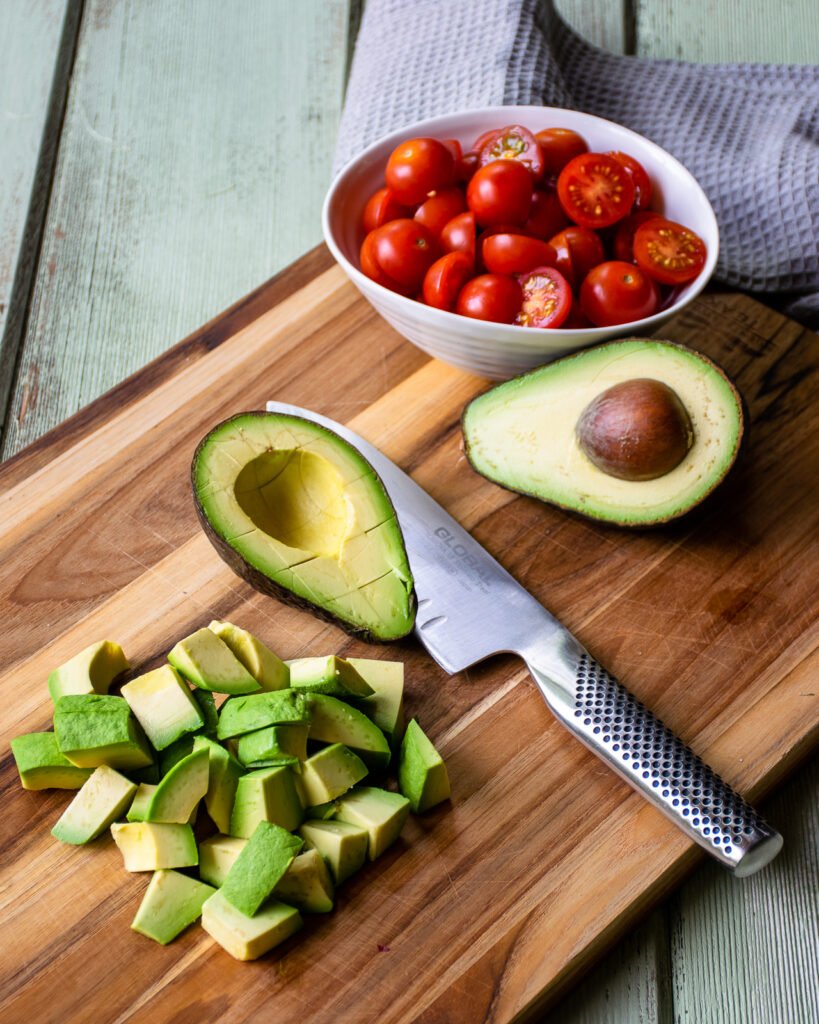 How to Cut an Avocado
You can also learn how to cut an avocado in the video below, but the key to dicing the avocado properly is to not peel it first. Cut the avocado in half, cutting around the large pit in the center. Twist the two halves in opposite direction to separate them. Then, slice a criss-cross pattern into each avocado half, not cutting through the skin. Then, you can either scoop out the pieces of avocado with a spoon, or cut each half into half again (quarters) and peel the skin away from the cut pieces. Avocados will never be truly "diced" into squares, so don't worry about their irregular shape. Just aim for making them roughly the same size. If you're not tossing the avocado into the salad right away, toss it with a little lime juice to help keep the bright green color.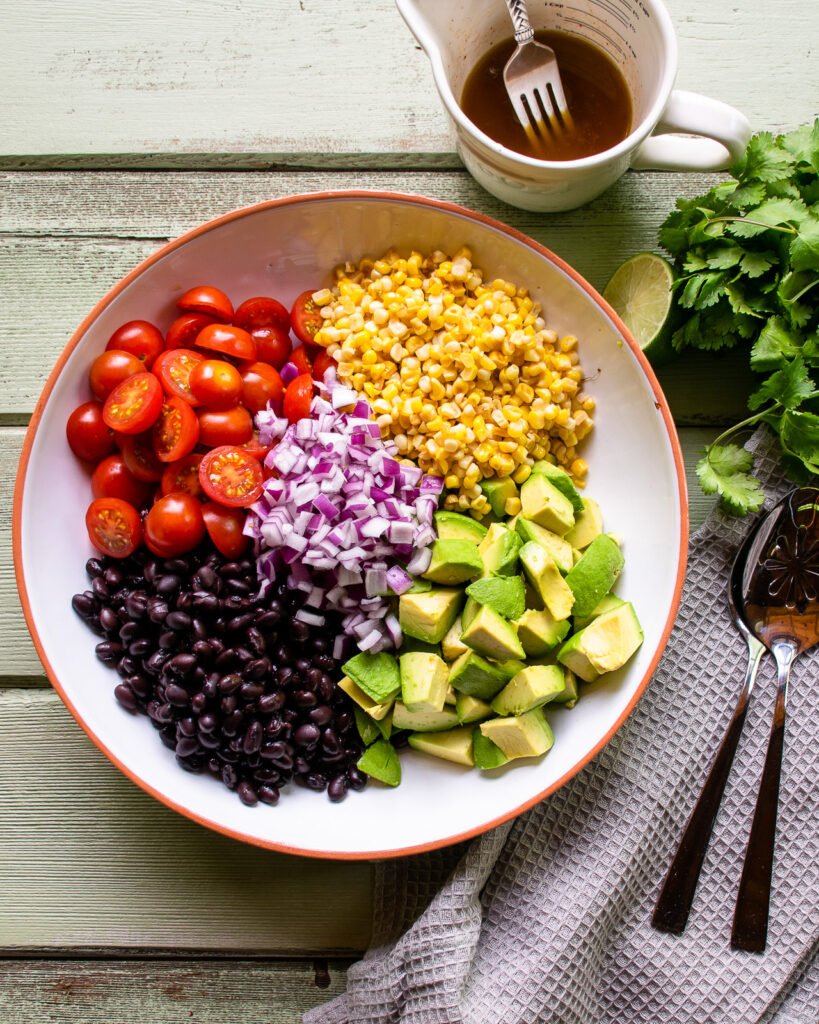 Variations on Avocado & Tomato Salad
This avocado tomato salad is simple with 5 ingredients and these ingredients can be substituted if you like. You could use white beans or chickpeas instead of the black beans. Instead of tomatoes, try adding diced mango (which is incidentally cut the same way avocado is cut) for a sweeter fruity salad. Or, you can add additional ingredients if you want to like some sweet roasted red pepper or a little Jalapeño pepper for a spicy version.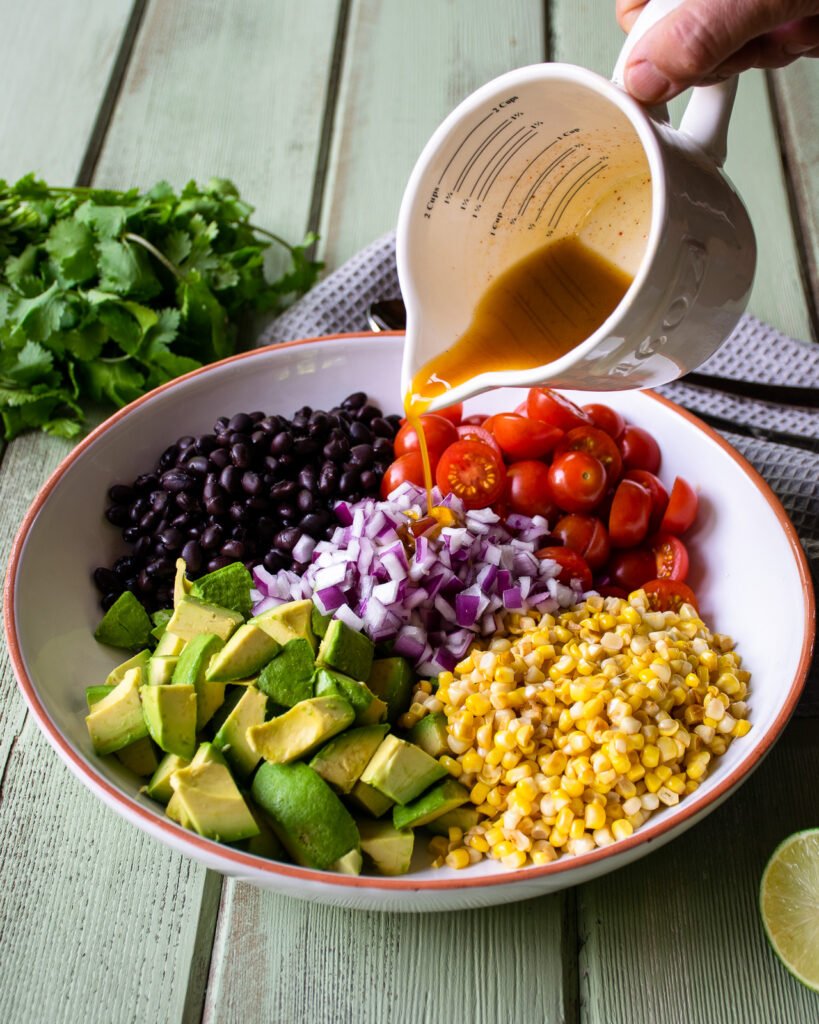 What Dressing to use for Avocado & Tomato Salad
The ingredients in this salad are all commonly found in Mexican food and so are well matched with a Mexican-flavored vinaigrette. This vinaigrette combines a little chili powder and lime juice with olive oil and red wine vinegar. Start with the juice of half a lime, but keep the other half near by so you can dress the salad to your taste.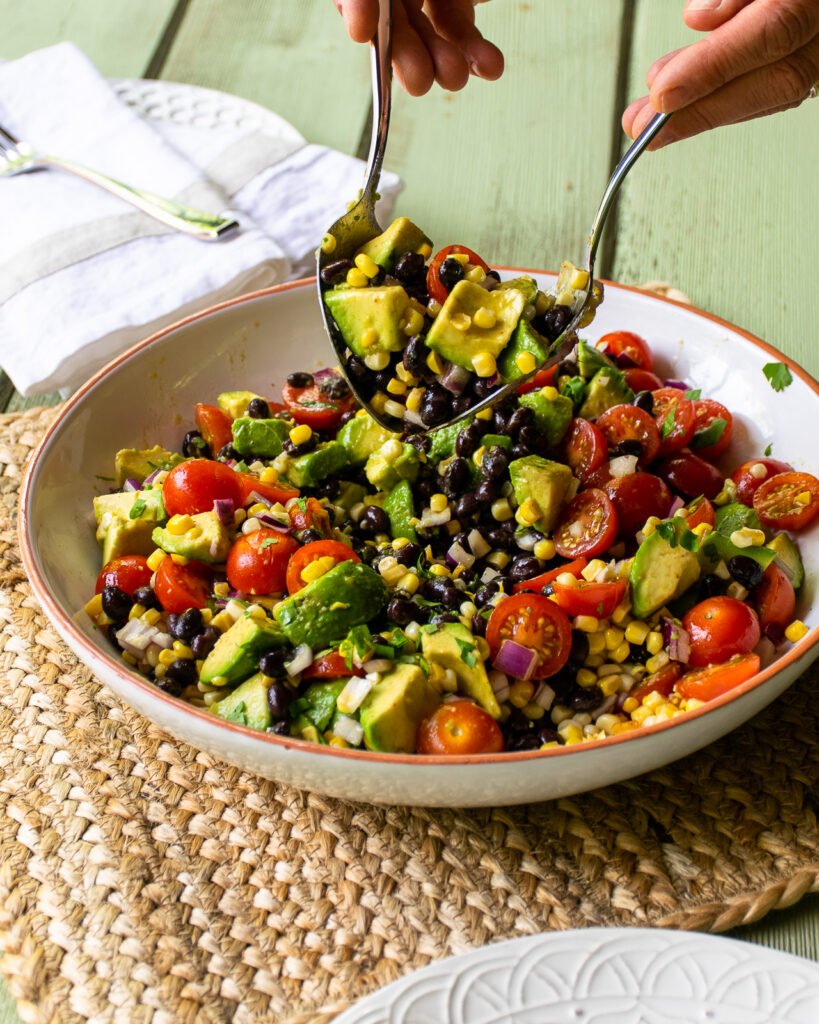 Make Ahead Options
This avocado tomato salad can sit for a while quite happily, making it a great salad for a large gathering. If you want to make the salad a day ahead of time, you can combine all the ingredients except for the avocado. Keep the avocados whole until you are close to serving and then dice them and toss them into the mix.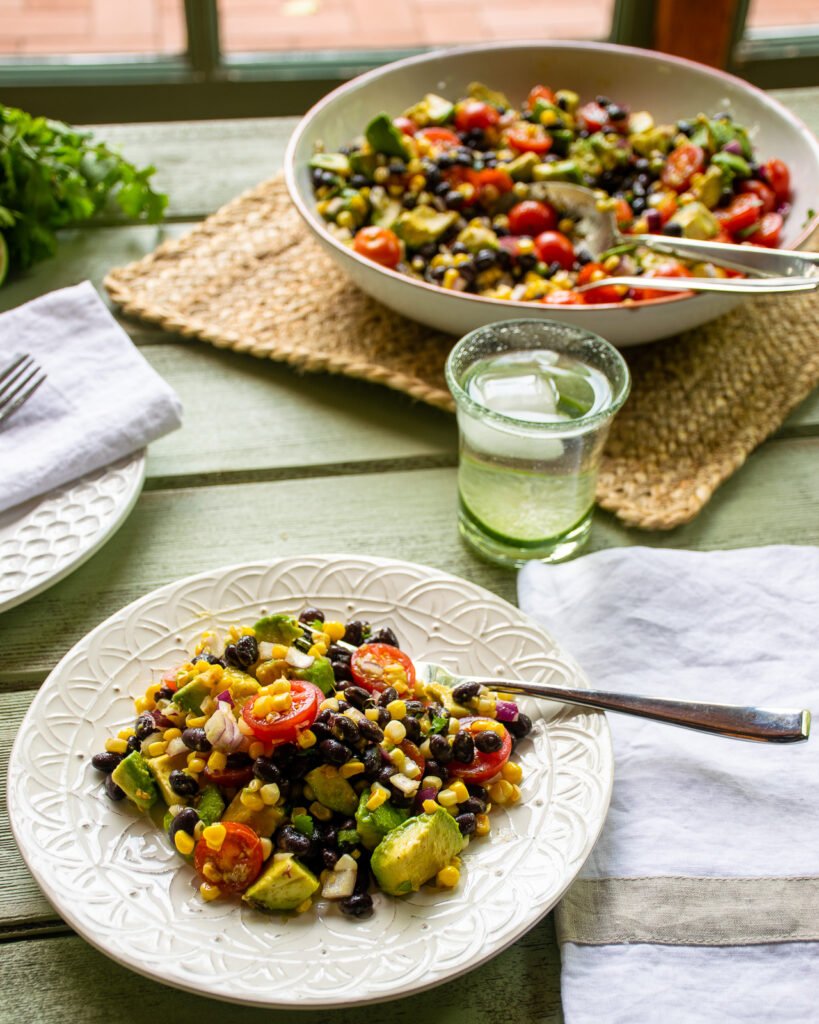 What to Serve with Avocado Tomato Salad
You don't actually have to serve anything with this salad if you're looking for a light meal. It makes a delicious light lunch. It also, however, lends itself to being a side dish for any BBQ and can be enhanced with slices of grilled steak or chicken breast if you're looking for more protein than just the beans themselves. You can also serve it as one of a mix of salads like  a quinoa salad, a cucumber salad and a beet and orange salad.