The Simplest Salad
There is an art to keeping things simple. Sometimes we think that we have to make things more complicated in order to feel successful, but I beg to differ. When things are simple (especially a recipe), there's nowhere to hide your mistakes. To me, when food is prepared simply but successfully, it is even more impressive than the most complicated meal. It shows that the cook has the confidence to let the ingredients shine and take center stage. When it comes to a simple salad like this arugula Parmesan prosciutto salad, the key to success lies in getting the best ingredients and in this case, that means using Parmigiano-Reggiano cheese (true aged Italian Parmesan) and getting a few slices of thinly sliced prosciutto.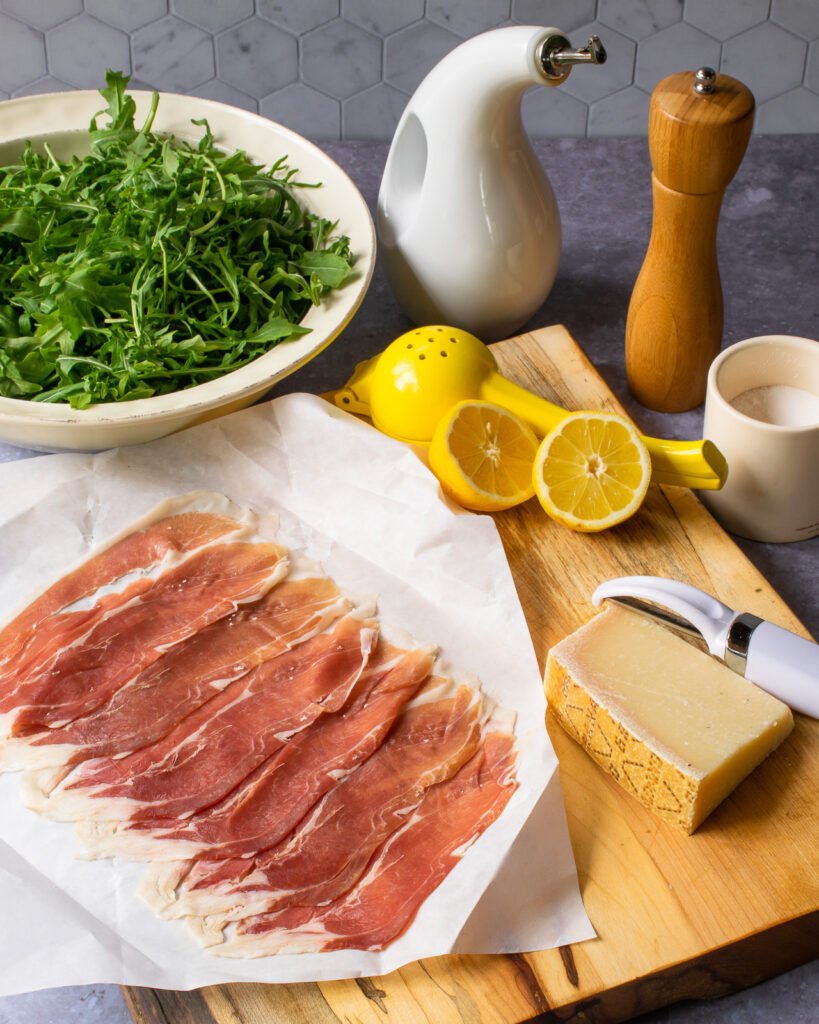 What is Prosciutto?
Prosciutto is a dry-cured Italian ham. Unlike the cooked ham you might be familiar with at the holidays, prosciutto is not cooked and unlike bacon or speck, prosciutto is not smoked. To make prosciutto, the pork leg is salted for a couple months, pressed to remove moisture as it cures, then washed and hung to dry for several months and then aged. This whole process can take from 9 months to a couple of years to complete, but the result is a salty and slightly sweet treat.
How to Make Crispy Prosciutto
In this recipe, the prosciutto is crisped up, giving the salad a little texture along with a salty kick. It adds the same value as a crunchy crouton but with a lot more flavor. Crisping the prosciutto is very easy – you just fry it lightly in a pan. There's no need to add oil or butter to the pan – there's enough fat on the prosciutto and it's this fat that we want to render out in order to make the thin pieces of prosciutto crispy. You can also crisp prosciutto in the oven on a baking sheet, but it takes just a little longer.  (350ºF for about 15 minutes) The prosciutto will crisp up even more as it cools, but should feel relatively crisp as you remove it from the pan.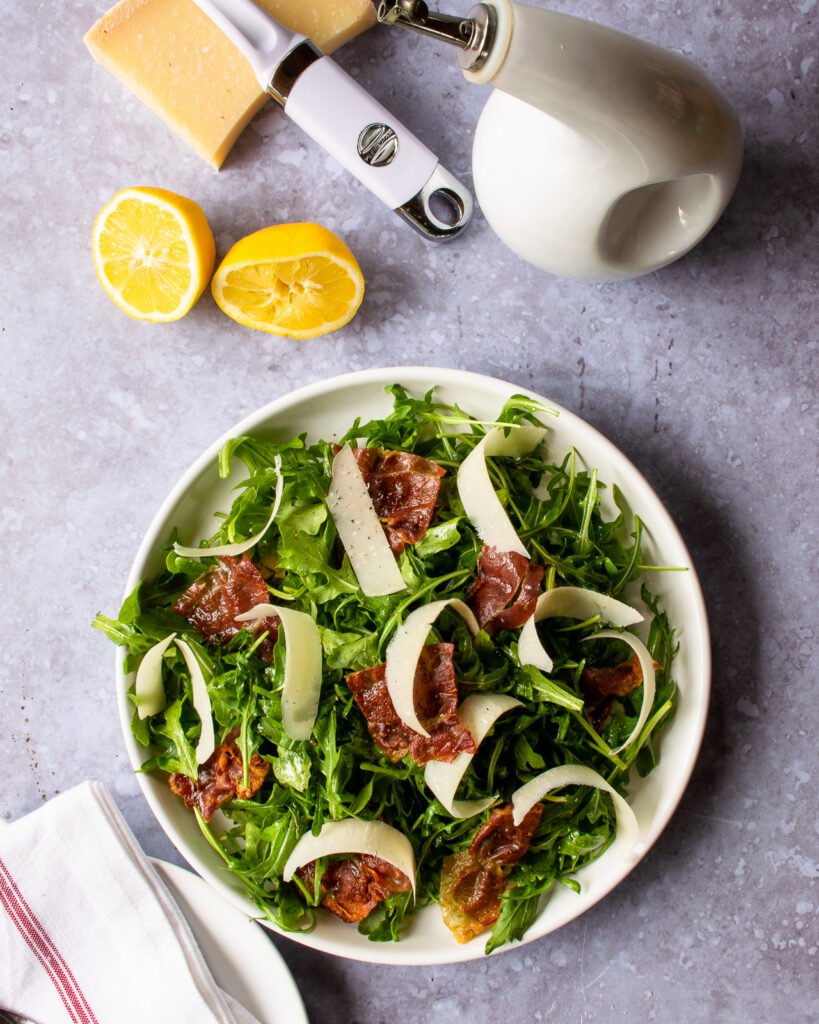 Dressing a Salad à la Minute
There are two ways to dress a salad – by making a dressing in a separate bowl, or by dressing the salad à la minute, which means pouring the acid and oil directly on the salad greens. (You can read more about salads and dressings here.) When you dress salad à la minute, the challenge is that you don't measure the amounts of acid and oil. It takes a little practice to become confident about dressing a salad à la minute, but it's not difficult. Just remember the classic ratio for a vinaigrette – 3 parts oil to 1 part acid. As you pour the two ingredients on the salad add more oil than you think you need and less acid than you think you need and you'll come pretty close to that classic 3:1 ratio. Then, taste a piece of arugula. If it's not acidic enough, add more lemon juice. If it's too acidic, add more olive oil. You'll get the hang of it.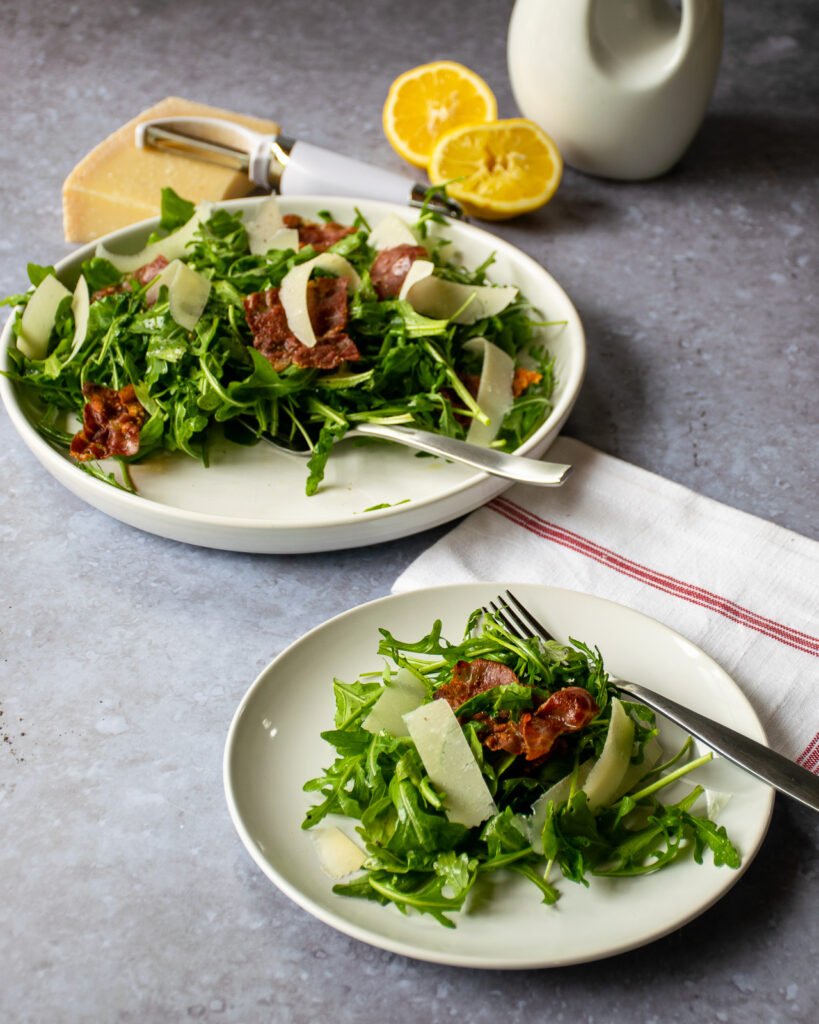 When to Dress Arugula
Arugula (also known as Rocket) is a peppery green with a delicate nature. It can wilt very easily when dressed, so only dress this salad right before you're ready to eat. Because it is so delicate, I add olive oil first and then the lemon juice. The other way around (adding the acid first) is tougher on the delicate greens. Season with salt and freshly ground black pepper carefully. The arugula is already peppery and the prosciutto and Parmesan cheese are both salty. That doesn't mean that you don't need to season (you do), but do it carefully – you can always add more.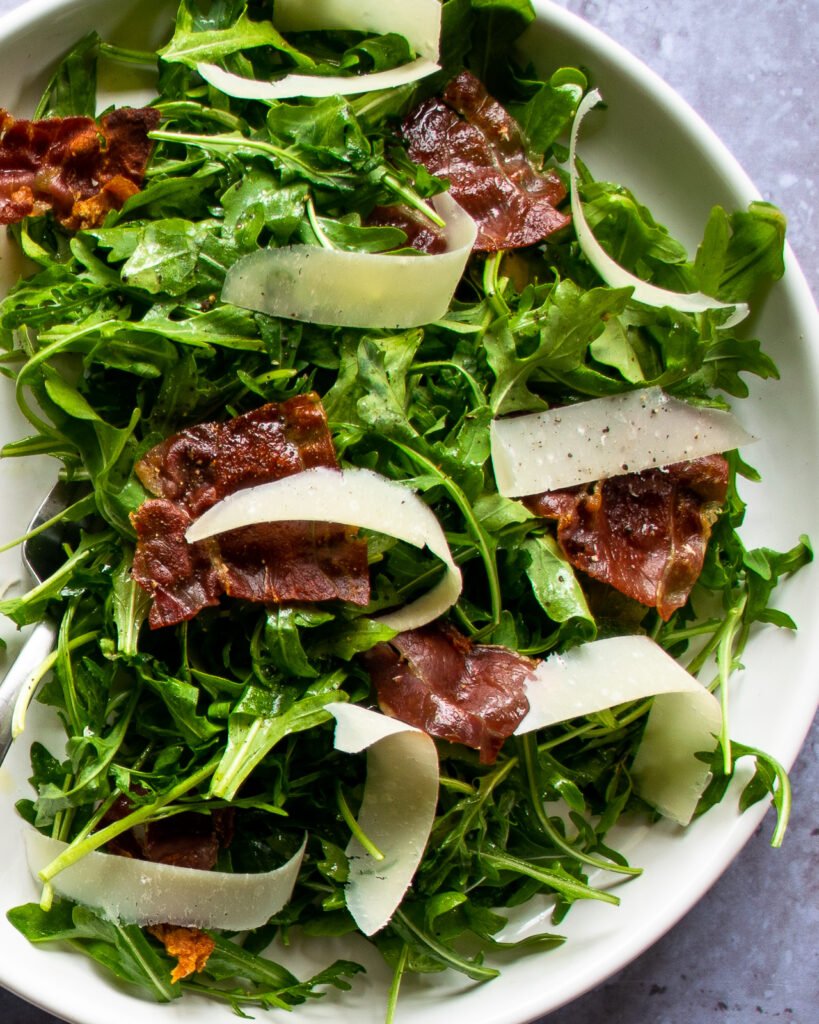 What to Serve with Arugula Salad
You can serve this elegant Italian salad with almost anything, but I love it especially with Italian pasta dishes like Spaghetti Bolognese or any version of lasagna. It's also delightful with a roast chicken or next to a simply prepared fish fillet. In general, this simple salad is a great accompaniment to any meal that requires most of your attention. An arugula Parmesan prosciutto salad is your low maintenance friend – you can throw it together in a matter of minutes and you can count on it being simply delicious.