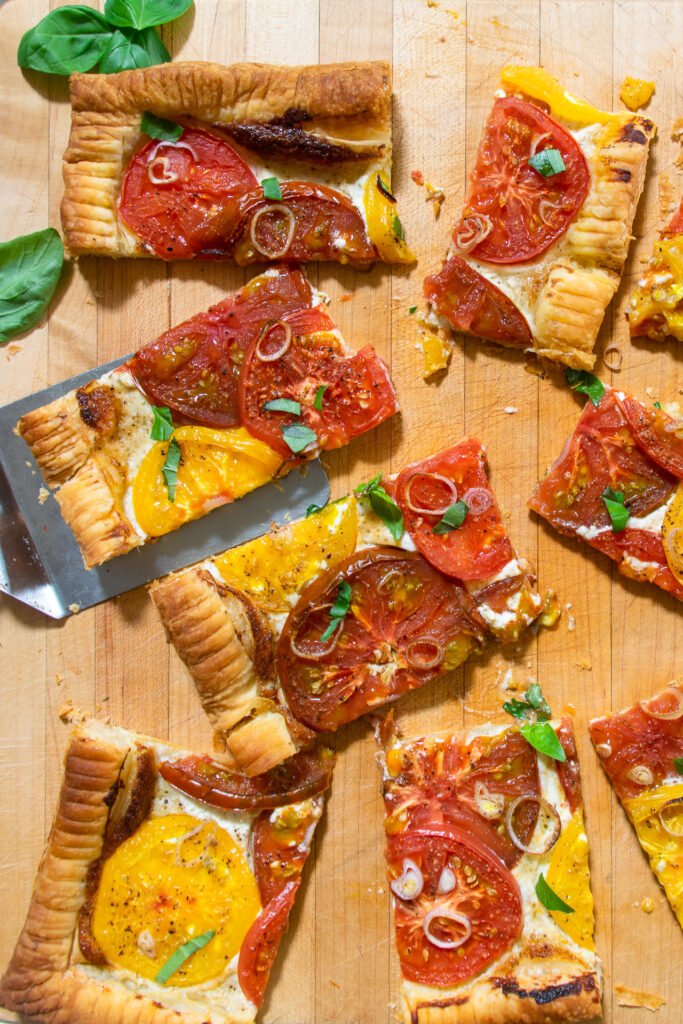 Perfect Summer Meal
When you're looking for a seasonal, delicious, easy to prepare summer meal, why not make a Tomato Tart? It's such a simple dish to put together and it's so tasty when you can get beautiful ripe heirloom tomatoes. You can really put this together from scratch in about 15 minutes, bake it for 25 minutes and serve what looks like a store-bought French delicacy. It's a perfect lunch or brunch item, or you can serve it with a hearty salad for a light dinner. 
Puff Pastry
The reason this recipe is so quick and easy to pull together is that you use store-bought puff pastry as the crust. I like to always have some puff pastry in the freezer for this very reason – it's easy to pull out and defrost on the counter in about half and hour and can be used to make a tart or little hors d'oeuvres in no time. Once you have your puff pastry defrosted, roll it out lightly and then score inside the perimeter of the pastry to make a crust. Press a fork around the outside for a pretty design on the crust. See photo below.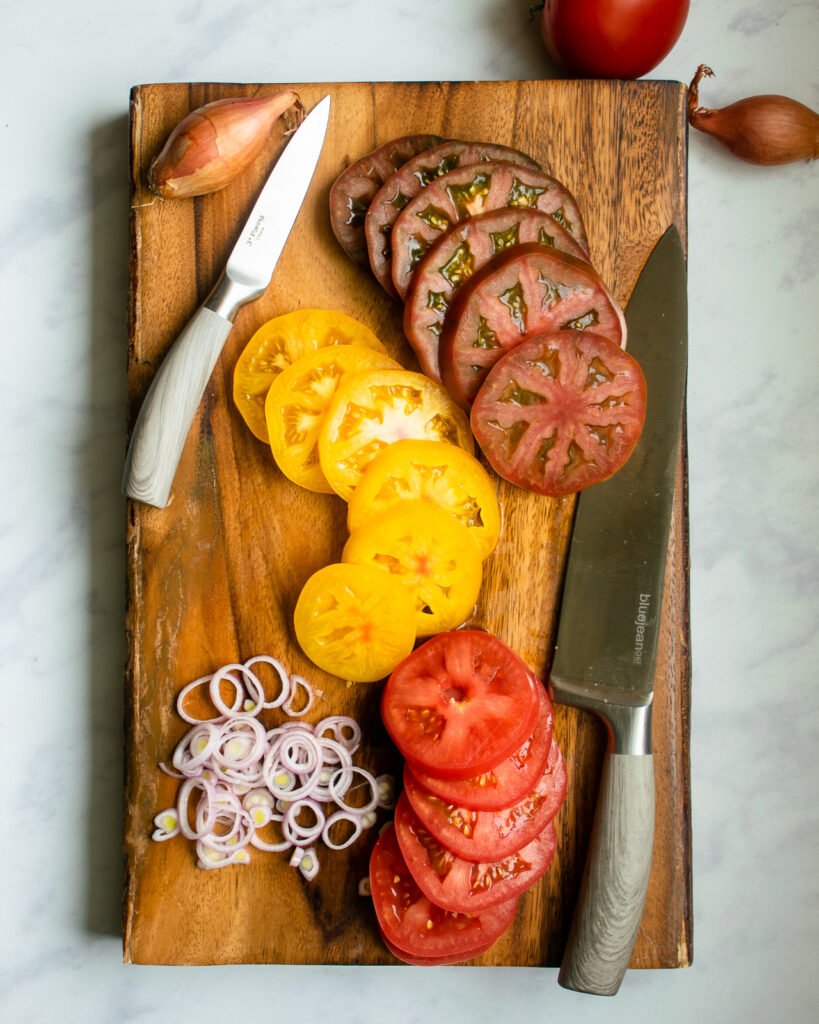 Best Tomatoes for a Tart
The tomatoes are the key to a successful tomato tart. The most important feature is that they be ripe. No tomato tart can be delicious with an underripe tomato, so this tart is best made in the summer. If you can find heirloom tomatoes of different colors, even better. The assorted colors make for a very pretty presentation. Slice the tomatoes about 3/8-inch thick and no thicker than ½-inch.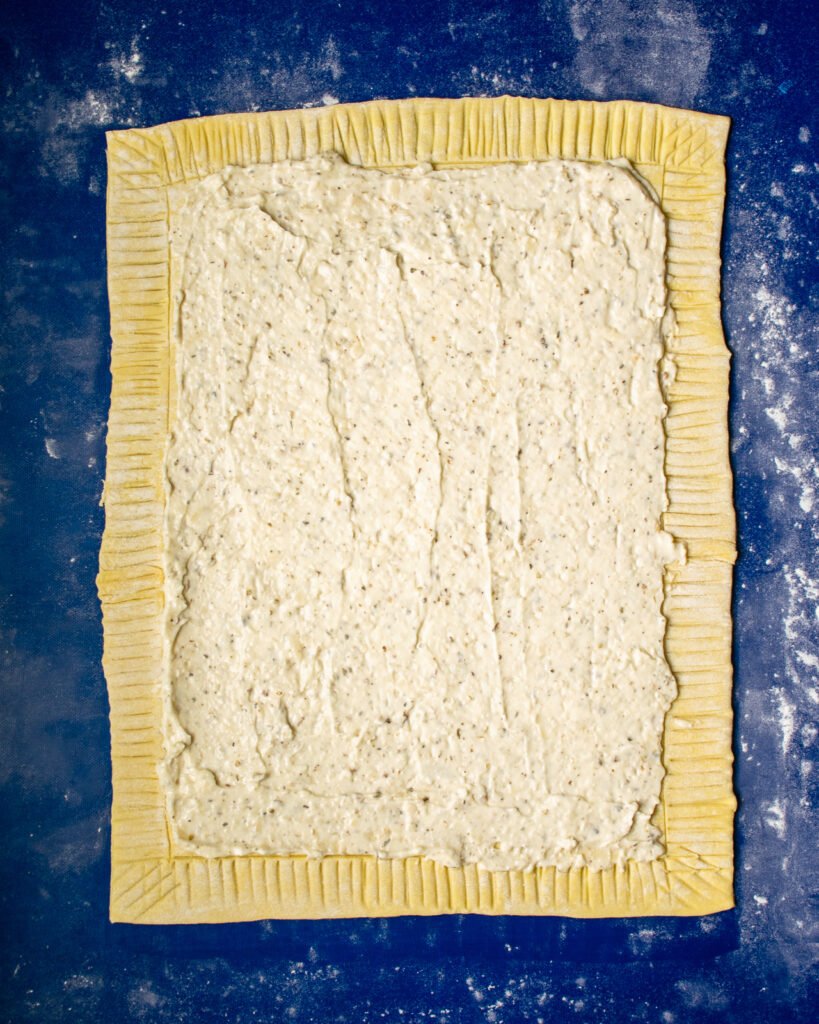 Filling for Tomato Tart
The filling for the tart is very simple too. It's made of mayonnaise, Parmesan cheese and some dried oregano. Because there are so few ingredients, the quality of those ingredients is extra important. Use a mayonnaise that you like and try to use the best quality Parmesan cheese you can find and afford (it can be very pricey). Simple stir the ingredients together and then spread it on the inside of the pastry, leaving the scored crust empty.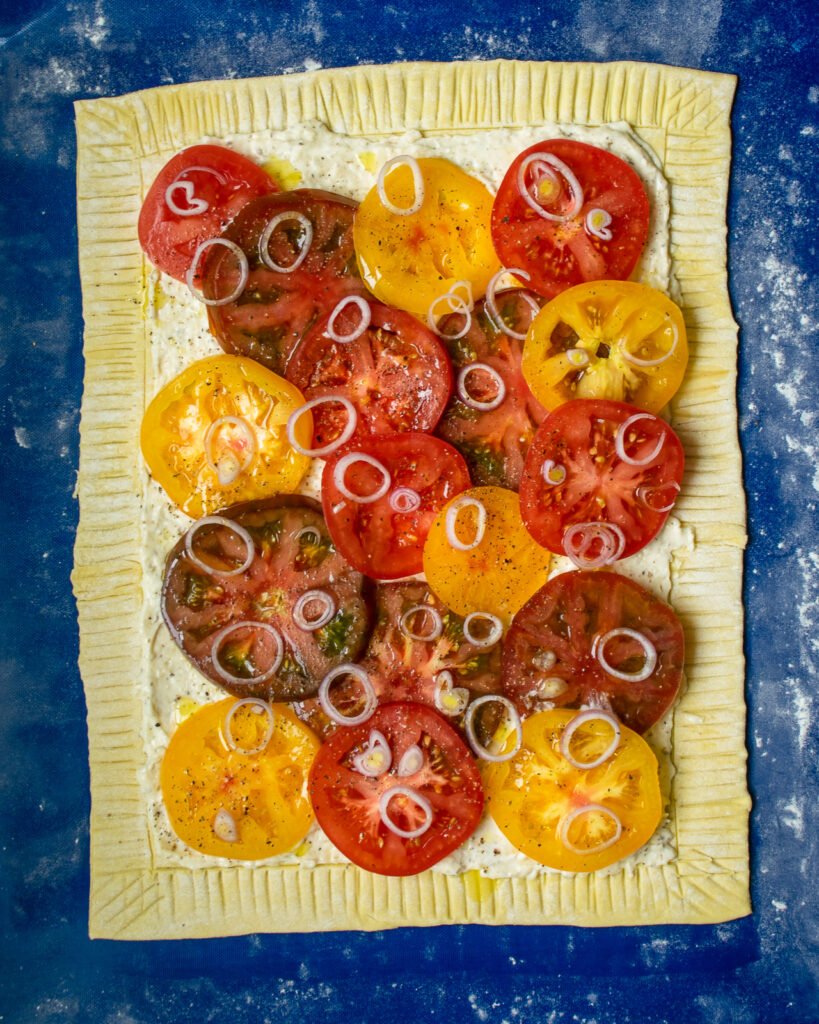 How to Build a Tomato Tart
All you have left to do is layer the tomatoes on in a pretty fashion, top with the thinly sliced shallots, season with pepper and drizzle with olive oil. I like to season the tart with salt after it bakes and just before serving so that additional moisture is not drawn out of the tomatoes ahead of time, which tends to make the pastry soggy.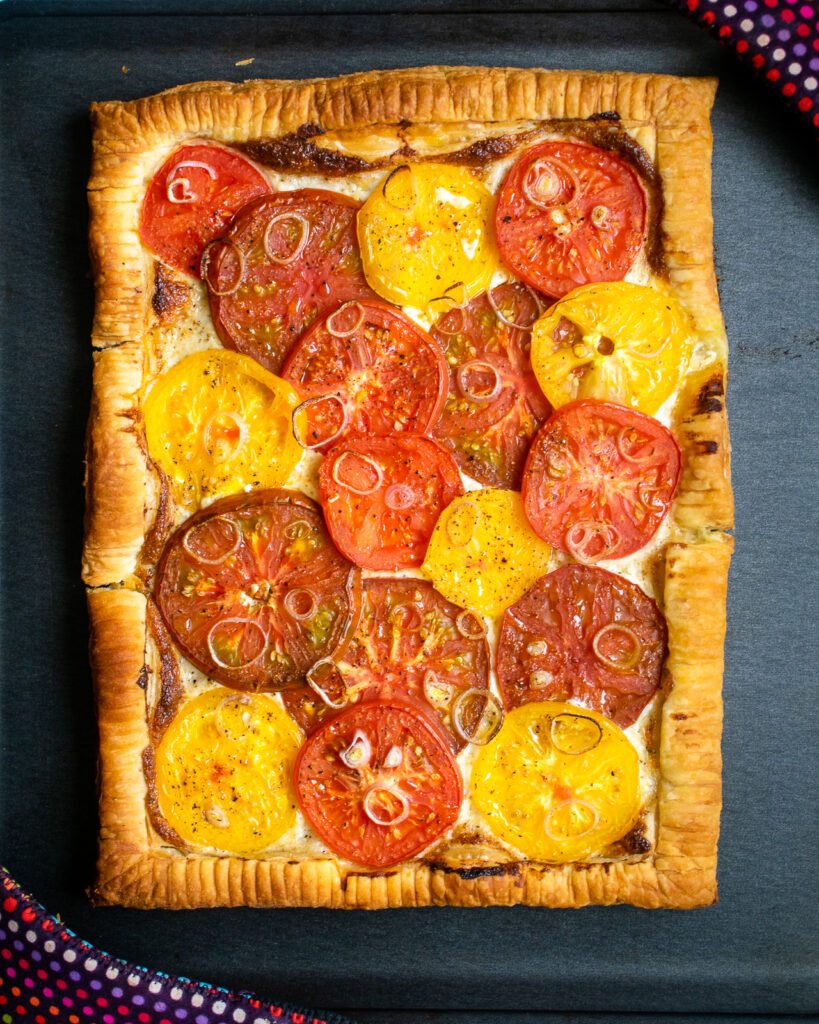 Baking Time
Whenever you're baking puff pastry, the trick is to get the top to brown nicely while still making sure the bottom of the pastry is cooked through. Bake for 25 minutes and if the bottom needs more time, tent some foil over the top of the tart and bake for another 5 minutes. Baking the tart on parchment paper is a good idea because it makes it easy to transfer the tart to and from the baking sheet. A silicone liner is another option, although you will need to add time to the baking because the silicone insulates the bottom of the tart a little from the heat of the baking pan.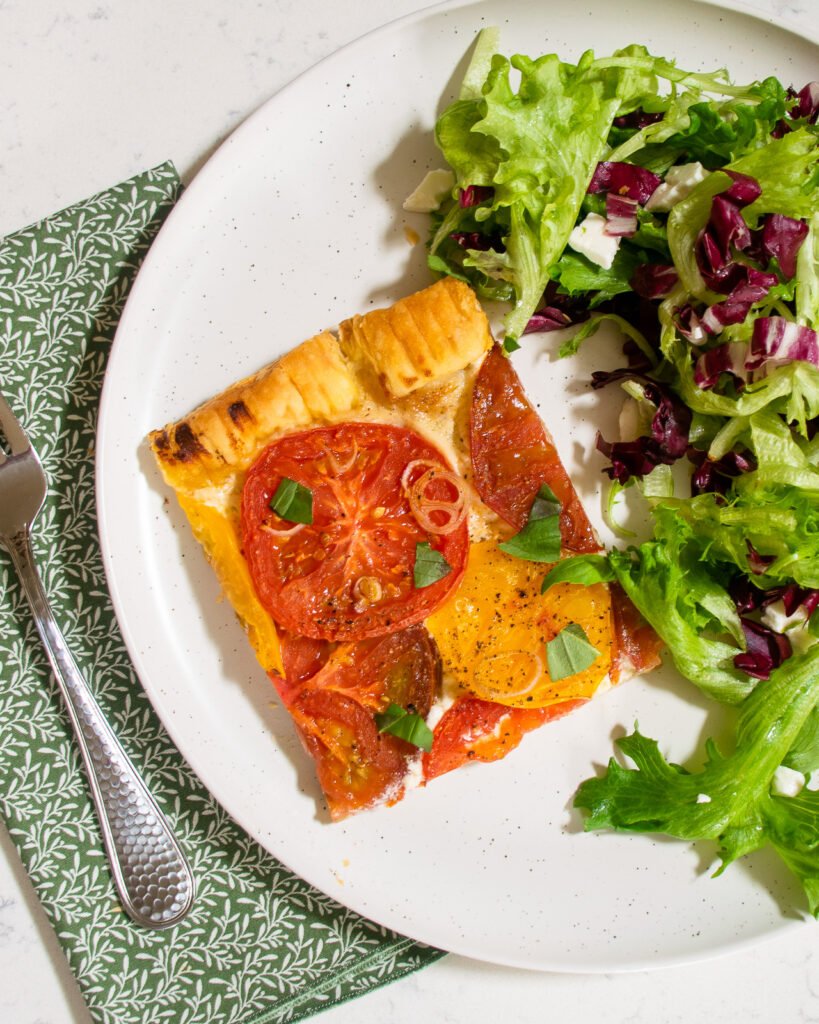 What to Serve with Tomato Tart
This tomato tart is a nice option with a selection of salads for lunch. I've served this tomato tart as a part of a brunch with a potato salad, a green salad and a white bean salad. You could also serve it with some vegetables like asparagus – grilled with Parmesan breadcrumbs or steamed with Hollandaise sauce – or this grilled Parmesan corn and zucchini. If you have any leftovers, simply wrap them up or store them in an airtight container and re-heat in the oven at 350ºF for about 10 minutes.