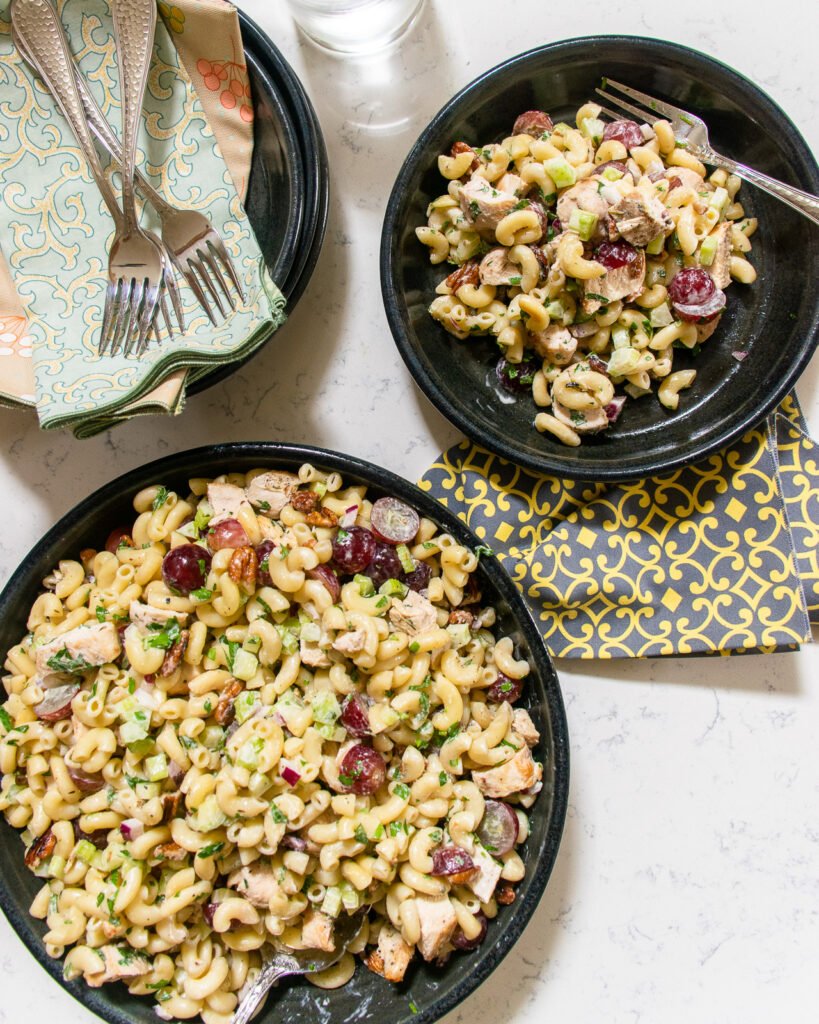 Perfect Pot Luck Dish
Pasta salad is always a hit at any group gathering. It's a pretty perfect dish to take along because it can be made well ahead of time, travels well and is best served at room temperature (although it should be understood that "room temperature" is cooler than hot summer outside temperature!). This chicken macaroni salad takes one of my favorite chicken salads with pecans, celery, grapes and parsley and adds pasta to turn it into a crowd pleaser that can feed a nice sized group of people.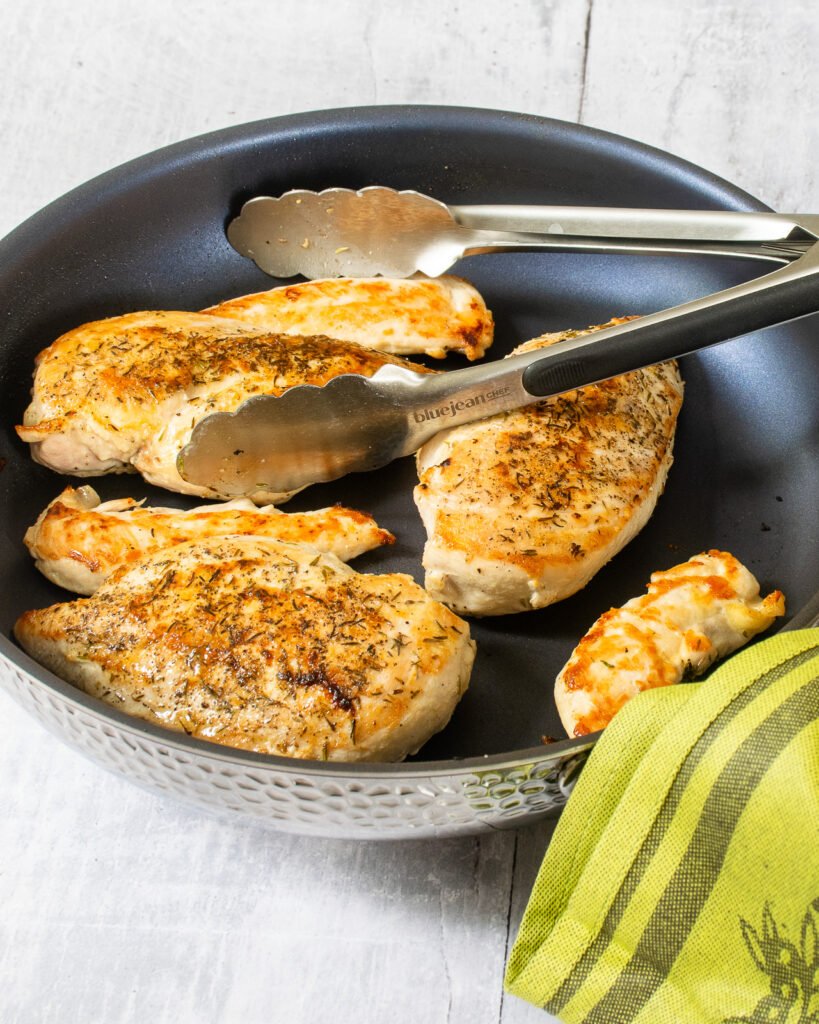 What Chicken to Use
Now, of course, if you have cooked chicken already in the fridge this chicken macaroni salad is a perfect way to use up leftovers. If you don't have leftovers, however, you're going to need to cook some chicken. You can do that by seasoning the chicken well with salt, pepper and dried thyme and cooking it in a skillet. Or, you could pop the seasoned chicken in the air fryer or even on the grill. However you cook it, do remember to season it well and don't over-cook it so that it stays moist in the salad.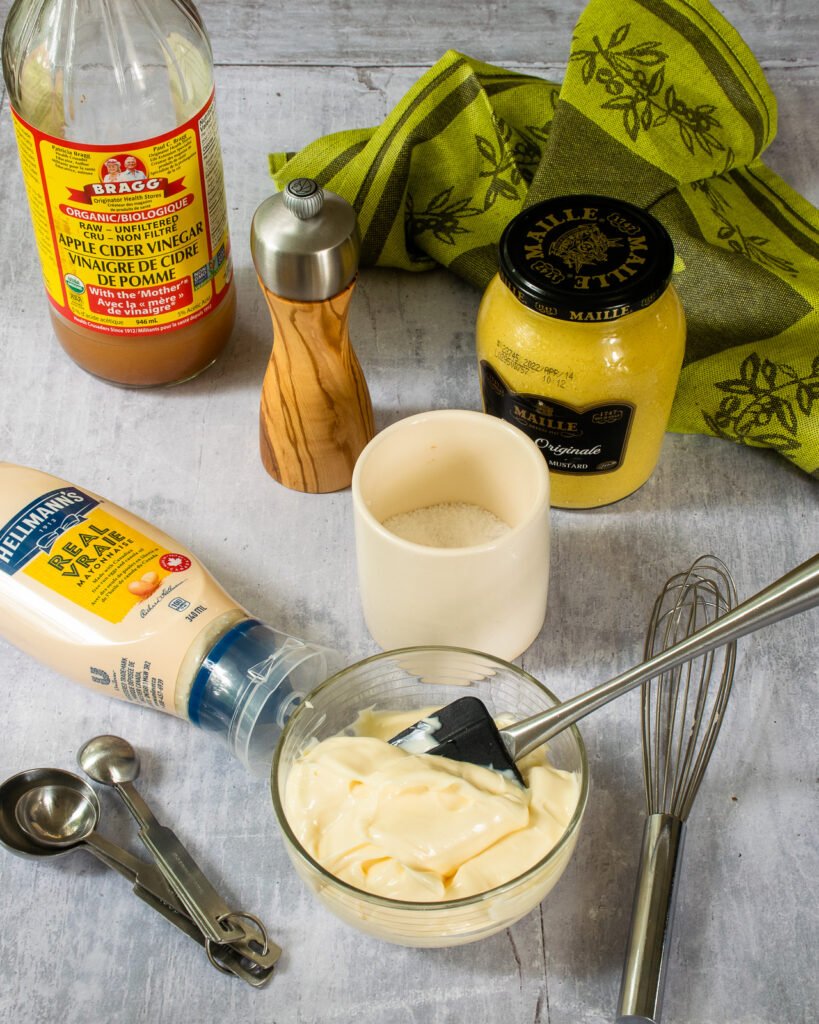 Dressing for Chicken Macaroni Salad
The dressing for this pasta salad is mayonnaise based. Of course, you could make your own mayonnaise from scratch if you really wanted to, but relying on your favorite store-bought mayonnaise is just fine. Then, just add a little mustard, cider vinegar, salt and pepper and stir well. You may end up using all this dressing on the salad, or if you're like me and prefer pasta salads more lightly dressed, you can save the leftover dressing for another occasion.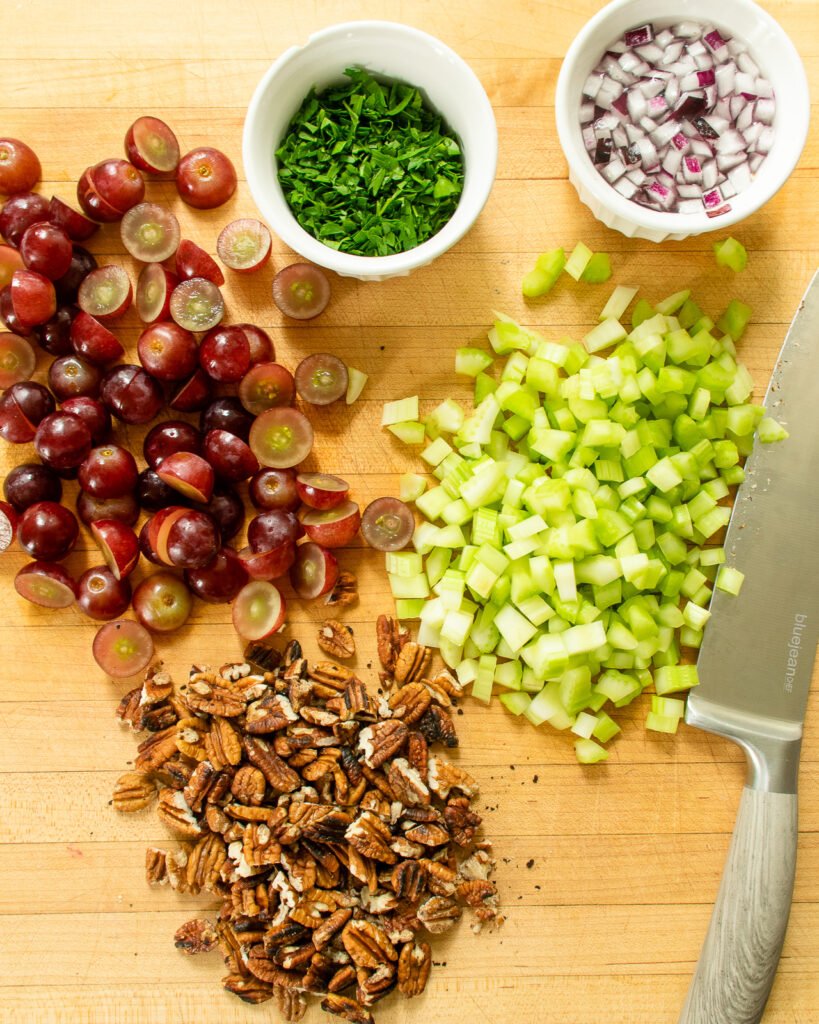 Prepping the Other Ingredients
The other ingredients in this macaroni salad do need a little prep work. Toast the pecans either on the stovetop in a skillet or in the oven on a baking sheet and then give them a rough chop. Cut the celery into small pieces and halve the grapes. When it comes to the red onion, a little goes a long way… in fact, sometimes that flavor goes too far. To tame the harsh notes in red onion, cut the onion into small pieces and then soak it in cold water while you prepare everything else. This mellows the flavor of the onion and is something I do all the time. I like the flavor of onion, but I don't like how it lingers after my meal. Soaking helps.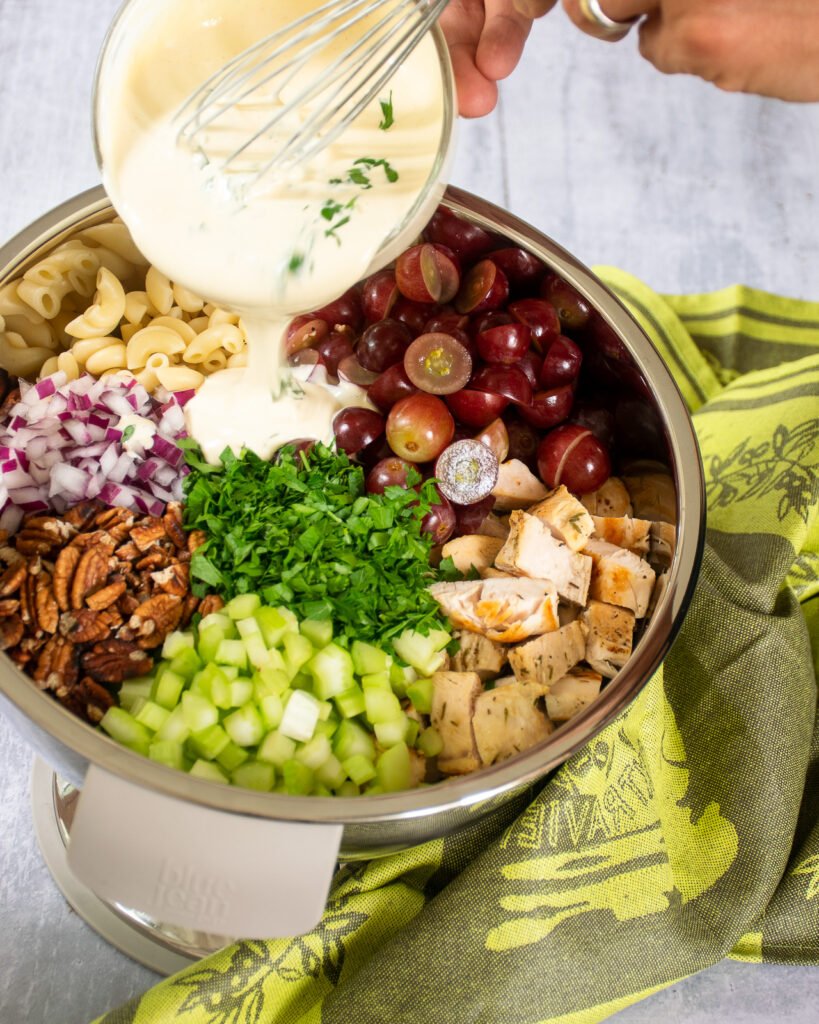 Tossing the Salad
You can throw all the salad ingredients into a bowl and toss with as much of the dressing as you like (I suggest starting with half the quantity), or you could toss everything but the pecans and parsley first and add the last two remaining ingredients just before serving. That way, the nuts will stay crunchier. Whichever you decide to do, understand that the pasta will continue to absorb the dressing and you might want to add more dressing just before serving and you'll definitely want to add dressing to leftovers.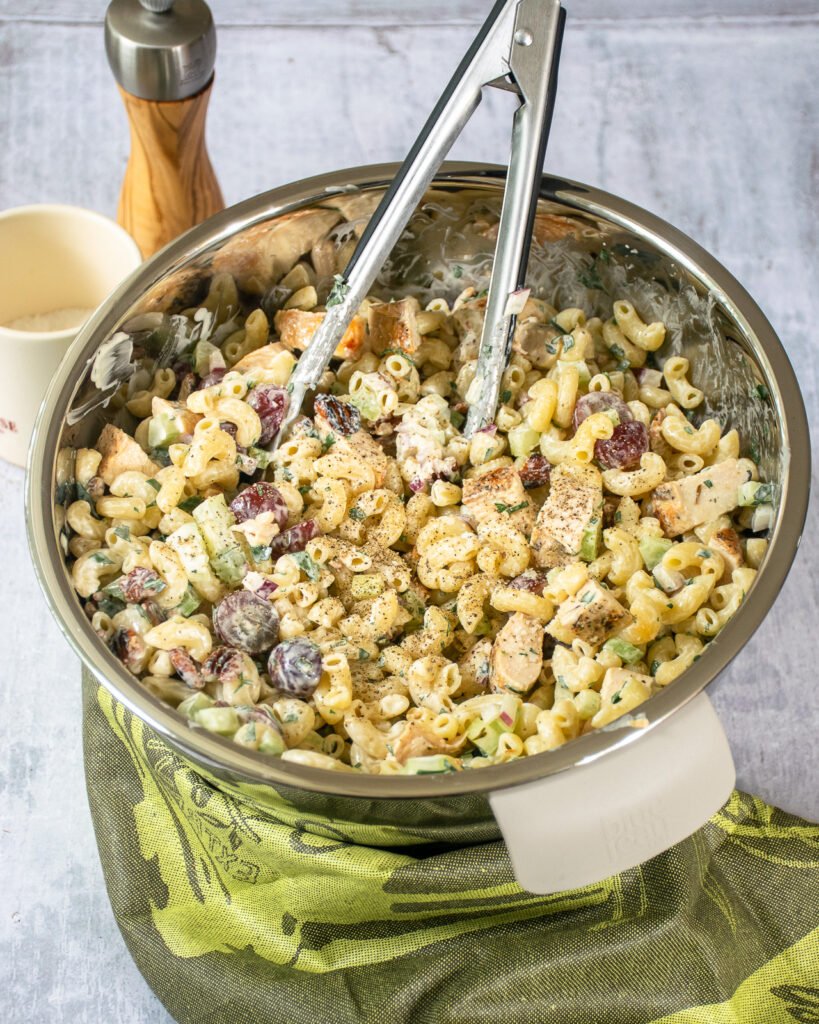 How Long will Pasta Salad Last?
Store your leftovers in a container in the refrigerator for up to 5 days. If you're serving this salad at an outdoor gathering, pull it from the refrigerator and place it with your other foods. Once it is out of the refrigerator, it shouldn't stay out in the sun for longer than 3 to 4 hours. After that point, it should be discarded.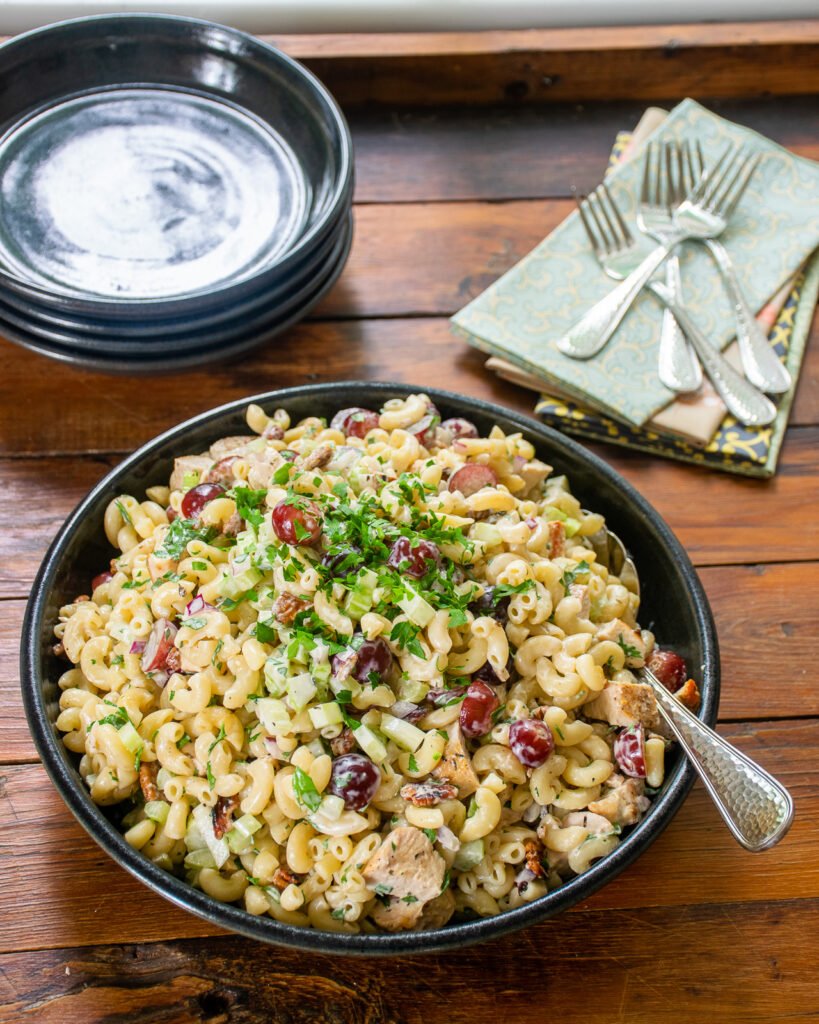 What to serve with Chicken Macaroni Salad
This salad can be eaten alone as a cool lunch or even dinner, but it's really a perfect dish to serve with other salads. Try putting it out with the watermelon feta salad with blueberries, the avocado tomato salad, or a tomato cucumber salad. Of course, if it's a traditional summer BBQ, a potato salad with lemon mayo is a nice match too.