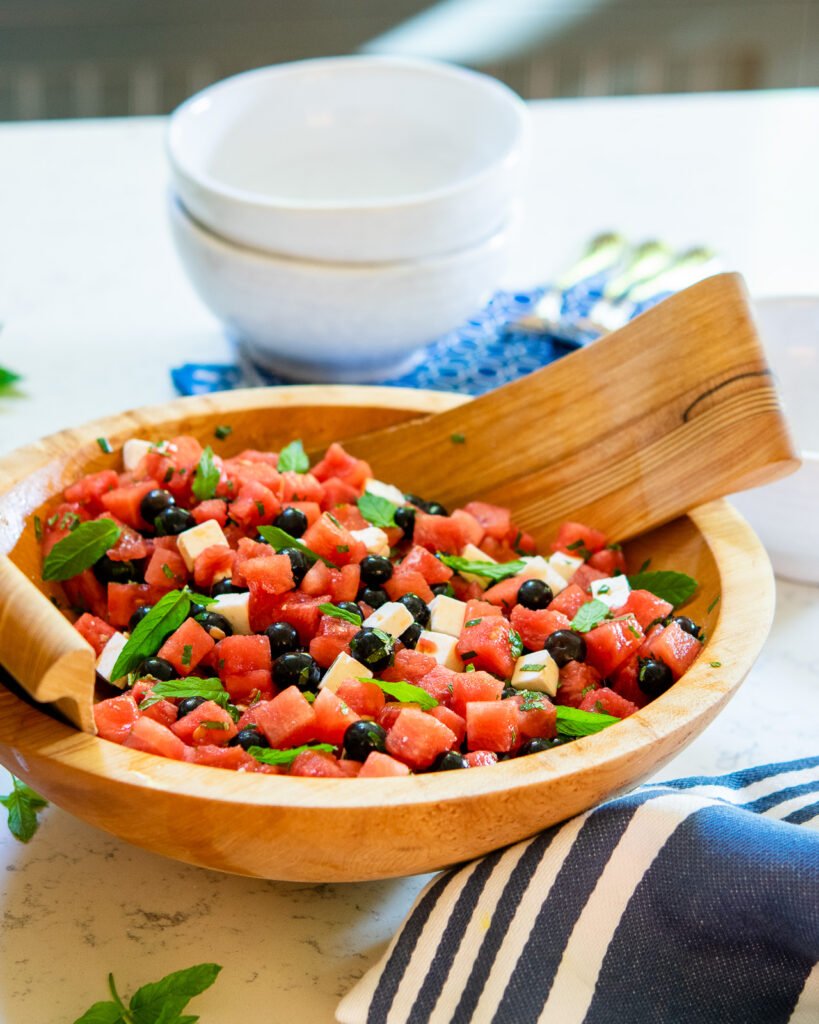 Perfect Fourth of July Salad
For years and years I only ever ate watermelon out in the backyard, taking bites out of a wedge held with two hands and spitting the seeds as far as I could, which was never as far as my brother. It wasn't until I was well into my adult years that I came across watermelon and feta salad, combining the sweet taste of watermelon with salty feta to make one of the most refreshing sweet-savory dishes of summer. This watermelon feta salad adds blueberries to the mix, making a salad that is red, white and blue (and green with the mint added) and perfect for the Fourth of July.

How to Choose a Good Watermelon
When you're choosing a watermelon for this salad, there are a few things to look for. I used a mini watermelon and used ¾ of it for this salad. Regardless of whether you're using a mini or a regular watermelon, look for consistent deep dark green stripes alongside creamy yellow stripes on the fruit, as well as a dull finish on the skin. If the skin is shiny, it is likely underripe. You can also look for the yellow spot on the watermelon. This is where the watermelon was resting on the ground. When ripe, this spot will be a creamy yellow color. Finally, tap the watermelon on its underside and listen for a deep, hollow sound. That will let you know that it is full of juicy and at its peak.

Let's Talk Feta
There are hundreds of different feta cheeses out there – sheep's milk, goat's milk or a blend of the two; feta from Greece, feta from France, feta from Turkey, feta from the UK and even feta from the USA to name just a few countries producing it. It is always aged in a salty brine and has a nice grainy crumbly texture. For this salad, I prefer to use a feta that comes in brine in a solid block so that I can cut it into cubes that are just a little smaller than the watermelon. If you can only find crumbled feta, that's fine too. Just make sure you pick one that you like. For me, the saltier the better!

Mint Vinaigrette for Watermelon Feta Salad
Mint is a common ingredient in watermelon feta salad. It adds another strong flavor to this side dish, complimenting the sweet and salty. I incorporate the mint in the vinaigrette, which is made of white balsamic vinegar and olive oil. White balsamic vinegar is a sweet vinegar, amplifying the already sweet watermelon. If your watermelon is not as ripe as you'd like it to be, you can add a little honey to the vinaigrette, but taste your watermelon first. You probably don't need to add any more sweetener to the mix. 

How to Make Ahead
Watermelon feta salad is best enjoyed the day it is made, but you can prep it ahead of time. Cut up the watermelon and feta and toss it in a bowl with the blueberries. Make the dressing, but don't toss the two together until 30 minutes before you want to eat. Then, eat with gusto because it won't be as tasty the next day!

What to Serve with Watermelon Feta Salad
This salad is perfect to serve at a BBQ and compliments a burger perfectly. It's not a fruit salad, but it's not a savory salad either. It sits somewhere in between, so it's a nice finish to a burger or a selection of summer salads, like panzanella or a grilled Parmesan corn and zucchini salad.