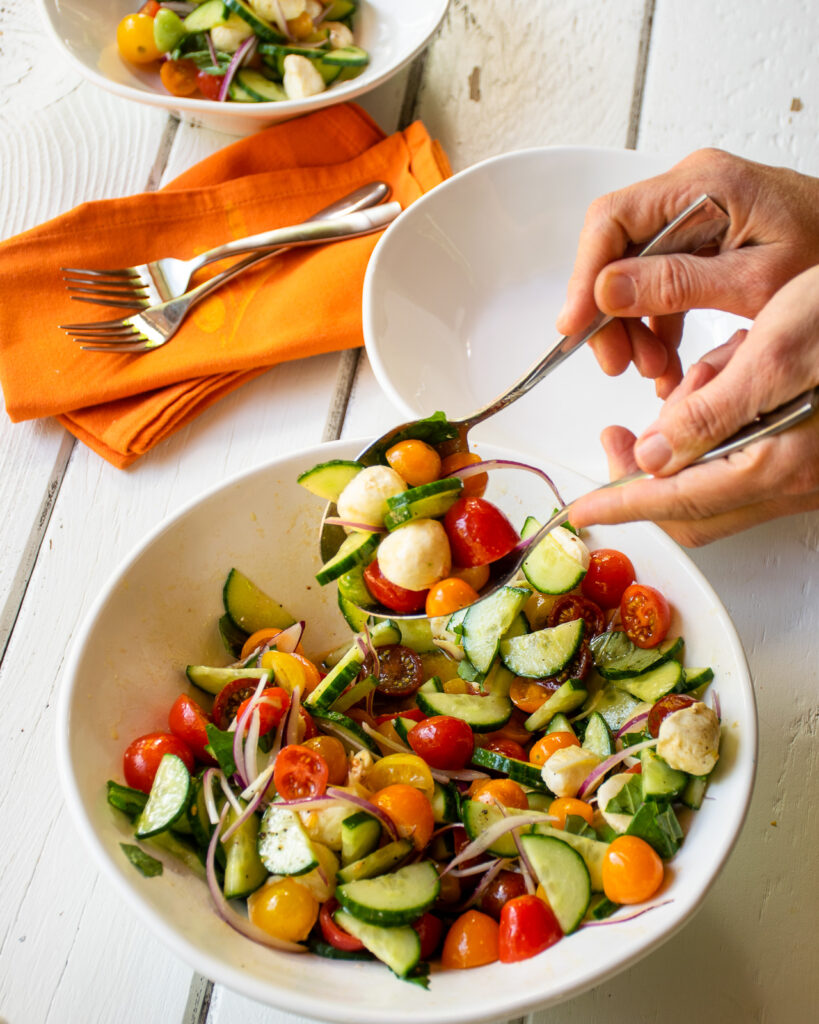 Easy Summer Side Dish
It's natural to love salads in the summertime. They are cool and refreshing and require little preparation other than tossing things together. Sometimes, however, we tire of leafy green salads. That's where this tomato cucumber salad comes in. The only leaves you'll find in this delicious side dish are fresh basil leaves torn in at the last minute. It's a little sneaky of me to call it just a tomato cucumber salad since you also toss in fresh mozzarella, but that's me… sneaky with my side dishes.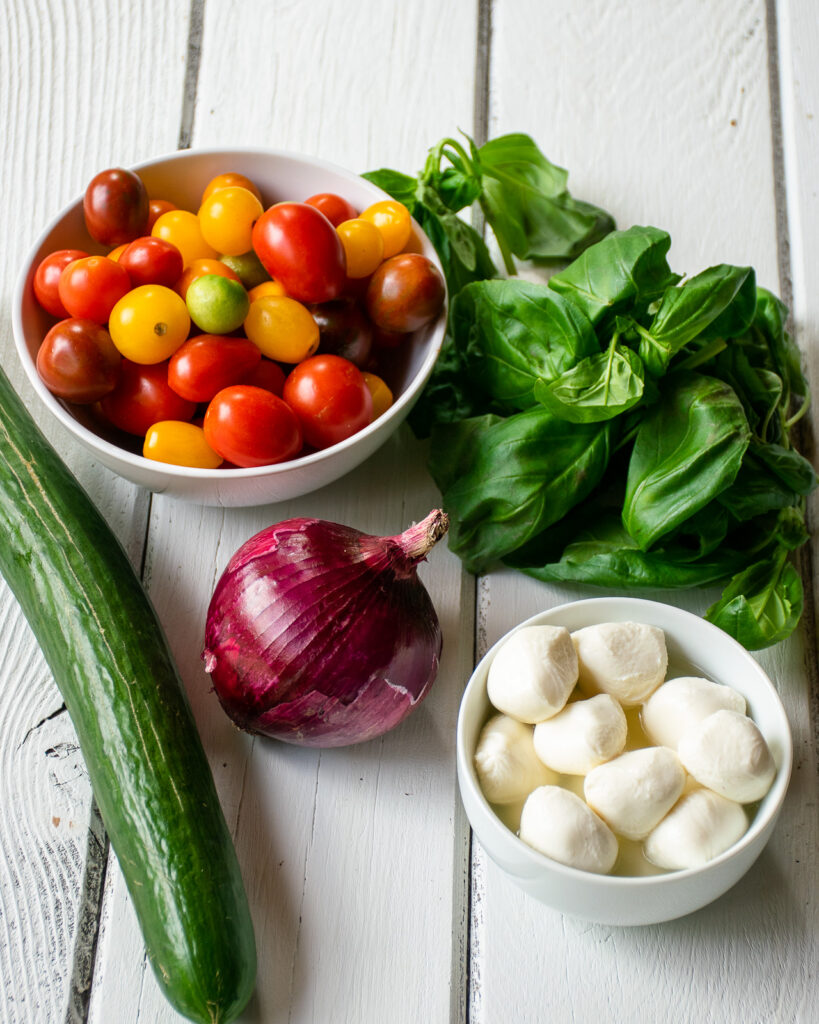 Best Tomatoes for Salad
When it comes to what tomatoes to use for this salad, I will always say use the ripest tomatoes. Use what is in season and delicious first. Then, pick tomatoes that will look beautiful in the bowl. A mix of colors – red, orange, yellow, black and even green look so nice tossed altogether. Cherry and grape tomatoes are cute and easy to just slice in half, but you can also include some larger tomatoes and mix in some wedges of tomato for interest.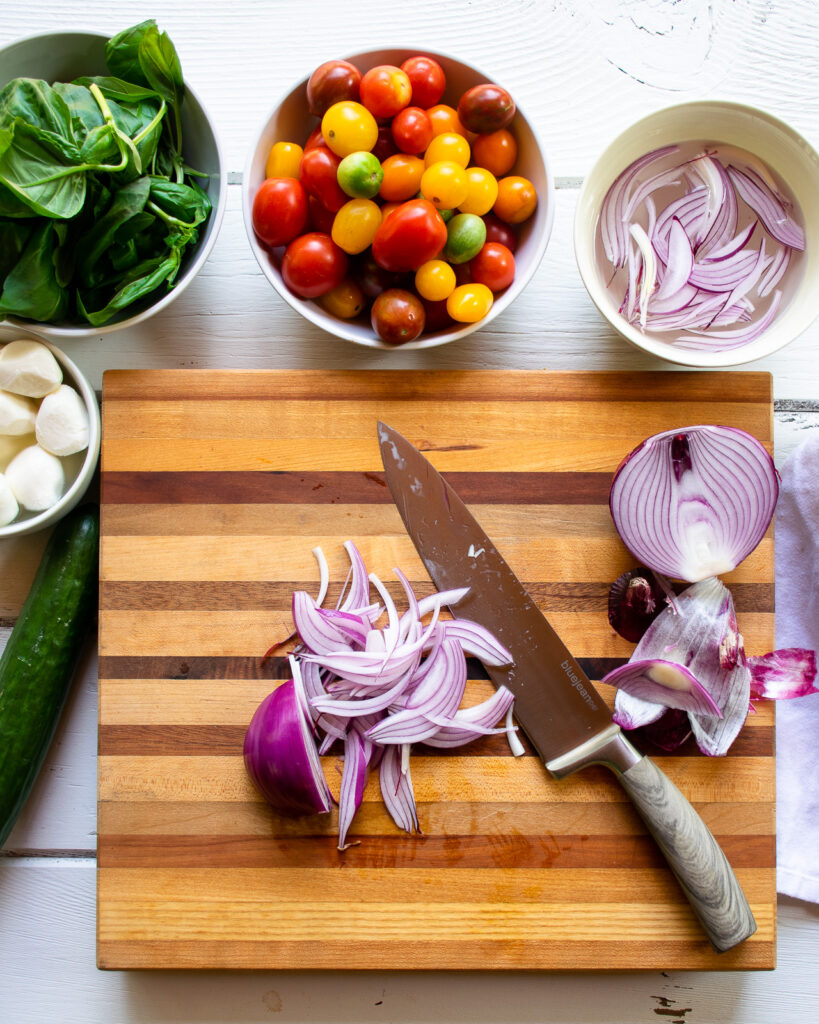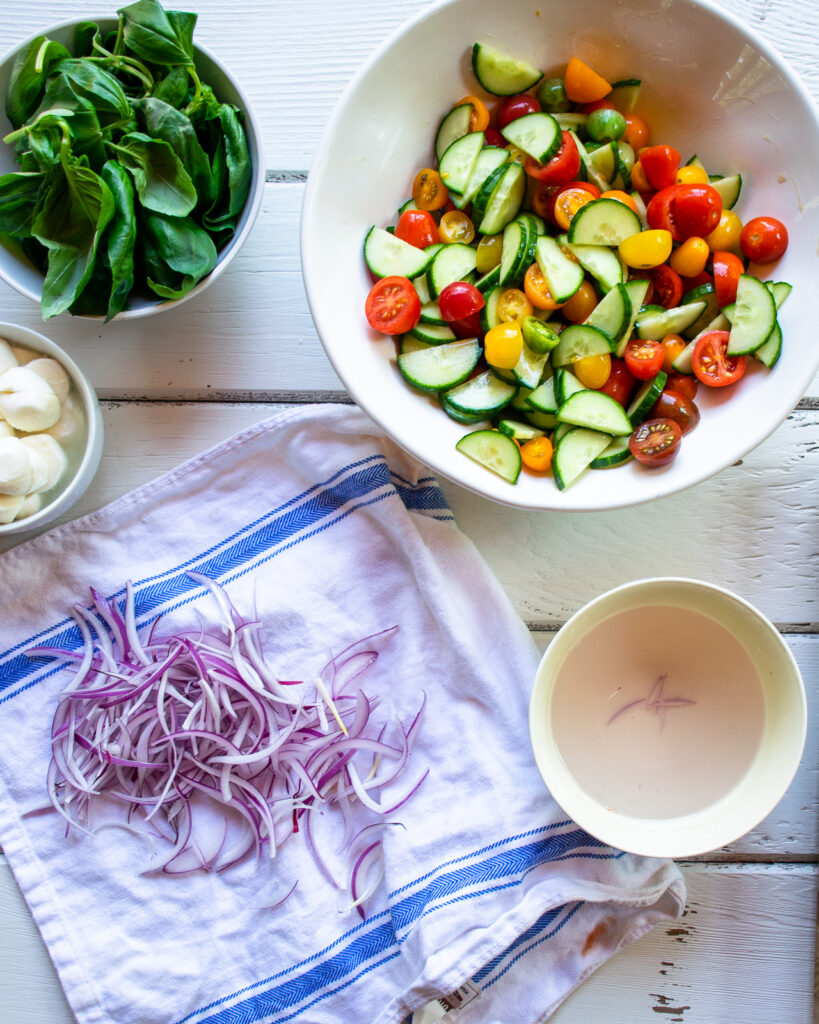 How to Take the Bite out of Onions
The red onion really does add a nice burst of intensity to this salad, but if you're like me you might veer away from raw onions for fear that you'll taste them for the next three or four days. The solution is to soak your red onions first. Slice them thinly and then pop them into a bowl of cold water. Let them sit for at least 20 minutes or longer. Then, drain and rinse before drying well on a clean kitchen towel. This soaking and rinsing washes away some of the bite of the onions, making them more digestible and easy on the palette.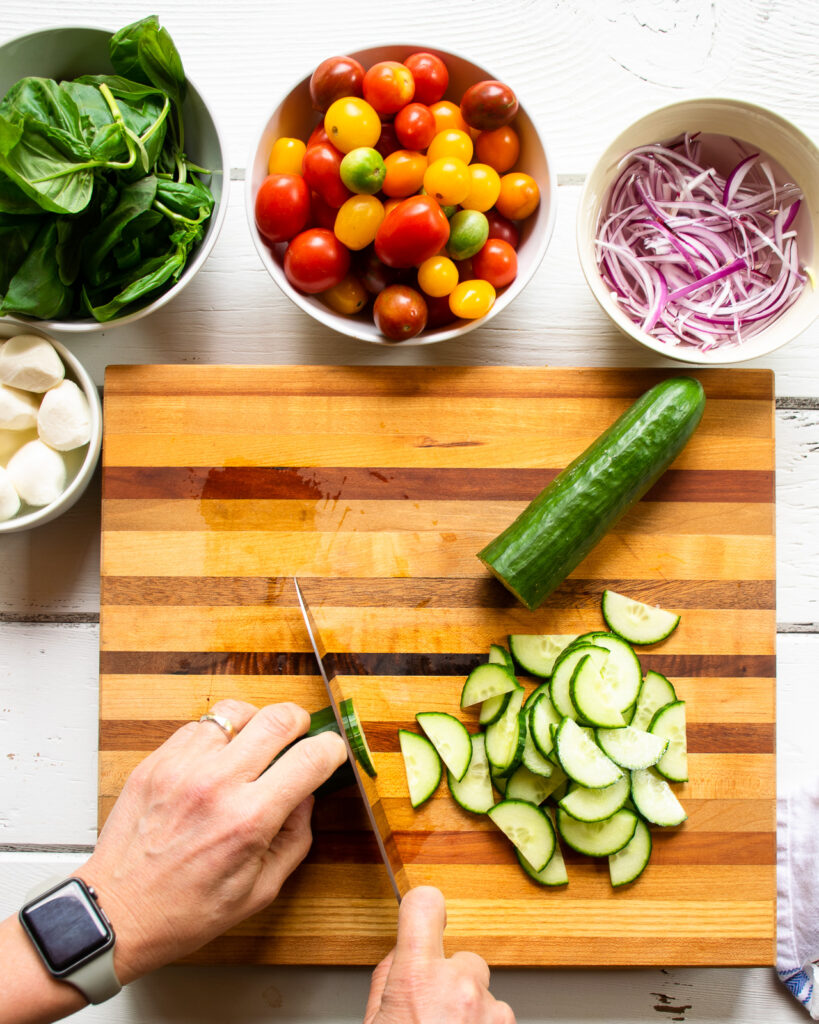 What Type of Cucumber to Use
I like to use an English cucumber for this salad because it has fewer seeds and thinner skin than traditional cucumbers. (Cucumber seeds and skin can be bitter.) If all you have are traditional cucumbers, not to worry – just peel them, cut them in half and scoop out the seeds before slicing.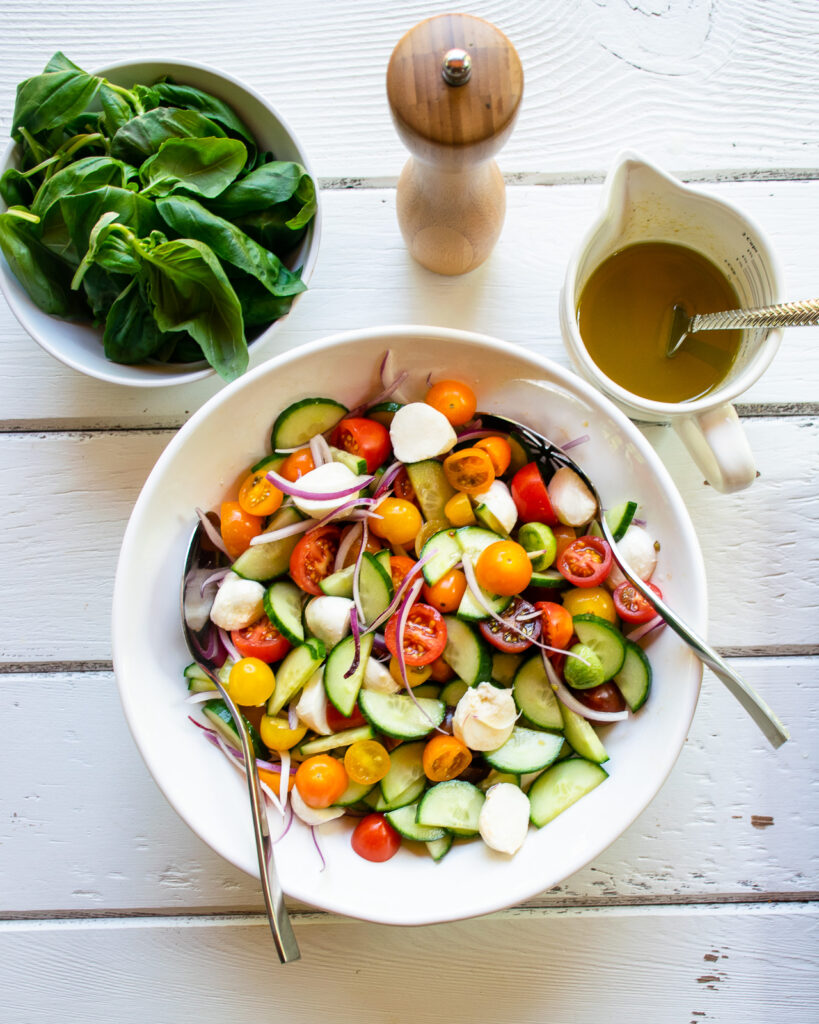 How to Make Ahead 
This salad is an easy one to make ahead of time if you're entertaining. Combine all the vegetables and cheese in a bowl, prepare the dressing on the side and save the basil for the last minute. You could do this up to a day ahead of time if you keep the vegetables in the refrigerator. When it comes time to serve the salad, toss everything together and let it sit for 30 minutes or so before serving so the flavors have time to blend. If you happen to have leftovers, you can toss the ingredients with some leafy greens or cooked pasta for another salad the next day, or spoon it onto some crusty bread for a delicious toast.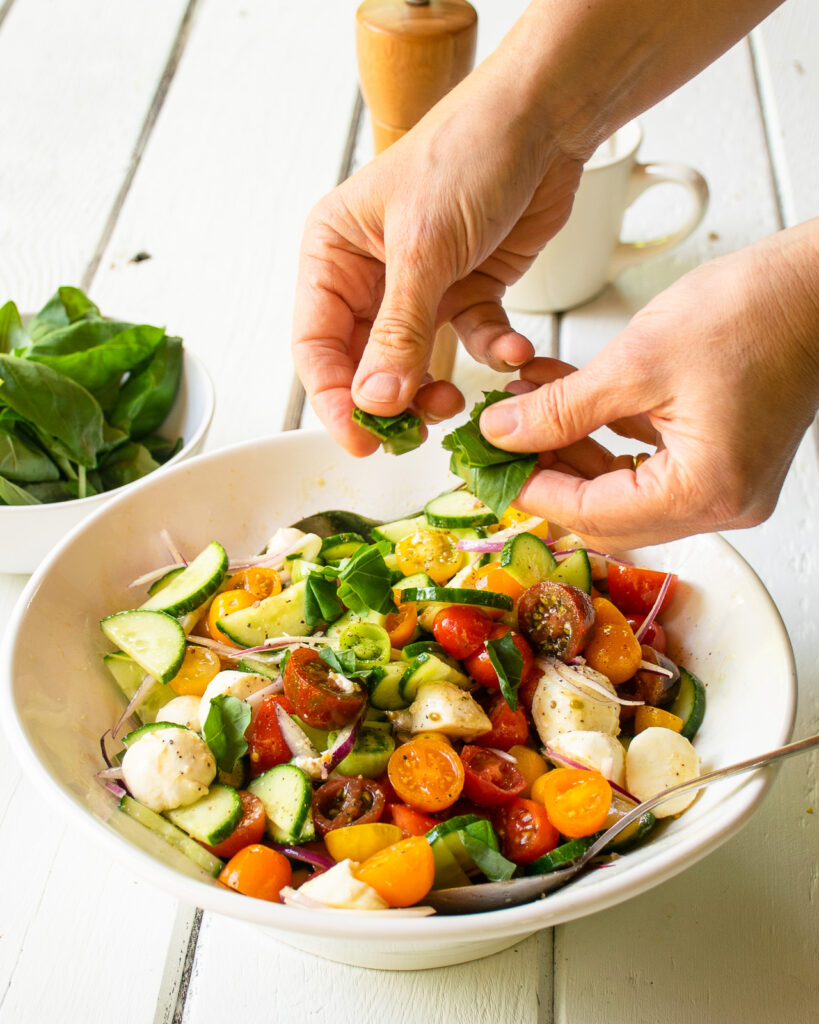 What to Serve with Tomato Cucumber Salad
I do think this salad is a perfect side for grilling season – you can make it ahead, it's served room temperature and tomatoes and cucumbers are in high season in the summertime. So, have this alongside some grilled chicken like this Orange Spiced Spatchcocked Chicken, Grilled Marinated London Broil, or even a grilled burger.