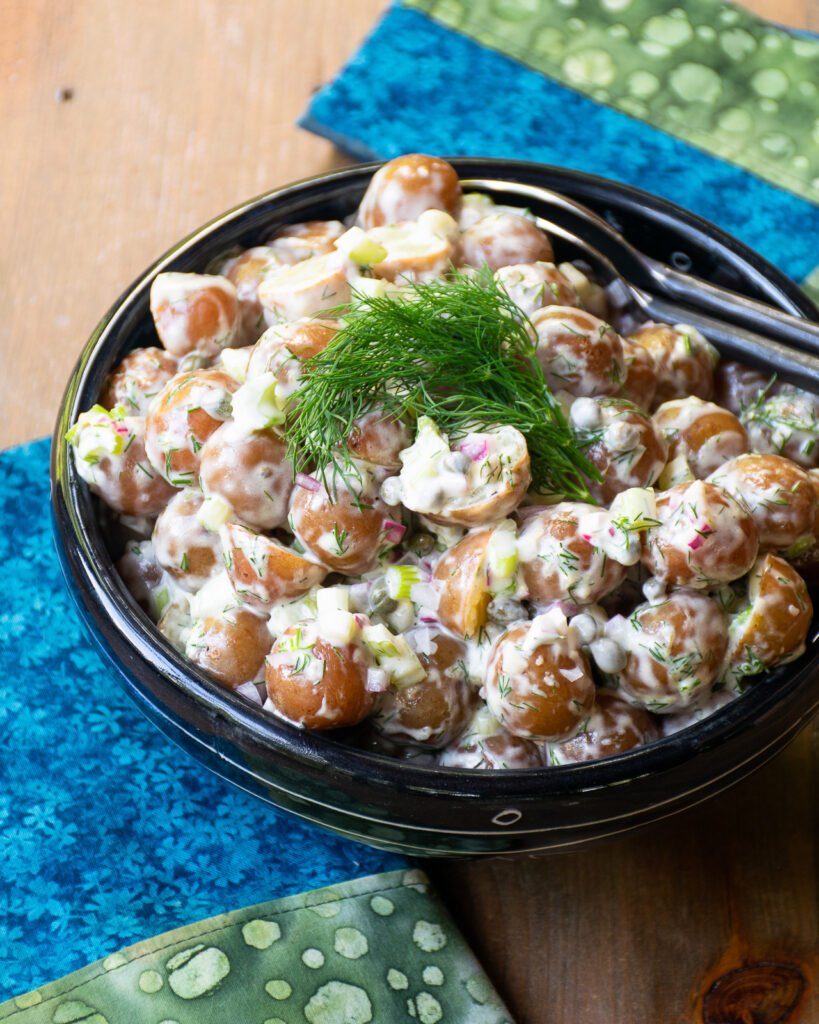 Making Potato Salad in a Pressure Cooker
Do you need a pressure cooker to make potato salad? No. But if you want to save your kitchen from the steam of a pot of boiling water, making Instant Potato Salad is the way to go! It cuts your cooking time down immensely and this recipe with lemon mayonnaise and a few secret ingredients is very easy to prepare at a moments' notice.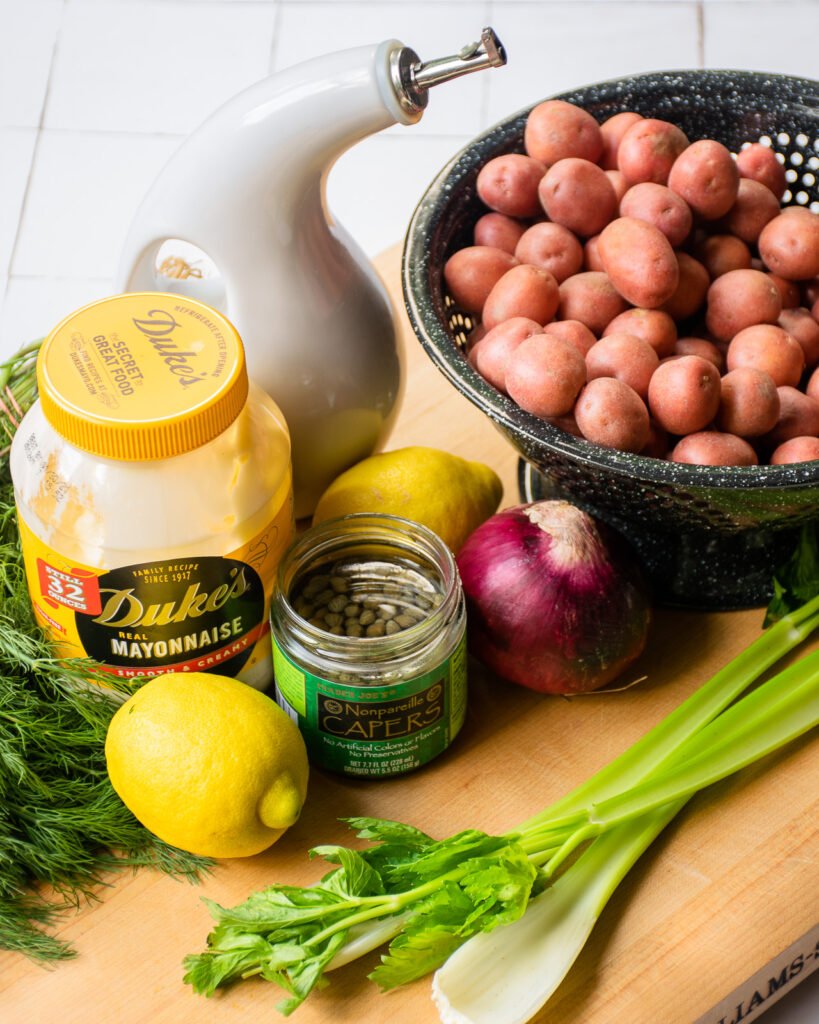 Best Potatoes for Potato Salad
The best potatoes for potato salad are low starch potatoes that hold their shape when cooked, like red, white, purple or fingerling potatoes. I think baby potatoes are not only adorable, but perfect for this potato salad because you can leave really small potatoes whole giving this salad an interesting look. This article has lots of great information on the different types of potatoes and how they should be used.
How Long to Cook Potatoes in a Pressure Cooker
The cooking time for potatoes in the pressure cooker or Instant Pot® depends entirely on the size of your potatoes. The potatoes above were about 1-inch in diameter and took just one minute in the cooker. If your potatoes, or potato chunks are bigger than 1-inch, give it 2 minutes, but either way make sure you do a quick-release of pressure so they don't overcook. You'll also notice that only calls for 1½ cups of water, which won't cover 2 pounds of potatoes, but does give you enough water to steam the potatoes perfectly.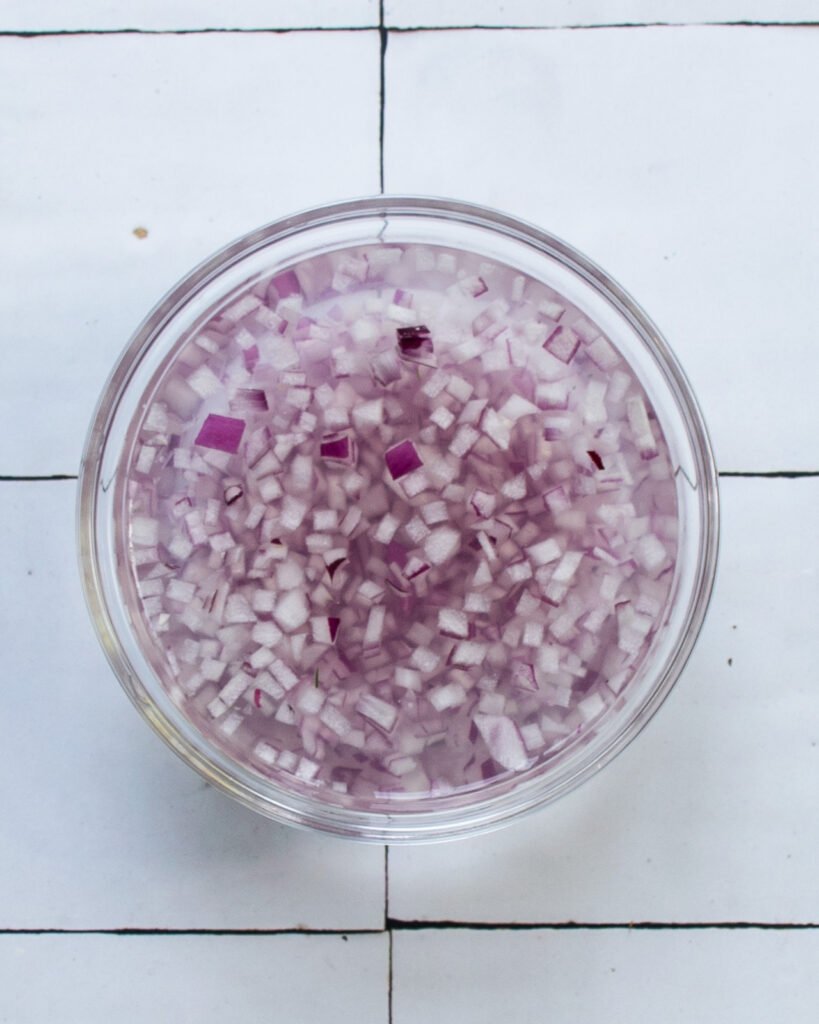 Why Soak Red Onion?
I love all members of the onion family (onions, leeks, garlic), but I really don't like it when their flavor lingers long past the meal I'm eating. To avoid this, I soak chopped onion in cold water whenever I'm using the onion raw. This removes some of the harsh bite that can accompany the onion. It just takes about 20 minutes. Drain the onion and dry lightly with a paper towel before adding it to the salad. Of course, if you love onion, you don't have to soak it at all.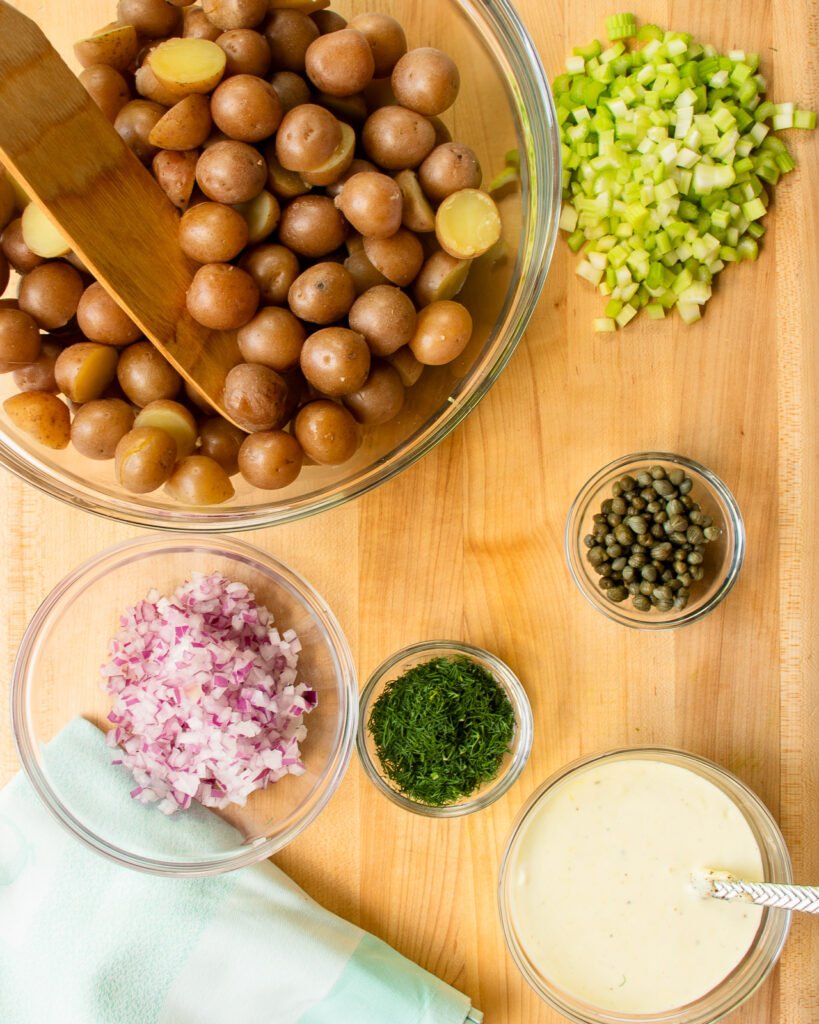 Capers, Lemon and Dill
Besides the red onion, the other ingredients in this potato salad are dill, capers and lemon. The lemon is added to the mayonnaise and makes a nice bright dressing. The capers also add an acidic note to the salad but remember to rinse them before adding them to the other ingredients – that will take away some of their briny flavor. If you love capers, feel free to give them a rough chop before adding them – that will let more of their flavor shine.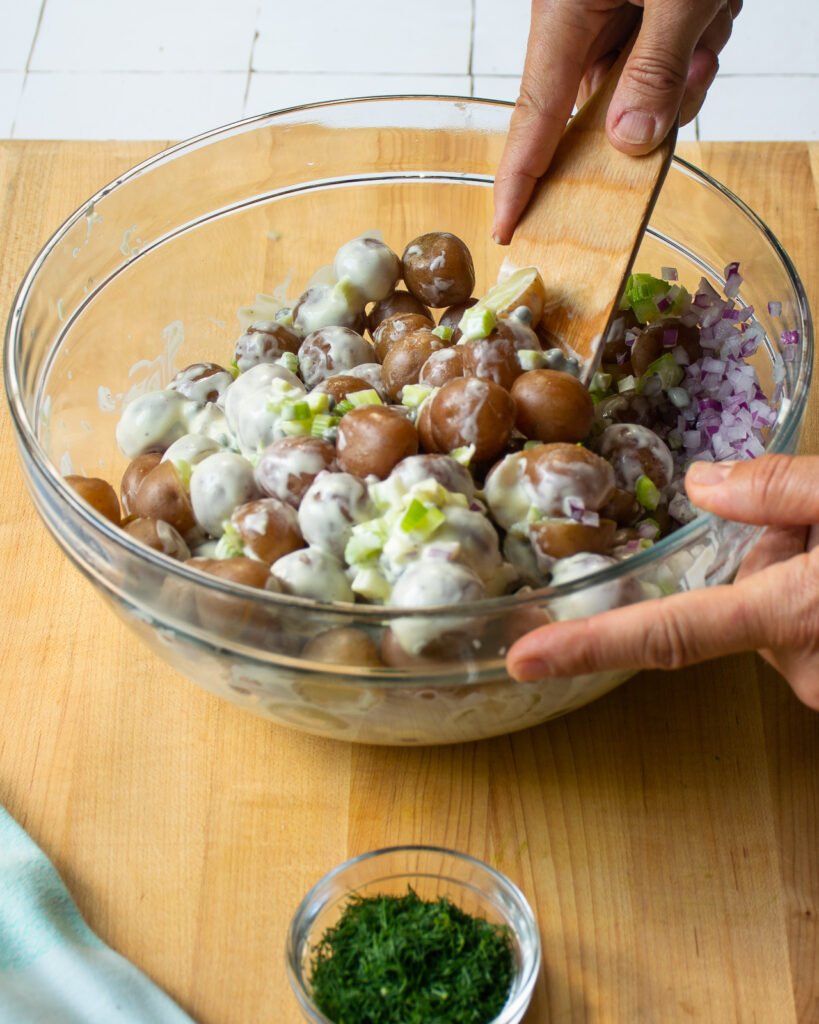 Leftover Potato Salad
Here's the good news… this salad is even better the next day! That makes it not only a delicious leftover, but also a perfect make-ahead salad. If you're making a bunch of salads to serve at one time, it's always nice to have one that you can make in advance. This would be nice with an Avocado Tomato Salad or a Beet and Orange Salad to name a few. It's also the perfect accompaniment to an Air Fried Chicken Sandwich or next to a Grilled Ribeye.