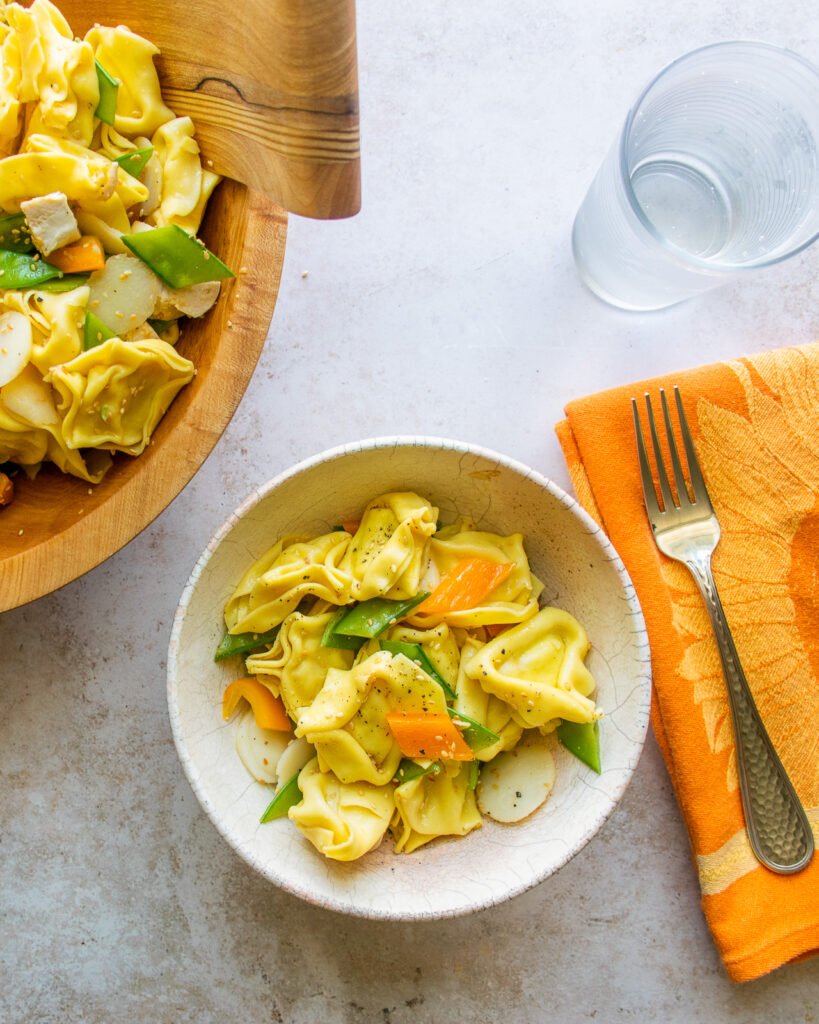 Easy Pasta Salad
My friend Lisa's sister, Christine, makes a summer pasta salad that is the first to go at get togethers. It's easy to throw together, easy to make ahead and different from your average run-of-the-mill pasta salad because it starts with cheese tortellini and ends with an Asian sesame dressing. This sesame chicken tortellini salad is an adaptation of Christine's famous salad and it's one you won't want to miss.
Cooking Chicken for Tortellini Salad
This recipe calls for cooked chicken. How you cook that chicken is up to you. You could use some leftover chicken or you could start from scratch. Grilling the chicken would be a nice option – the smoky flavor imparted by grilling and the grill marks on the chicken would be a nice addition to the salad. You could also simply air-fry the chicken breasts with just salt and pepper to cook them quickly. No air fryer or grill? No problem. A quick pan fried chicken breast works perfectly too. Another easy way is to poach the chicken and the instructions for doing so are in the recipe below.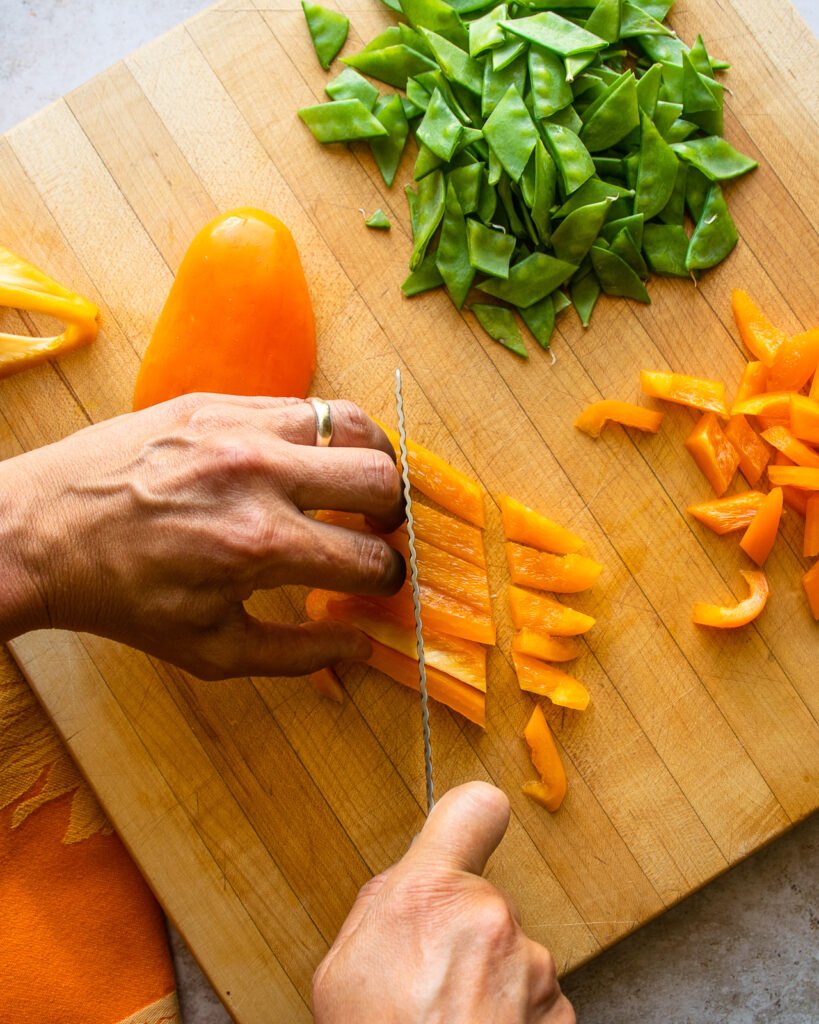 Preparing the Vegetables
There are just two veggies in this salad listed in the recipe, but you could add more, or vary the veg you add. Broccoli would be a nice substitute for the snow peas and you could boil the florets in the same pot as the tortellini for 3 to 4 minutes. I think the orange pepper adds a nice burst of color, but if red is all you have, go for it. You could also add some fresh scallions at the end if you choose.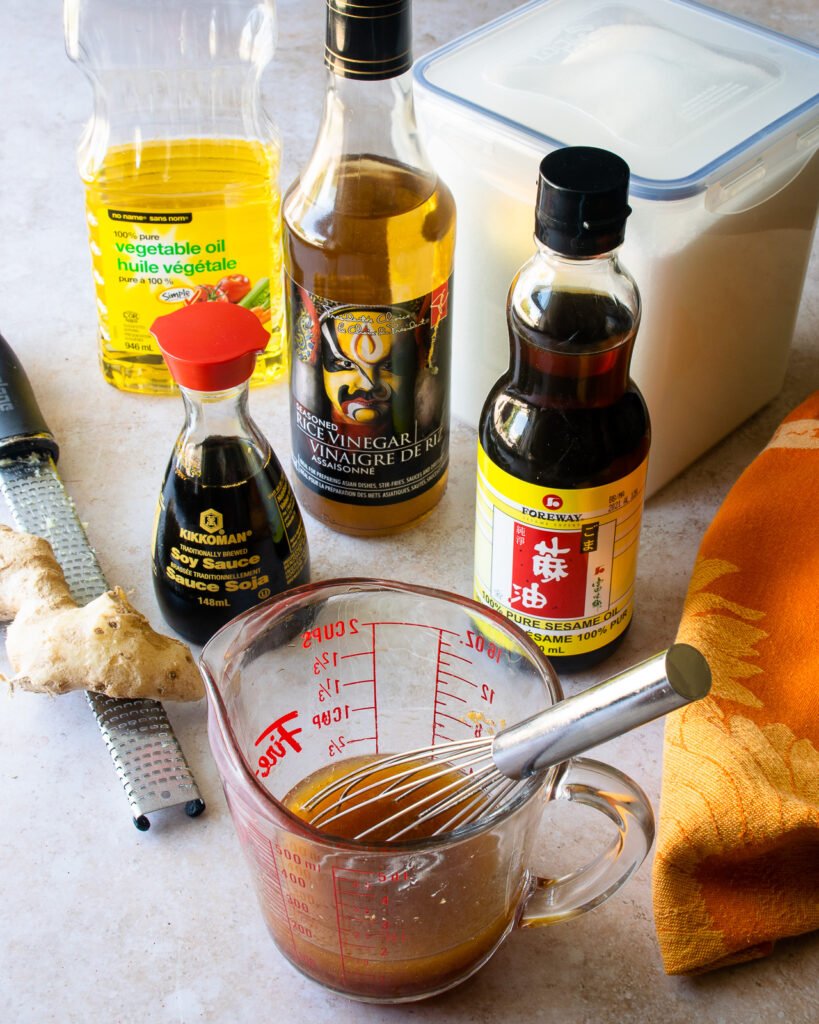 Asian Dressing for Pasta Salad
The dressing for this sesame chicken tortellini salad includes some Asian ingredients which are all easy to find. Soy sauce, sesame oil and rice wine vinegar are available at most grocery stores and useful pantry items for other recipes as well. Add the sugar to the vinegar and soy sauce to dissolve it properly and then drizzle the oils into the dressing while you whisk. It should come together very easily. If it separates while you wait to dress the salad, just whisk it back together.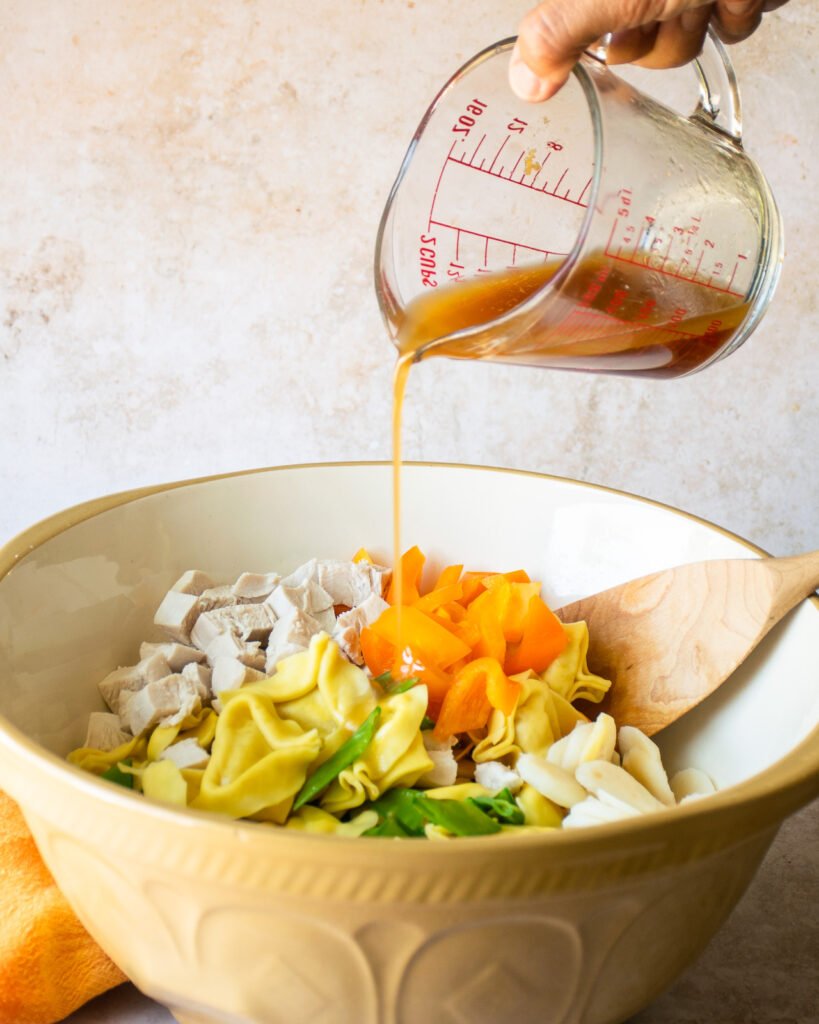 Make Ahead Pasta Salad
It's always nice when a recipe can be made ahead of time. This salad holds really well overnight in the refrigerator if you keep a couple of things in mind. The first is that the pasta will continue to absorb the vinaigrette. This actually adds to the flavor in the salad, but you might want to make a little extra dressing to add just before serving. Secondly, the snow peas can discolor a little over time. To avoid that, give them a quick blanch in boiling water and add them just before serving too. 
How to Serve
This salad can be a meal unto itself, but it's a fantastic side dish and works really nicely as one of several salads on a buffet table. You could serve it with the brightly flavored Shrimp and Citrus Salad and this Avocado Tomato Salad for a nice group of different flavors and textures. Otherwise, grab a fork and enjoy this delicious Asian salad cold or at room temperature.