Air Fryer Chicken Breast
Let's face it. Air fryers have only been on the market for a few years so they are relatively new to all of us. As a result, we sometimes need a little guidance on how to cook the simplest things – like a plain ol' chicken breast. The recipe below takes the plain air-fried chicken breast one step further in the taste department by marinating it first before air-frying. The marinade, however, is completely optional, although it does add a lot of flavor and a nice brown color. If you just want to know how to air-fry a plain chicken breast, whether that be for dinner or because another recipe calls for cooked chicken as an ingredient, simply follow the cooking instructions and skip the marinating part.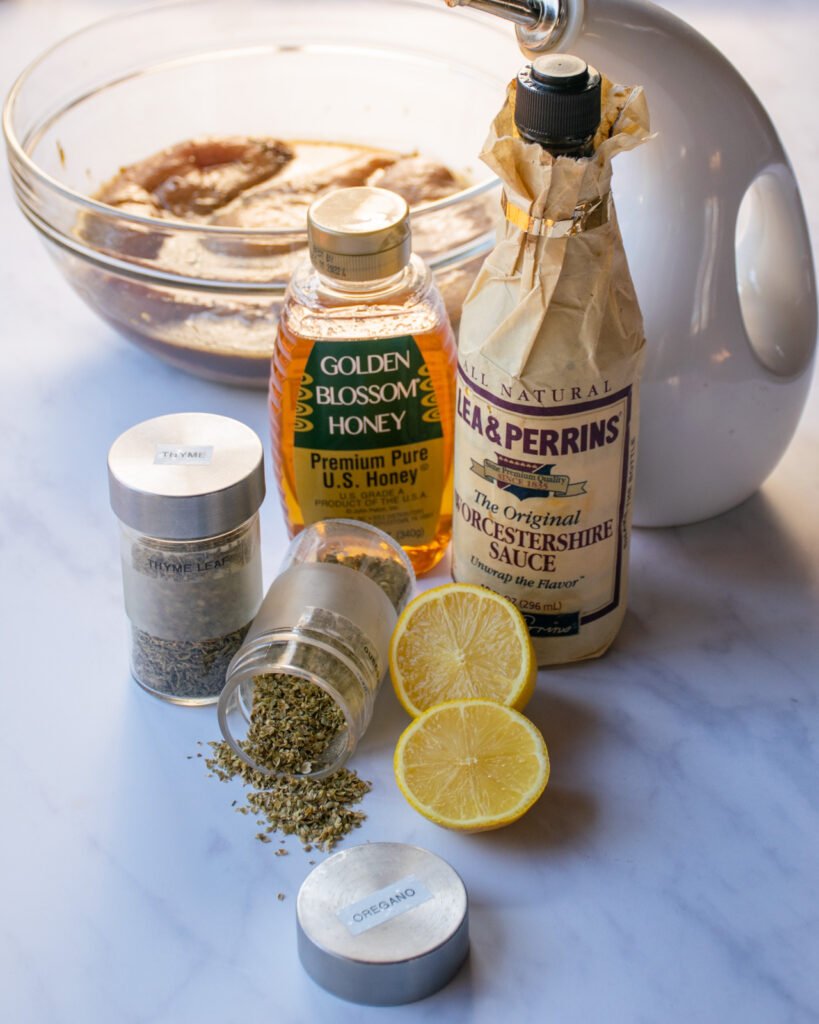 Marinade for Chicken
If you're game for marinating the chicken, this marinade couldn't be much simpler. It combines an acid (lemon juice) with something sweet (honey), something salty (Worcestershire sauce), some dried herbs (oregano and thyme) and some olive oil. The instructions tell you to marinate the chicken for 4 hours (or even overnight), but if you don't have that time on your hands, even half an hour of marinating time is better than nothing (unless, of course, you're going for that plain salt and pepper cooked chicken breast, in which case ignore me!).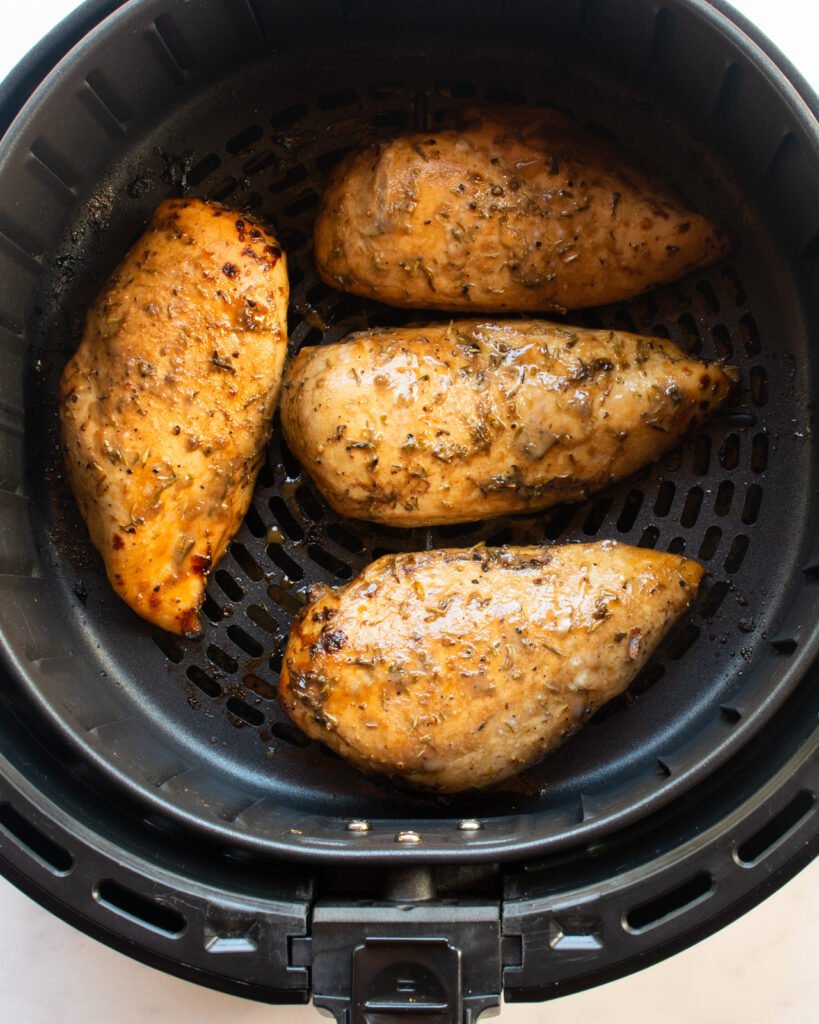 Air Fryer Time for Chicken Breast
One of the great advantages of air-frying chicken is that it produces a super moist chicken breast. The air fryer cooks so quickly and as a result, there's not a lot of time for the chicken breast to get dried out. Once you've pre-heated the air fryer to 380ºF, your average chicken breast should only take 10 to 12 minutes to cook all the way through. Having said that, of course the cooking time does depend on the size of the chicken breasts. These days, chicken breasts vary in size from very small to quite large. Ten minutes of cooking time is a good starting point for your average size, but if your chicken breasts are very large, be prepared to add a minute or two to the cooking time (or decrease by a minute or so if the chicken breasts are very small). Also, if you don't like to pre-heat your air fryer before adding the food (not obligatory), you will probably want to add a couple of minutes to the cooking time to compensate.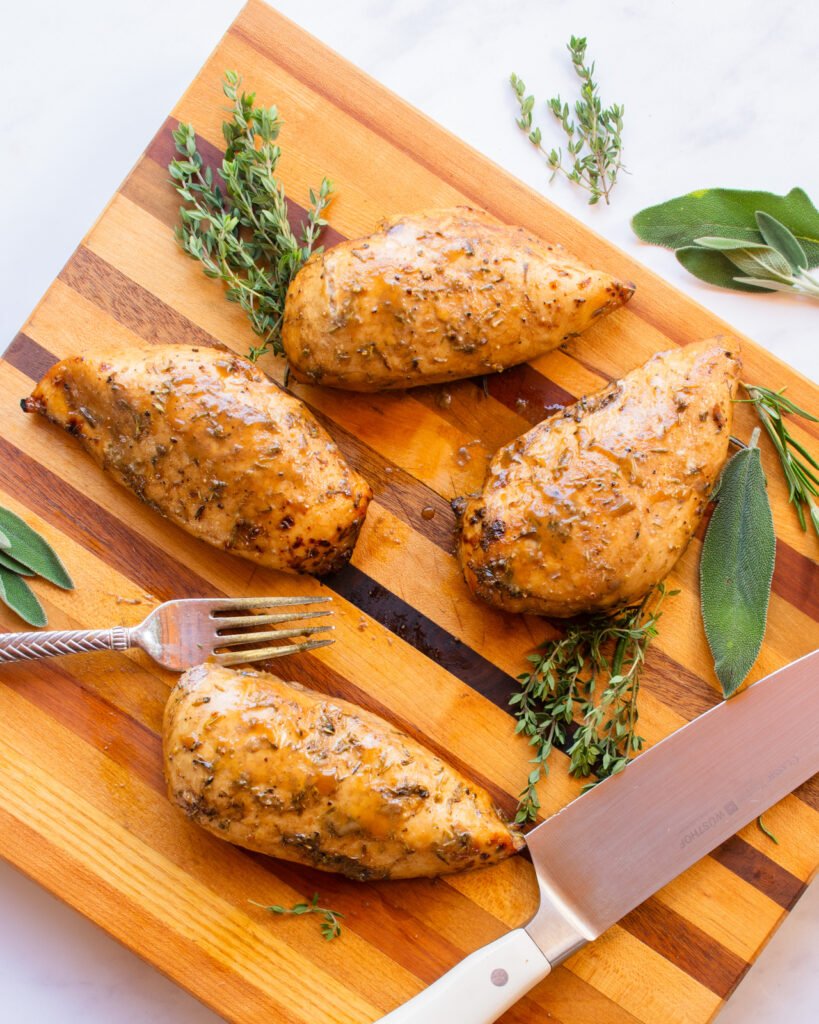 Paleo Friendly and Gluten Free Chicken Breasts
These air-fried marinated chicken breasts are plain and simple, but delicious enough to stand on their own on your dinner plate next to some vegetables. They are gluten free and paleo friendly because they have no breading on the outside. Sometimes, that's just what you're looking for. If you prefer a breaded chicken breast, check out this delicious recipe for a chicken paillard with burrata and cherry tomatoes or my gluten free breaded chicken breast here. Either of those air fryer recipes will give you a crunchy exterior on the chicken.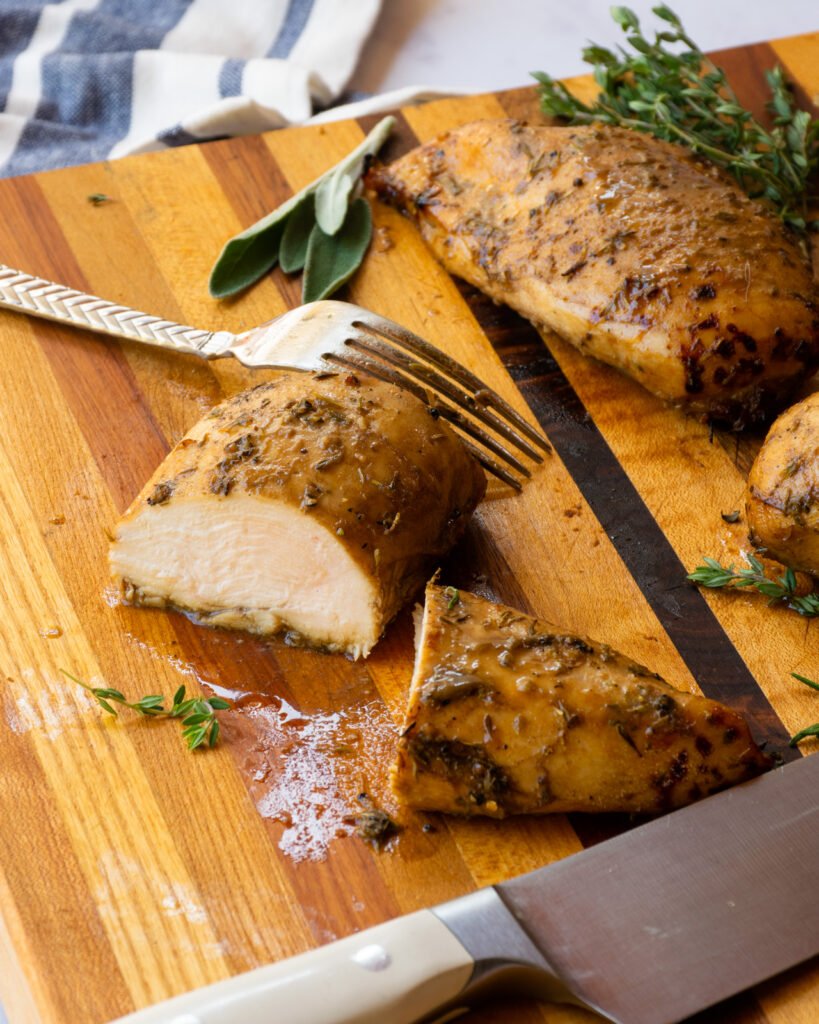 Cooked Chicken as an Ingredient
Once you've air-fried the chicken, it is important to let the chicken rest for a few minutes. It's so juicy inside when you cook it this way, that if you cut into it too soon, you'll lose a lot of that moisture on your cutting board. Letting the chicken rest allows the cells to relax and they won't force out so much of their juices when you cut into the meat. Moist, juicy chicken is a great ingredient for so many other recipes and I truly believe that popping the chicken into the air fryer is the easiest and fastest way to cook it. You might want to use shredded cooked chicken on nachos, or on a tostada, or in a stuffed tortilla, or even just for a chicken salad.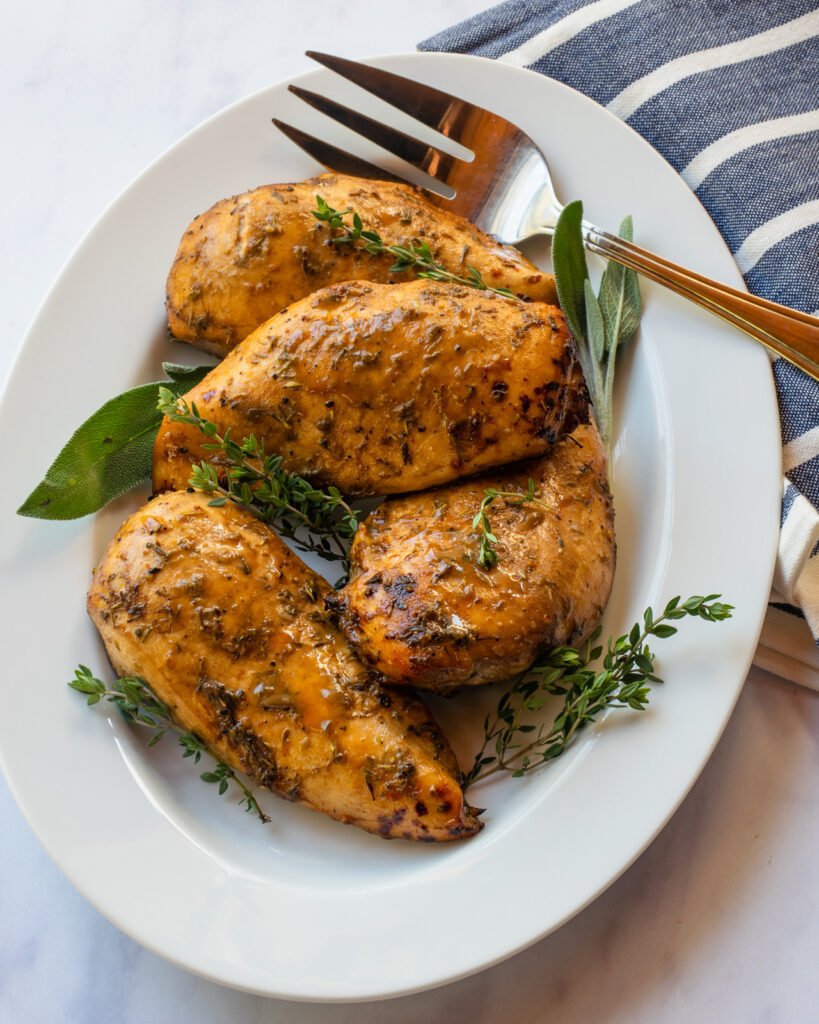 Can you Air Fry Frozen Chicken Breasts
There's a fine line between "can" and "should" sometimes, and this is one of those times! Can you air-fry a frozen chicken breast? Yes. My rule of thumb when cooking frozen foods is 1-inch. If the food is 1-inch thick or less, you can pop it into the air fryer and cook it, adding time to account for the fact that the food is frozen. Should you air-fry a frozen chicken breast? In my opinion, No. The trouble with cooking any frozen food is that it cooks unevenly. The outside defrosts and cooks before the inside is properly defrosted and is therefore over-cooked by the time the inside is cooked through. You won't get beautiful, moist results from this recipe if you start with frozen chicken breasts, but… if you're in a pinch, I will look the other way and forgive you. 😉We are, after all, trying to keep things simple.