The only tricky part of this recipe (and when I say "tricky part", I mean "learning opportunity") is butterflying the chicken breasts. It's really not difficult. Just grab a big sharp knife and see the photo below. Place your hand firmly on the chicken breast, pressing it down slightly into the cutting board. Then, slice parallel to the cutting board into the chicken breast, stopping before you slice all the way through. Then, open the chicken breast like you would a book, and you'll end up with a chicken breast that looks like a butterfly with its wings open. Easy, see?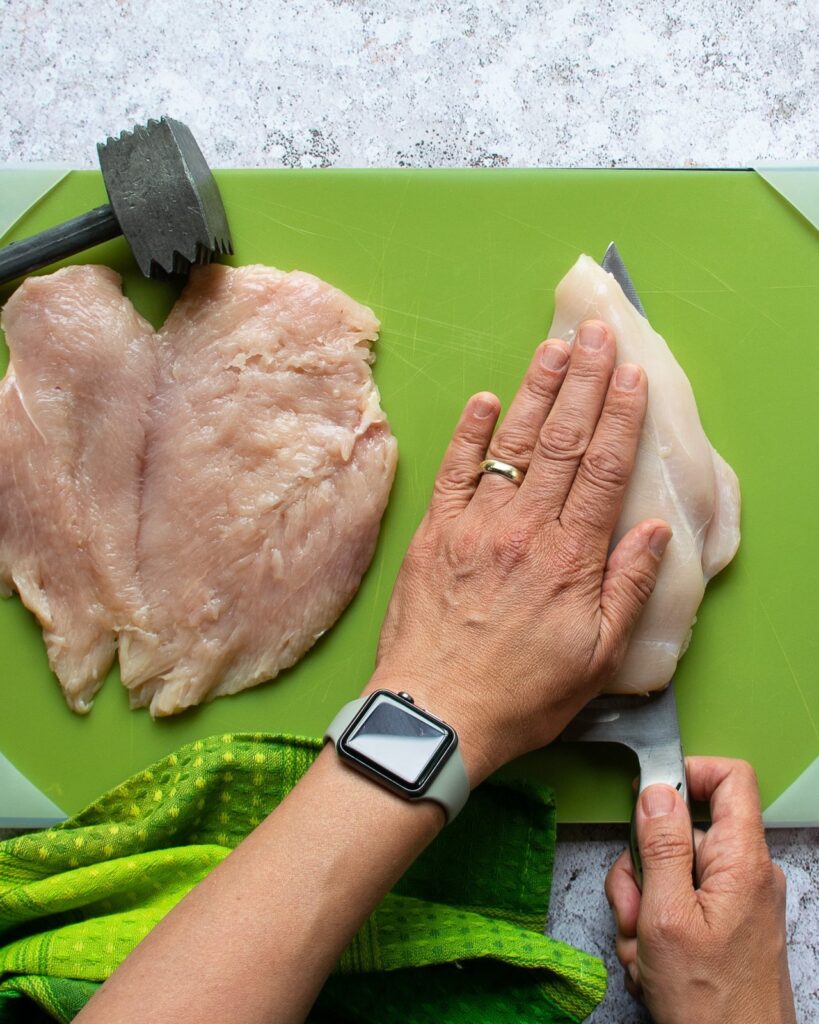 Once you have the chicken butterflied, your next task is to try to flatten the chicken breast so that it is an even thickness all the way across. Do this with the flat side of a meat mallet or pounder. Don't use the jagged ends – you're not trying to tenderize a steak – but use the side of the mallet so that you just flatten the chicken. Covering the chicken breast with a piece of plastic wrap helps here. The next step is breading the chicken and you can learn more about how to do that in the Cooking School here.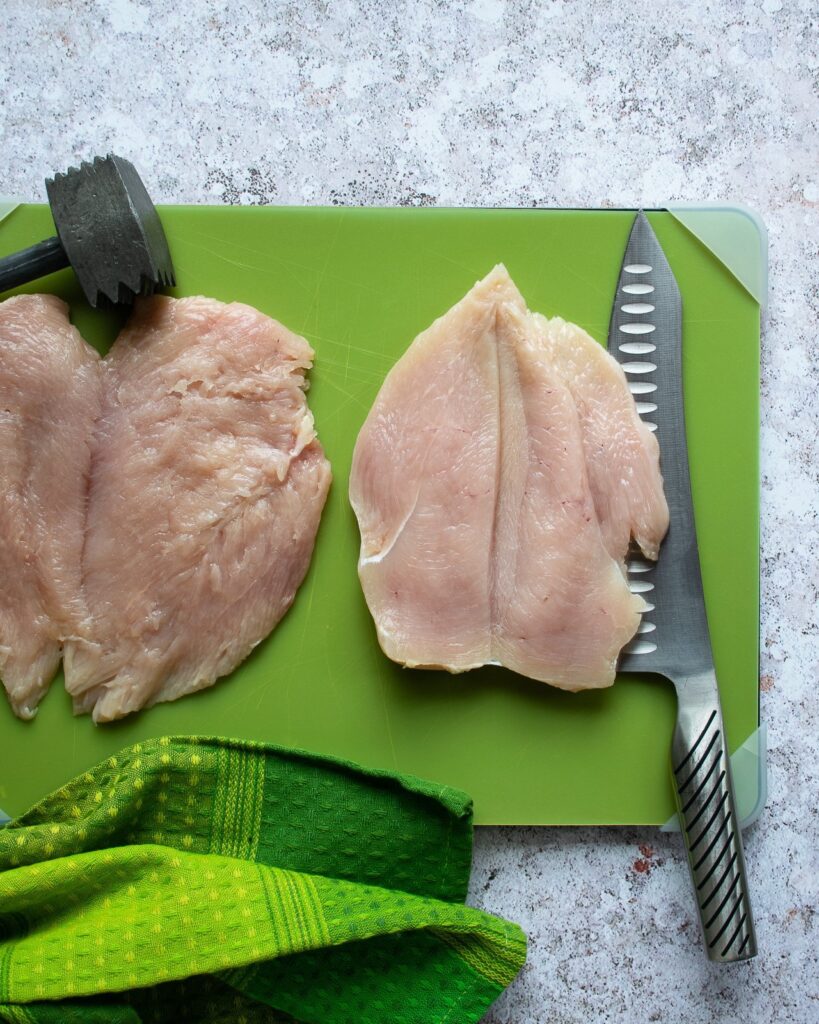 The rest of the ingredients for this chicken paillard recipe are simple and beautiful. Beautiful ripe cherry tomatoes (if you can find some still on the vine, even better) and peppery arugula give color and flavor to the plate. Burrata is a fresh Italian cow's milk cheese. It comes in a ball and the outside of the ball is solid mozzarella, but inside it is filled with a soft, liquid-y straciatella and cream. It is simply divine.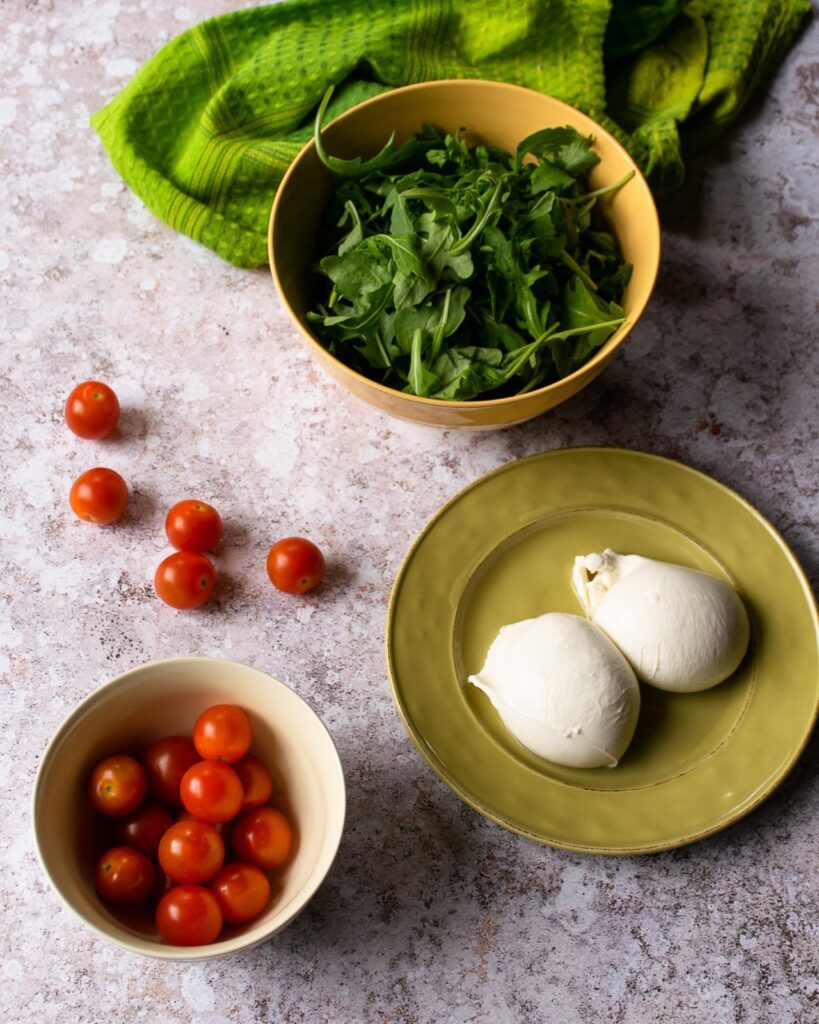 You can fry the chicken paillard in a sauté pan on the stovetop, or you can opt to make this dish in your air fryer – whatever floats your boat. Don't be shy about using enough oil in the pan, or spraying enough oil on the chicken if you are using the air fryer – all the breading needs to come in contact with the oil in order to brown properly.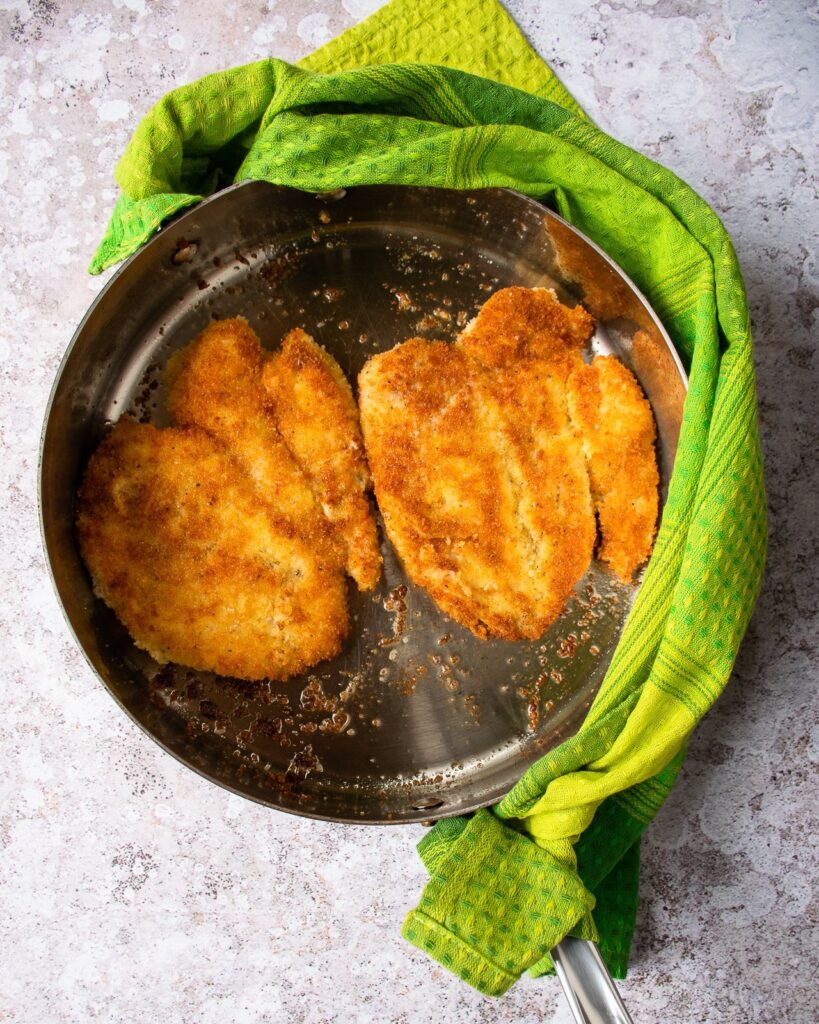 If you use regular chicken breasts, about 5-ounces each, this recipe will serve two people very generously. If, however, the chicken breasts you have are very large, you could easily serve four people. You could plate all the chicken pieces whole on a platter and top with the tomatoes, arugula and burrata or you could slice the chicken first so that people can take just as much as they would like. I know this won't happen, but IF there are any leftovers, try the chicken in a sandwich the next day. That might just be a good enough reason to make extra the night before!