Super Quick Sesame Noodles
It's sort of exciting when a dish comes together quickly and these sesame noodles are one of those dishes. There are three basic components to the dish – the noodles, the sauce and whatever else you want to throw in there – and once you have those ingredients in front of you, it's a matter of minutes before dinner is ready.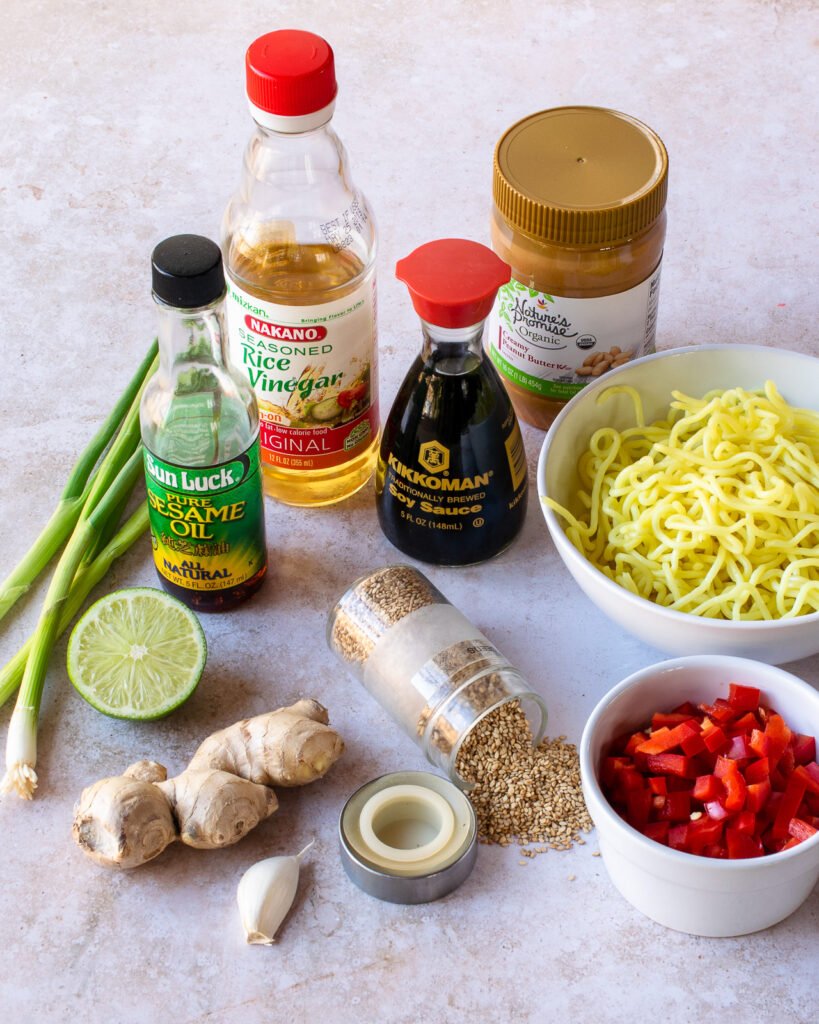 Sesame Noodle Ingredients
First things first – you can use almost any noodles you want for sesame noodles. If you can find rice noodles, great, but you could also use udon or soba noodles or even linguine instead. Grab the noodles you like and cook them according to the package directions. The sauce ingredients (soy sauce, toasted sesame oil, rice wine vinegar and peanut butter) are easy to find and great to have in your pantry for all kinds of Asian dishes you might like to make at home, from a simple Shrimp Fried Rice to Kung Pao Chicken. Garlic, ginger, scallions and whatever vegetables you'd like to add round out the rest of the ingredients and then you're ready to start cooking.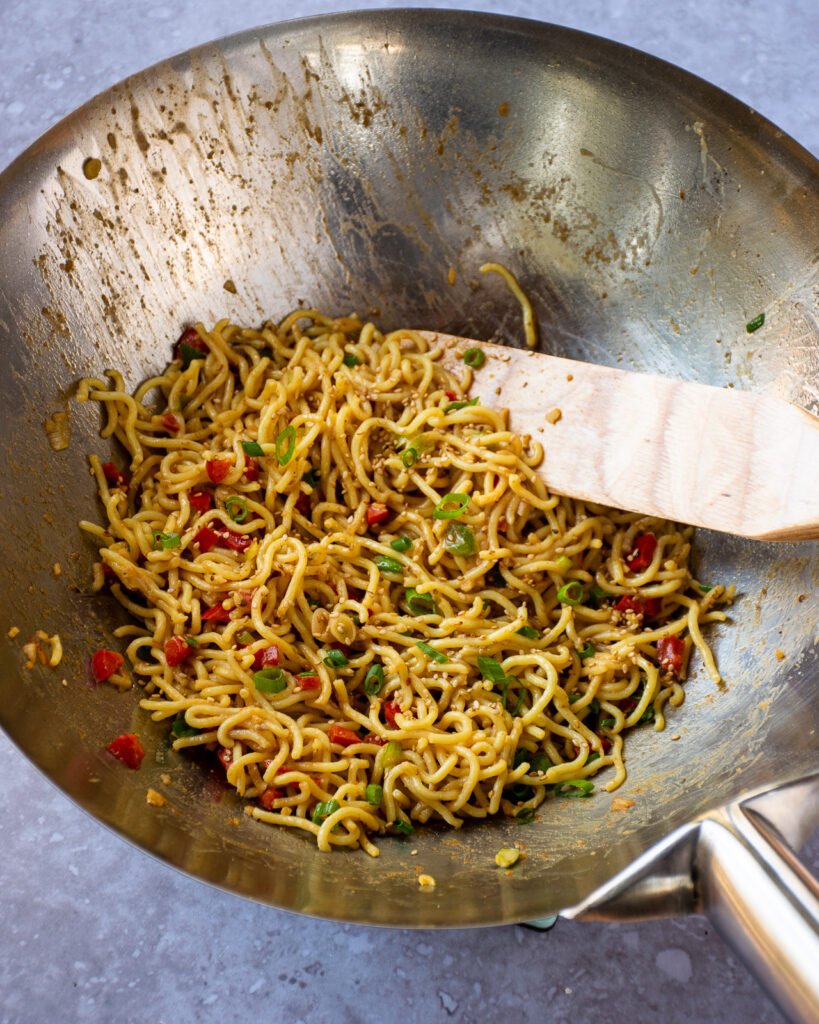 How to Make Sesame Noodles
This recipe honestly takes about as long as it takes to boil water and cook the noodles. With the noodles cooked, rinsed and ready to go, start by stir-frying whatever you might like to add to these noodles in a wok or large skillet. This recipe calls for red pepper and scallions, but you could add almost any vegetable you like chopped into small dice. Then, add the garlic and ginger for just a minute or two before adding in the noodles and the sauce. Stir-fry it all together and that's it! A few sesame seeds and scallions on top to garnish and you've just made a quick bowl of noodles or the perfect side dish.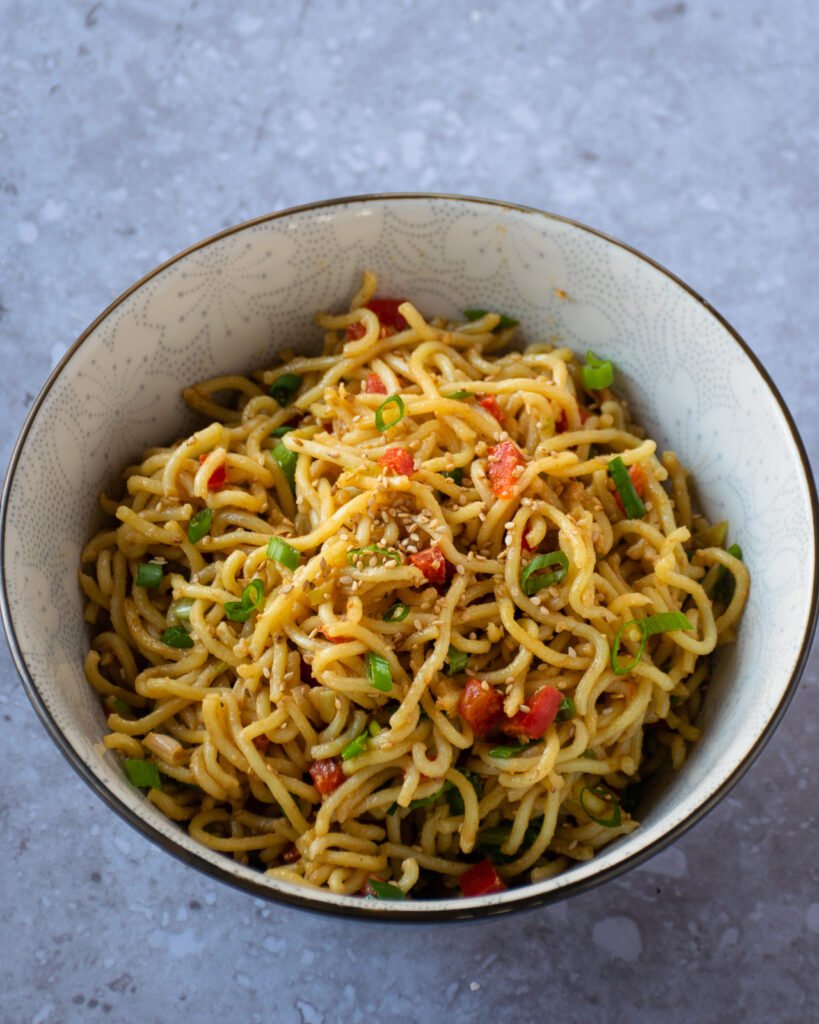 Variations
Of course, there are so many things you can do to vary this dish. You could use different noodles as I mentioned above. You could also add protein to this by stir-frying diced chicken or pork or tofu. You could omit the peanut butter if you don't like or want that flavor, or you could toss in some toasted peanuts at the end for even more peanut flavor and some crunch. You could also make these noodles spicy by adding some finely diced hot chili pepper or just a little chili garlic paste or hot sauce. Remember the three components to the dish – the noodles, the sauce and whatever else. That "whatever else" is totally up to you!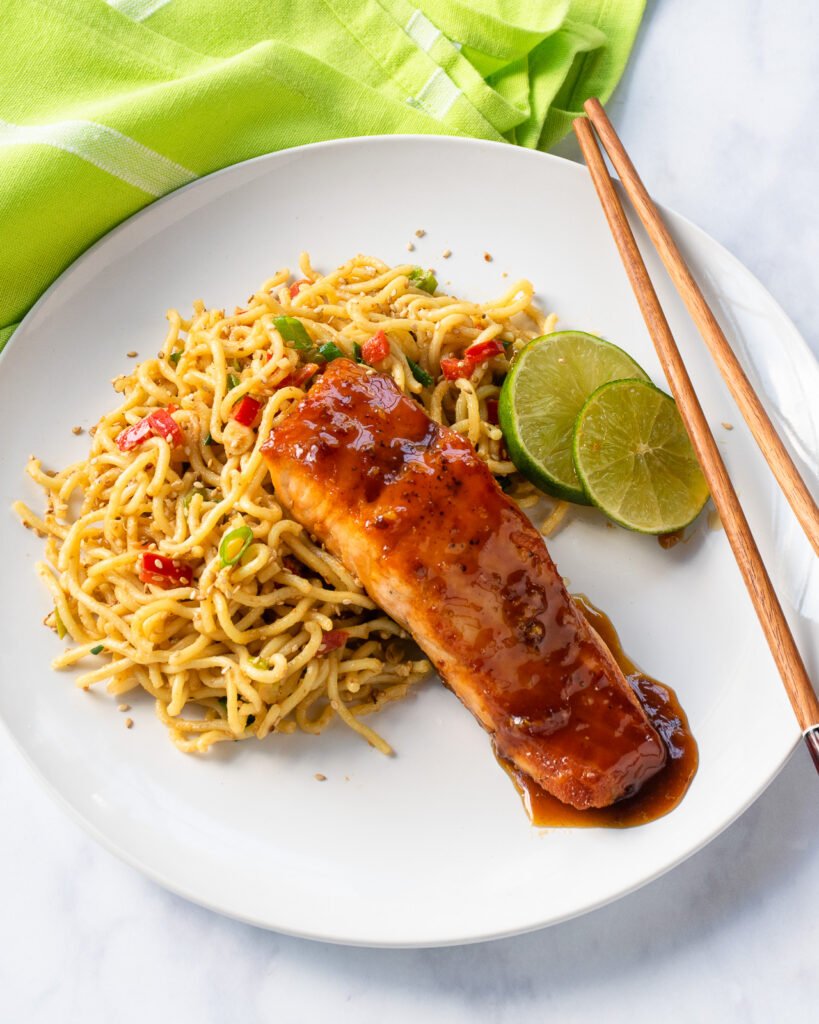 What to Serve with Sesame Noodles
While these noodles are perfect on their own, hot or cold, they also go really well with any number of cooked proteins, like Honey Soy Salmon, or Orange Sesame Chicken Wings, or a simply cooked chicken breast or fillet of fish.