What are Drunken Noodles? 
It's not what it sounds like… the noodles are not drunk! In reality, there's no alcohol used at all in making drunken noodles, but there are several theories on where the catchy name for this popular Thai dish came from. It all stems from the fact that drunken noodles are spicy. Some think that the spiciness of the noodles is so intense that it makes you feel drunk. Perhaps. Others feel that spicy food goes best with a cold beer. Agreed, but will one beer make you drunk? Well, maybe.
As you may or may not know, one beer often leads to another, especially when you're trying to cool a burning sensation in your mouth. l believe that the spice level in drunken noodles is so hot that it causes you to drink way too many beers and then you are… drunk. Where's the logic in that? Well, if you're eating spicy food, beer is actually not going to help! Spiciness is usually quelled with bread or milk or something that will take the heat away. Beer will just spread that heat around your mouth. So, eat spicy food, drink beer, eat more spicy food, drink more beer… and so on, until… drunk. You see the logic?
Having said all of that… here's the good thing about making drunken noodles at home. You get to manage the level of spiciness in the meal because you can choose which chili pepper and how much of it to add. I still think you can drink beer with drunken noodles, but maybe you won't feel the need to drink so many!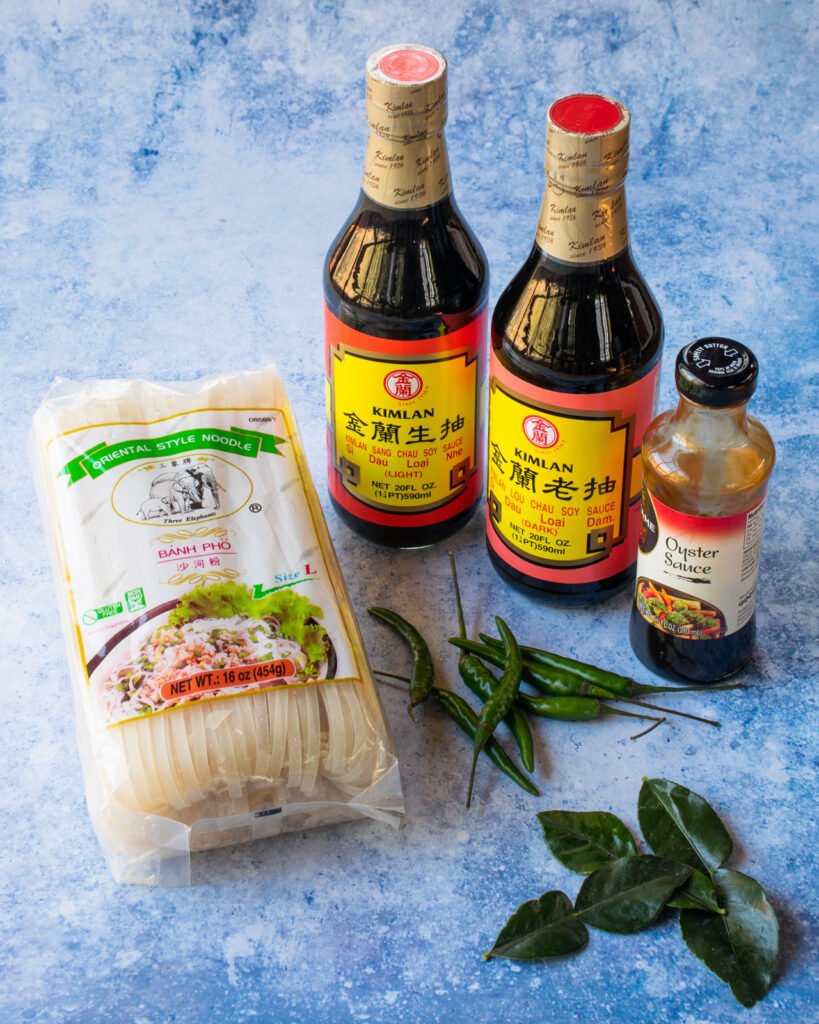 Special Ingredients in Drunken Noodles
There are a few special Asian ingredients in drunken noodles, but the nice thing is that almost all of them can be replaced with easier to find ingredients. The one ingredient that you will need is the broadest rice noodle you can find. Pad Thai noodles are a little thin for drunken noodles, but will do in a pinch. 
You will also need some hot chili peppers. The peppers in the photo above are bird's eye peppers. These peppers get hotter and turn red as they mature, but there's plenty of spice in the immature green peppers too. You can pick whichever pepper you like for this recipe, according to your taste, and add as much or as little of it as you like too. A Jalapeño pepper or Serano pepper will be fine and milder than the bird's eye. 
There are keffir lime leaves in the photo above as well. I happened to see them when shopping so grabbed them and threw them into the mix. If you can't find keffir lime leaves, just substitute with some fresh lime juice. If you do find keffir lime leaves, don't eat them but bite into one for fun and enjoy that limey experience!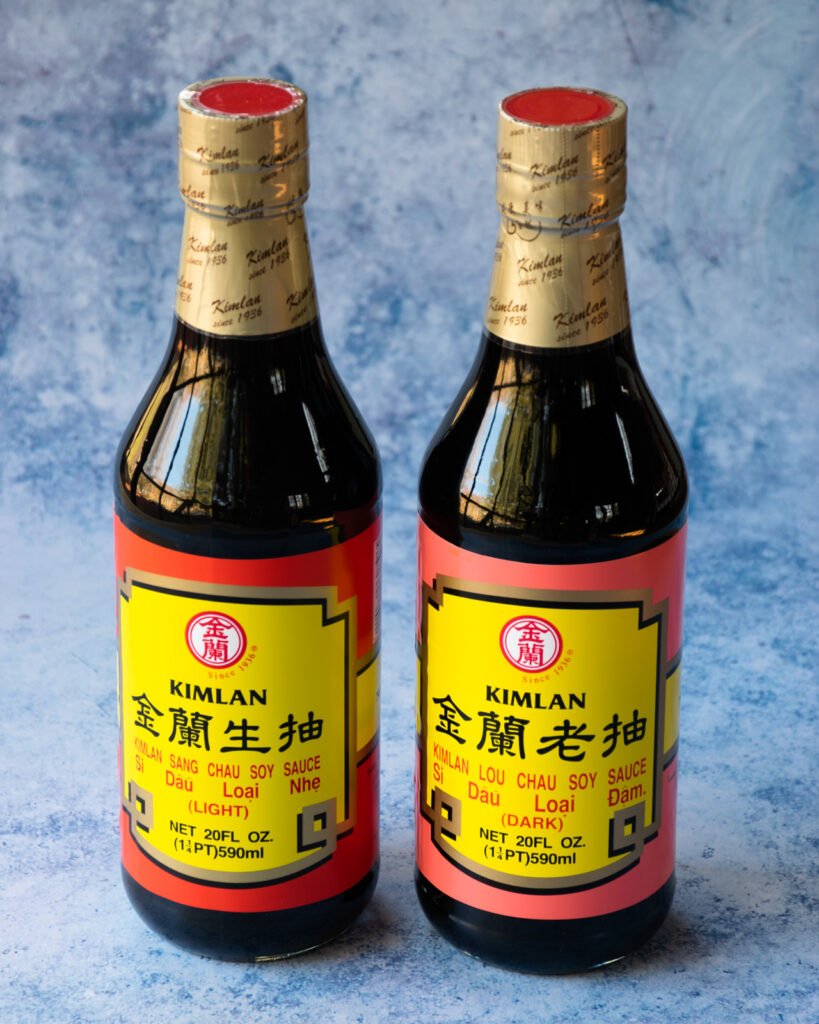 Substitution for Dark and Light Soy Sauce
Yes, there are two types of soy sauce in this recipe. Light soy sauce is the soy sauce that you are probably most familiar with. Dark soy sauce has been aged longer, often with molasses or caramel. It's thicker, sweeter and more full-bodied than regular soy sauce. If you can't find both soy sauces (or only want to opt for one), go with the light (or regular) soy sauce.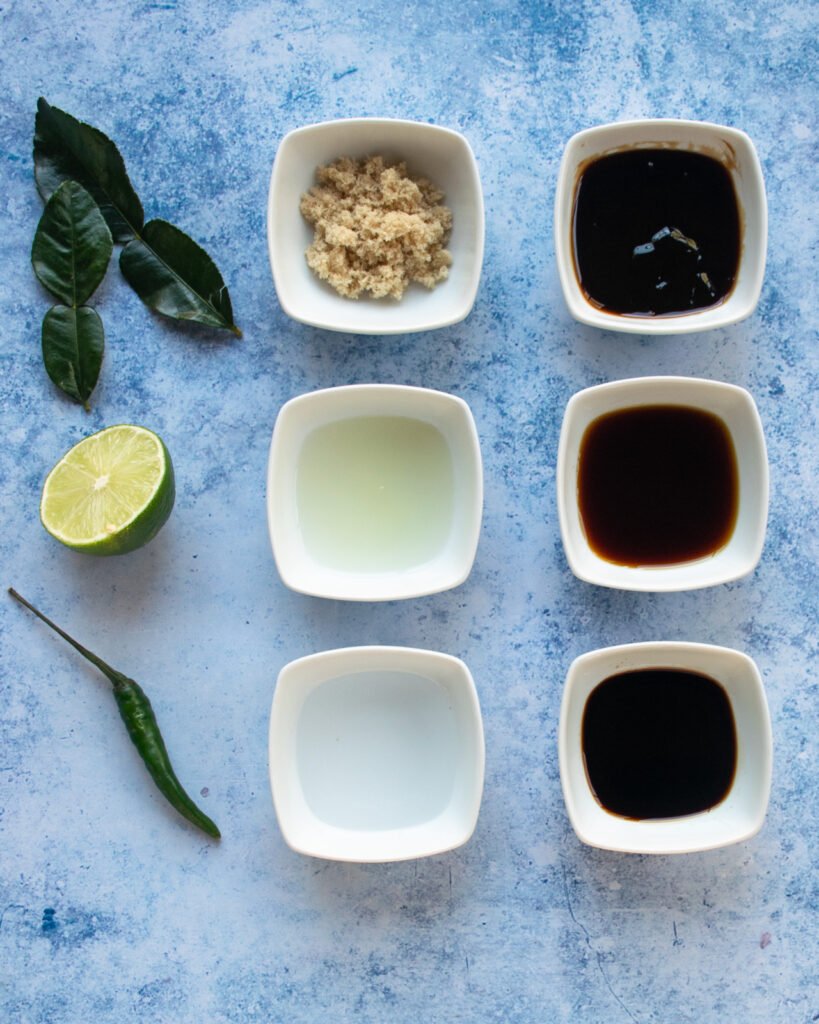 Drunken Noodle Sauce
The sauce ingredients are pretty straightforward after you've decided what soy sauce you are going to use. Combine the soy sauce with oyster sauce (in the Asian aisle of your grocery store), water, brown sugar and lime juice. Easy. That's the sauce done. All you'll have left to do is to add it to the pan once the ingredients have been stir-fried.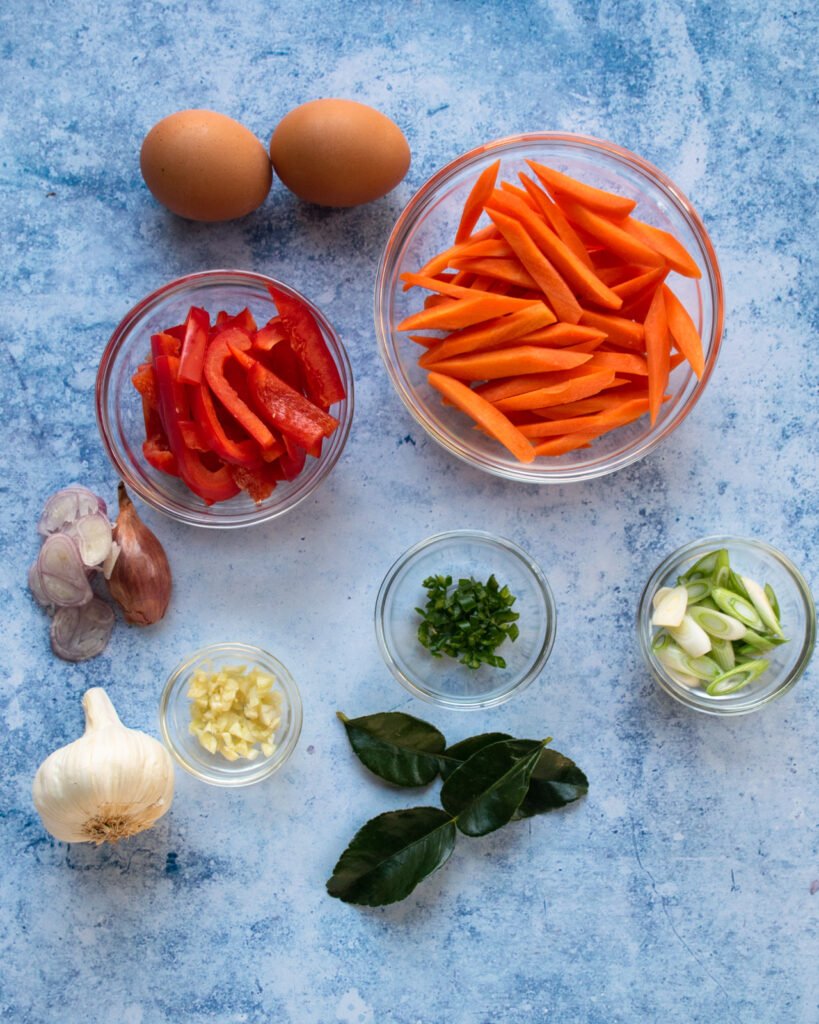 Other Ingredients in Drunken Noodles
As for the other ingredients in drunken noodles, you can really add whatever you want. This recipe calls for red pepper and carrots because they add nice color, but zucchini, snap peas, broccoli, or whatever veg you have kicking around would be good too. Eggs are not always found in recipes for drunken noodles, but here they add a little extra protein to the plate.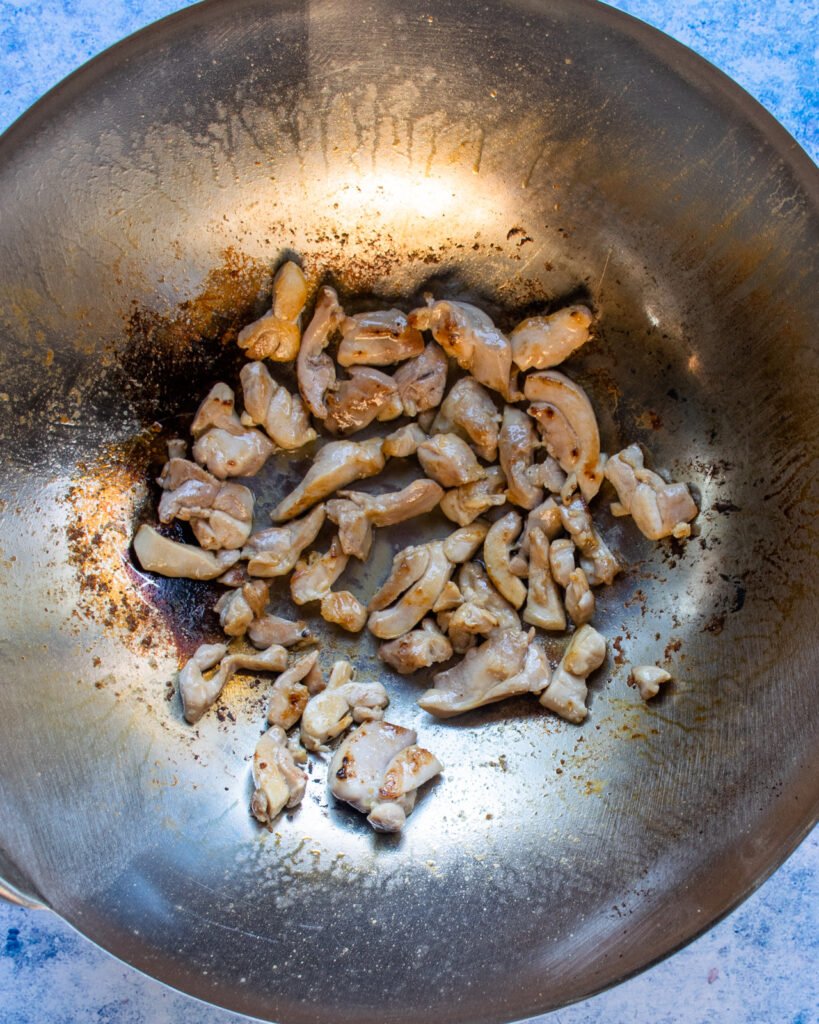 Best Pan for Drunken Noodles
A wok is really the best pan to use for drunken noodles. It can be perfectly round and built for a gas stovetop or you can use a flat-bottomed wok which is easier to use on other types of stovetops. If you don't have a wok, use your biggest sauté pan or skillet. You'll need that big surface area to toss everything around.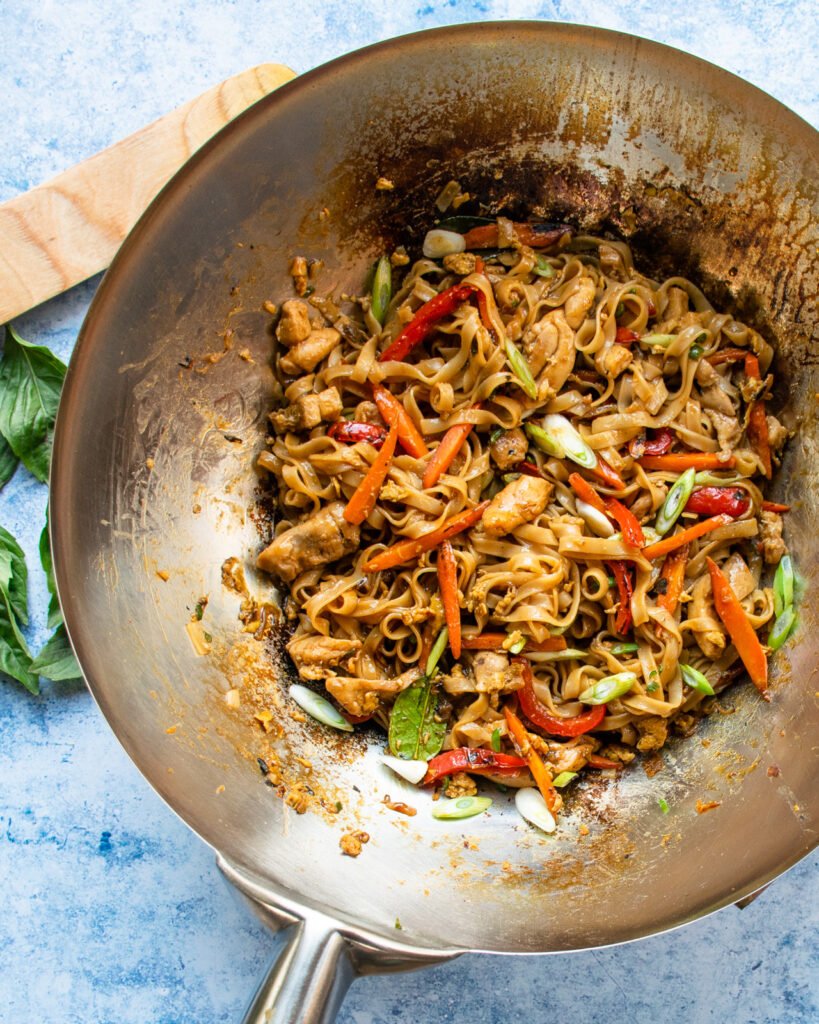 Quick Drunken Noodles
Drunken noodles are so quick to put together that it is important to make sure all your ingredients are ready to go before you start cooking. Use a big pan and stir fry the chicken pieces until they start to brown. Season with fish sauce. Add the veg for a few minutes. Stir-fry the egg. Return the chicken and noodles to the pan, along with the sauce and you're done! Honestly, the actual cooking time is about 10 minutes so be ready!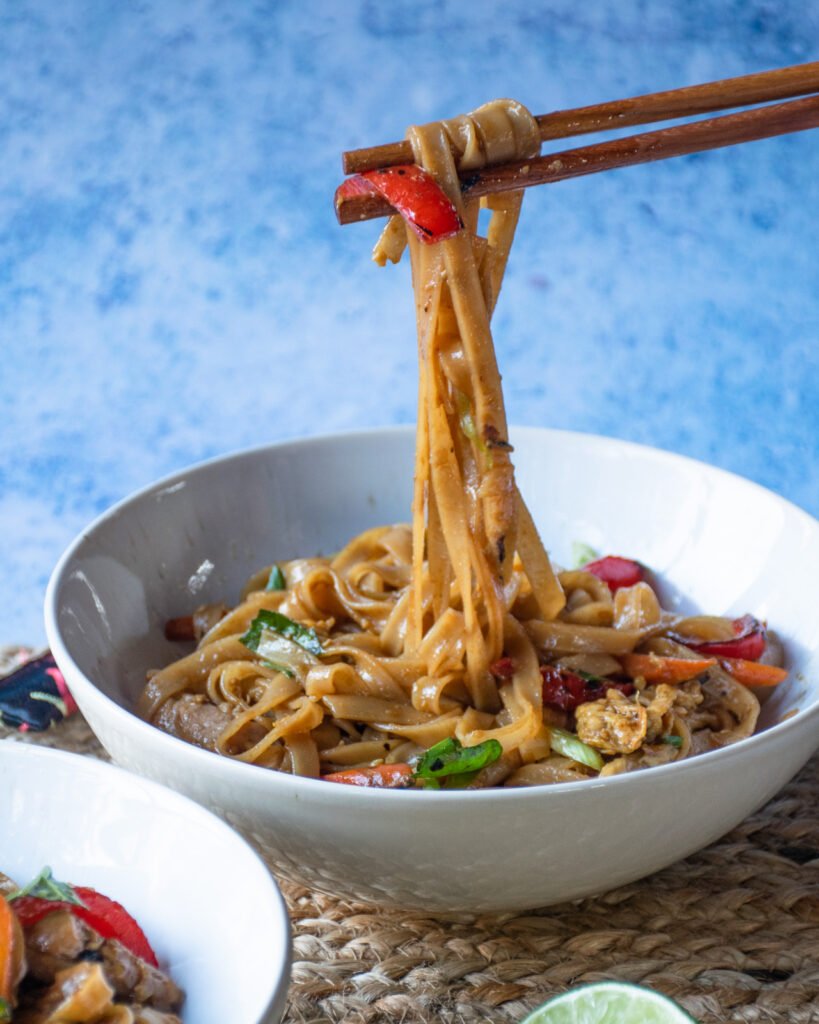 Better Than Takeout
Make sure everyone is ready for dinner before you start cooking too. This meal comes together so fast and should be served immediately if possible. It's way faster than ordering and waiting for take out. It's also better than take out because you get to control the spiciness level… and how many beers you drink!
If you're game for more Asian takeout at home, you might like to try these recipes for Shrimp Fried Rice, General Tso's Cauliflower, Kung Pao Chicken or Sweet and Sour Pork.