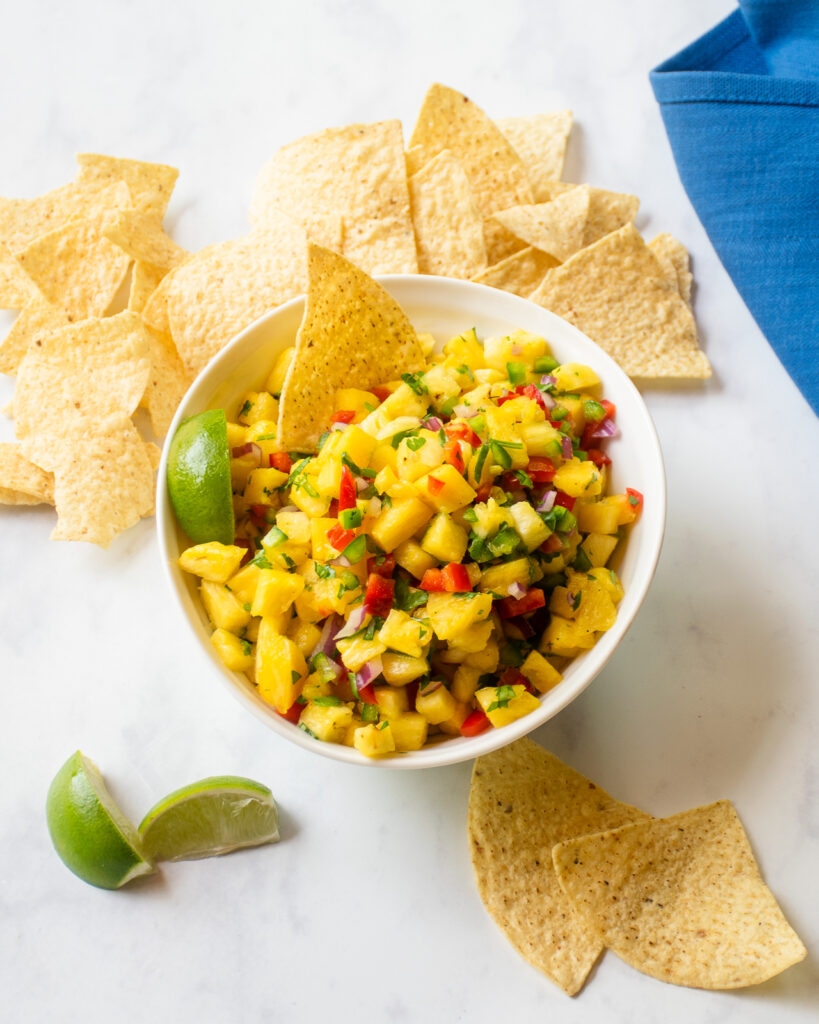 Why Pineapple Salsa?
Well, first of all… why not? Secondly pineapple salsa is a delicious sauce for so many things because it is an intense combination of sweet and spice. The sweet pineapple combined with spicy Jalapeño pepper keeps you coming back with another chip, over and over and over again!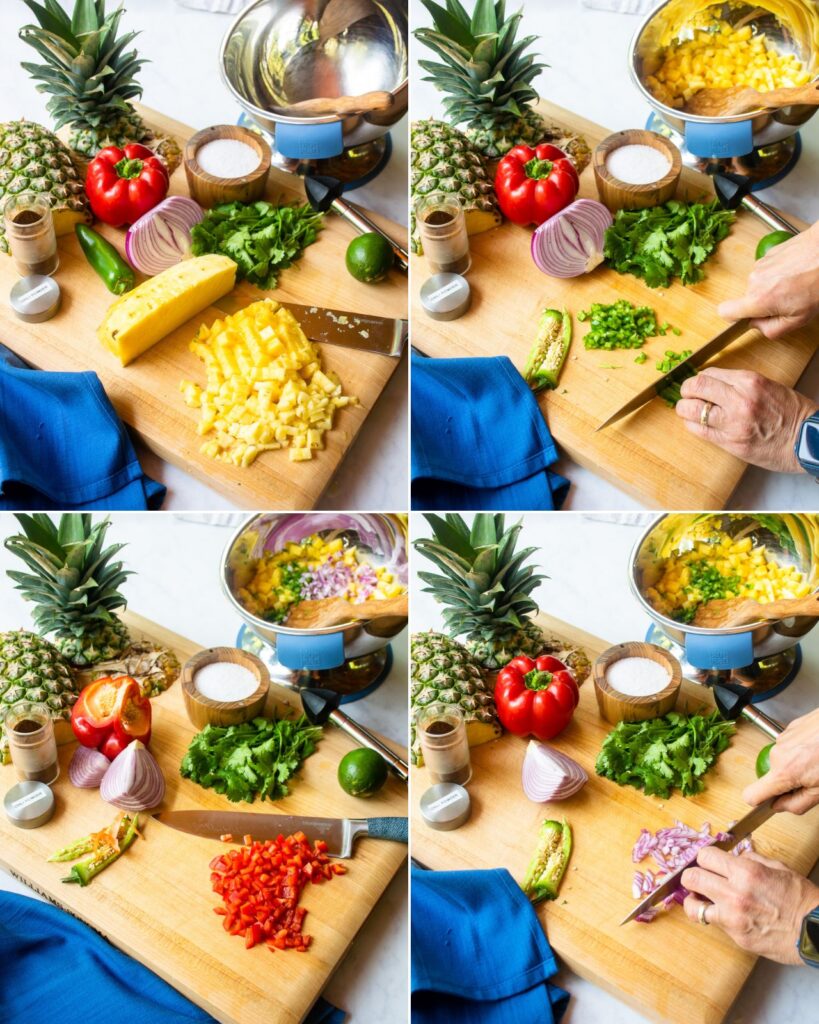 How to Make Pineapple Salsa
There's no cooking involved in pineapple salsa, but there is a fair amount of chopping. I like this kind of recipe because even though I have pretty "sharp" knife skills to begin with, practice is always important to keep my skills up. If you want to improve your knife skills, then practice is even more important and making salsas is a rewarding way to get that exercise in. If you don't know exactly how to cut any of these fruit or veg, I actually have cooking school lessons for them! You can learn how to cut pineapple, a bell pepper, and onion in the cooking school section of this website.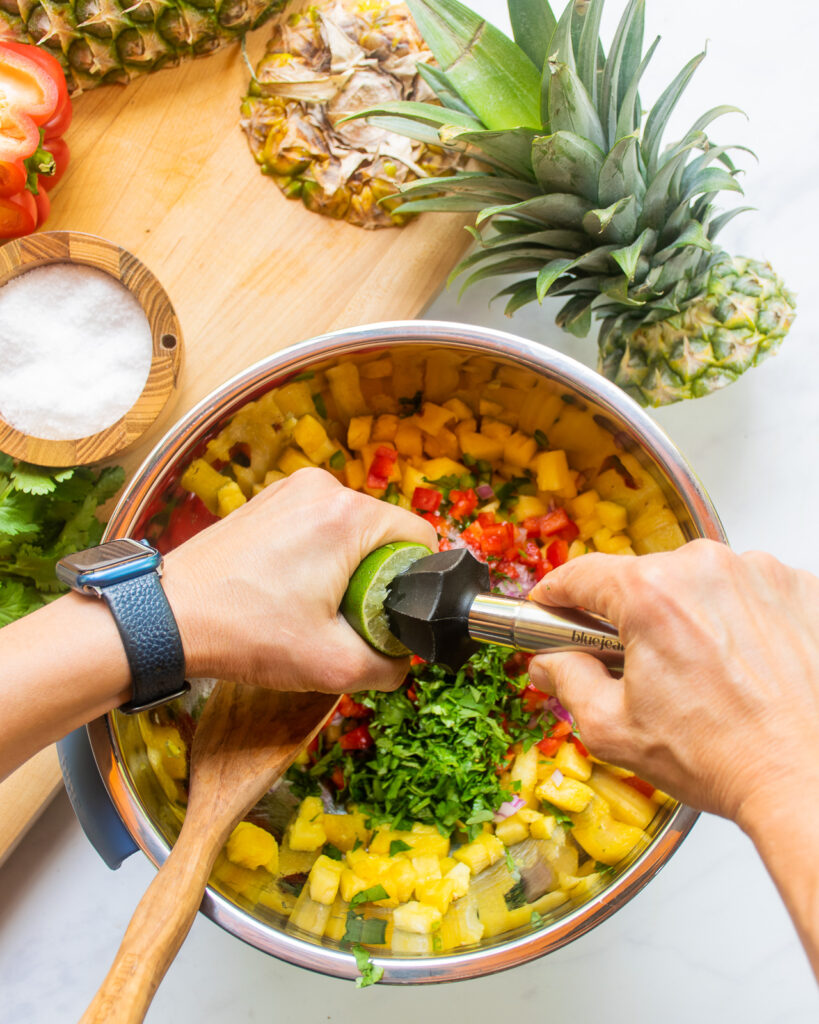 How to Season Pineapple Salsa
Pineapple salsa is simply seasoned. Salt is critical (and obvious); lime juice is also critical (and delightful); chili powder is a nice spicy touch; and black pepper is optional (and depends on how spicy the Jalapeño and chili powder is). It's important to taste your salsa and season it to your liking. The best way to do this is to not only taste it on a spoon, but also taste it on a chip (if you're serving it on chips). So many chips are salty and you might want to tailor your salsa to account for that extra salt. If the salsa is going on fish or chicken or pork, then tasting with a spoon is probably advisable (although it will be hard to keep the chips out of reach!).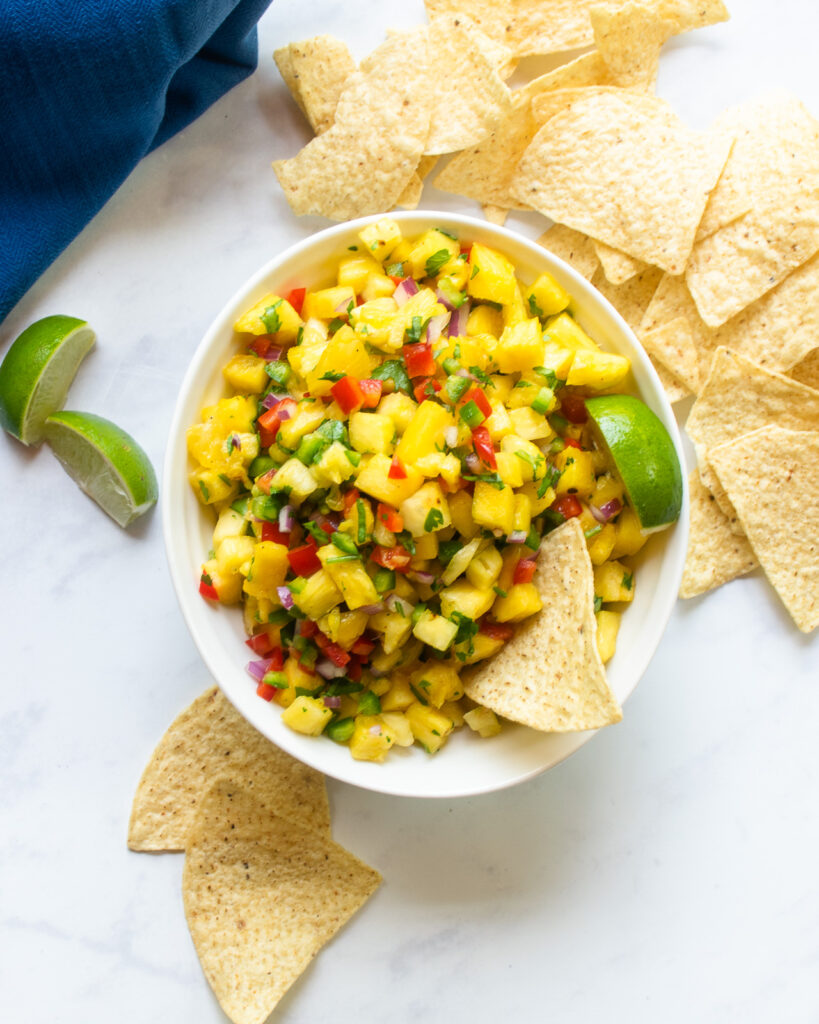 What to Serve Pineapple Salsa with…
I said it at the beginning, but this salsa is very versatile and can really work with a lot of different foods. It's delicious on its own with tortilla chips, but also works with grilled pork chops, can liven up a simple air-fried chicken breast, and is perfect with spicy salmon tacos! Though I doubt it will happen, there is more good news in that this salsa keeps well too! You can pop it in the fridge and enjoy it again tomorrow if you make enough.