What's in a Spicy Salmon Taco?
I love a good fish taco and these spicy salmon tacos fit the bill perfectly. Any fish taco is made up of different components, and it's how these components go together that makes or breaks the dish. Obviously, the first thing you need is fish. For these tacos, I'm using salmon that is perfectly seasoned and cooked in a skillet. You'll also need the taco shell – here we pan-fry soft tortillas and shape them into curved shells. Then, to make it spicy, in addition to the spice seasoning on the fish there's a spicy sour cream (or crema) that goes on top – a simple combination of sour cream and sriracha sauce to taste. Tacos also always have some sort of vegetable or filler inside – here I use shredded red cabbage, but you could use lettuce or grated carrots if you prefer. Finally, it's nice to top it with some salsa for a punch of bright flavor and for this recipe, it's a delicious pineapple salsa.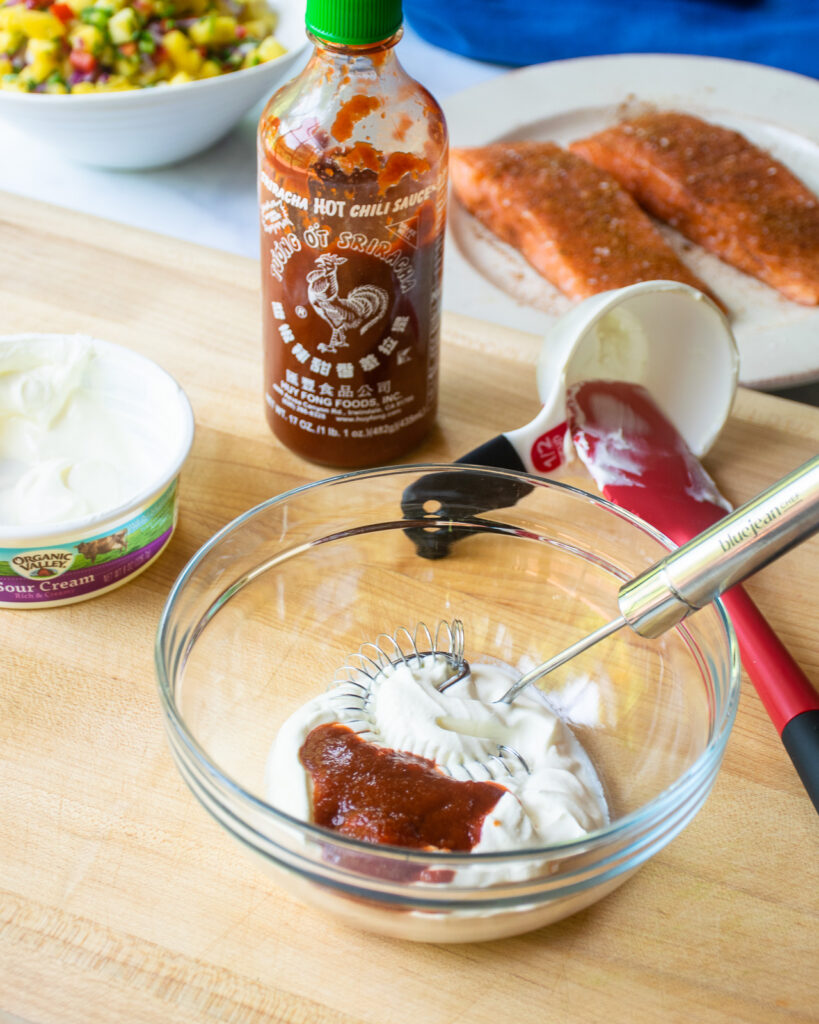 Spicy Crema for Fish Tacos
There's nothing crazy about the crema that goes on these spicy salmon tacos – just whisk together some sour cream and some sriracha sauce. How much sriracha sauce depends entirely on how spicy you want your tacos? You do you.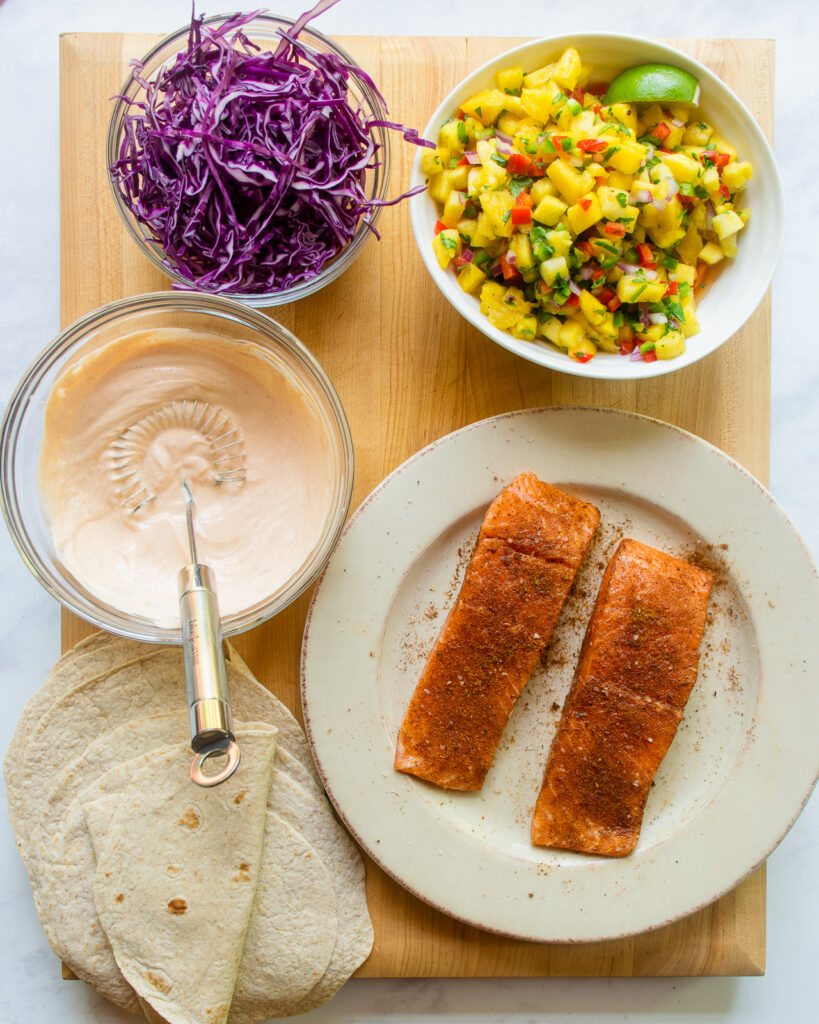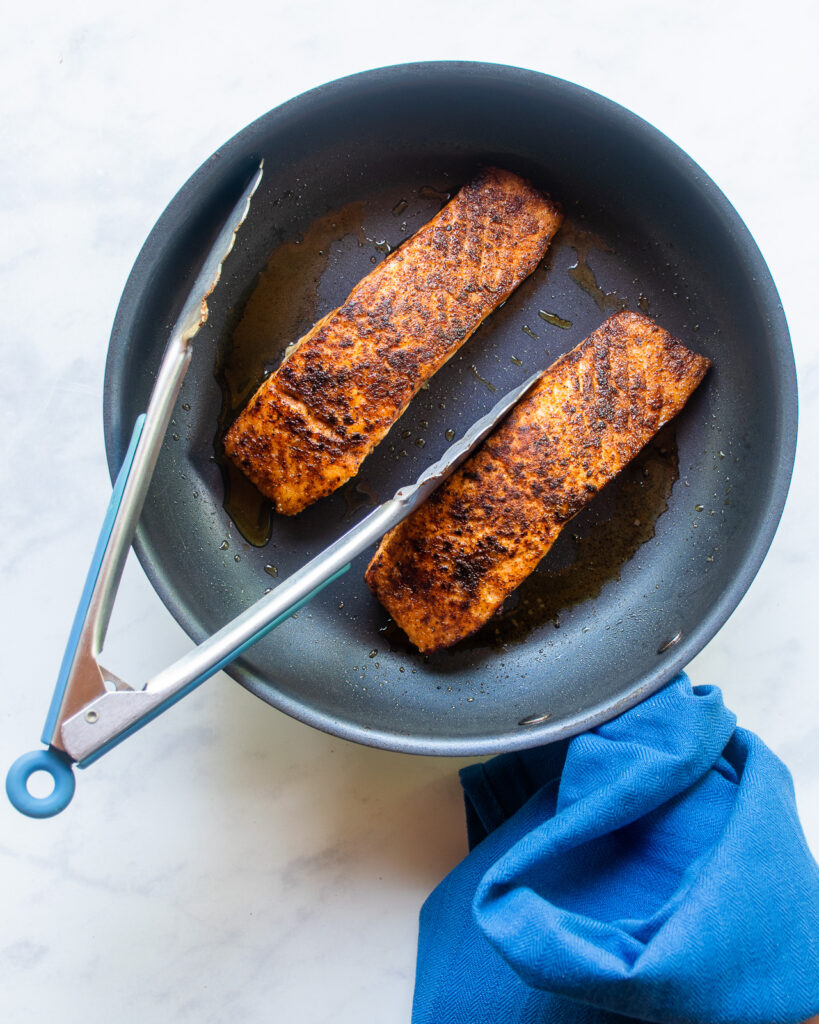 How to Cook Fish for Tacos
It really doesn't matter what technique you use to cook the fish for tacos. What matters is how well you cook it. The goal is to end up with salmon that has some texture on the outside but is still moist on the inside. Cooking the fillets in a non-stick skillet or popping them into the air fryer are both good ways to achieve this. Just make sure you don't over-cook the salmon. The rule of thumb is that a 1-inch thick piece of salmon will take 10 minutes at 400˚F in the oven. You can sear the salmon on the stovetop and pop it into the oven, or just cook the salmon in the air fryer for 10 minutes. Much will depend on how thick your salmon fillets happen to be.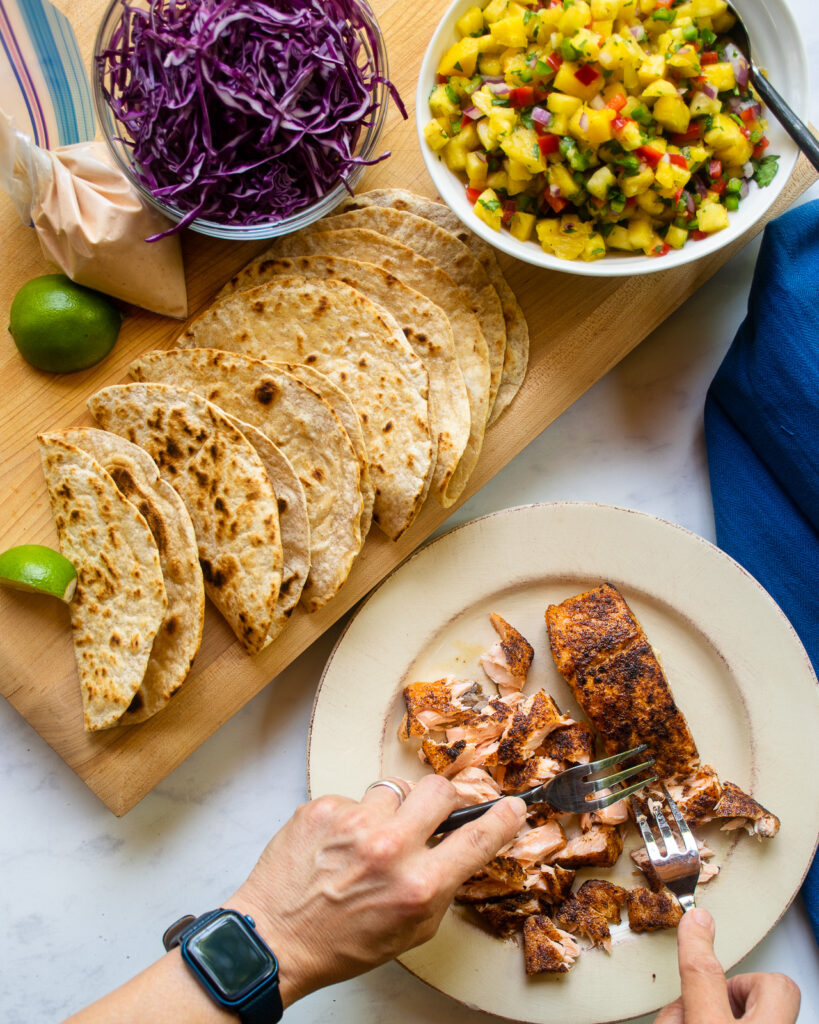 Assembling Spicy Salmon Tacos
If you're a good multitasker, you can use the time while the salmon cooks to shred the red cabbage and toast the tortillas in a second pan. Otherwise, do these tasks ahead of time, along with the pineapple salsa. Once the salmon is cooked, flake it into large-ish pieces with two forks and then get ready to assemble the tacos.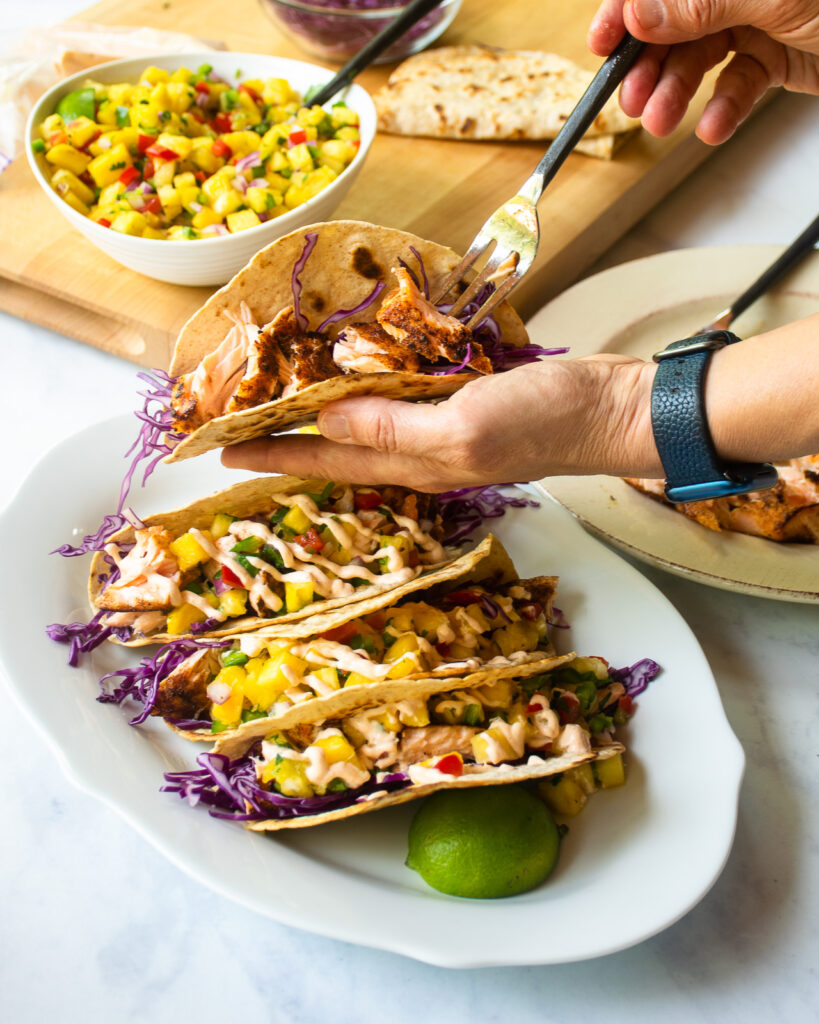 Build it and They Will Come
The taco shells and the salmon are the only components of the taco that are hot, so once you're ready, start building the tacos right away with a little cabbage, some salmon, some salsa and top with the crema. Stack them next to each other on a platter or just hand them to whoever wants one. Better yet – put all the components out and let people build their own. You've got tacos of your own to eat!