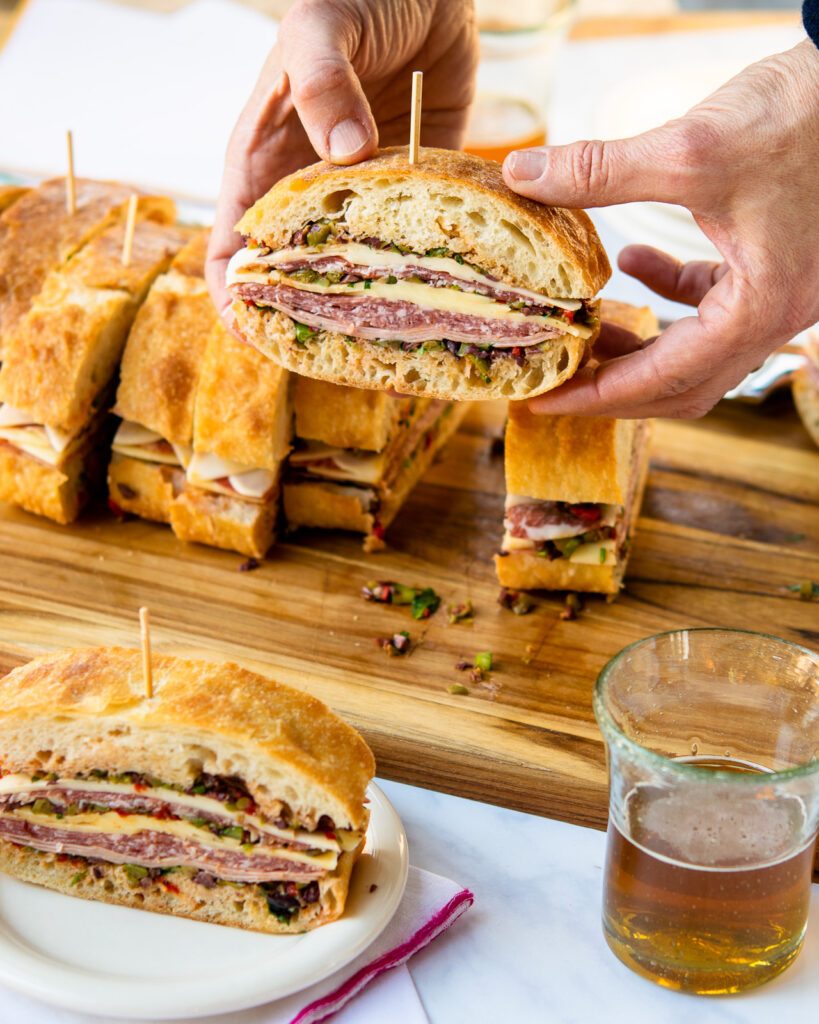 What is a Muffaletta Sandwich
A muffaletta sandwich is a New Orleans classic, that combines Italian deli meats with cheese and a zippy olive salsa. It has Sicilian origins and was supposedly created in the Central Grocery by Salvatore "Tommy" Tusa, the proprietor. There are a few important features to consider when making a muffaletta, but overall, it is a super easy sandwich to make and it's perfect (in fact important) to make ahead.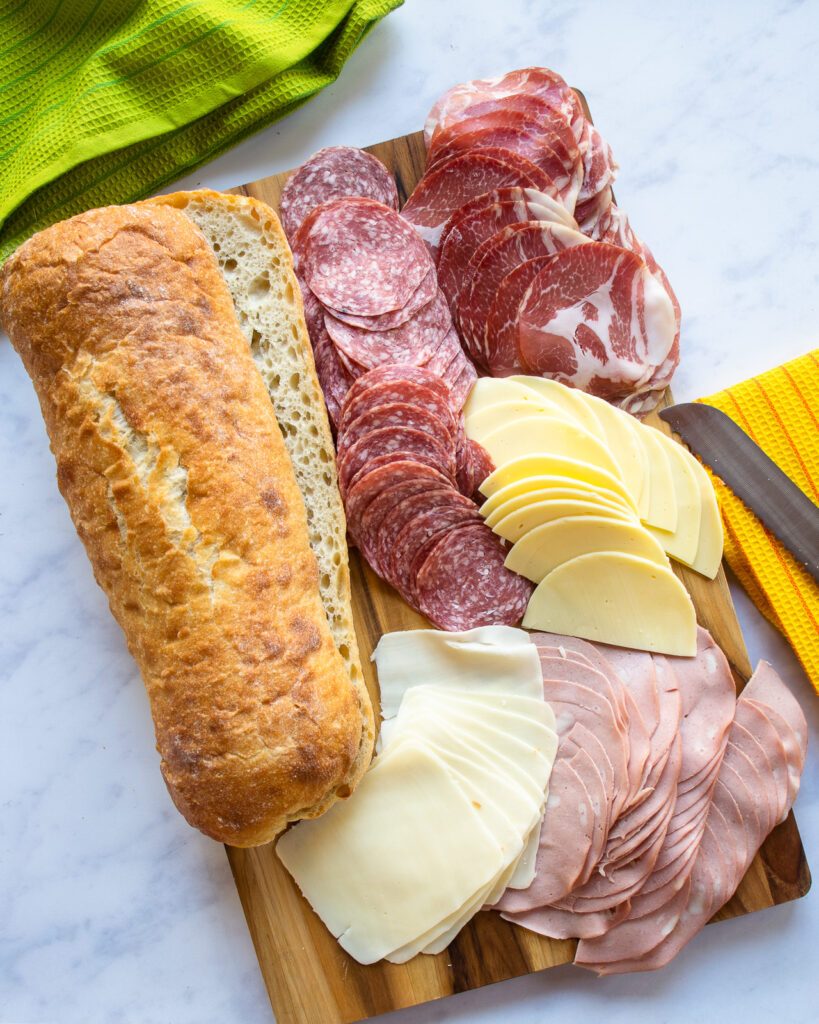 Ingredients for a Muffaletta Sandwich
The meats: You can really use any combination of deli meats that you like for this sandwich, but generally you should have one coarse-ground cured sausage (like salami), one emulsified sausage (like Mortadella) and one cured cut (like prosciutto or capicola ham).
The cheeses: Use relatively mild sliced cheeses like mozzarella or provolone (or both) so they don't try to overshadow the meats. 
The bread: Traditionally in New Orleans, muffaletta is made on a round, soft-crust, medium-dense bread with sesame seeds on top. Since that bread is not found all over, you can substitute a focaccia or a ciabatta bread. What you do need is a bread that has a relatively soft crust so that it's easy to bite into. Baguette would be too crispy.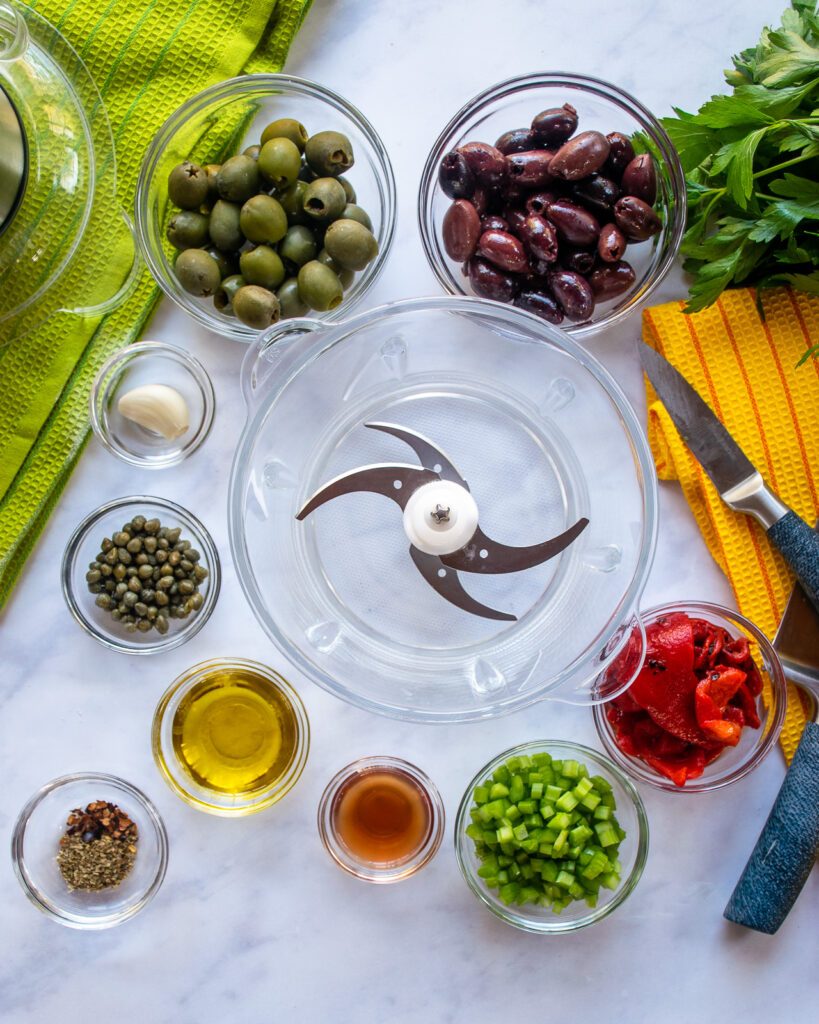 The Olive Salsa
Another component critical to a muffaletta sandwich is the olive salsa that goes inside. This is where the Sicilian influence comes into play, with it's sweet-sour flavor profile. Use a mixture of green and black olives, along with some roasted red pepper, dried spices (including chili flakes for some kick), olive oil and vinegar. I like to pulse those ingredients in a food chopper and then stir in some capers and some finely chopped celery. I stir the celery in at the end because I want to control the shape and size of the celery pieces, rather than running the risk that the celery will be left too large in the chopper… or that by the time the celery is in small enough pieces, the olives will be puréed.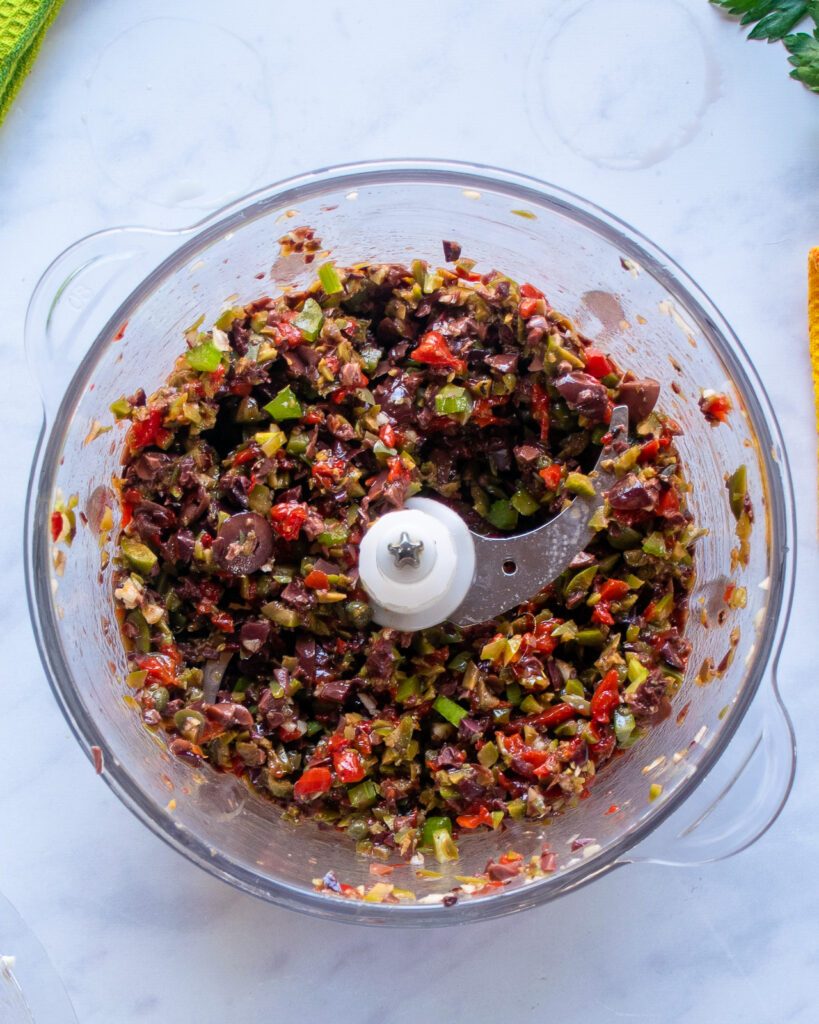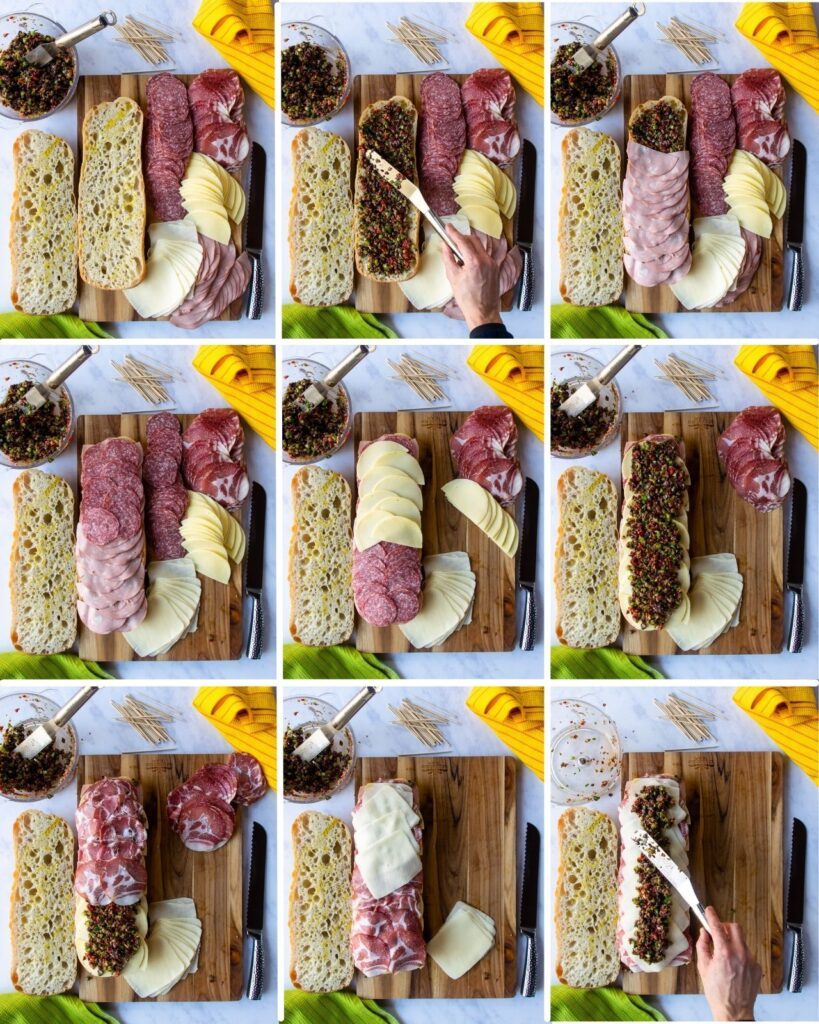 How to Layer and Build a Muffaletta Sandwich
How you put these components together is also important. Layering the ingredients helps to blend them into a more uniform flavor, rather than distinctly different flavors. Make sure you start and end with a layer of the olive salsa so that the salsa is always right next to the bread.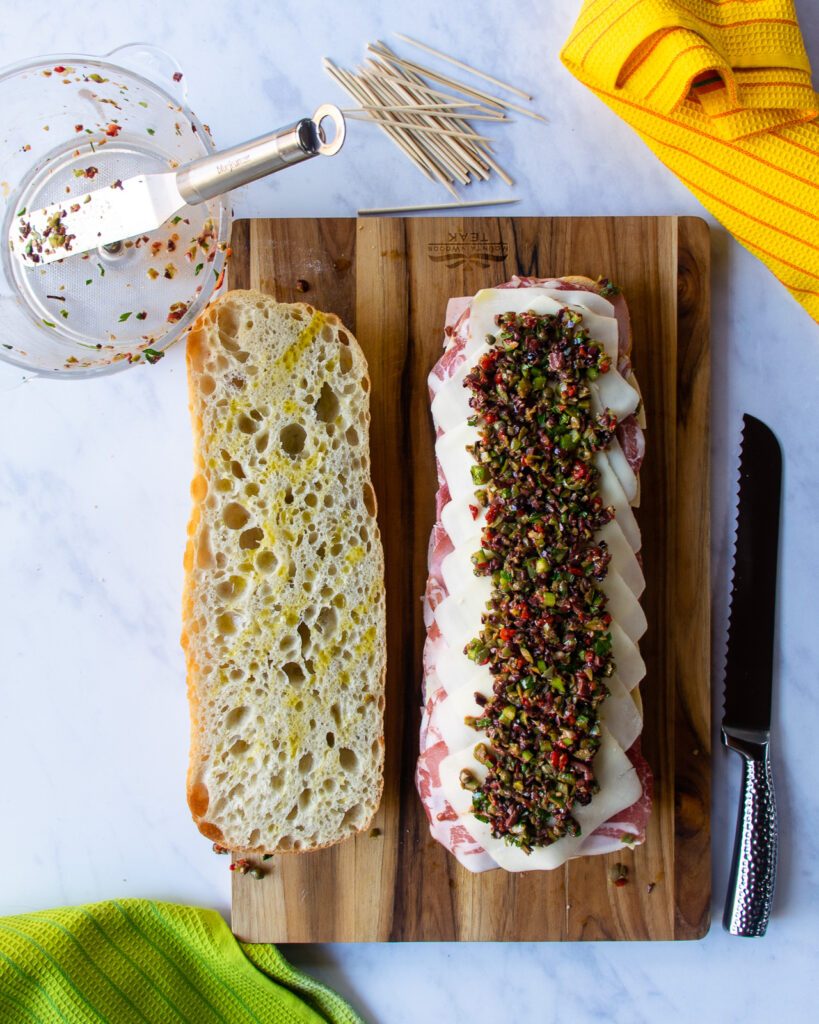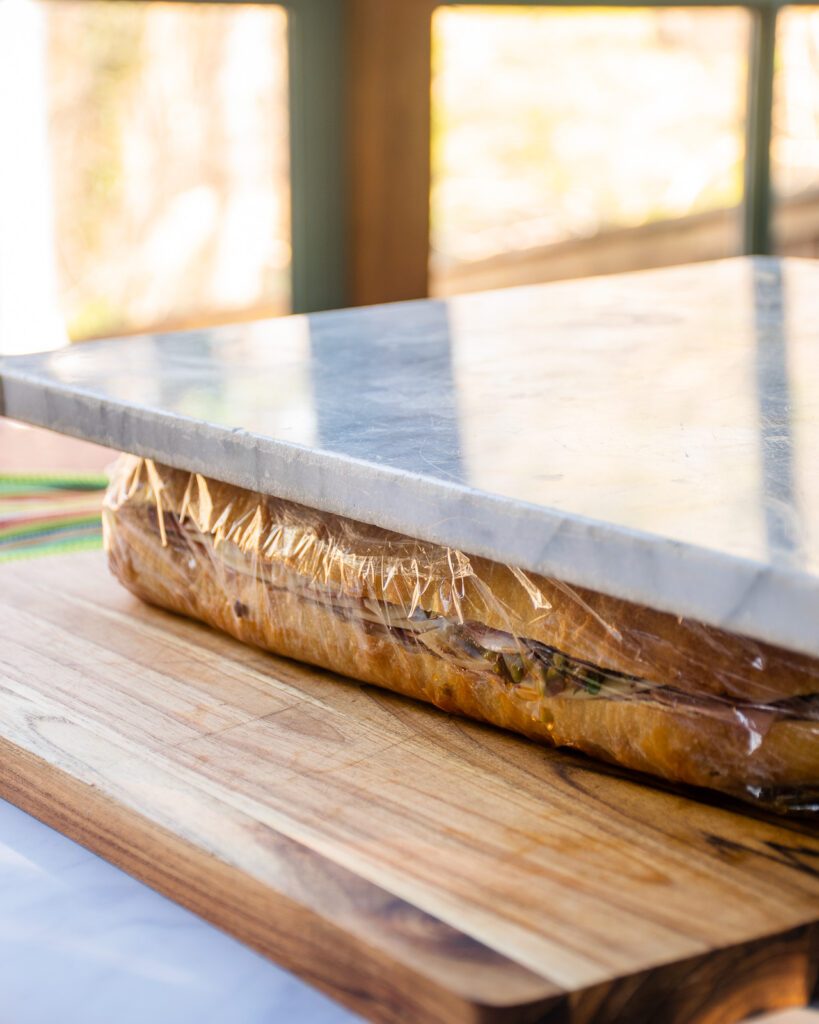 Making Muffaletta Ahead of Time
Finally, the last thing you need to make a perfect muffaletta sandwich is time.  You need to make this sandwich ahead of time in order to get the maximum flavor possible. The goal of putting the olive salsa next to the bread is to have the bread absorb all the liquid and flavor of the salsa. To do that, wrap the whole sandwich well in plastic wrap and then weigh it down with a heavy object – a marble serving board, a large cast iron pot, whatever you can get to balance on top. Let it sit like this for at the very least half an hour, if not longer. You can even do this a day ahead of time, letting it sit, weighed down in the fridge.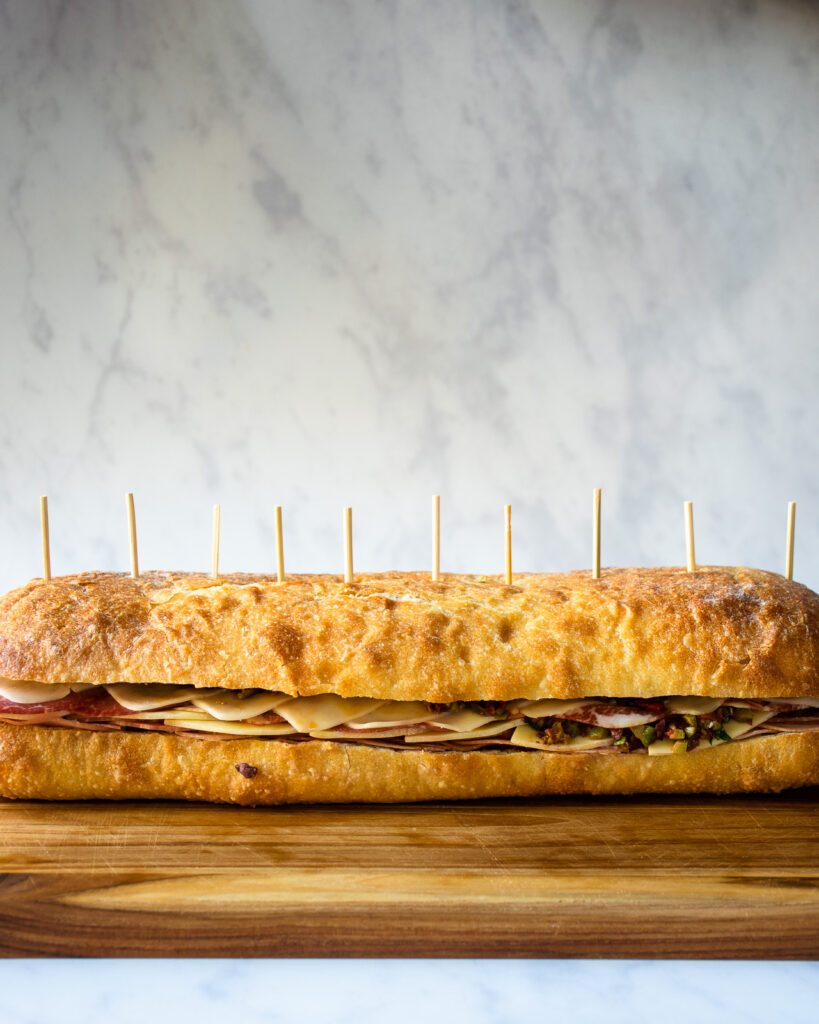 Mini Muffaletta Sandwiches for a Crowd
Once you've pressed your large sandwich, it's time to slice it. Spike sandwich picks down the center of the loaf, equidistant apart first. Then, slice between the picks and you'll have mini sandwiches ready for people to pick up and enjoy.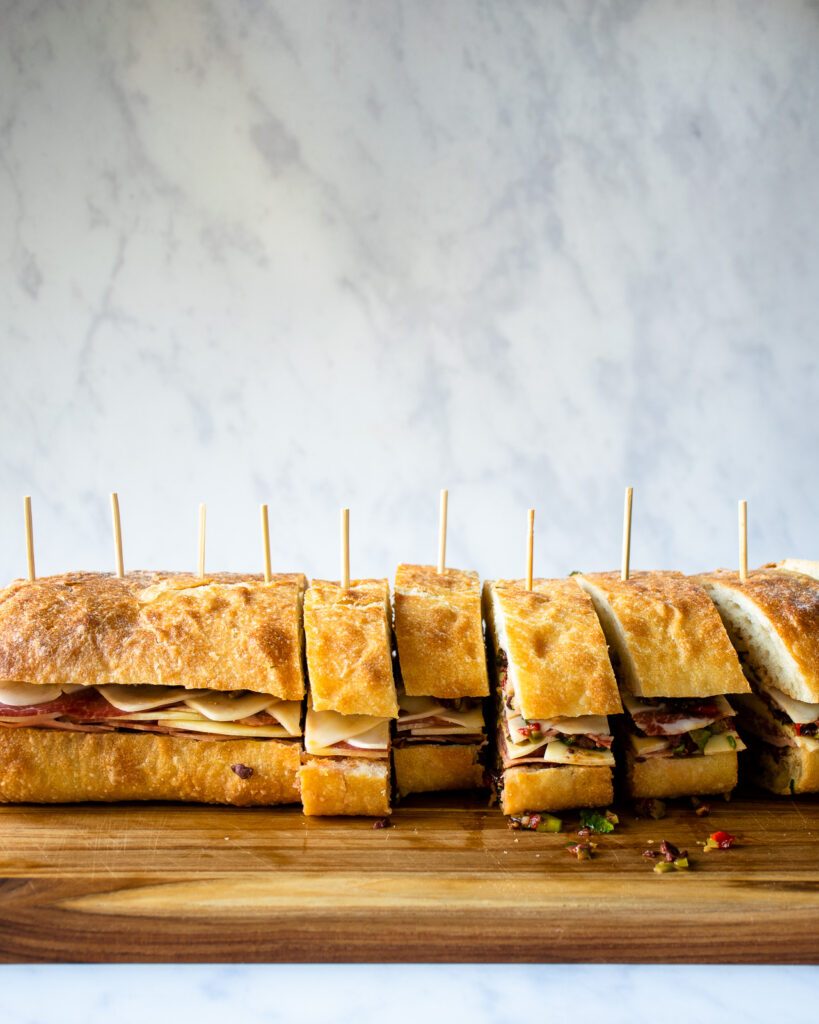 Serving Ideas with Mini Muffalettas
Mini muffalettas are great finger food snacks and perfect for those occasions where people mill about and nosh, rather than sit down to a meal. So, serve it with other finger foods like some homemade tortilla chips and a black bean salsa, or Mexican street corn nachos.  You could put it next to another sandwich twist idea by making some rueben egg rolls – also easy to make ahead and just re-heat. Most importantly, serve them with a cool beverage and some bev-naps!