What is a Reuben?
A Reuben is a traditional American sandwich made with corned beef, Swiss cheese, sauerkraut and Russian dressing. It is usually made on rye bread and toasted so that the cheese melts and the bread is a little crispy. If you like a Reuben sandwich, then you're going to love these reuben egg rolls. Why? Because they have the same great flavor combination as a Reuben, but all wrapped up in a tidy packet AND you can have more than one!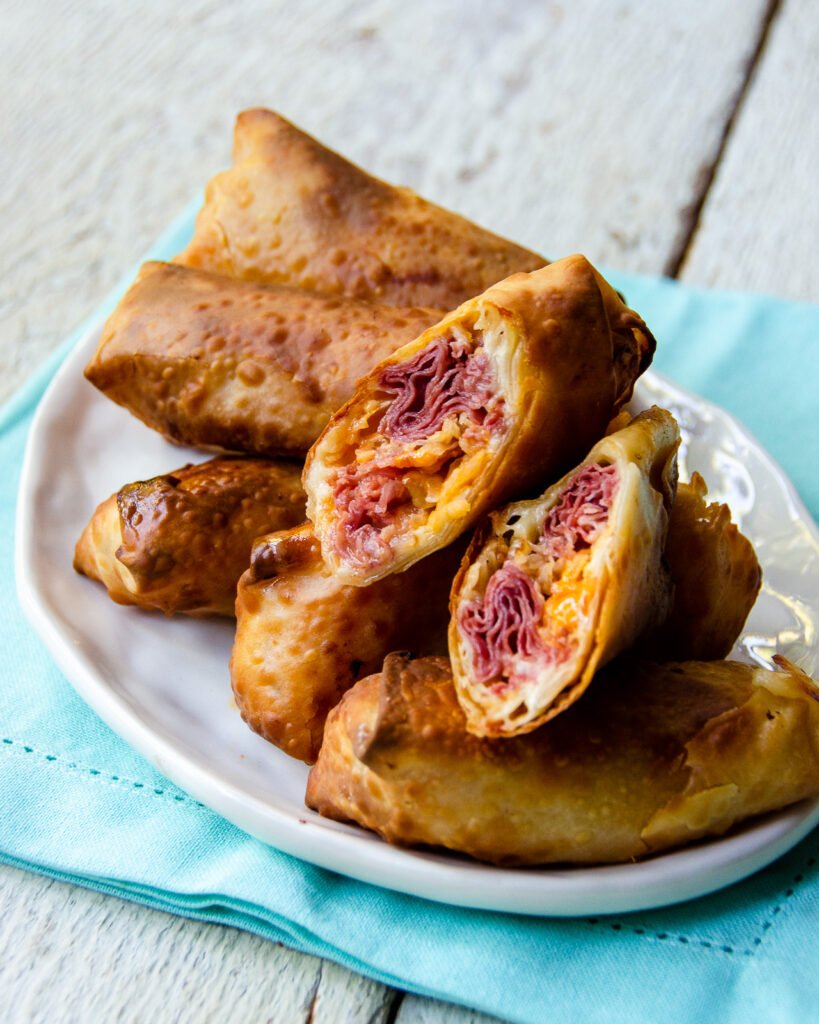 How to Make a Reuben Egg Roll
Reuben egg rolls are super easy to make. The hardest part is getting the egg roll wrappers, but once you've found them (usually in the refrigerated section of the deli area in your grocery store) putting the egg rolls together is super easy. Start with the egg roll wrapper pointing at you (so that it looks diamond-shaped in front of you), place the cheese, corned beef (which you can make yourself with this recipe here OR buy from your deli counter), sauerkraut, Russian dressing and another slice of cheese on top and start rolling. The rolling technique is the same as for any other egg roll and you can see step-by-step photos of that here on the recipe page for my shrimp egg rolls (which are also delicious!).
Air Fryer Egg Rolls
Once they are rolled up, make sure you spritz or brush them with oil well. Any dry area will just remain dry as it cooks and not look or taste right. Then, pop them into your air fryer basket and start air-frying! They take no time at all, but you do want to flip them over halfway through their 10 minute cooking time. Put out a little more Russian dressing as a dipping sauce and get ready to snack!