Best Steak for Grilling
When you're looking for a cut of beef to put on the grill, you need to look for two qualities – tenderness and flavor. While there are many different cuts that work well on the grill, a grilled ribeye is one of my favorites because it has great flavor (especially on the bone) and because it comes from the short loin, it is very tender with good marbling of fat throughout. On the grill, much of that fat renders and you're left with a juicy delicious steak dinner. The drawback to a ribeye, of course, is its high price tag. Another, slightly less expensive cut to put on the grill is a strip steak (also called a New York strip steak, Kansas City strip, strip loin).  A top sirloin steak is yet another steak that is good on the grill, although it is not as tender as a strip or ribeye. Whichever cut you choose for this smoke spiced grilled ribeye recipe, season it well and cook it properly and you won't get any complaints from me!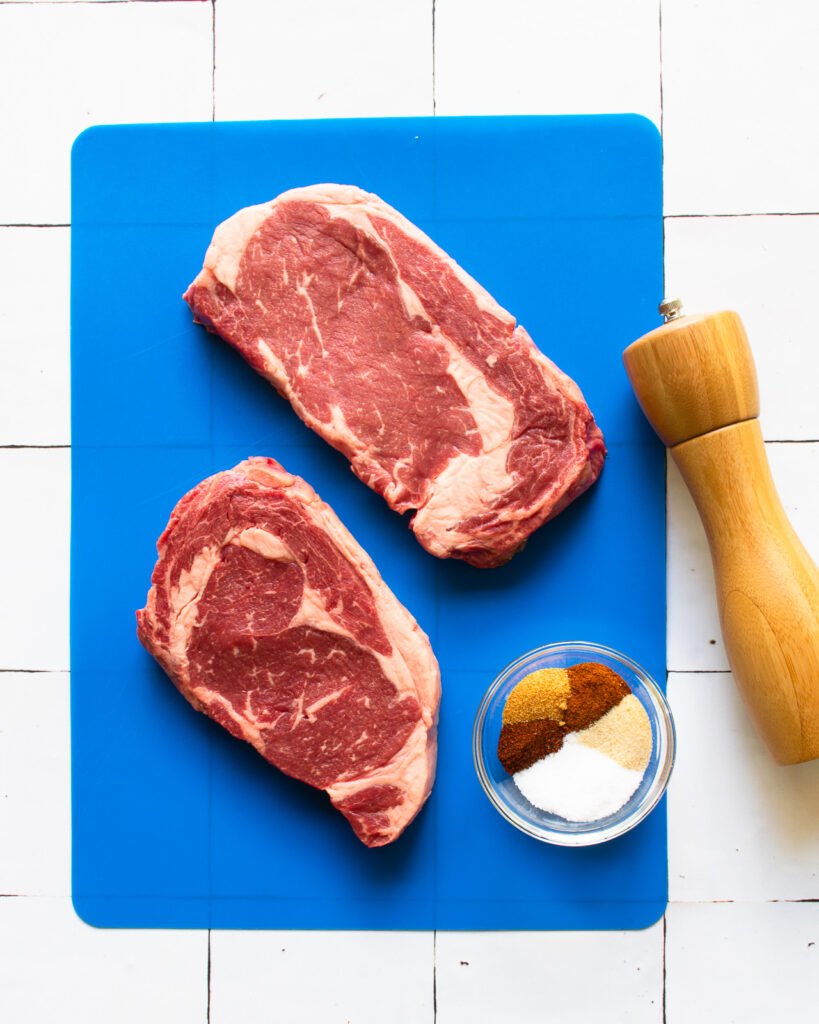 How to Season a Ribeye
Often, if I have a beautiful ribeye steak I do as little to it as possible – just salt and pepper – and then top it with a compound butter or some sautéed mushrooms and call it a day (a very happy day!). Sometimes, however, it's nice to put a spice rub on the steak for a change or a different flavor. This smoked spice grilled ribeye includes a spice rub made with chili powder and smoked paprika, which gives the steak a true smokey flavor even if you're grilling on a gas BBQ or in a stovetop grill pan. Rub the spice rub all over the steak and let the steaks sit at room temperature for an hour while you get the BBQ pre-heated and prepare the other parts of the meal. An hour, incidentally is about the right amount of time to bake a potato on your BBQ or in the oven at 425ºF. Just sayin'…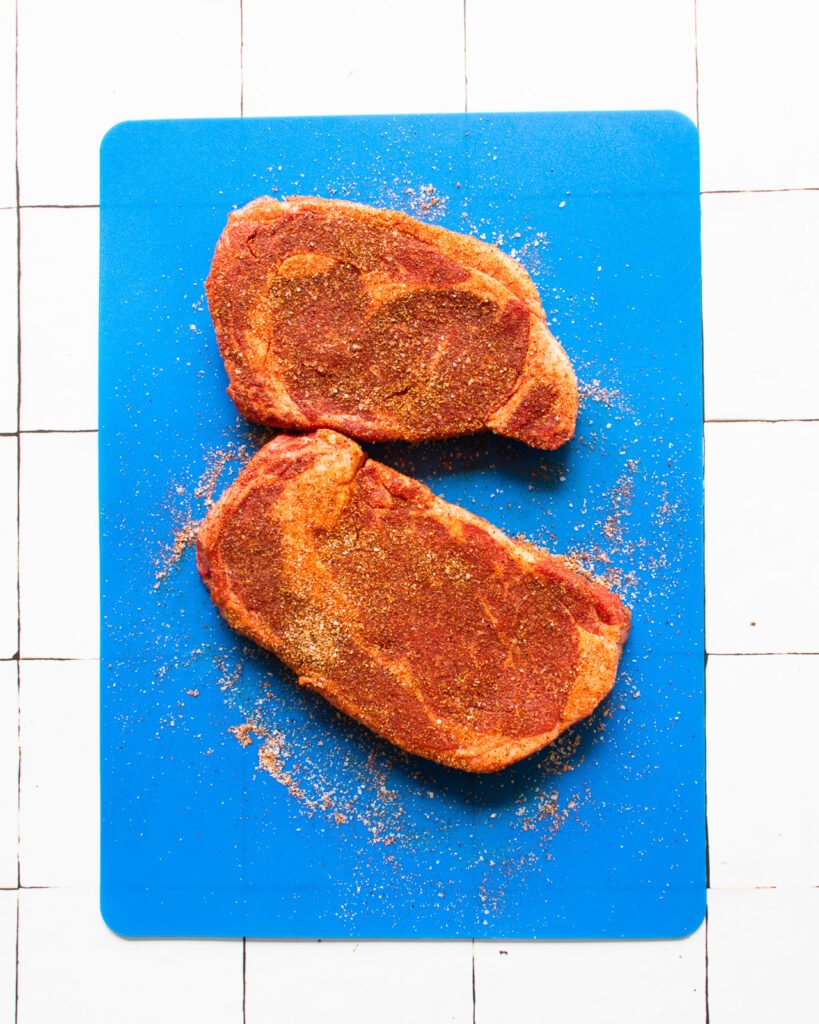 How to Get the Right Internal Temperature
Capturing the right internal temperature or doneness of your steak is the key to success. This recipe does give you approximate cooking times per side, but it's important to realize that all steaks are going to be a little bit different. How long to cook your steak depends on how thick it is, so be prepared to flex on the timing a little. Having an instant read thermometer is very helpful to capture that desired final temperature, but it does puncture the steak, letting juices escape and it's not the only way to tell how your steak is cooked. Start by grilling the steak without moving it for at least 3 minutes. Then, flip it over and time another 3 minutes. From there, start pressing on the steak to see how it feels. As the steak cooks, it will become firmer and firmer to the touch. With practice, you'll begin to learn how to tell what steak feels like at your desired degree of doneness. (To learn more about the touch test, check out my video on cooking steak here.) You can also look for visual clues. When you start to see red juices accumulating on top of the steak, it means the steak is moving across the boundary of medium. If you like your steak cooked a little less than medium, you want to remove it from the grill before or just as you see those red juices – a little tricky, but with practice you'll get there. 
Rest Steaks before Serving
Resting steaks is super important. I know it's tempting to dive right into a steak fresh off the grill, but give it about 5 minutes before you cut into it. If you cut into it right away, the juices will escape and you'll be left with a drier steak than you might like. Let it relax for a few minutes and those juices will remain in the meat, giving you a luscious morsel with each bite. Five minutes is not that long, and I'm sure you have other things to do – like pouring a glass of wine, perhaps?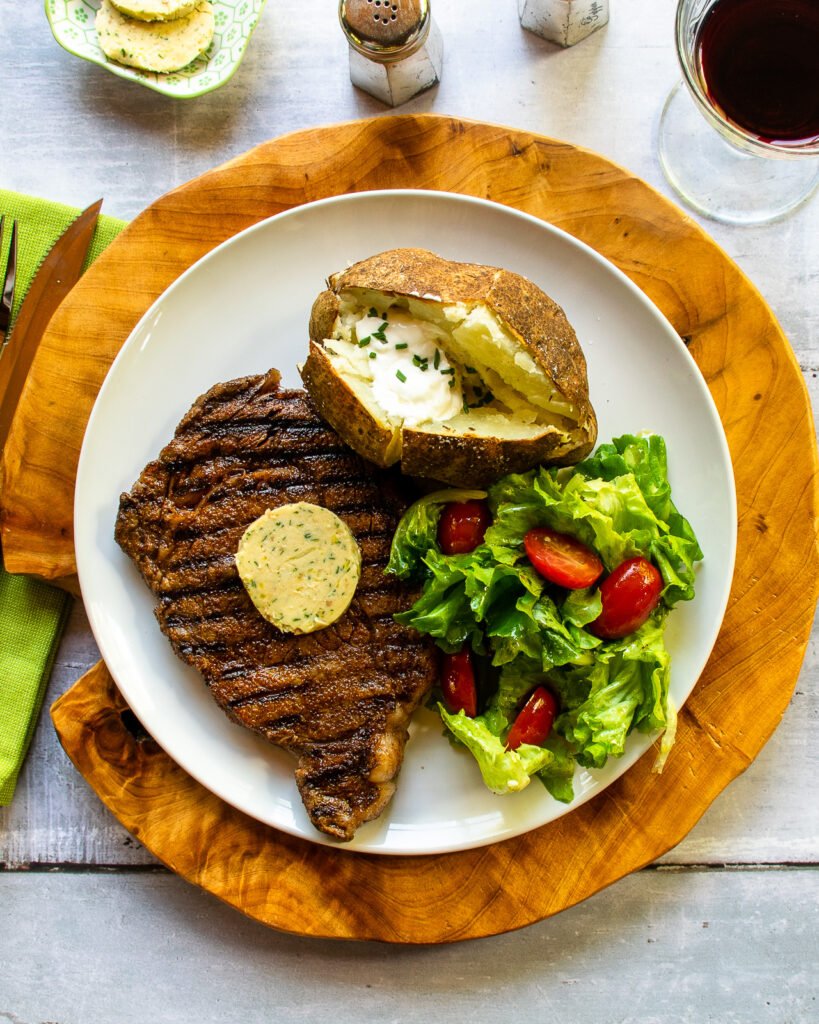 What to Serve with a Ribeye Steak
The one downside to grilling is that you don't have the ability to make a sauce with any drippings from the beef. The good news is that you can make a sauce for a grilled steak way ahead of time by making a compound butter. You can learn all about compound butters here, but in short a compound butter is simply butter mixed with flavorful ingredients and chilled. Just remember to remove the compound butter from the fridge or freezer to give it time to come to room-ish temperature. If it is too cold, it will chill your steak and the goal is to pop it on the steak and have it melt and baste the meat. If you season your steak with just salt and pepper try this Gorgonzola shallot butter. With the smoke spiced grilled ribeye, this citrus herb butter adds a delicious bright contrast to the smokey rub.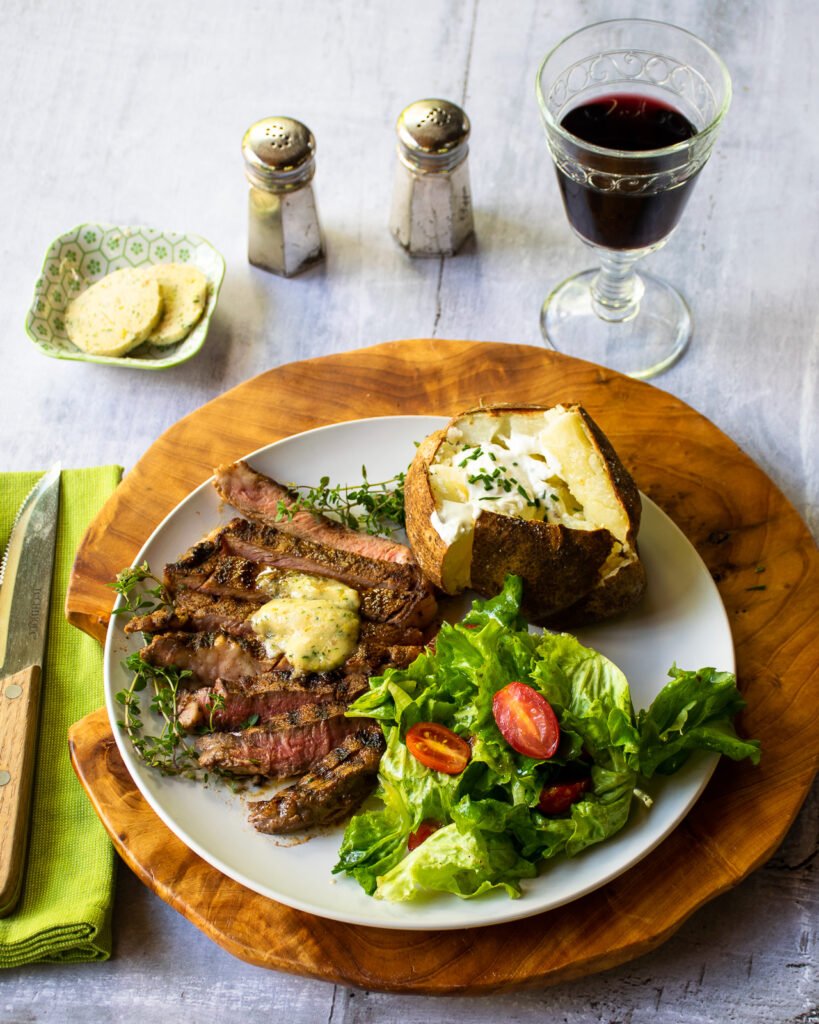 Aside from a sauce, you can't go wrong with a baked potato and a side salad or any grilled vegetables as an accompaniment to a delicious smoke spiced grilled ribeye.