What is a Composed Salad?
There are two types of salad in the world – tossed salads and composed salads. A tossed salad is pretty self explanatory – all the ingredients are tossed together. A composed salad is built with more intention – each ingredient is placed on the plate with design in mind. This beet and orange salad is a really pretty composed salad that is delicious as a light lunch with some soft butter lettuce, or as a salad course for a dinner party. (Read more about salads in my Salads 101 article here.)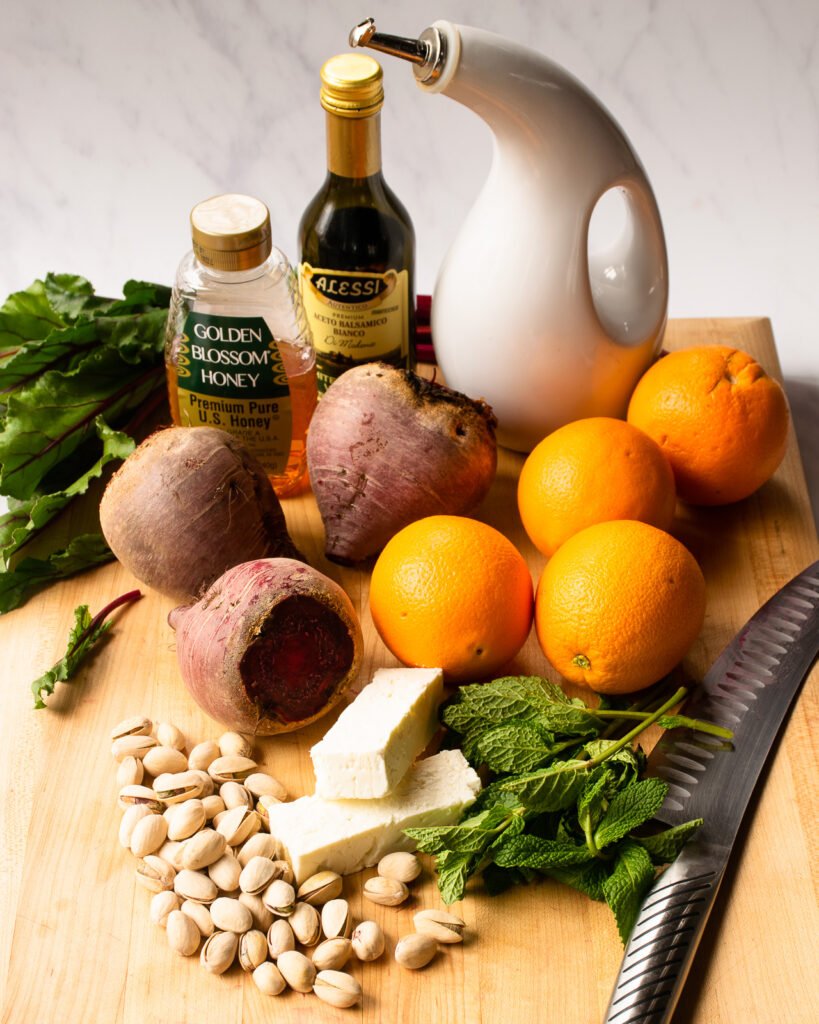 Ingredient Substitutions
The ingredients for this beet and orange salad are very simple – along with the beets and oranges, you will also need some white balsamic vinegar, olive oil and honey to make the vinaigrette and then some feta cheese, fresh mint and if you're feeling nutty, some pistachios. The simplicity of the salad adds to its beauty. Aside from the beets and oranges, all these ingredients can be substituted if you don't like or just don't have one of them on hand. Instead of feta cheese, try using some goat cheese. Instead of fresh mint, you could shred and sprinkle fresh basil on top or even fresh parsley. The pistachios are optional, so you could leave them off altogether or think about hazelnuts instead.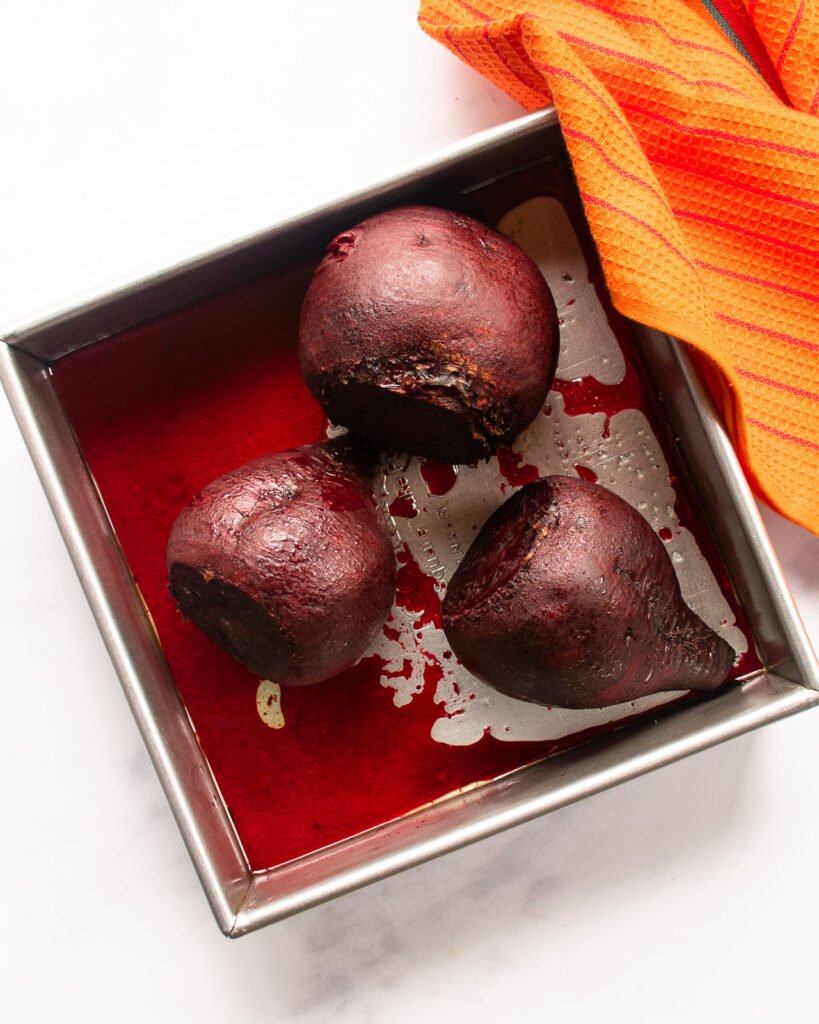 How to Cook Beets
You will need to cook the beets for this salad, but you have options. You could roast the beets in the oven, or you could cook them in your Instant Pot® or other brand of pressure cooker, or you could even cook your beets in the microwave. I have full instructions on how to do each of these methods in this cooking school article here. It's also possible to cook the beets up to two days ahead of time if you like. If you happen to have beets for dinner one night, using the leftovers up in this salad the next day is a perfect idea. Keeping the beets in perfect rounds and slicing them is key to the beauty of this composed salad, so keep that in mind before you chop them up the night before!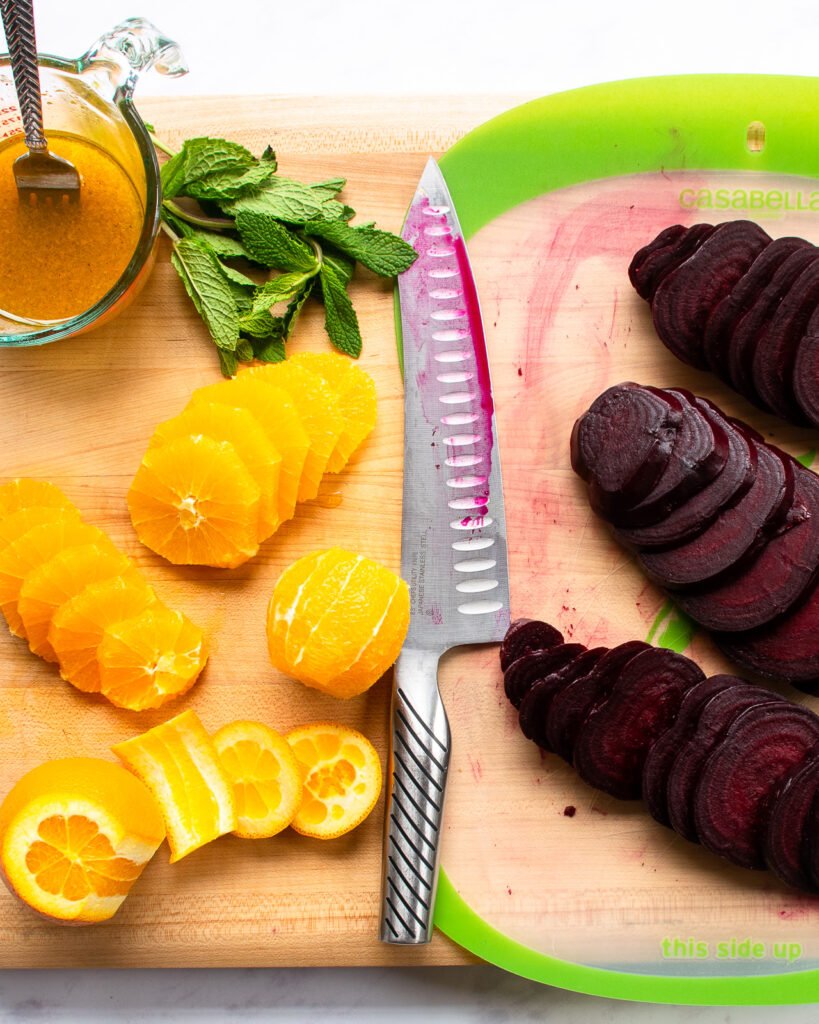 How to Peel Oranges
Perfect round slices of peeled orange are also key to the salad's beauty. Instead of peeling the oranges by hand, cut the peel away using a sharp knife, curving the knife around the orange from top to bottom. You can read about how to cut away the peel of all citrus fruits here. Cutting away the peel and the pith removes any chance of bitter taste in the orange and really does make the orange slices prettier. In a perfect world, your oranges and beets would be roughly the same size, but you don't always have control over that so whatever you end up with will work.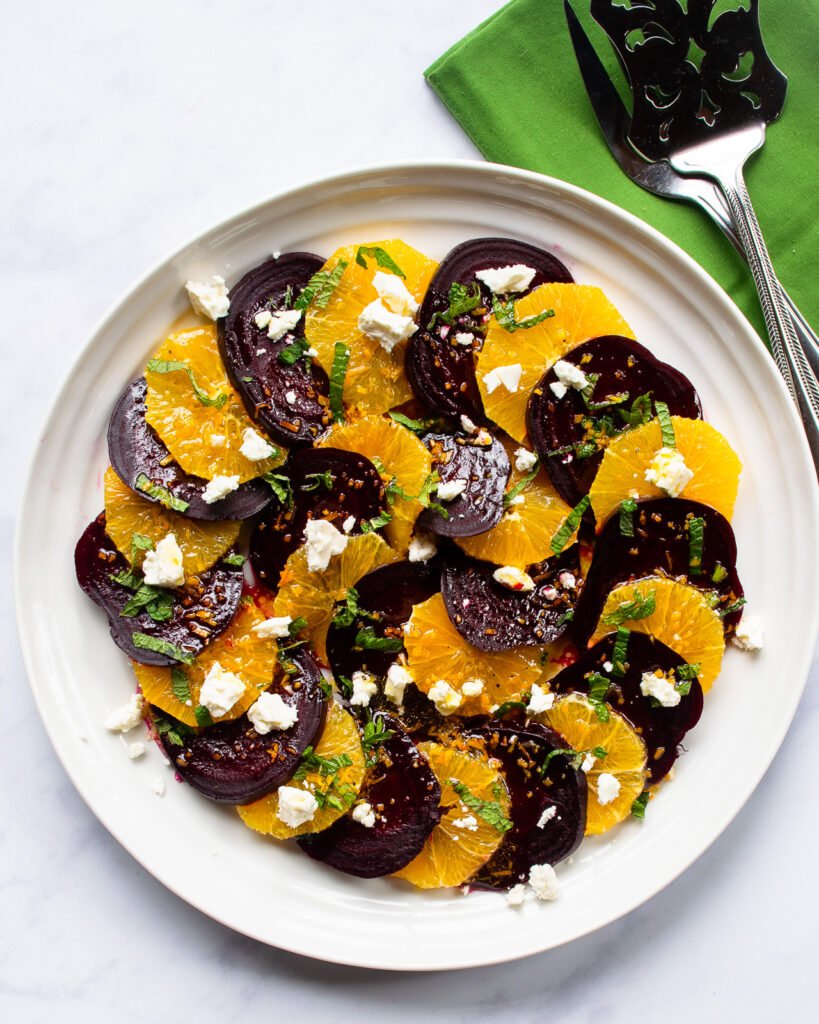 How to Compose the Salad
Once you have all the components of the salad ready – the sliced cooked beets, the peeled and sliced oranges, the feta cheese, the shredded mint, the shelled pistachios and the vinaigrette – all you have left to do is to place them on the plate in a decorative manner. Shingle the beet and orange slices around the plate in concentric circles. Scatter the feta and pistachios on top and drizzle the vinaigrette over everything. I also like to sprinkle a little salt on at this stage to make sure everything is seasoned. Then add the mint and you're ready to go to the table, pretty as a picture!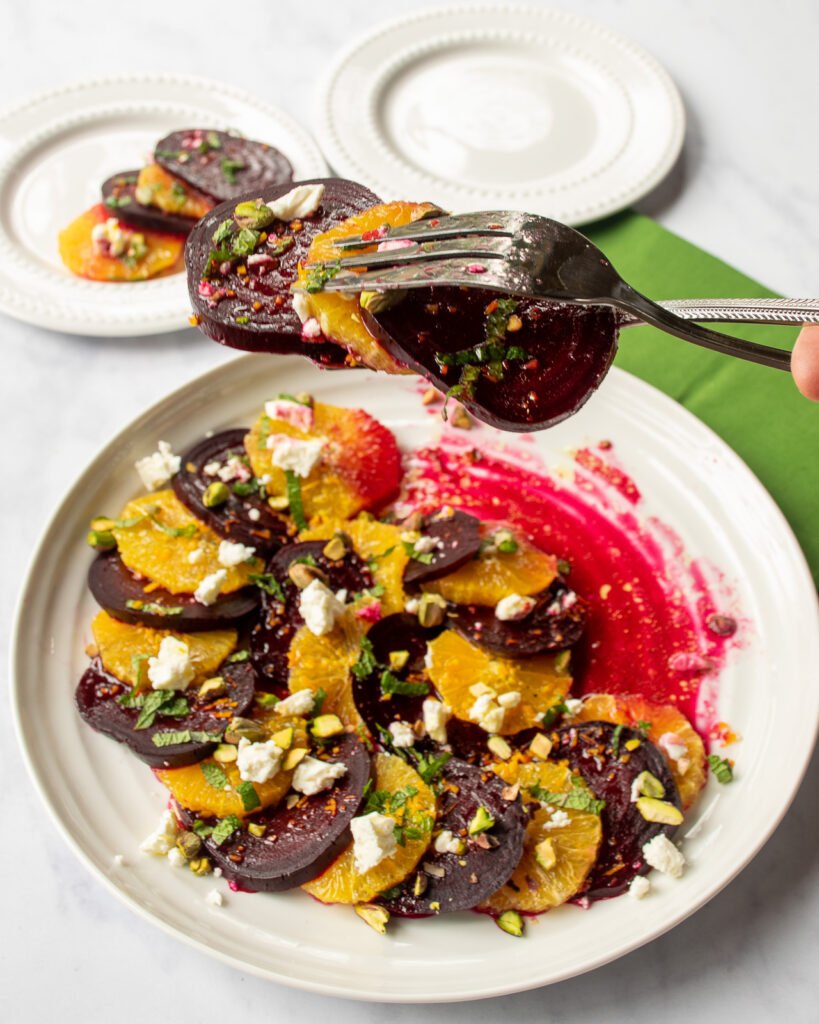 What to Serve Alongside
This beet and orange salad can go with almost anything as a side dish, but I would pair it with something pretty simple like a simple marinated chicken breast and rice, or a delicious salmon fillet. Or, you could serve this as one of several salads for lunch. It would be nice with a quinoa salad, a spring green salad and a potato salad, but understand that the other salads might be jealous because this beet and orange salad will walk away with the prize for beauty, hands down!