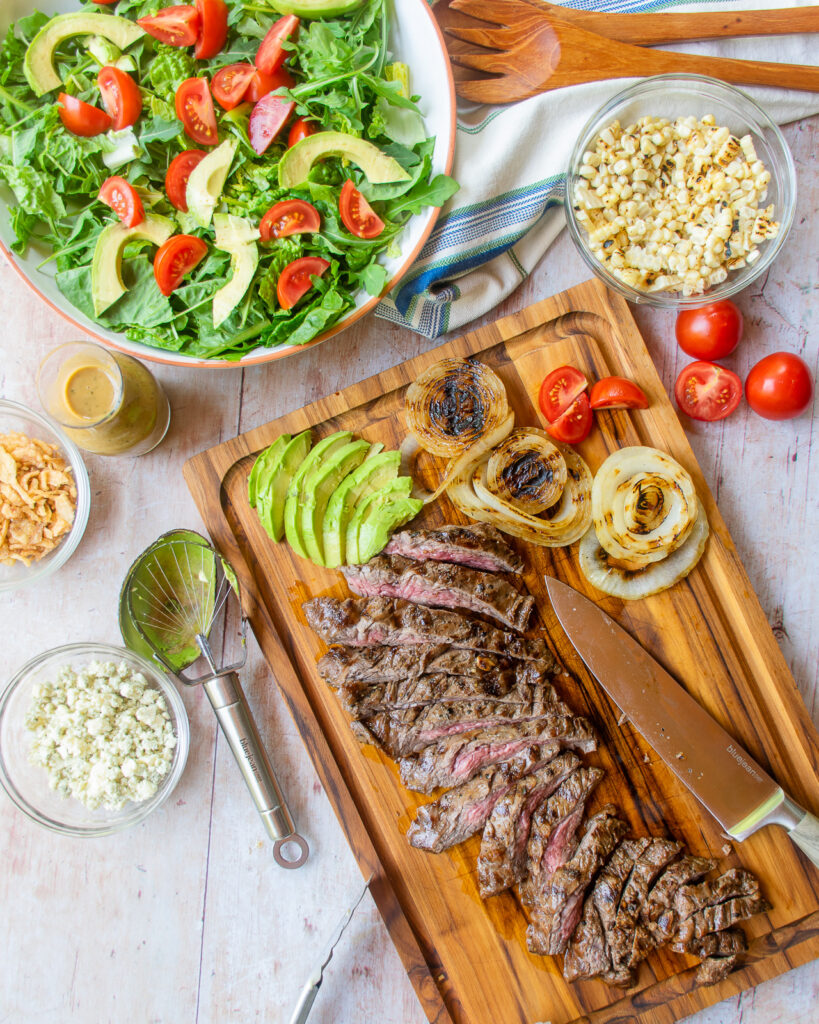 What Steak to Use for Steak Salad
You really can use any steak you like and put it on a salad, but when I'm making a steak salad for a few people, I always find it easier to grill just one steak and slice it into portions. For this recipe, I'm using a skirt steak which is less expensive than most steaks I would serve on a dinner plate when steak is the main feature. Skirt steak comes from the short plate of beef, just under the ribs and though it is full of flavor, it tends to be lean and can be tough if not prepared properly. Not to worry – this recipe takes that into account and ensures a delicious steak to go with all the other delicious ingredients in the salad.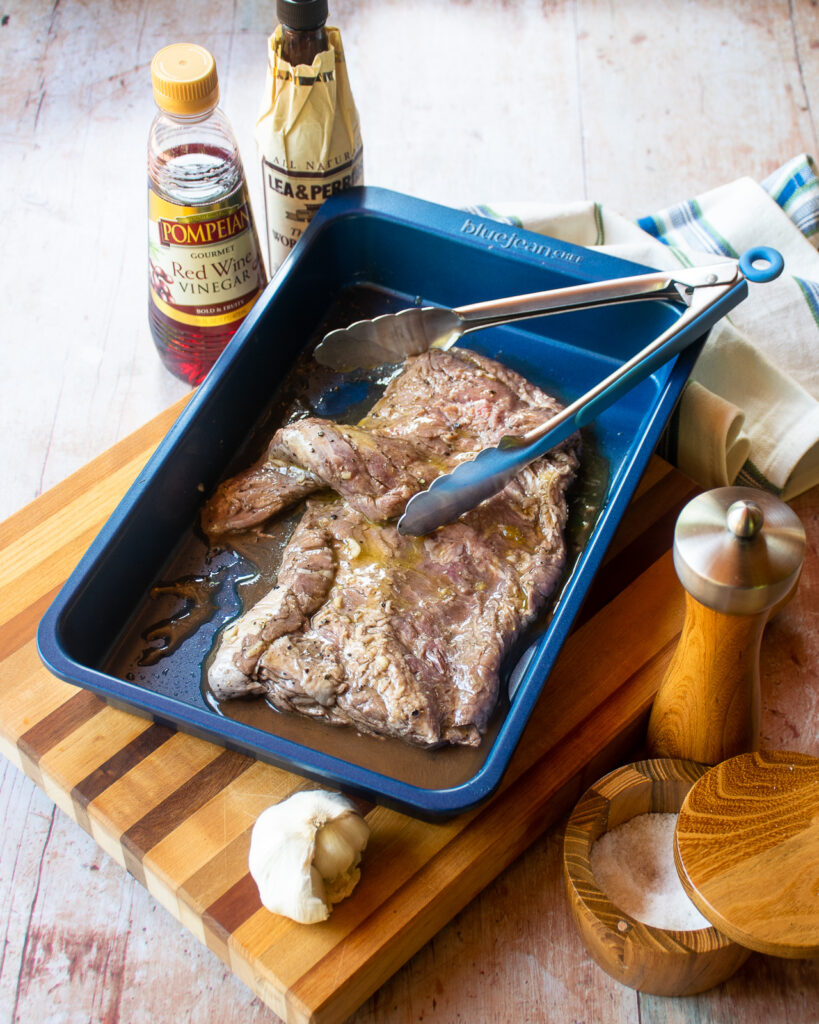 Marinating Steak for Salad
What skirt steak really needs is something to make it more tender. Marinating the steak is one way to achieve that and this marinade is SO easy that it will surprise you. It is simply oil, red wine vinegar, Worcestershire sauce, garlic, salt and pepper. Let the steak marinate in a non-reactive container (like the one above) or a zipper sealable plastic bag. Ideally, the steak should marinate for 6 hours to overnight in the refrigerator, but honestly even half an hour of marinating time will make a difference. You can also pierce the steak with the tip of a paring knife or use a needle tenderizer to help tenderize the steak and allow it to absorb more of the marinade.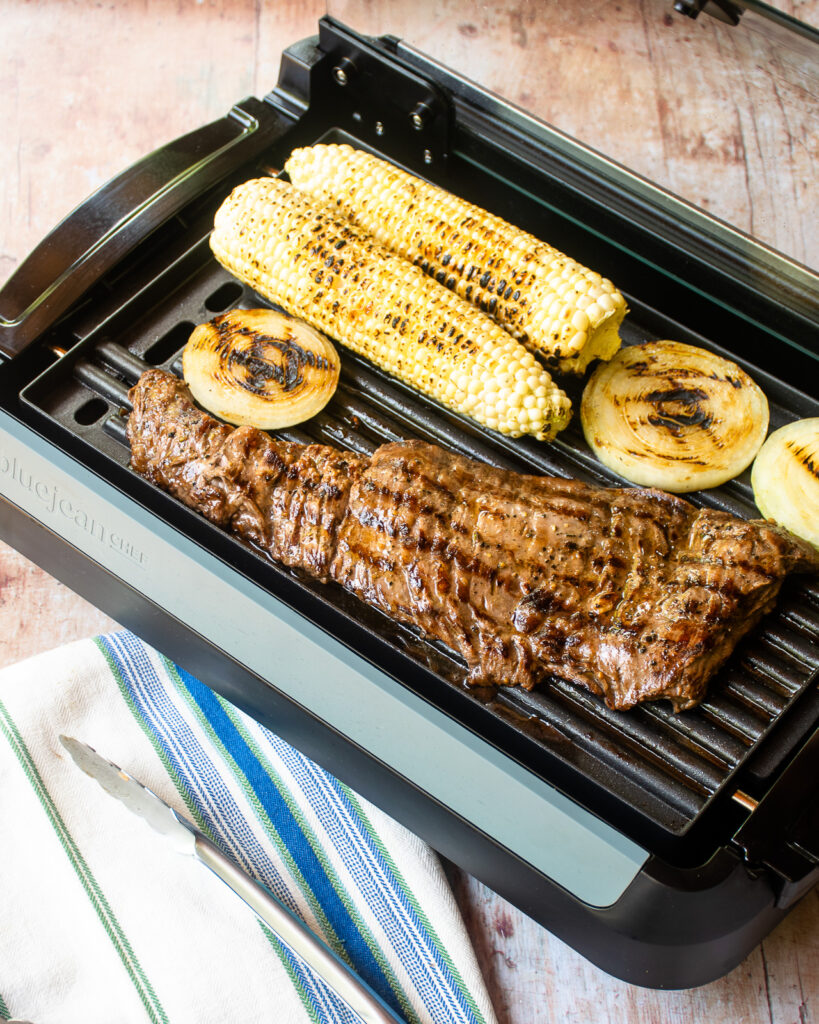 How Long to Cook Skirt Steak
How long to grill the steak depends on a few things. First of all, how do you want your steak cooked? I recommend that skirt steak only be cooked to medium and no further. The more you cook steak, the less juicy it is and the more tough it will become. Since we're trying to overcome the naturally tough quality of skirt steak, keep it medium or under in doneness. Other factors that will affect how long you cook the steak is how thick is your particular skirt steak and how hot your grill is. If you're grilling on an outdoor grill on full blast, the cooking time will be less than if you're cooking the steak on an indoor electric grill like the one above. Giving and taking a minute or two to factor in all the above, the steak will take 10 to 12 minutes.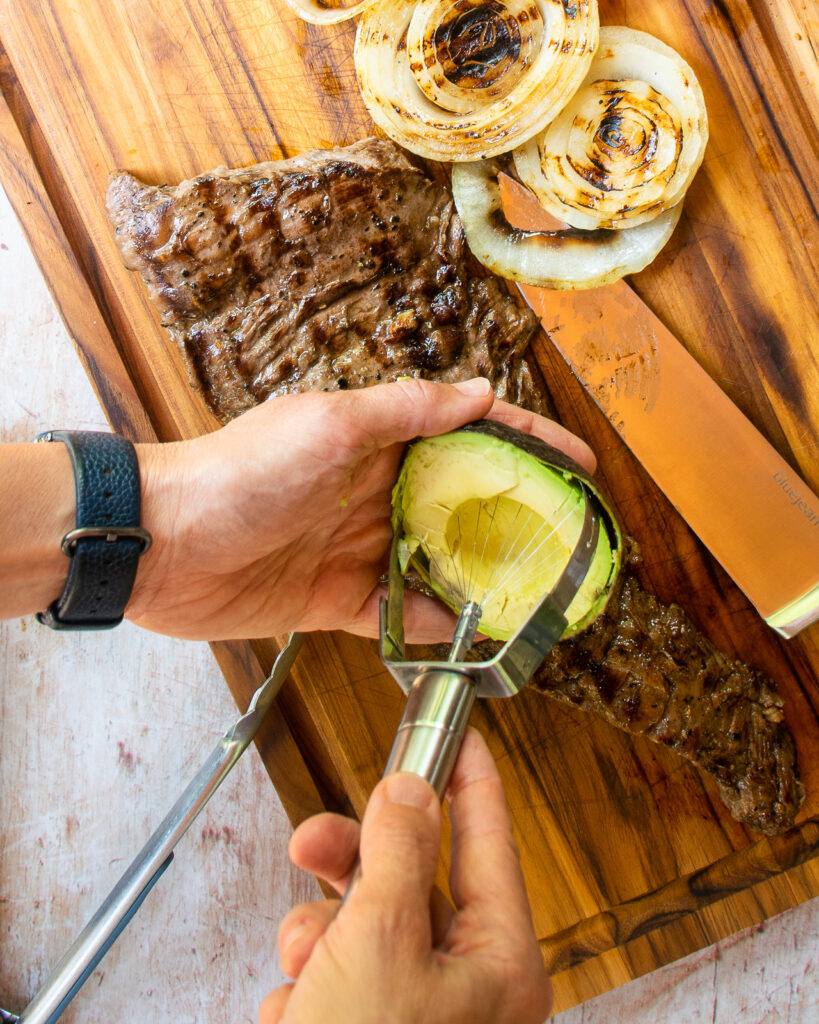 What to Put in Steak Salad
I like a combination of flavors in a steak salad, but that combination is really up to you. This recipe combines grilled onion and corn with the fresh flavors of arugula, romaine lettuce and tomato, creamy avocado and salty blue cheese. You can also add some crunch with fried onions if you like, or even some homemade croutons, which I think enhance any salad. Pick foods that are in season to add to this steak salad and you won't be disappointed.
Dressing for Steak Salad
The dressing for this steak salad is a creamy balsamic dressing that you can whisk together in a bowl or use a mini chopper for a quick and easy emulsion. It's a combination of balsamic vinegar, honey, Dijon mustard, mayonnaise, olive oil and seasonings. This recipe makes a lot of dressing, so dress the salad the way you like it and save the leftovers for another occasion.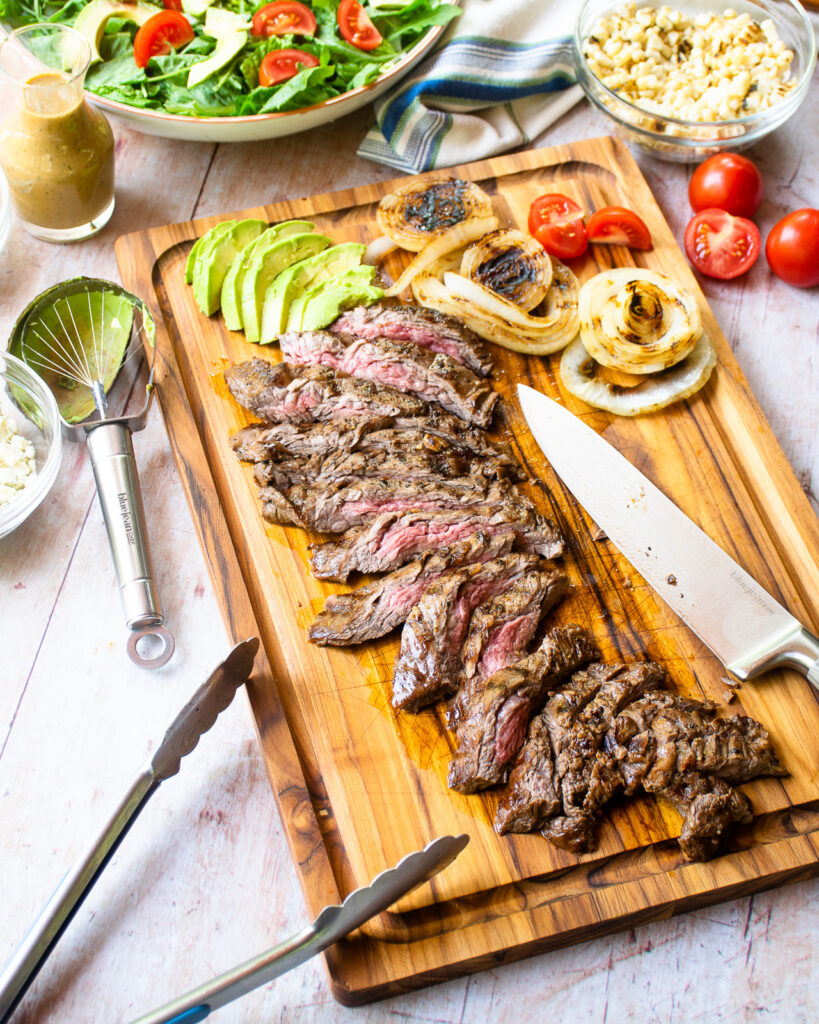 How to Slice Skirt Steak
One of the nice things about skirt steak is that the grain of the meat is very easily visible. The grain are the lines you see streaking through the beef. For the most tender bite, you want to slice "against the grain" or across the lines perpendicularly. Slant your knife at 45 degrees and slice across the grain, making slices that are ¼-inch to 3/8-inch thick. You'll find some of the slices near the end of the skirt steak will be more cooked than the other thicker end of the steak. That's convenient when you're serving people who have differing tastes when it comes to the doneness of beef.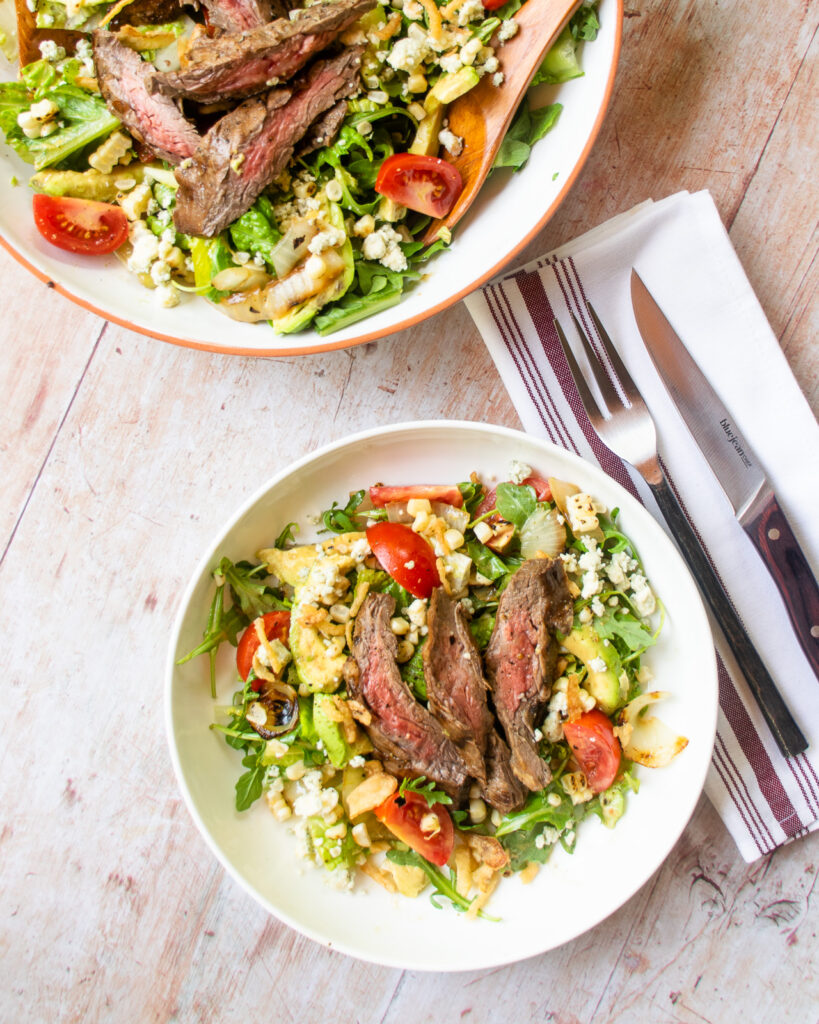 How to Serve Steak Salad
You have two options when it comes to serving this steak salad. You can slice the steak and toss it in with everything else, or you can toss all the salad ingredients and then place the steak on top. I prefer the latter since it allows you to distribute the steak evenly on plates and it generally looks prettier on the plate. Then, accompany the salad with a piece of baguette if you like, or a glass of red wine and enjoy!