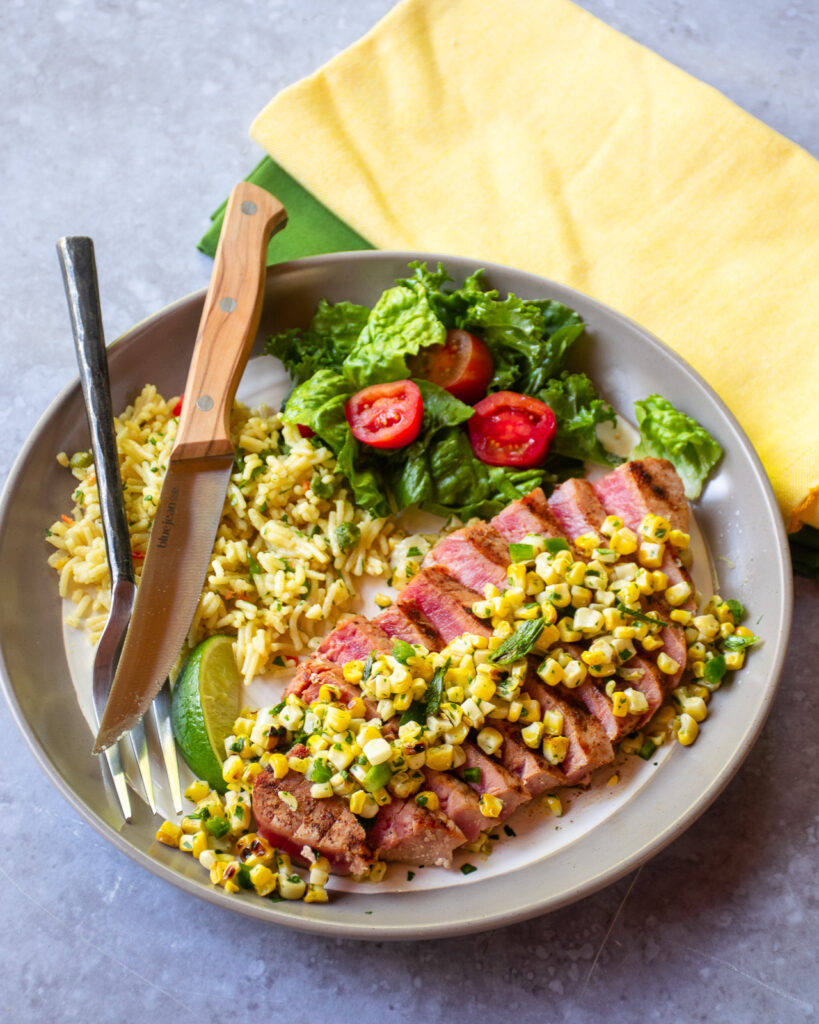 Quick and Easy Grilled Tuna Steak
If you are a fish lover, a grilled tuna steak is a quick and very easy dinner to pull off on any day of the week. That's not to say if you are a fan of canned tuna fish, you will like a grilled tuna steak, however. Tuna is an extremely lean fish and it really needs to be cooked no more than medium to retain any moisture. Cook it too much and it will be extremely dry – just like canned tuna that really needs oil or mayonnaise mixed in (along with other great tuna salad ingredients) to make it palatable. But, if you cook the tuna rare, or even medium-rare, top it with this delicious grilled corn and scallion salsa, you're in for a treat.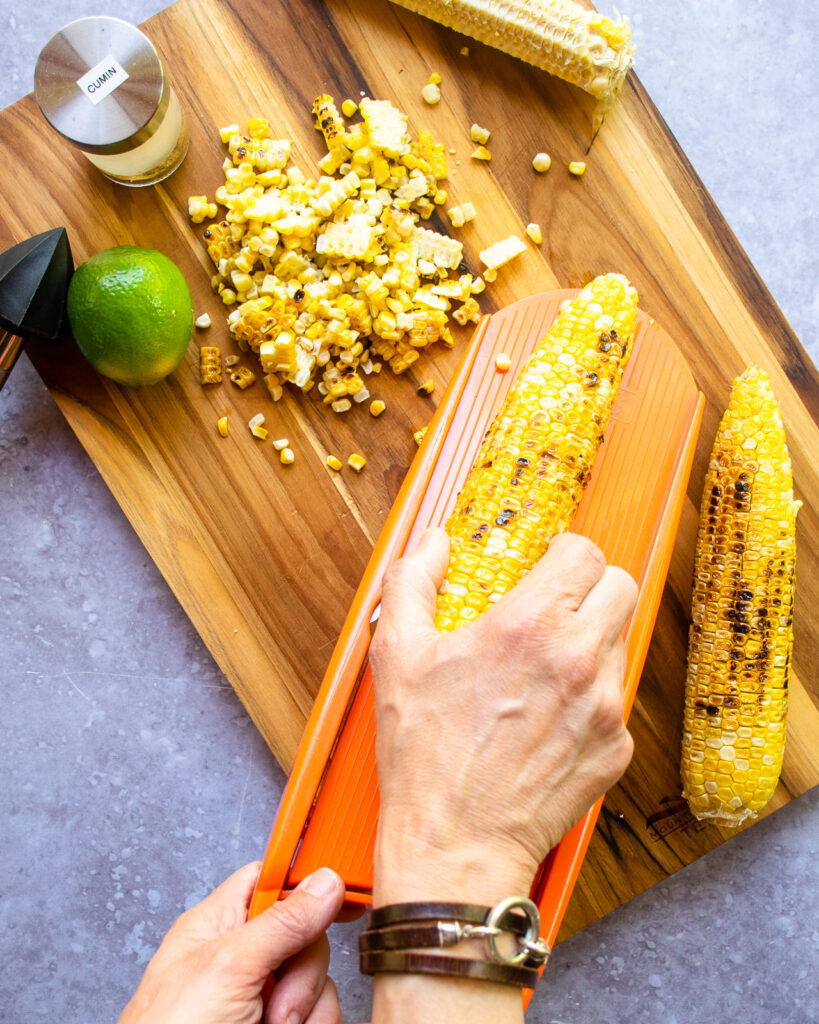 Grilling Corn for Salsa
Making the corn and scallion salsa will actually take more time than grilling the tuna steak, so let's start there. There are many ways to grill corn (in the husk, partially in the husk, etc…), but for this recipe you want to see some of the grilled corn kernels so remove the husks completely, drizzle oil on the ears of corn and pop them on the grill, rotating as they brown. Then, slice off the kernels. A mandolin slicer makes this very easy, but a chef's knife works as well.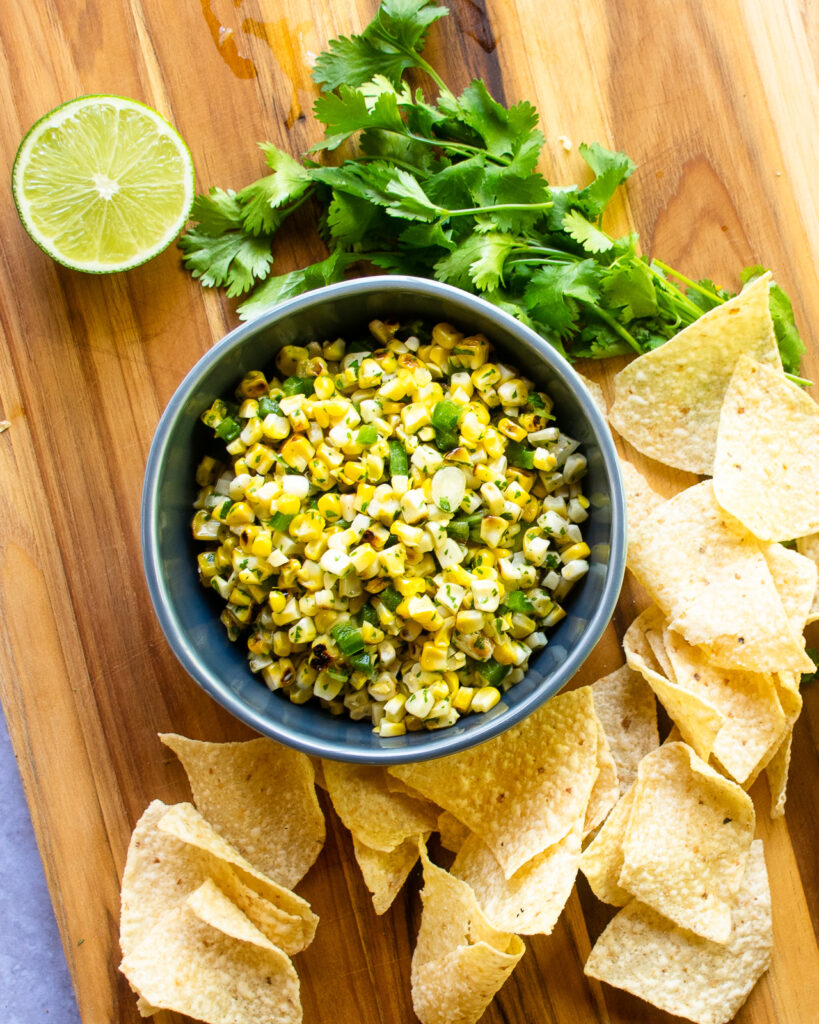 Corn and Scallion Salsa
Then, combine the grilled corn with grilled scallions, Jalapeño pepper, lime juice, cilantro, ground cumin, salt and pepper and give it a good stir. This salsa is not just great on the grilled tuna steaks, but works with chicken and steak too and is pretty darn addictive with some tortilla chips as well.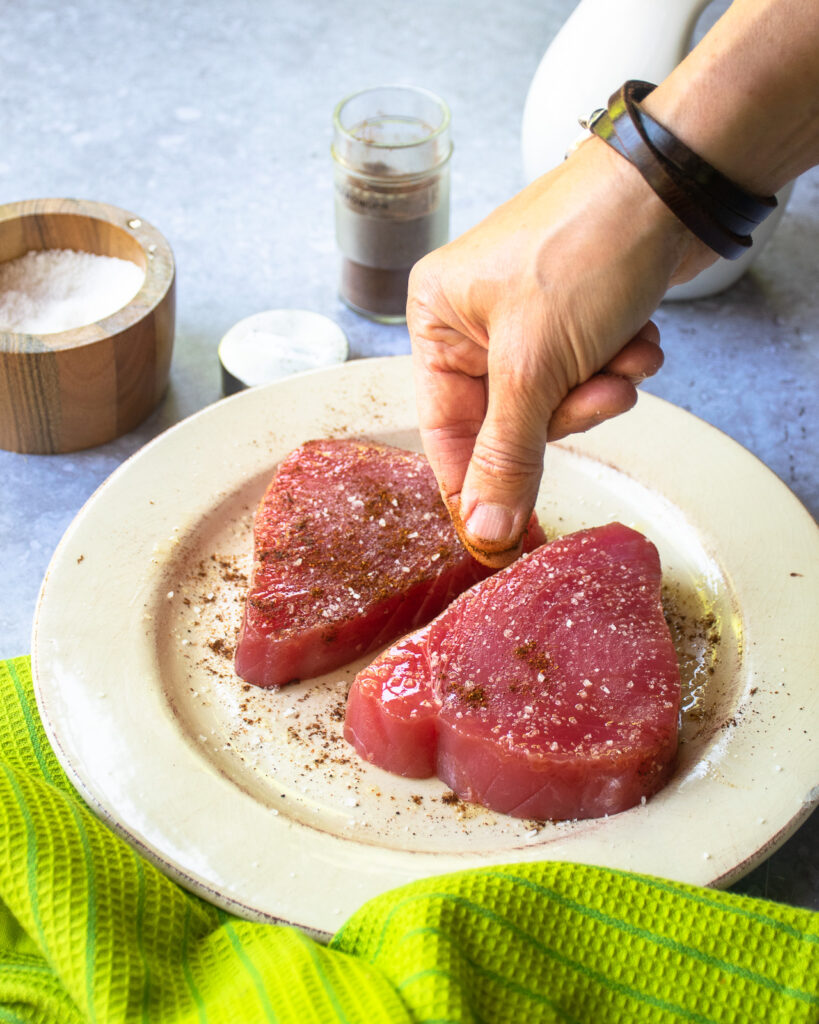 Seasoning Tuna for Grilling
We're keeping the seasoning very simple on the tuna steaks. Tuna is not inexpensive and I always maintain that when you get the very best ingredients, you should do as little to them as possible to let their true nature and flavor shine through. Season the tuna with oil and then sprinkle on salt and some chili powder for a little kick. Because we want to keep the tuna rare in the center, it's a good idea to keep the fish refrigerated right up to the point of grilling. That will help prevent over-cooking.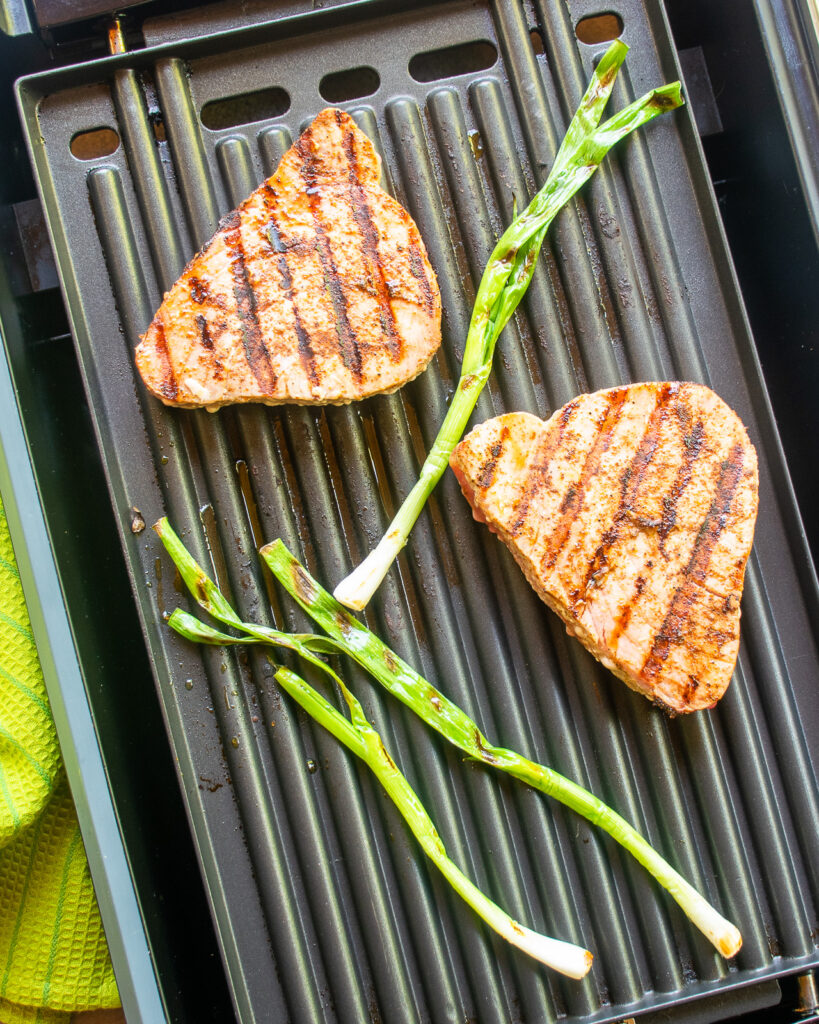 How Long to Grill Tuna Steaks
The key to grilling tuna is to use a very hot and very clean grill. An indoor grill like the one above has a non-stick surface which is a nice assurance that the fish won't stick. Pre-heat an indoor grill for at least 10 minutes at its highest setting to make sure it is very hot. If you are using an outdoor grill, you will also want to make sure the grill is very hot and well cleaned. You can even oil the grill grates as well, just before placing the fish on the grill to ensure that the fish won't stick. Then, place the tuna on the grill and leave it alone for 2 minutes. Turn the fish over and continue to grill just until you no longer see pink on the sides of the fish – probably just another two minutes.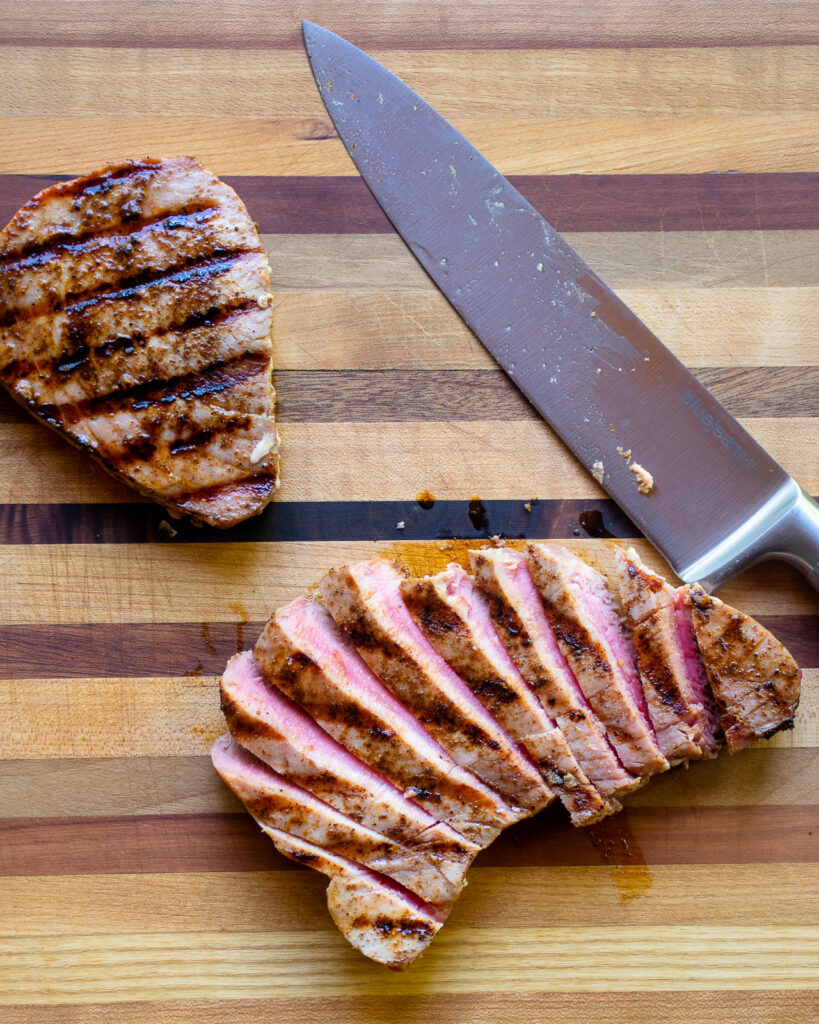 How Do You Know When Tuna Steaks are Done?
Remove the tuna from the grill at the very moment you no longer see pink on the side and let it rest. Tuna, like steak, can be eaten at varying degrees of doneness (or even raw), so there's no concern that you are under-cooking the tuna. It's just key that you leave some pink in the middle. Looking at the sides of the tuna steak is your best option for knowing when it is done. The thicker the tuna steak, the more rare it will be in the center. Use a very sharp knife to slice the tuna into strips. This not only makes a nice presentation, but allows you to share one tuna steak between more than one person. I find most tuna steaks are too large for me alone, so this makes serving easier.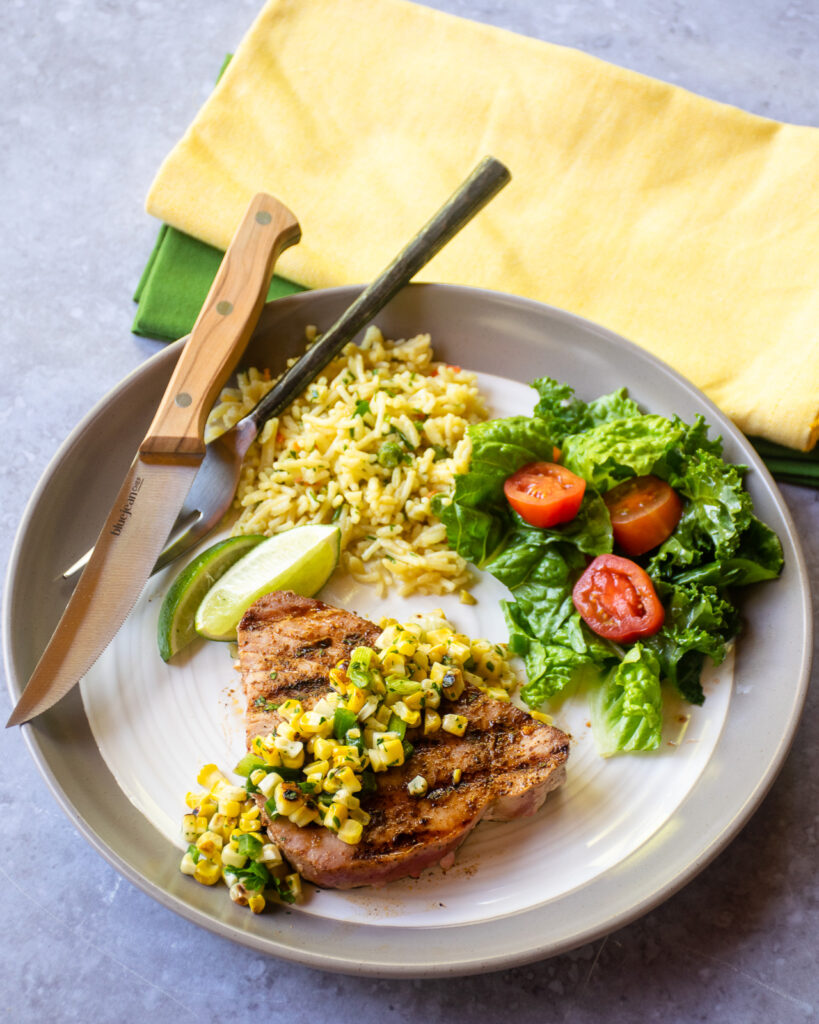 How to Serve Grilled Tuna Steaks
Of course, if you're a lover of grilled tuna, go ahead and eat the entire steak if you like! Top with the corn and scallion salsa and serve with side dishes for a main meal. OR, serve the sliced the tuna and salsa as an appetizer to be shared. I personally would be happy with a few slices of the grilled tuna, the salsa, a nice summer salad and a few extra tortilla chips at the table.