What is London Broil?
Many of us think you go to a grocery store or butcher and buy a London Broil, but "London Broil" does not actually refer to a specific cut of beef, but a way of cooking a steak. London Broil is usually a flank steak or top round which is marinated and then, as the name would suggest, broiled to medium-rare and sliced before serving. These days, lots of meat counters do label a top round steak as a "London Broil", making it easy to find the right cut of beef for this grilled marinated London Broil.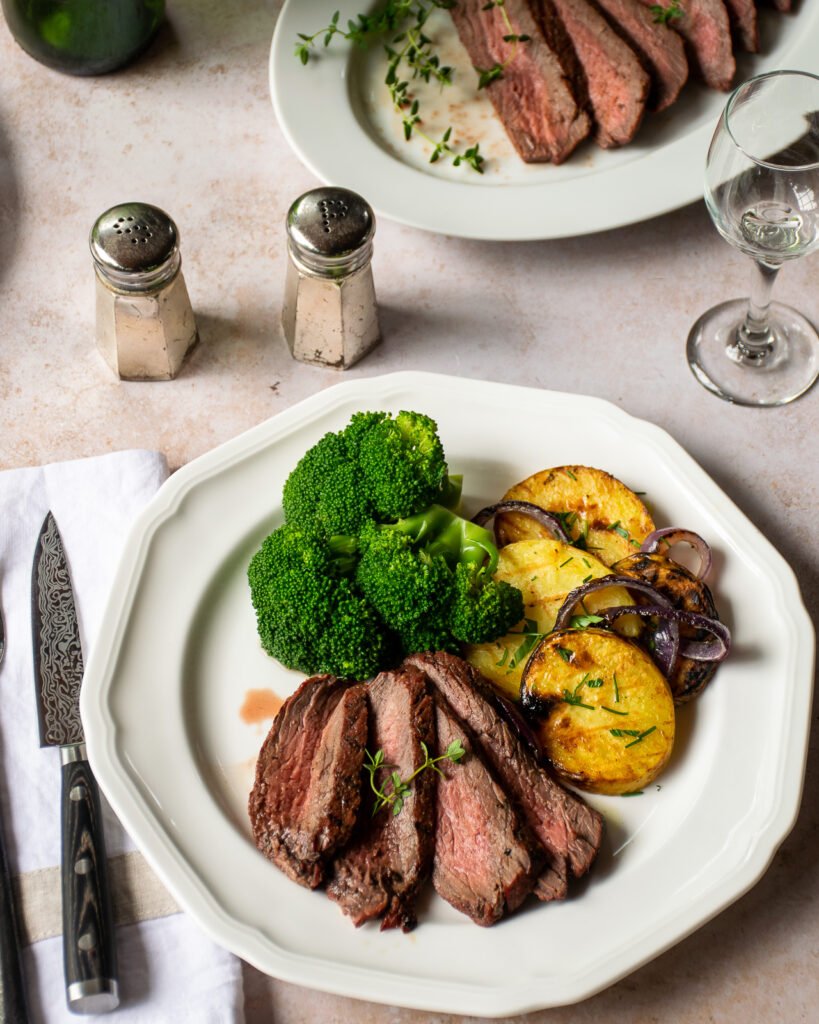 Broiled or Grilled
To broil something is to cook with intense radiant heat from above. Grilling is almost the same method, but the heat source is from below. It's true – we don't call this method of cooking a London Grill, but grilling is perfectly acceptable.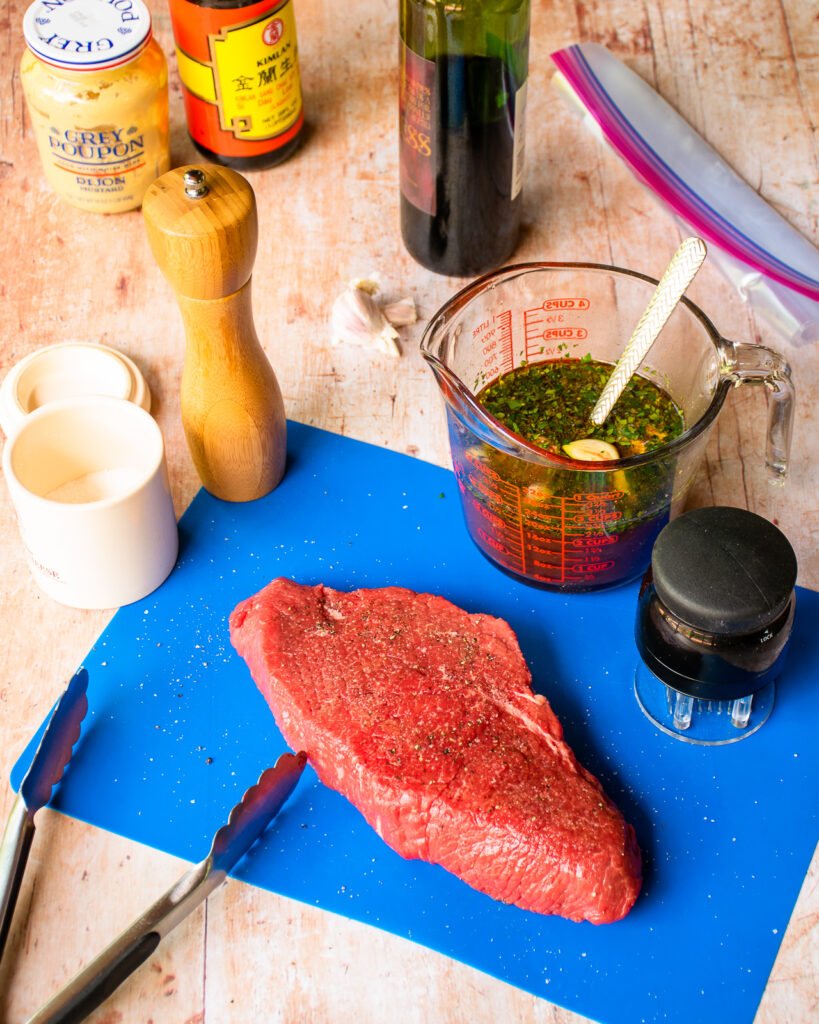 Best Way to Tenderize London Broil
Because London broil refers to a flank steak or a top round, it is critical that you tenderize and marinate the steak before broiling or grilling. Both cuts of beef are flavorful, but tend to be tough and need some help to become tender. Tenderizing is the first step. You could use a needle-style tenderizer (as in the photo above) or you could just use your paring knife and pierce the meat on both sides. This way of tenderizing will cut through muscle fibers in the meat and also create channels in the meat allowing the marinade to penetrate more easily.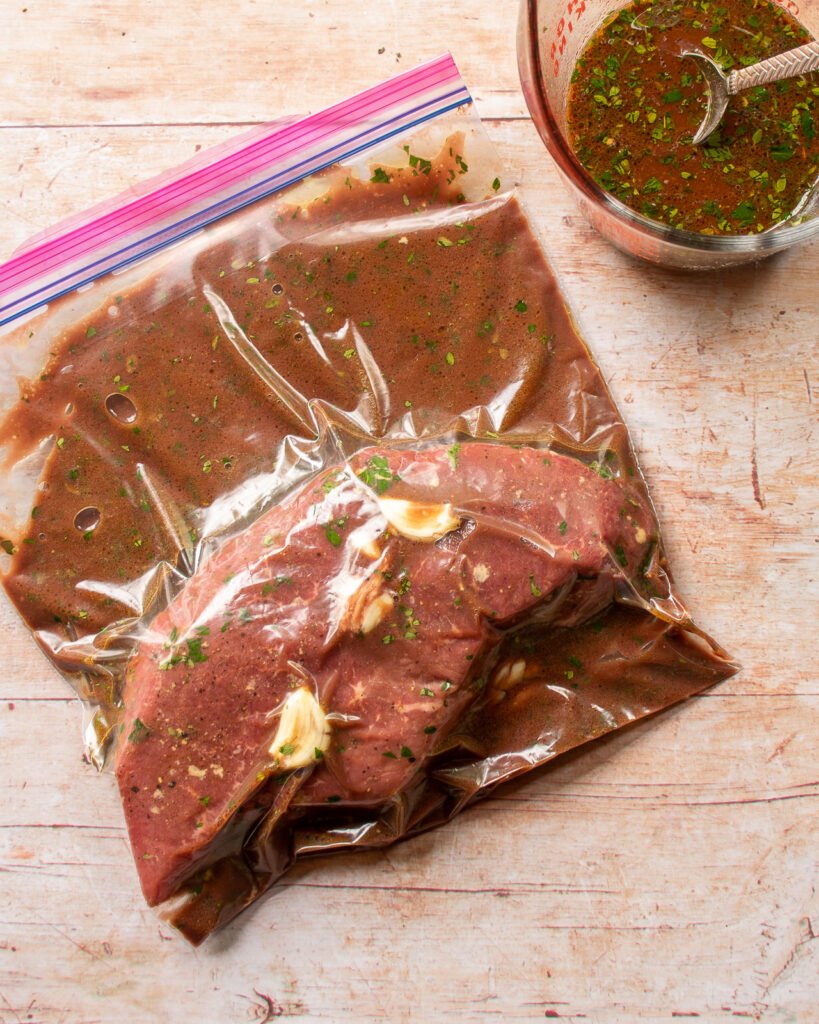 Marinating London Broil
Marinating the steak is the next step in helping to tenderize. This grilled marinated London Broil has a delicious red wine marinade that serves as a marinade and as a basting and finishing sauce. It's full of flavor and helps keep the steak moist. I often say you can shorten marinating times if you really need to, but with a London Broil I really recommend keeping the steak in the marinade overnight. That is the way to get the best flavor and the most tenderness with this tough steak.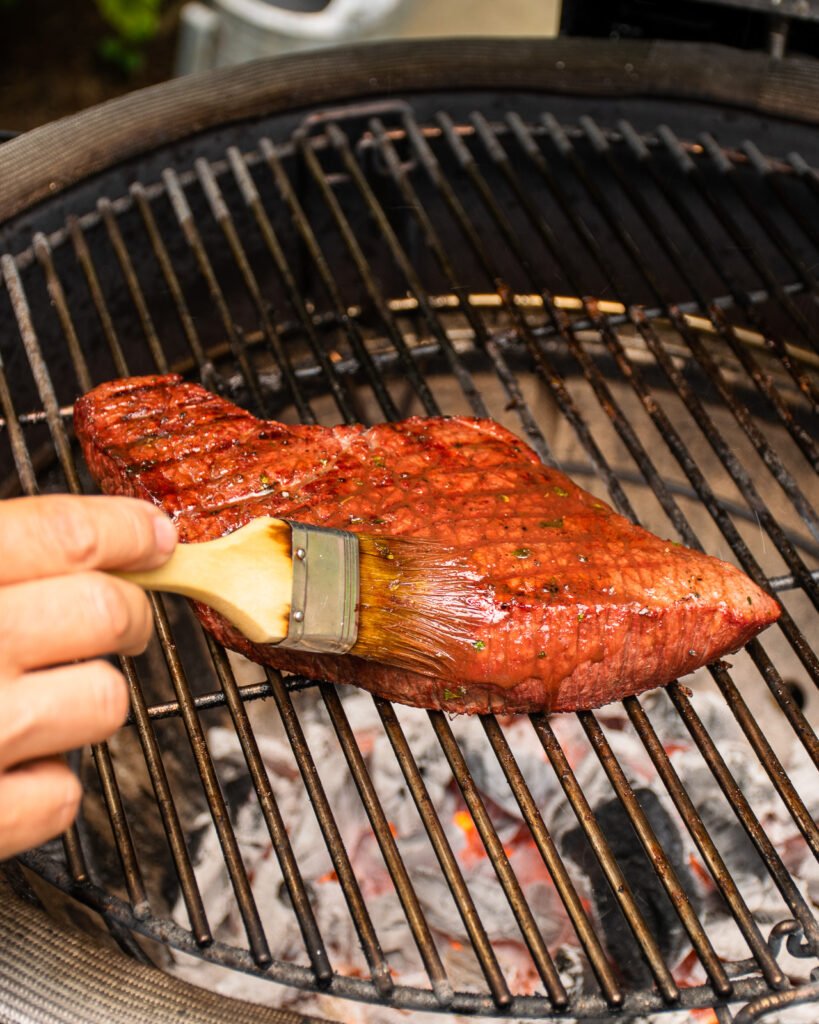 Grilling and Basting
London Broil is really a meal for medium-rare meat lovers. The steak should really only be cooked to medium at most, but preferably medium-rare because top round is a tough piece of meat and the more you cook the meat, the tougher it will be.  A nice hot grill will give the outside nice color in a shorter amount of time. Baste the steak a few times as it cooks. The cooking time will vary depending on the size of steak you have, so be sure to check how the steak feels or use an instant-read thermometer so you don't overcook it. Rely more on your own instincts than the suggested cooking times in the recipe and remember that it's better to undercook than overcook – you can always pop it back on the grill.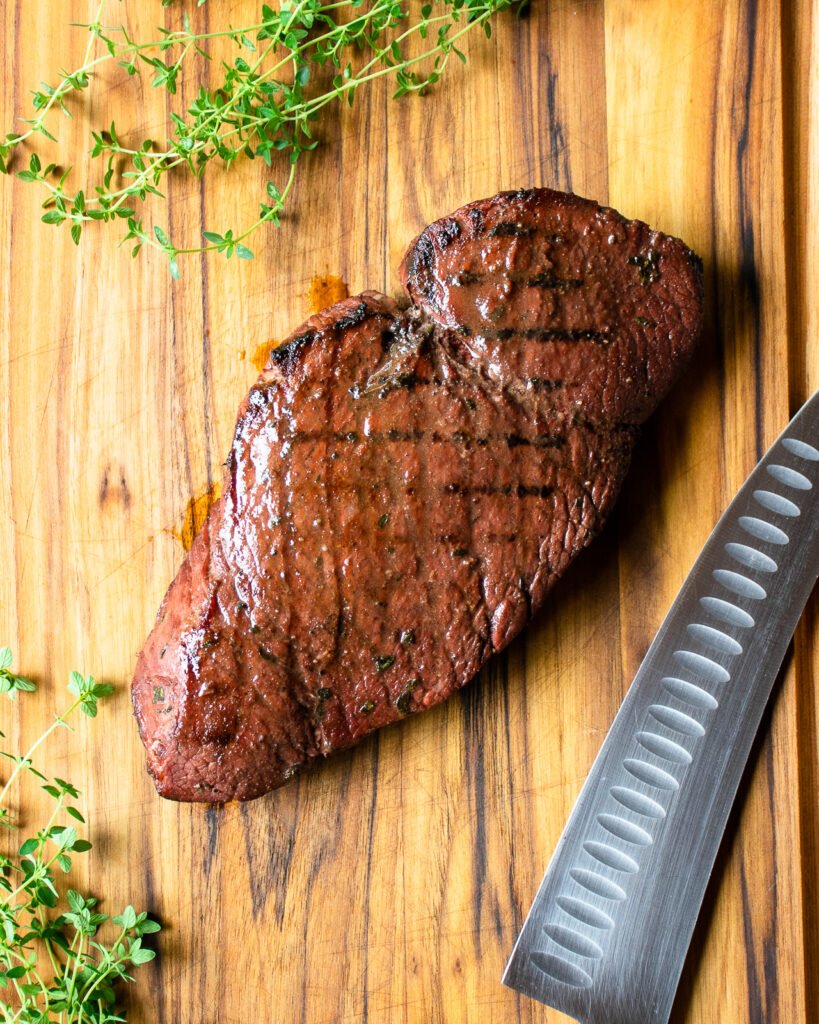 Cut Across the Grain
When it comes to slicing the steak, you will want to cut "against the grain". That can be confusing. The "grain" of the meat is the direction that the muscle fibers are running. You'll see the grain as lines in the meat. It's easier to identify the grain in certain cuts of meat like flank or skirt steak and often it's easier to see the grain in raw meat than after it is cooked, so take a look at the steak before you cook it. Once you've identified the grain, slice perpendicular to those lines. That is cutting against the grain. It's important to slice the steak this way because the grain (or muscle fibers) are what causes a steak to be tough. By cutting across these fibers you shorten them and as a result you don't have to chew the tough meat. If you start slicing and see more pronounced lines in the cross section of the steak, you've sliced the wrong way. Don't fret, just turn the steak 90º and start again.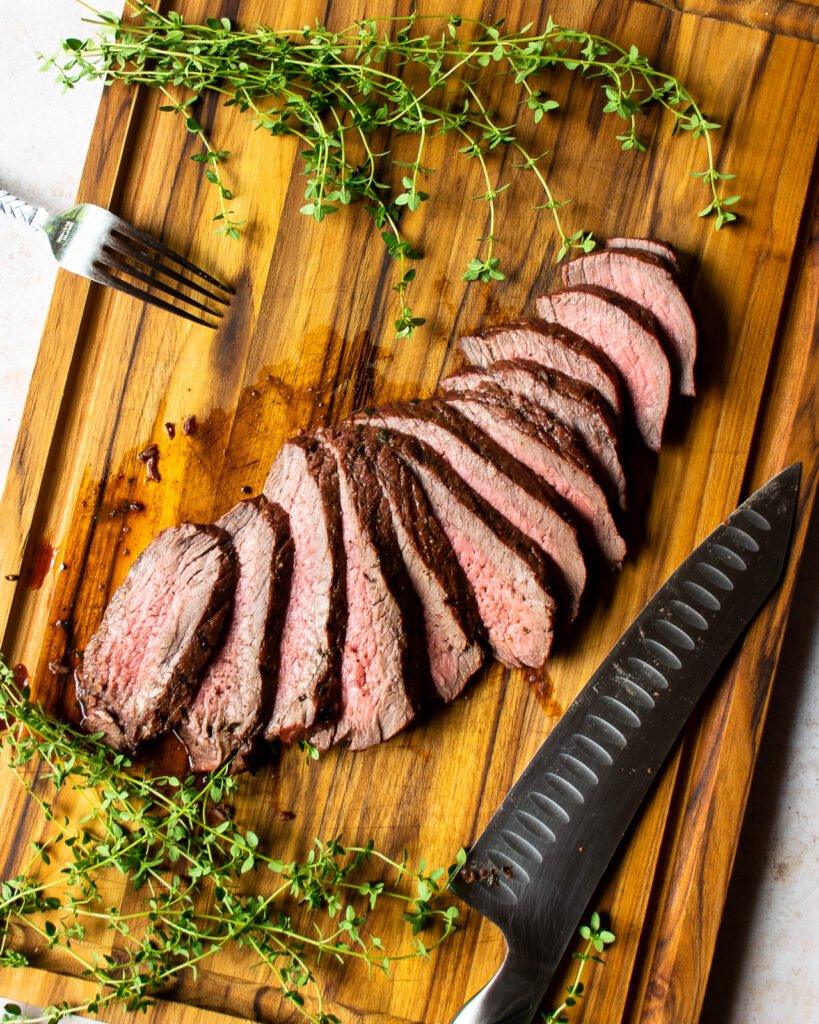 What to Serve with London Broil
This recipe for grilled marinated London Broil is versatile. It is your classic steak meal with a red wine jus so you can serve it with your classic vegetable side dishes like potato galette or a twice baked stuffed potato and a green vegetable or salad. If you want to keep your side dishes on the grill or at least off the stovetop, you could serve this with the refreshing cucumber salad or the hearty and colorful grilled panzanella salad.