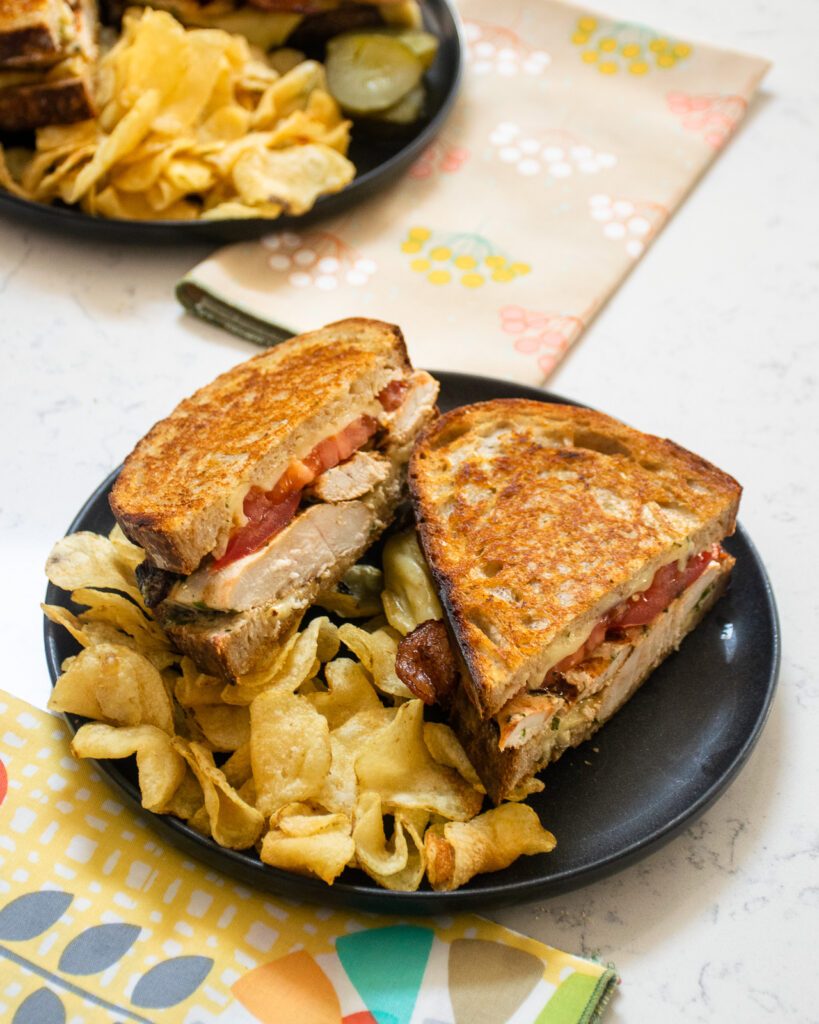 Sandwiches for Lunch or Dinner
Maybe it's because I always had a sandwich in my lunch as a kid, or maybe it's because it truly is the perfect vessel for any number of delicious ingredients, but I love a good sandwich. I crave good sandwiches. Sometimes, all I want to make is a sandwich and there's no reason to keep that relegated to lunchtime. This grilled chicken club sandwich is BIG. If I'm enjoying it for lunch, half a sandwich is enough for me. If you're having sandwich night for dinner, you might be able to indulge in a whole one if you're really hungry.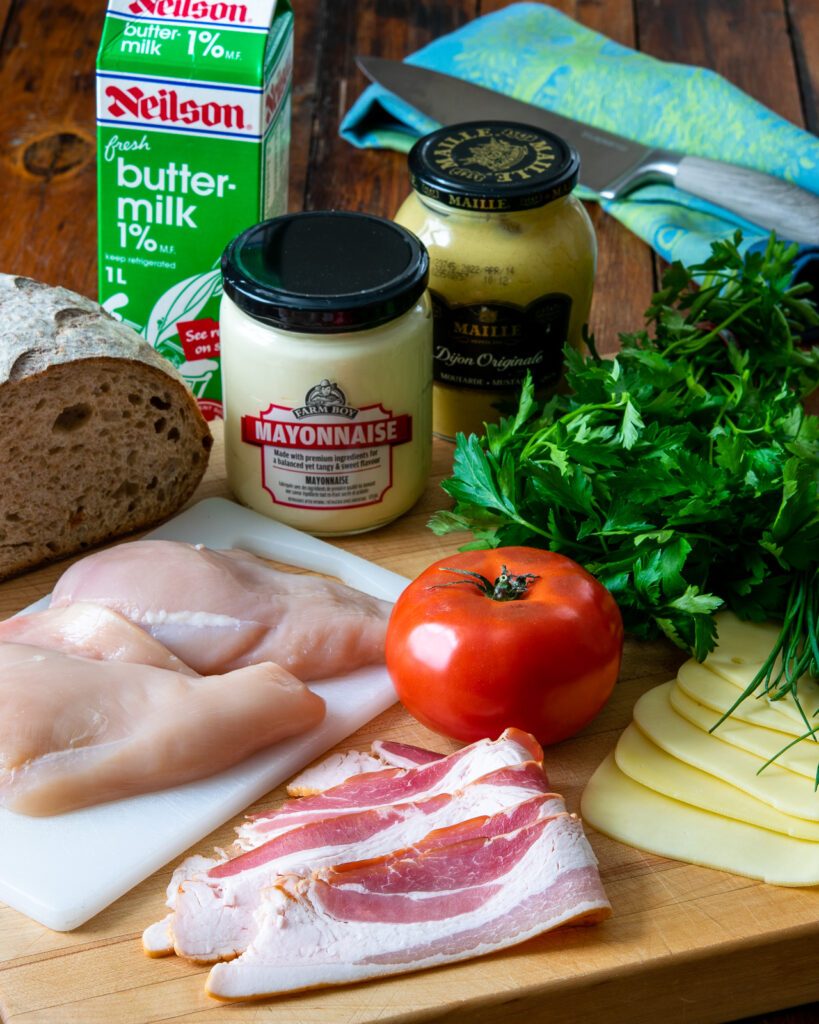 What makes a club sandwich a club sandwich?
There are a few stories out there on what makes a club sandwich a "club sandwich". Some people think a club sandwich needs to have three pieces of bread, but I think that just makes a sandwich difficult to eat and the original club sandwich did not (according to the Good Housekeeping Cookbook). Others feel a club sandwich needs to have bacon, lettuce and tomato, but to me that is really the definition of a BLT sandwich. For the definition of a club sandwich I side with James Beard, who said that a club sandwich always includes chicken, bacon, tomato, lettuce, mayonnaise and toasted bread (except I've decided to leave out the lettuce). So, you can call this sandwich a club or not. I just call it delicious.
Marinating Chicken for a Club Sandwich
The chicken is key to this grilled chicken club sandwich, so I wanted to make sure it was moist and delicious. In this recipe, the chicken is marinated in a buttermilk and herb marinade. That helps tenderize the chicken, adds moisture and gives the chicken great browning ability.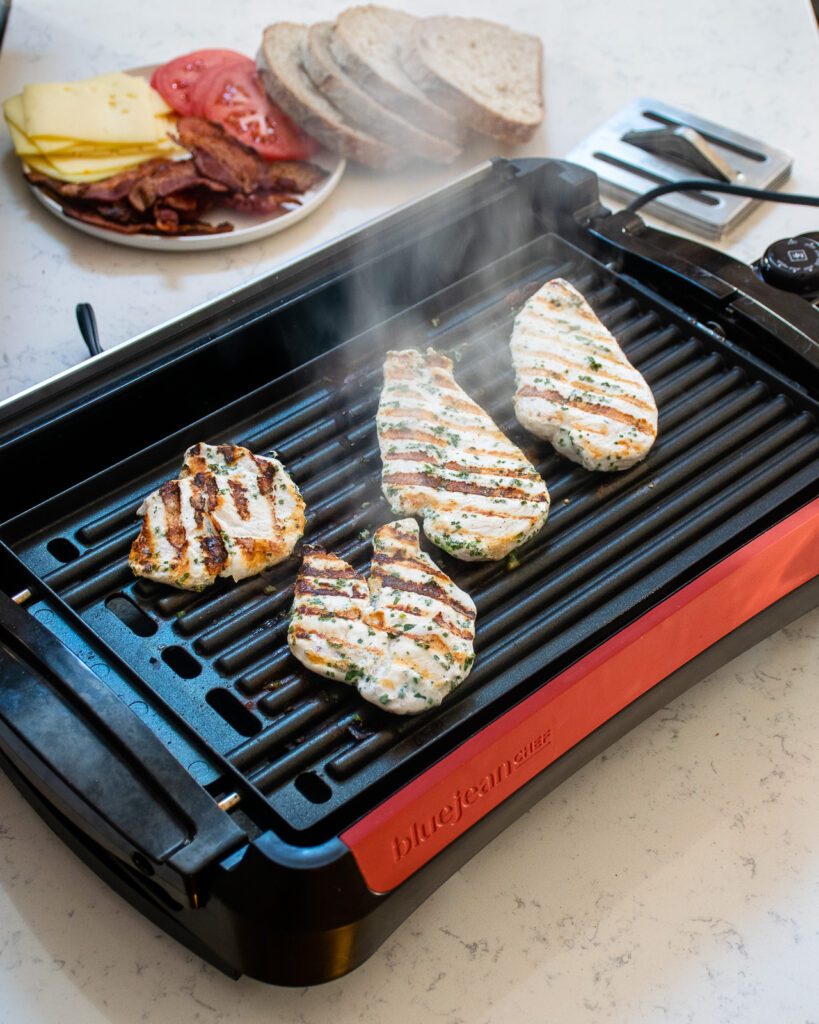 Cooking chicken for a club sandwich
When it comes time to grill the chicken breast, don't let all the marinade drip away from the meat. That buttermilk marinade will brown so nicely, giving you great grill marks and the herbs add a lot of flavor to the chicken. If you don't have the ability to grill the chicken, you can cook it on a griddle or in a sauté pan or skillet.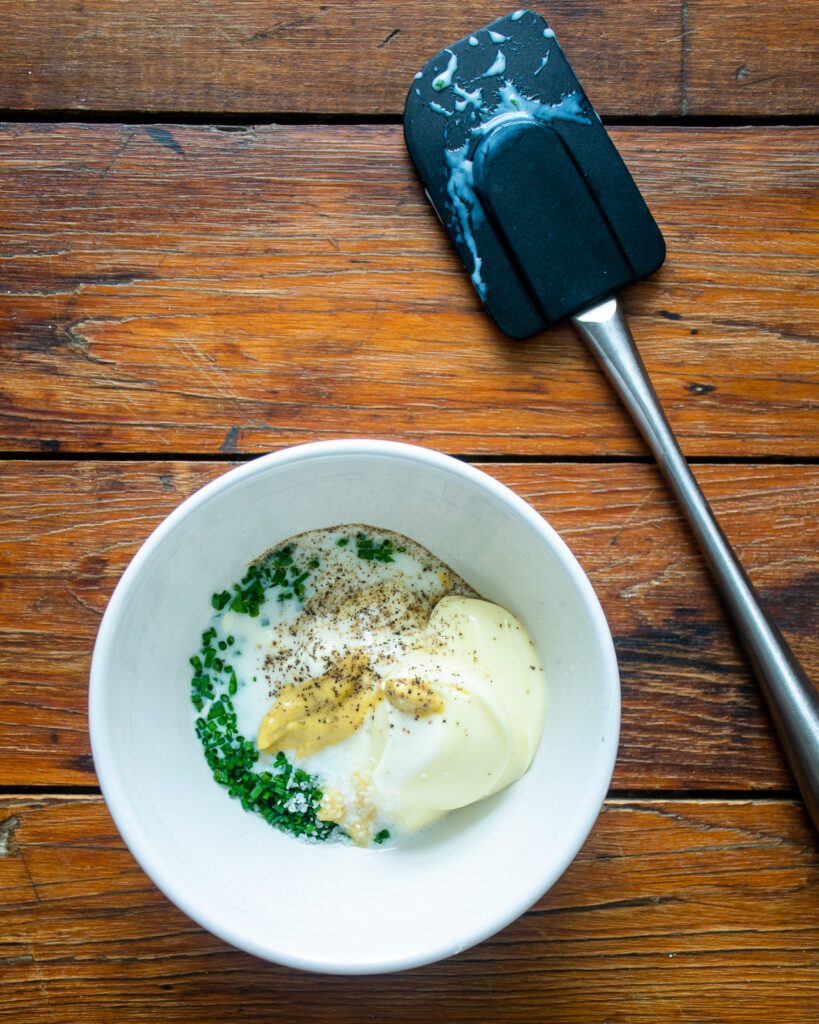 Sandwich spread
Mayonnaise is the base for this club sandwich's spread. The spread mimics the marinade for the chicken with the same herbs and a little buttermilk, along with some Dijon mustard for a little zest. You won't have any leftovers (or not much), but if you did, adding a little more buttermilk turns this spread into a tasty salad dressing.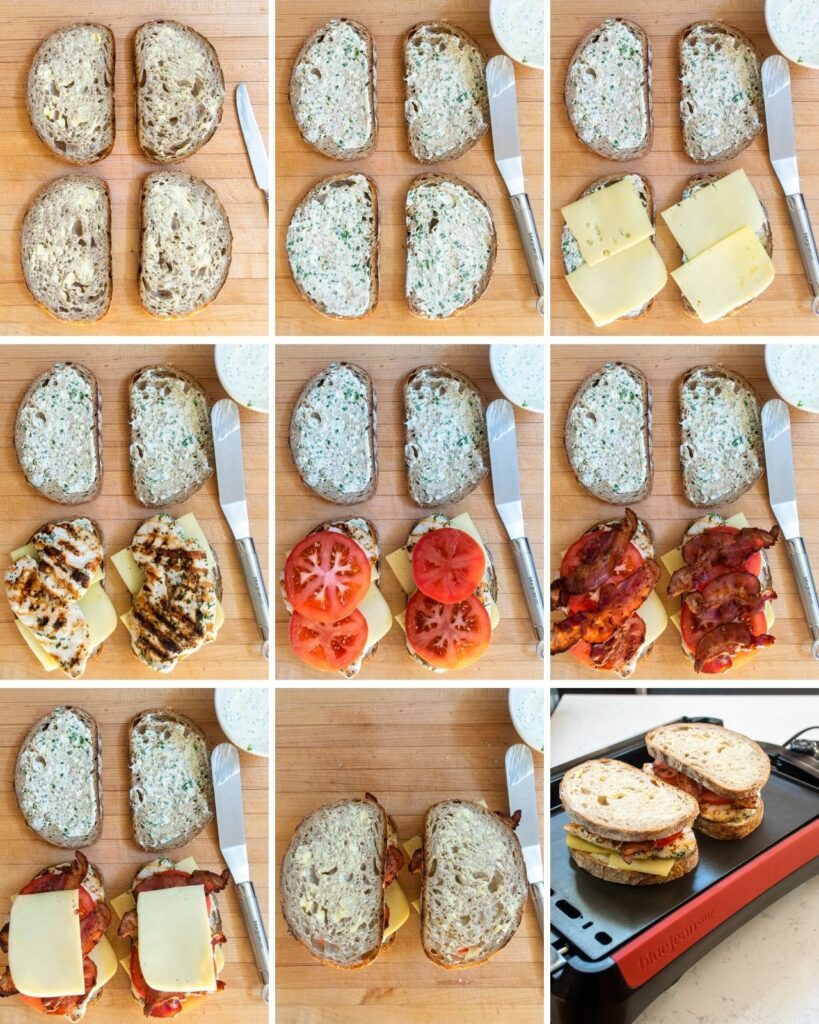 How to Make a Chicken Club Sandwich
Building the club is easy. It's a simple layering act, but do remember to butter the outside of the bread slices and make sure that you have cheese next to both slices of bread in the sandwich. The melted cheese acts as the glue between the bread and the other ingredients.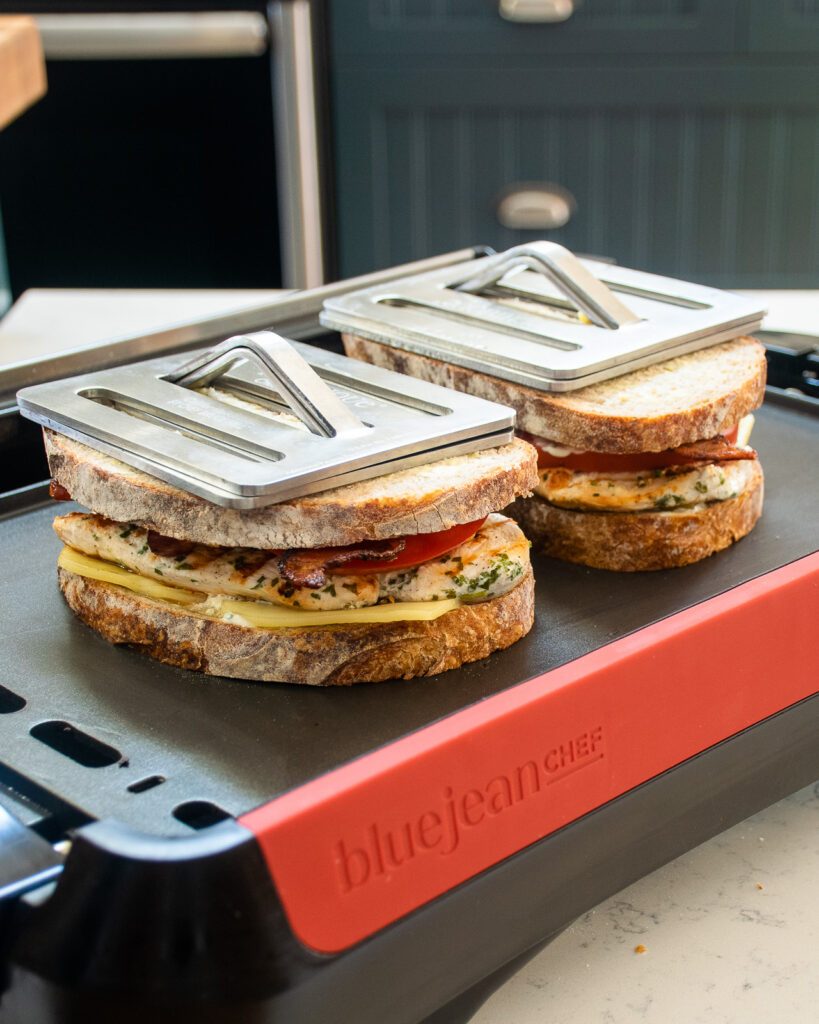 Pressing a Grilled Club Sandwich
When you have your sandwiches built, it will be very obvious to you that fitting a sandwich this big into your mouth would be a challenge. That's why it's important to press the sandwiches as they cook. I use these mini chef's presses which work perfectly. If you don't have a bacon press of some kind, you can place a baking sheet on top and weigh it down with some heavy cans. Alternately, you can press down on the sandwich with a flat spatula, but you'll be standing there pressing while the sandwiches toast. The mini presses are a great investment.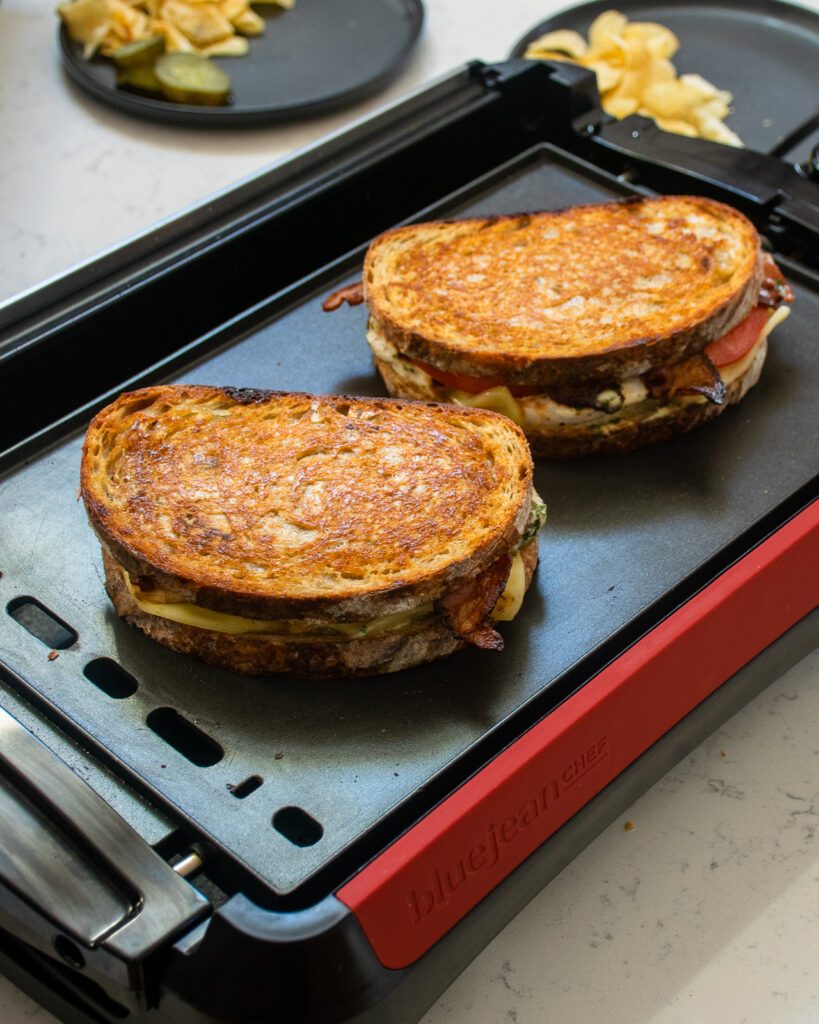 Bread for a Club Sandwich
The bread is always an important part of any sandwich. My choice for this sandwich is some artisan sourdough. You don't have to make it yourself, but… you could. If not sourdough, then I suggest a wheat or white bread, but do make sure the bread is hearty enough to grill (or griddle) nicely. It needs to be strong enough to carry the ingredients and hold its own.
What to Serve with a Chicken Club
Some say that a club sandwich is only a club sandwich if it is served with potato chips, and that does seem to be the obvious choice, but you can also serve a club sandwich with a green side salad, potato salad, coleslaw and of course, some bread and butter pickles.