What is Chicken Shawarma?
Traditionally "shawarma" is a middle-eastern preparation of lamb or beef, where slices of the meat are stacked on top of each other in a cone shape and then roasted on a vertical spit. Once cooked, the meat is sliced and served. This recipe for chicken shawarma wraps replicates the middle-eastern flavors of shawarma but instead of marinating, slicing and roasting on a vertical spit, the chicken cooks in an air fryer, making it super easy and super quick.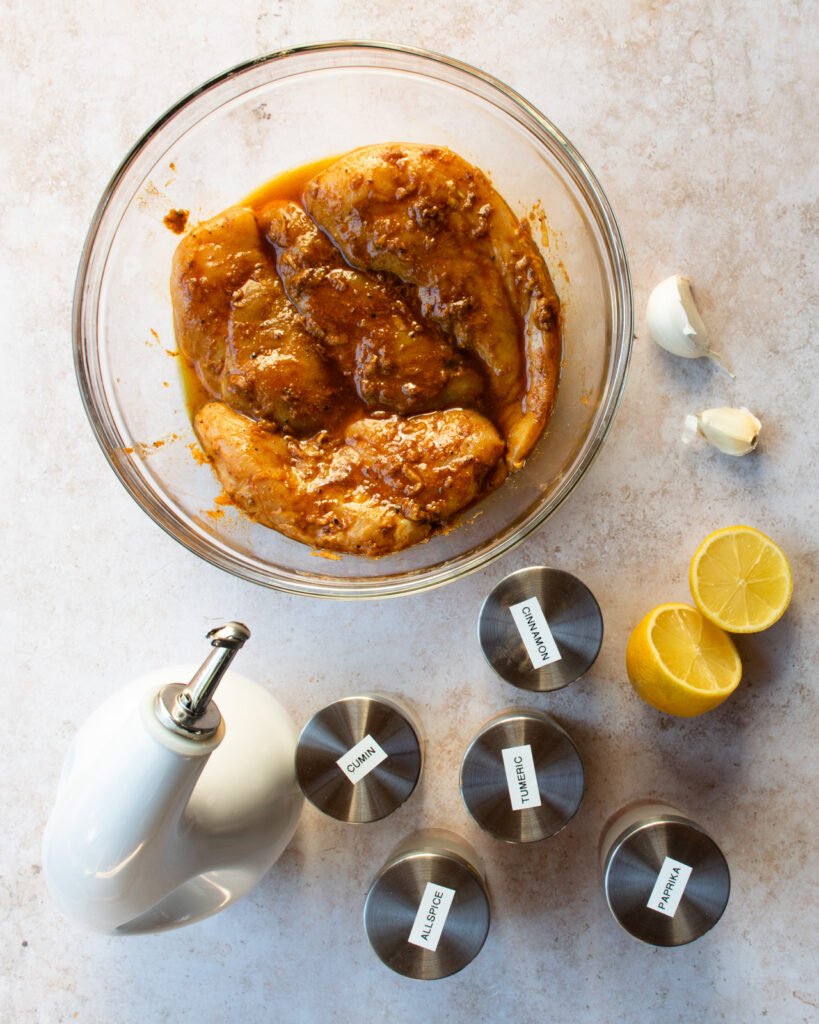 Marinade for Chicken Shawarma
All the flavor in this recipe comes from the marinade, which is an easy stir together of spices, lemon juice and olive oil. All of these spices are easy to find in your grocery store, with the possible exception of ground allspice. Although it sounds like a combination of spices, allspice is actually the ground berry of a plant in the myrtle family. If you don't have any on hand, you could leave it out or add a pinch of nutmeg, a pinch of ground cloves and a little extra ground cinnamon.
Marinating does take time, but don't be dissuaded if you haven't planned accordingly for this recipe. A little marinating time is better than nothing. Let the chicken marinate while you make the tomato-cucumber salad and tahini sauce for the wraps, and although it won't be quite as flavorful as letting it marinate overnight, it will still be tasty.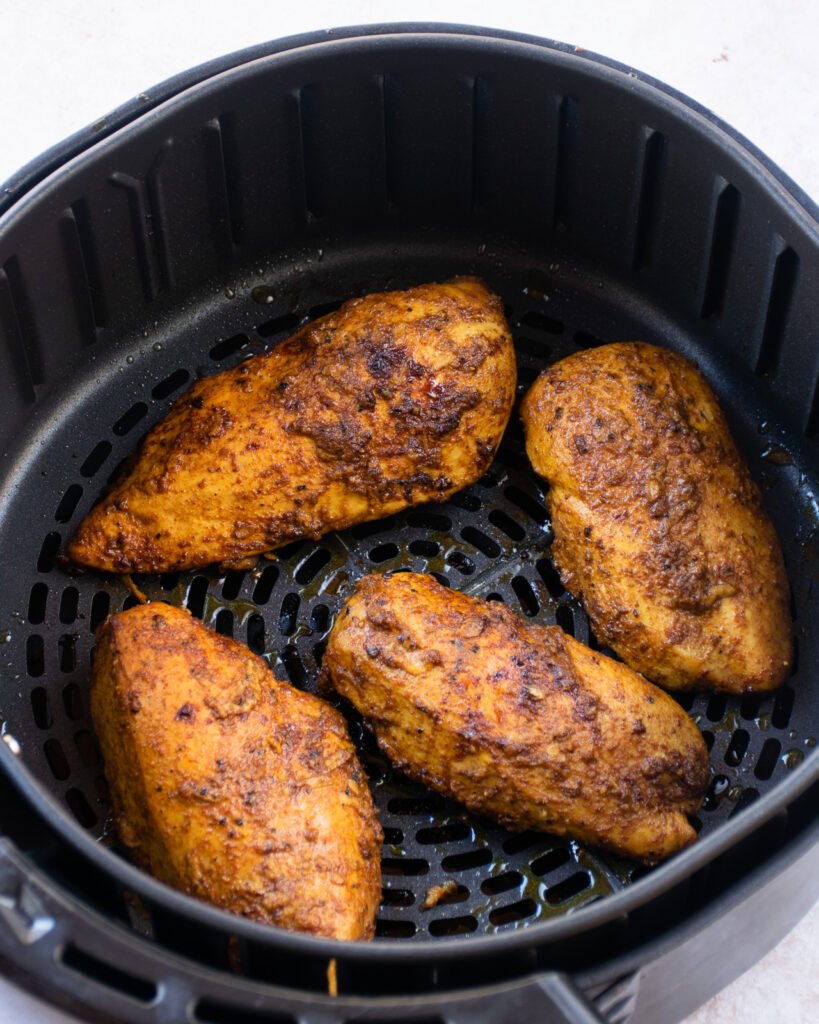 Air-Fried Chicken Shawarma
Air-frying the chicken for this wrap certainly speeds up the process. Air-fryers, after all, only need a couple of minutes of pre-heating time and they cook very quickly by using convection heat in a very compact area.  Cook the chicken for the shawarma the same way you would air-fry a regular chicken breast (which you can read about here.) It will take 8 to 10 minutes, flipping the chicken over halfway through the cooking time. The air fryer is also a very tidy way to cook the chicken – certainly a lot easier than cleaning up after roasting with a vertical spit!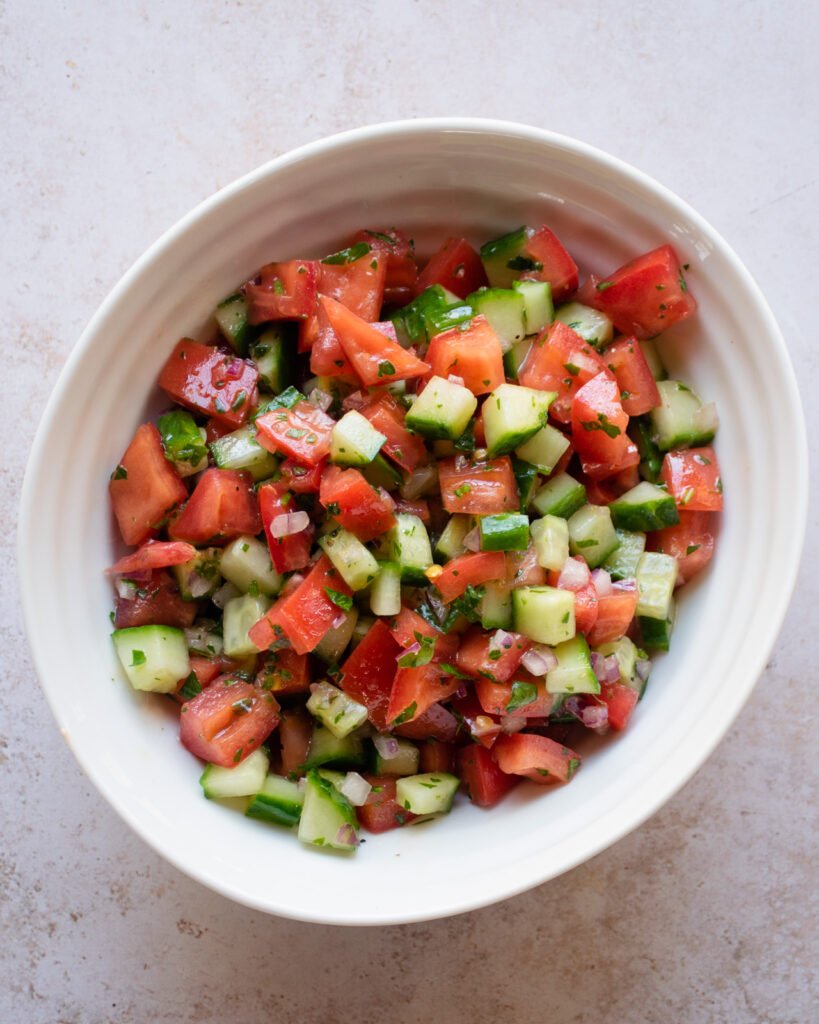 What to Serve with Chicken Shawarma
These chicken shawarma wraps have a few important components in addition to the chicken. The first is a bright tomato-cucumber salad that compliments the earthy flavors of the spiced chicken perfectly. This salad is so tasty and easy to make. It's also a great way to practice your knife skills. (I know you want to!) Sometimes, I eat the chicken shawarma as a salad and toss slices of the chicken with a lot of the tomato-cucumber salad and chopped Romaine lettuce. Then, I drizzle the next component  – the tahini sauce – over the top.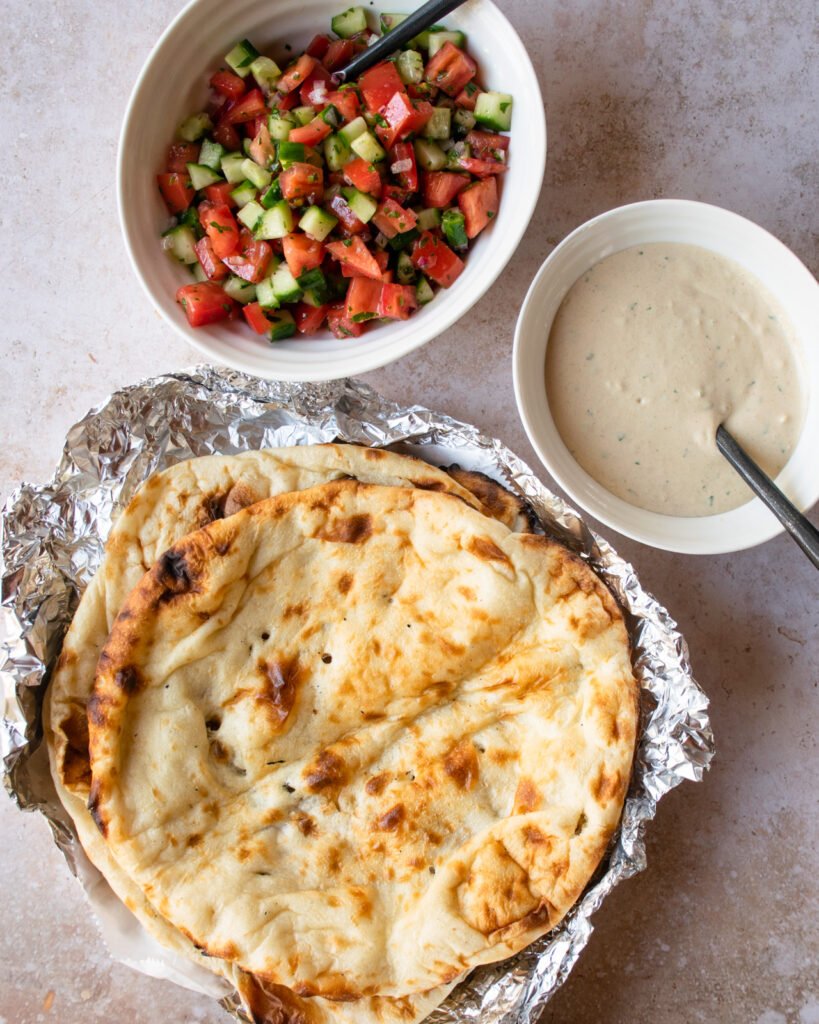 Tahini Sauce
Tahini is basically a sesame paste and it is used a lot in middle eastern foods – think hummus and baba ghanoush. If you have a food processor, this sauce comes together in a few seconds. If you're making the sauce by hand, no worries. Just mince the garlic as finely as you can and then whisk all the ingredients together until the sauce is smooth, adding a little more warm water if you need a little help. As I mentioned above, this is delicious as a salad dressing along with the tomato-cucumber salad, some Romaine lettuce and the slices of chicken. Save any leftover sauce you might have in the refrigerator to use as a salad dressing.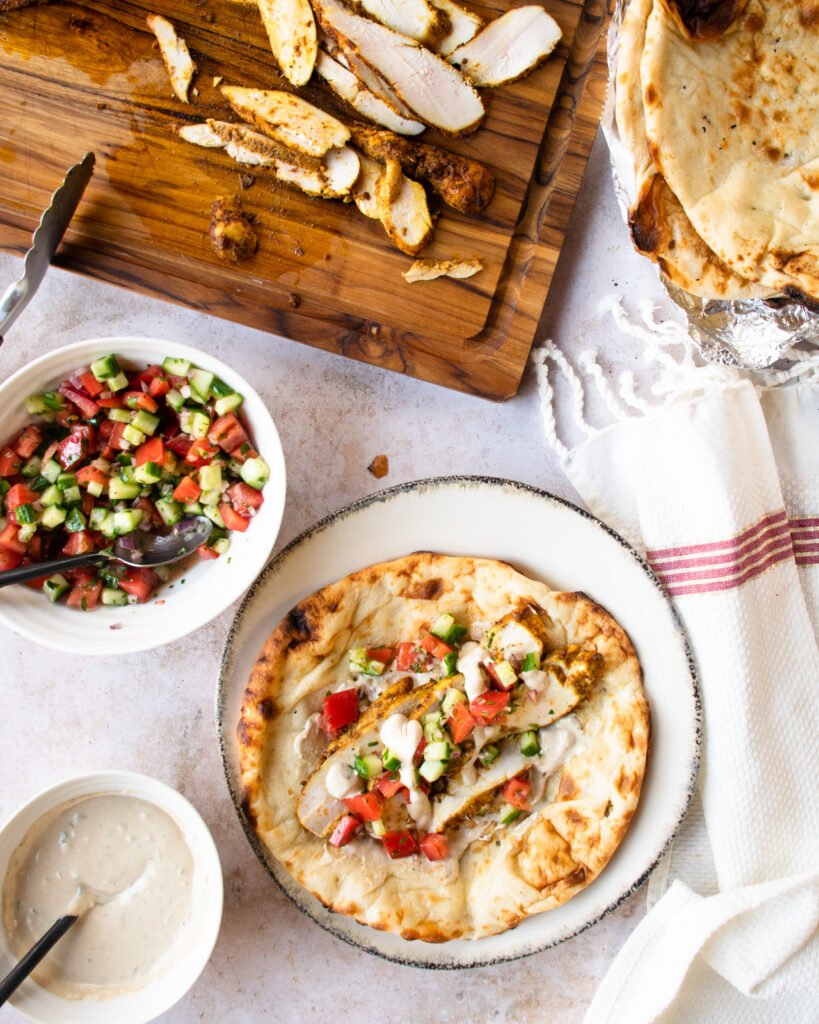 How to Assemble Chicken Shawarma Wraps
The other key to a delicious wrap (and this goes for any sandwich) is the bread. This chicken shawarma wrap is full of hearty ingredients – the chicken, the tomato-cucumber salad and the tahini sauce – and deserves a hearty bread to hold everything together. If you can find naan at an Indian grocery, lucky you! Otherwise, homemade naan is really easy to make. Of course, store-bought naan breads are perfect and fresh pita breads would be very suitable as well. Warm whatever bread you choose in the air fryer for a couple of minutes before building your perfect shawarma wrap. 
Then, spread some of the tahini sauce on the warm naan, top with the chicken and tomato-cucumber salad and wrap it up. If you're making more than one wrap or you just want that street food experience, use some parchment paper wrapped around the sandwich to hold it together. Enjoy!