Best AND Easiest Chicken Salad
Sometimes the best things in life are the simple things, the easy things, the things you don't over-complicate. This chicken salad recipe happens to be the perfect example. I've had so many variations of chicken salad in my life – with grapes, with pecans, with lots of mayonnaise, with just a touch of mayonnaise, with yogurt instead of mayonnaise, with herbs, with honey, with pickle juice. None of these variations measure up to this one. This chicken salad has only a few ingredients, and by using a food processor to chop the chicken, this recipe goes right to the top of the "easy-to-make" list.
Best Way to Use up Leftover Chicken
If you happen to have leftover chicken, this is hands down one of the best ways to use it up. This chicken salad is so tasty, in fact, that you might want to roast a chicken just so you can have leftovers to make it. That would be one way to ensure you have the most important ingredient – cooked chicken. If you don't have leftover cooked chicken, however, you could also quickly air fry some chicken breasts. You'll find instructions on how to do that here.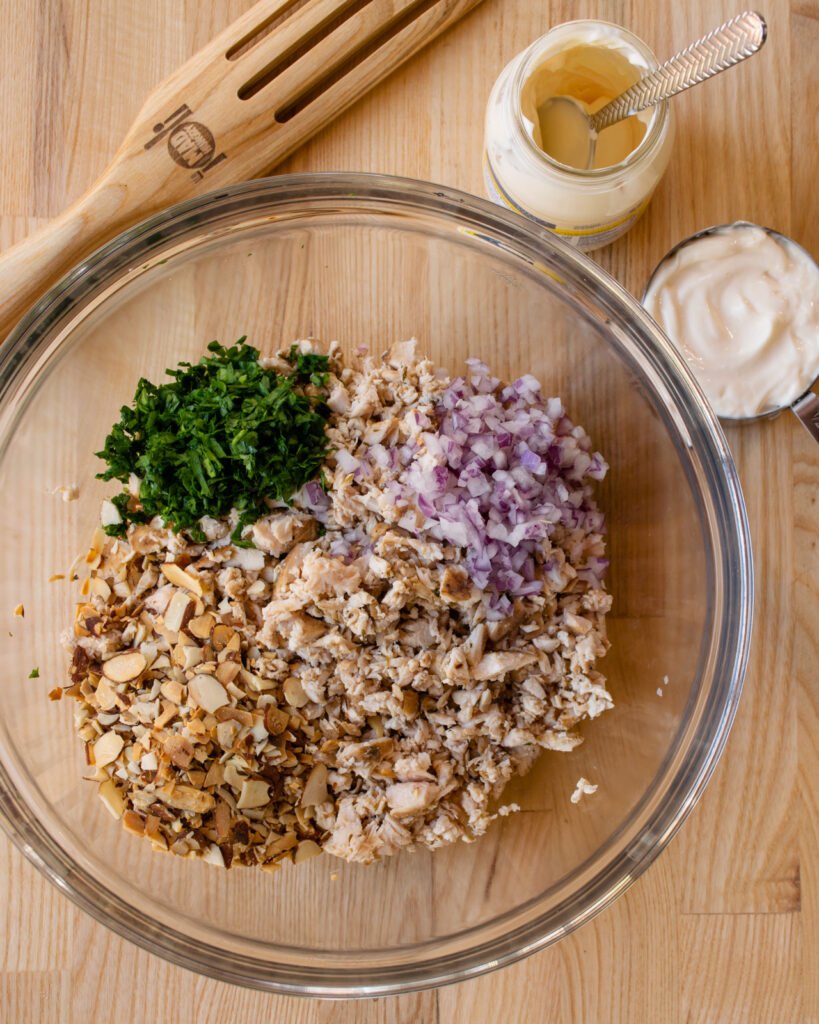 Ingredients for Chicken Salad
Once you have the chicken, the rest of the ingredients are plain and simple. You will need some mayonnaise – not as much as a lot of other recipes, but it's important to hold the salad together. You'll also add some red onion. I like to soak my chopped red onion in cold water for 20 minutes before adding it to the salad. It takes away some of the harsh flavor of the onion and makes it more digestible. Drain it and dry it well with a paper towel before adding it to the bowl. Parsley is a nice addition to the salad – it gives it a fresh flavor and some color – but not essential. The toasted sliced almonds, on the other hand, are critical. They add such a delicious flavor and really make this recipe a standout in the world of chicken salads.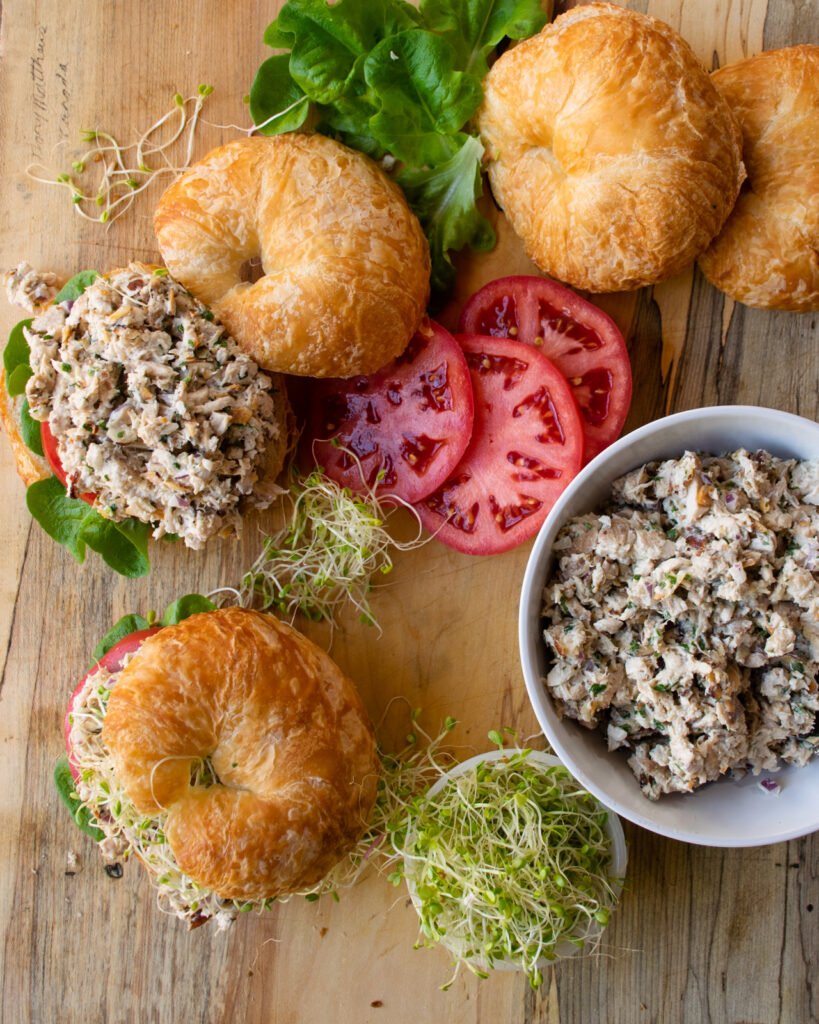 Chicken Salad Croissant Sandwich
The most common way to use chicken salad is in a sandwich, of course. Now that you've made the world's best chicken salad, why not go all out and put it on a delicious croissant? A tender croissant, along with a nice slice of ripe tomato and a few sprouts can really elevate your plain ol' sandwich, but of course, you could go with your favorite rustic bread too.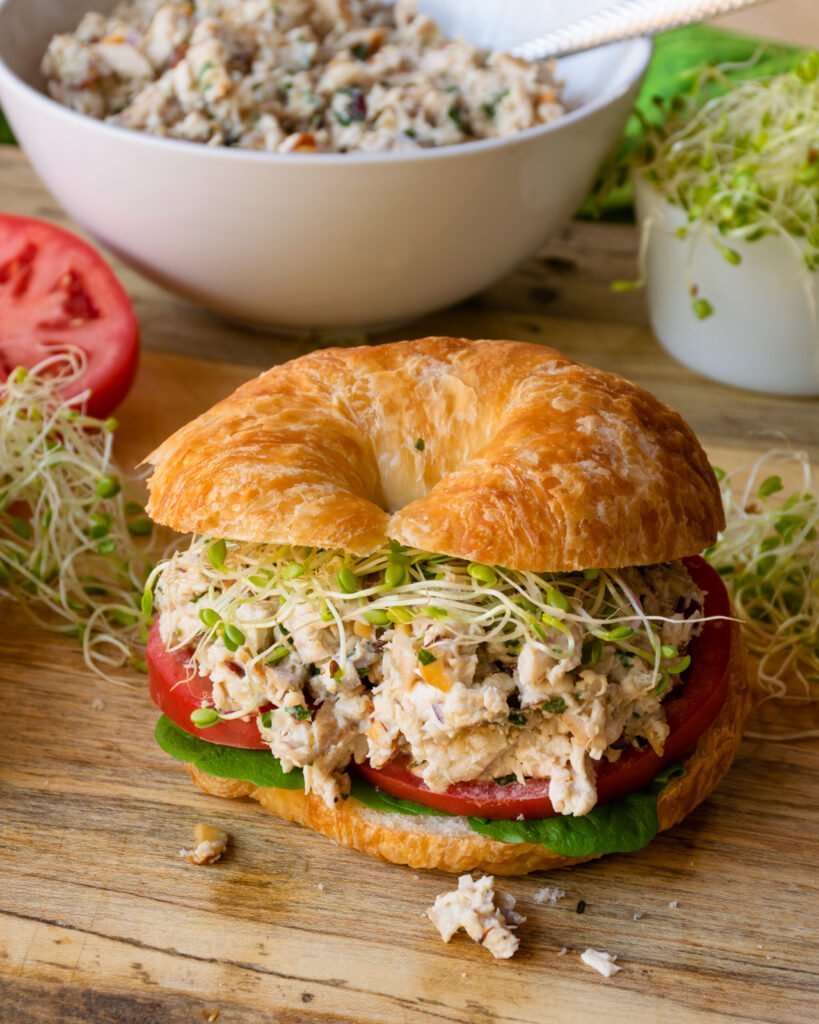 Curried Chicken Salad
If you like the flavor of curry, you can add 1 tablespoon of curry powder to the mayonnaise and stir until it is well mixed. Then, add the mayonnaise to the other ingredients. Give the salad 15 minutes or so for the flavors to really blend. If you feel like going one step further, try adding some golden raisins or a couple spoonfuls of Major Grey's chutney to the mix.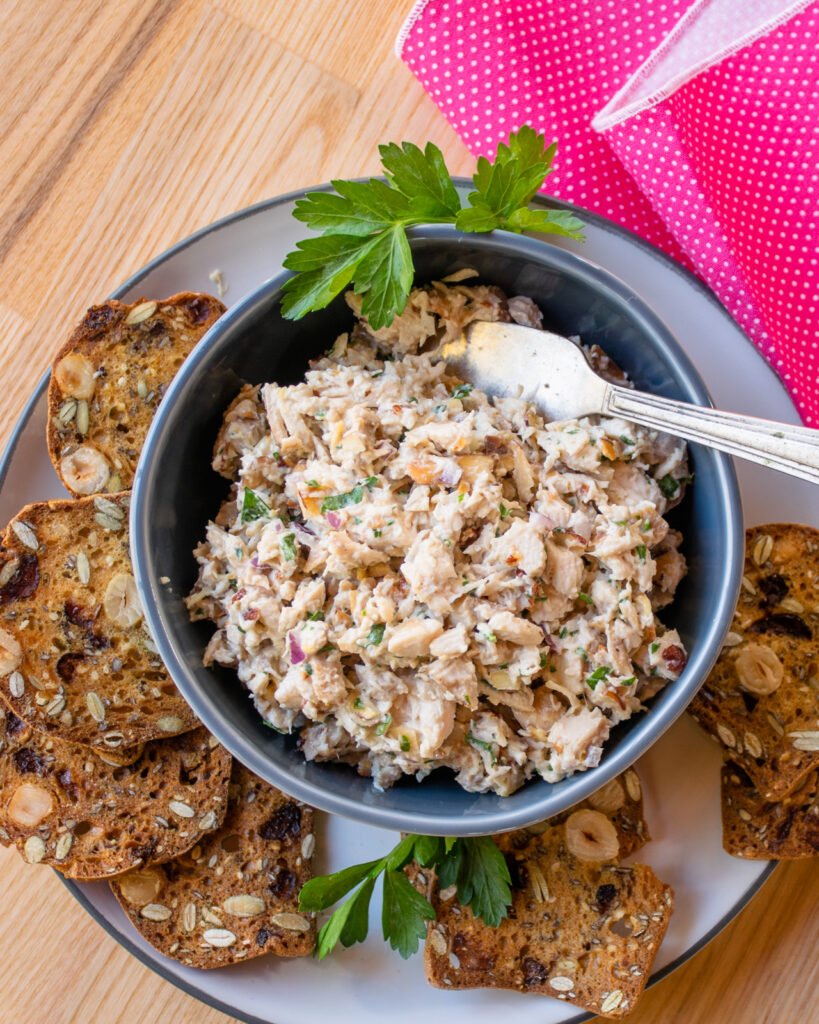 Chicken Salad as a Appetizer or Snack
If a sandwich is not what you're going for, you can also serve this recipe as a snack. Just surround it with a few crackers and let folks spread it on as thick or thin as they like. If gluten free is what you're looking for, you can serve it with endive spears, slices of cucumber, some celery or even just a fork!