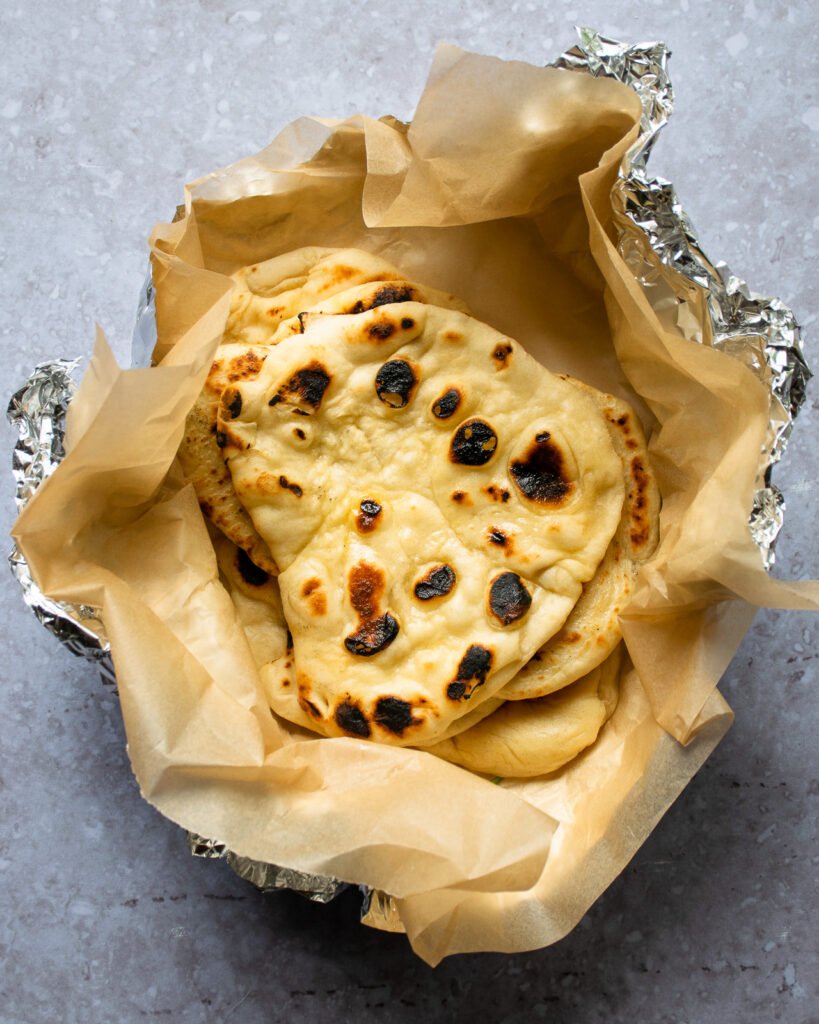 What is Naan Bread?
Naan is a traditional Indian flat bread that is one of my favorite parts of any Indian meal (which incidentally is one of my favorite cuisines). Naan is a soft, tender and pliable bread that is perfect to sop up all the delicious sauce in any curry or Indian dish, but it's also fantastic as a crust for pizza or flatbread, or as a wrap around your favorite ingredients to make a sandwich. Traditionally, naan is made on the side of a super hot tandoori oven, but that doesn't mean you can't make delicious homemade naan bread in your very own kitchen.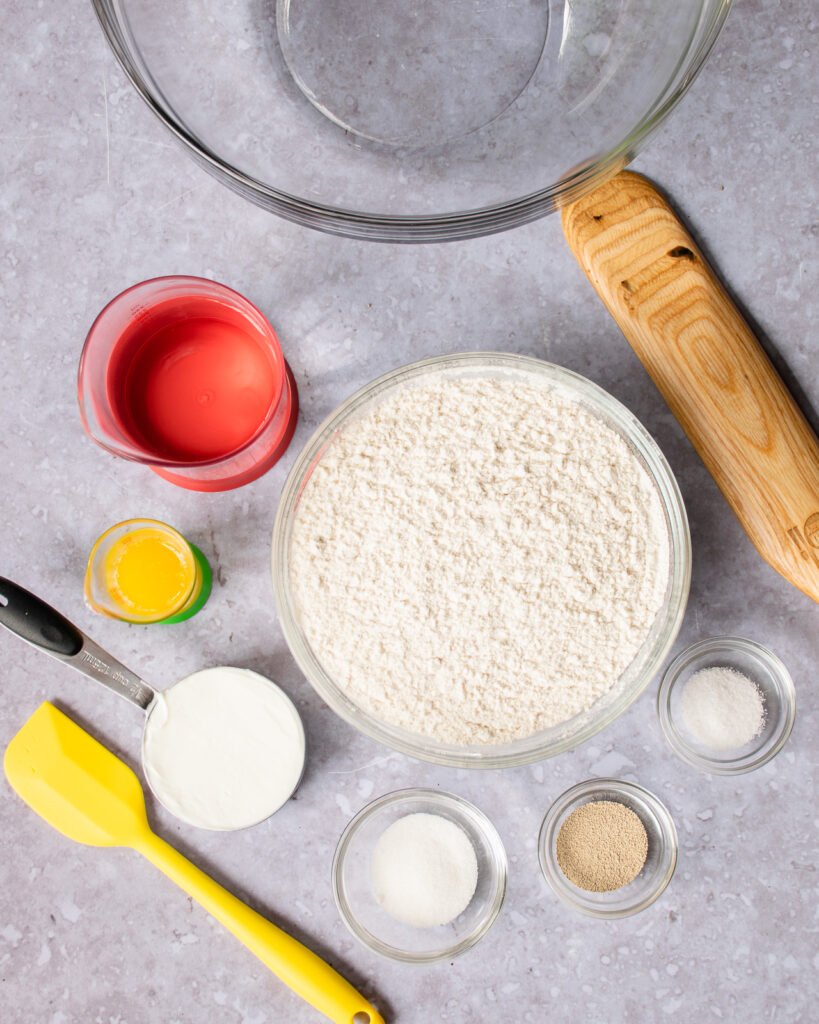 Naan Bread vs. Pita Bread vs. Lavash
There are several varieties of flat bread in the world. The first distinction between naan and many other flat breads is that it is leavened (in other words, it uses yeast or sometimes baking powder to give it rise), which makes it soft and airy. Unleavened flat breads like lavash and tortillas are do not include yeast, baking powder or baking soda and remain very flat when cooked. The other distinct quality of naan bread is that it includes yogurt which gives it flavor and keeps it soft. Middle Eastern pita bread is a leavened flat bread, but it is made of flour, salt, yeast and water (sometimes a little olive oil) and is a little tougher to tear.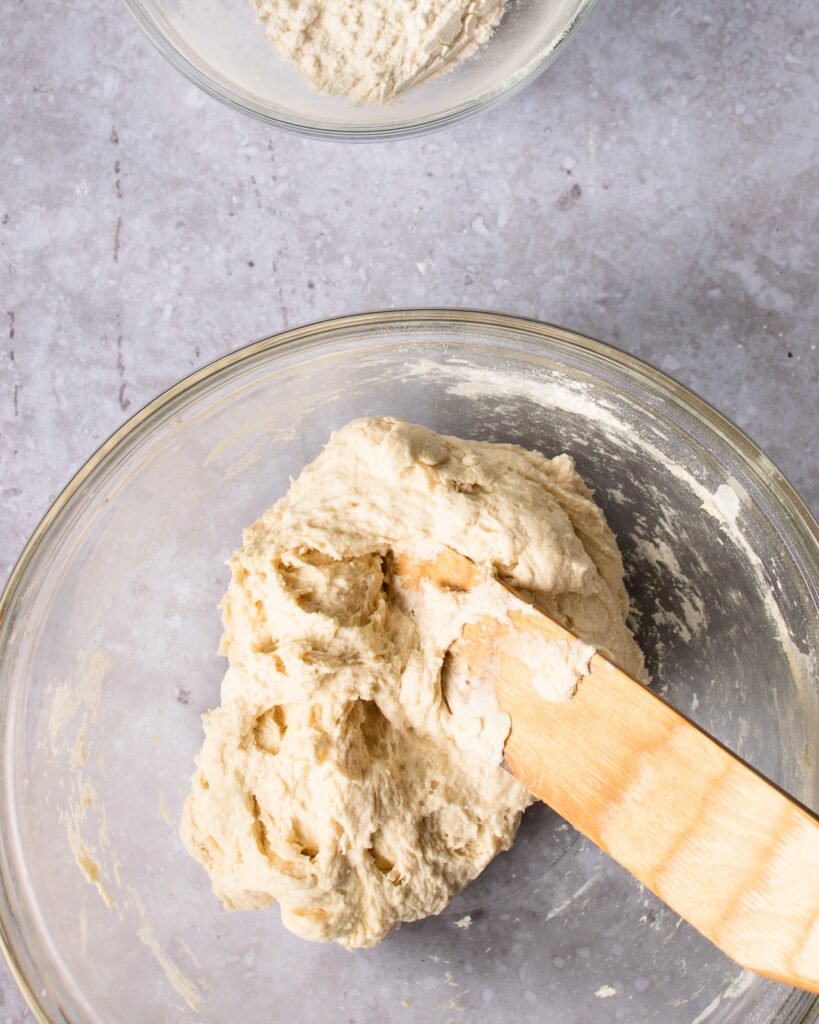 How to Make Naan Bread by Hand
You can definitely use a stand mixer to make homemade naan, but you don't have to. Generally, you won't make more than one batch of dough at a time (8 individual breads) and it takes just a little arm strength to stir everything together and knead the dough. Grab a good wooden spoon and get to work.
Knead Dough?
Don't be intimidated by the fact that you have to knead the dough. It's not hard. Just push the dough away from you, fold it over on itself and repeat. I've said it before and I'll say it again… kneading dough is therapeutic. It's relaxing and repetitive and a perfect way to spend 5 or 10 minutes meditating or thinking something out. Who couldn't use 5 or 10 minutes of therapy, after all? When you're done, the dough will have a smooth feeling to it. If you stroke the dough, it should feel like a horse's nose.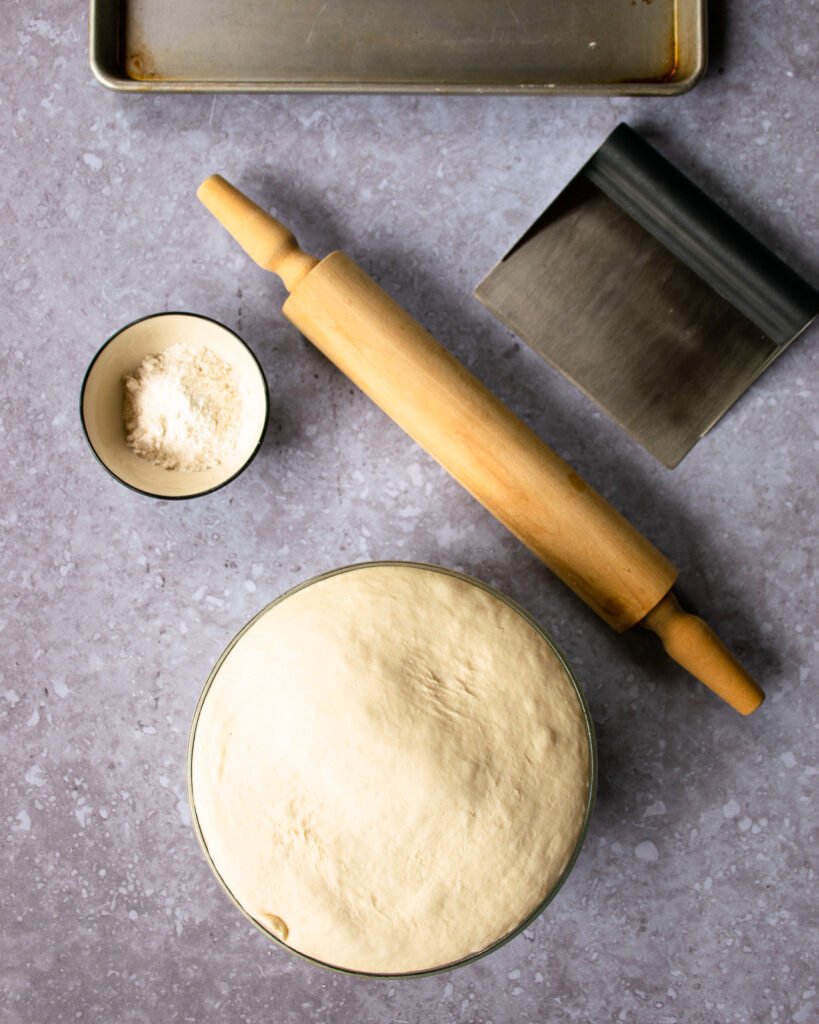 Let it Rise
Naan only needs one rise and that rise time will depend on how warm your environment is. One to two hours is plenty of time. You'll know when the time is up because the dough will have doubled in volume. The next step is the most fun – give it a slap or light punch and the dough will drop. Gather it up in your hands, dump it onto a lightly floured surface and move on to the next step.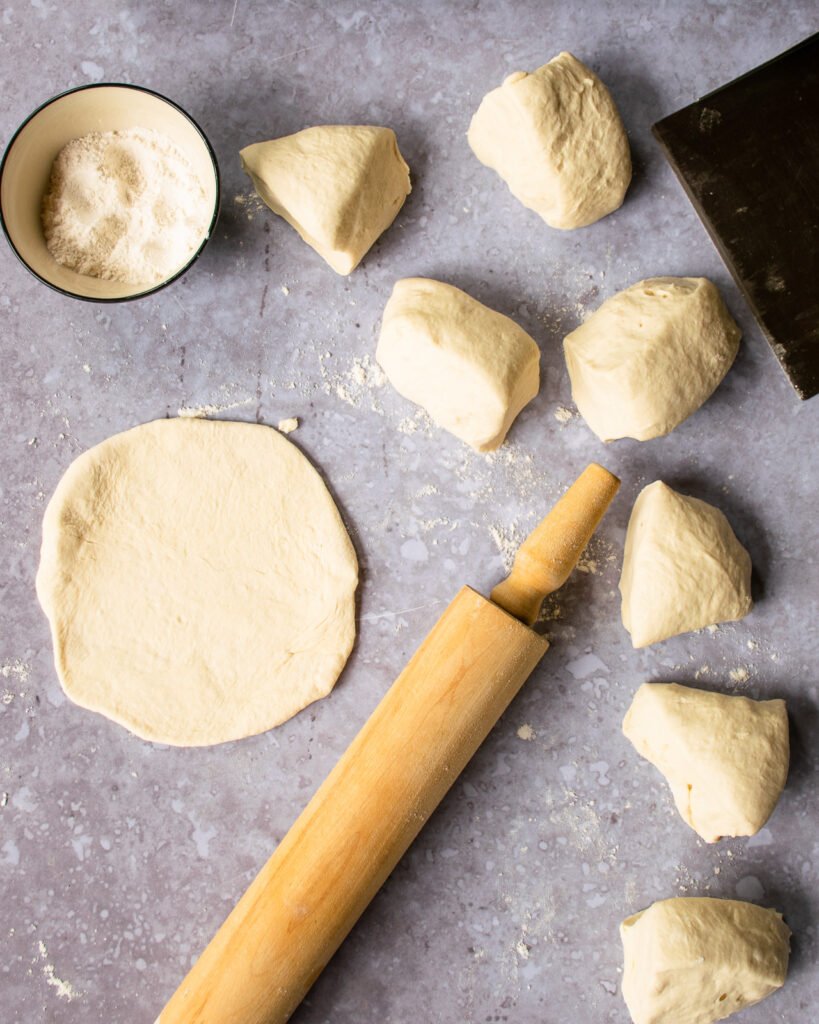 Roll it Thin
Divide the dough into 8 portions (or 6 portions if you want really big naan) and roll out one portion until it is about ¼-inch thick. It doesn't matter what shape you roll it into as long as it isn't bigger than the diameter of your pan. Some naan breads are round, others are oval, so just make it whatever shape (or shapes) you like.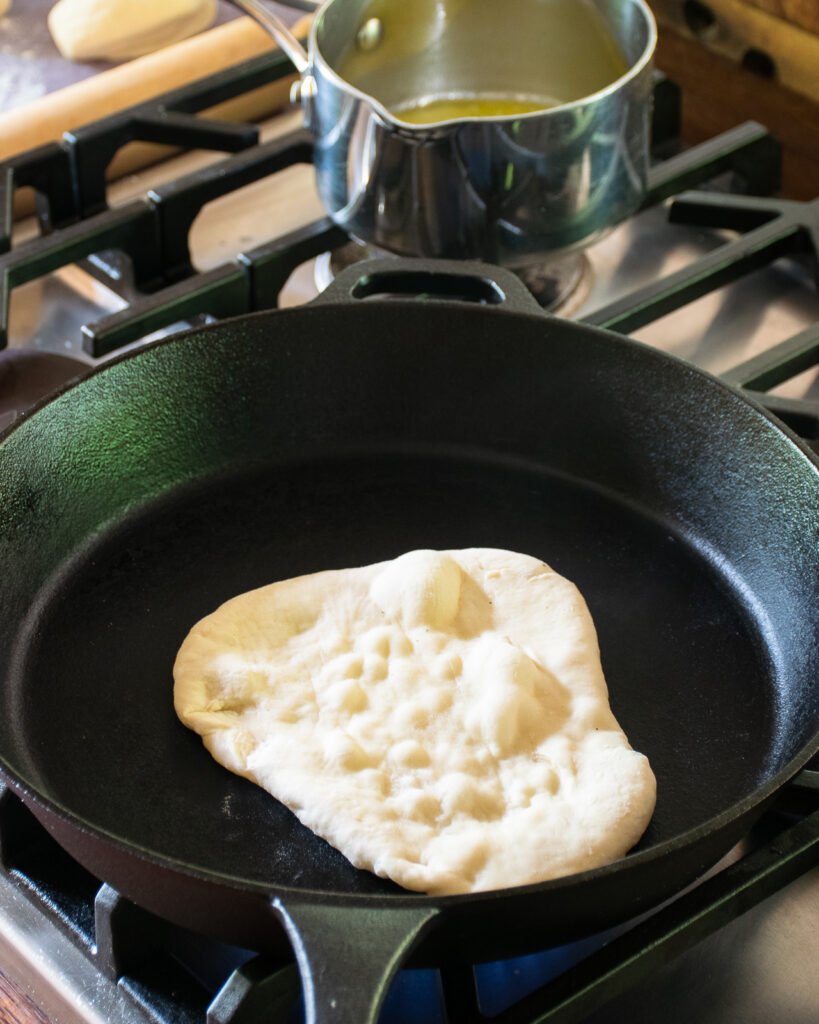 Naan Bread in Cast Iron
Cast iron is the best substitute for a tandoori oven when making homemade naan breads. Pre-heat the cast iron pan over medium to medium-high heat for several minutes. Sprinkle a little water in the pan to test to see if it is ready – the water should evaporate immediately with a quick sizzle. Then, slap the rolled out dough into the hot pan – no butter or oil needed. In a minute or two, the dough will bubble up as it browns on the bottom side.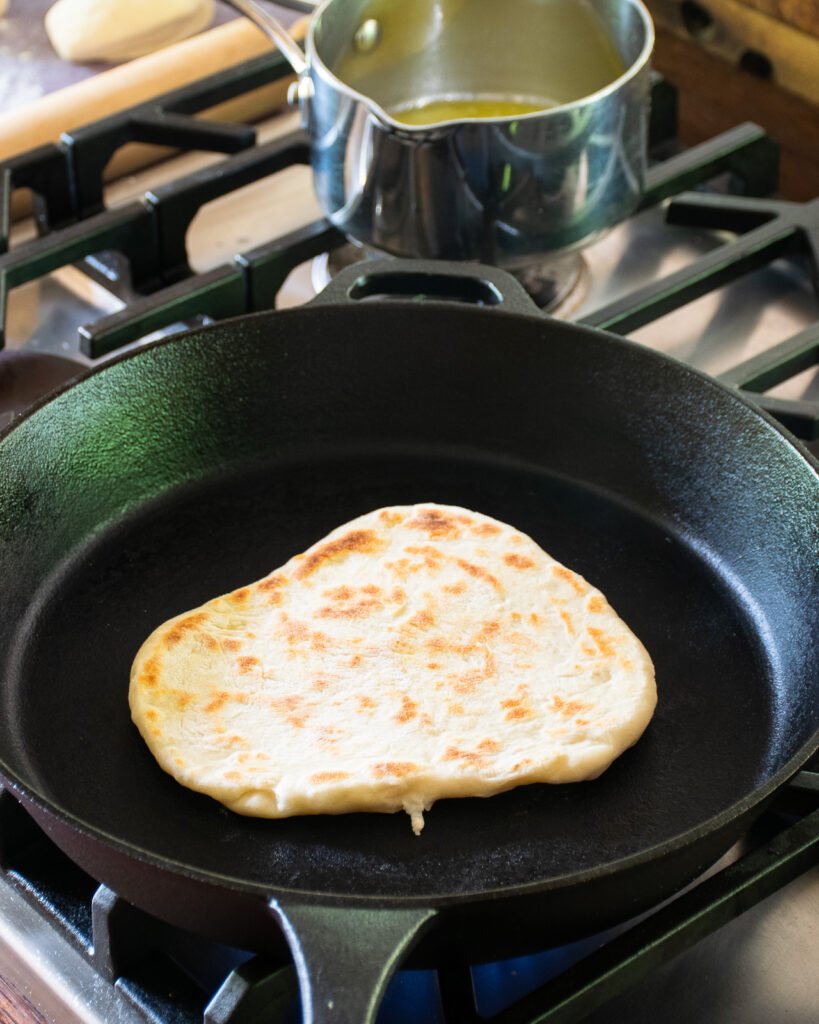 Flip and Finish 2 Ways
Then, there are two different ways to cook the second side. You could flip the dough over and let it brown in the pan (as above), or you could toast the second side over an open gas burner flame (as below) until it gets the distinctive brown speckles that naan is known for. I tend to do a mixture of the two methods and even toast the first side of the naan too to get a little charring of the surface. If you don't have a gas burner, don't worry – just cook the second side in the hot pan on the stovetop. Whichever method you use, brush both sides of the warm naan with melted butter and season with any of the optional seasonings – sea salt, chopped fresh cilantro, sesame seeds, nigella seeds, or even poppy seeds if you like. Keep the naan warm in a 170ºF oven until you are ready to serve.
What to Serve with Naan
Naan is traditionally Indian, so it pairs perfectly with Indian dishes of all kinds like this butter chicken, or my sous vide chicken with red curry and coconut recipe. It's far too delicious, however, to only serve it with Indian food. It's the perfect bread for chicken shawarma and is a super quick way to make a pizza like this peach, prosciutto and burrata flatbread. These are just a few options – you will come up with many more.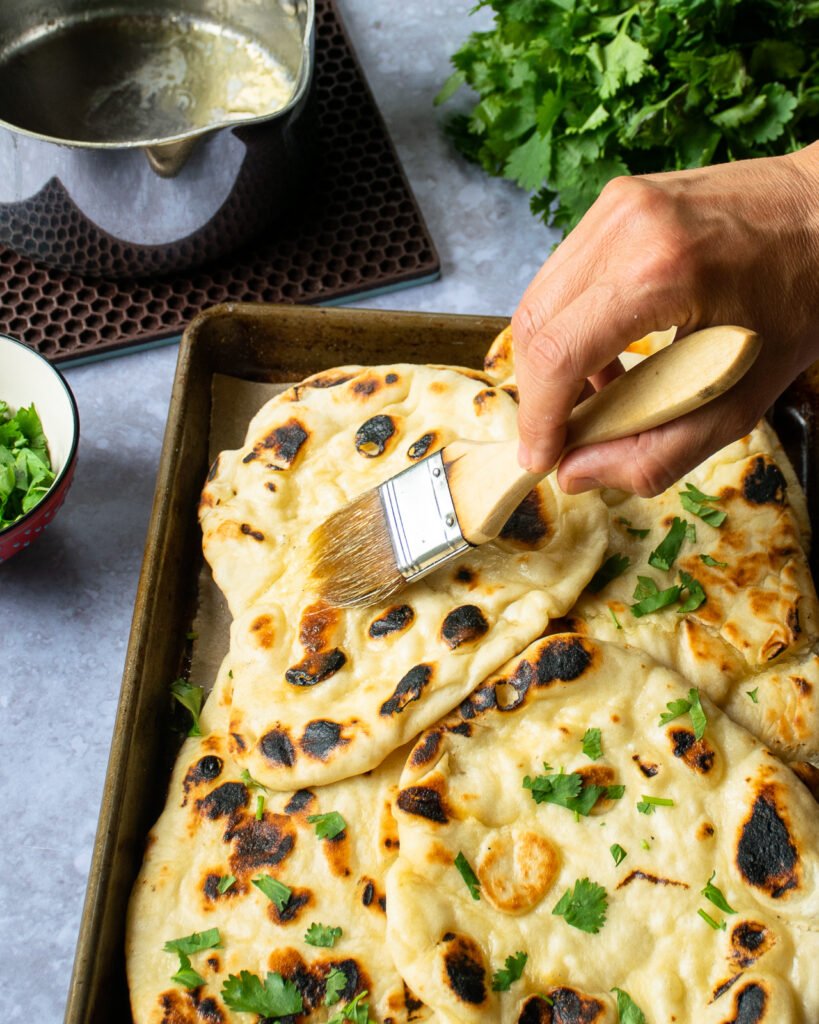 How to Store
Naan, as with most flat breads, is always best eaten fresh, but it will keep wrapped well at room temperature for 2 to 3 days. You can pop it into a zipper sealable plastic bag and keep it refrigerated for up to 5 days and you can also freeze the cooked naan. In order to freeze naan, make sure you let it cool completely first and then put it into a bag, removing as much of the air as possible. Then, freeze and keep it up to a month or two. It defrosts very quickly and is nice to have at a moment's notice. Re-heat the naan by frying it in a little oil in a hot pan for a minute or two, popping it into your air fryer for a couple minutes or wrapping in parchment paper and foil and warming it in the oven for 10 minutes at 350ºF.