A ham is actually the rear leg of the pig, from shank to rump, that has been cured, sometimes smoked and sometimes fully cooked. There are three different preparations of ham that you can buy. The first and most common ham is called a city ham. It is wet-brined, usually smoked and fully cooked when you buy it. It can be eaten just as is, or baked and re-heated properly so that it retains its moisture. The recipe below is for a city ham, which is what most people are probably used to cooking.
The second type of ham you might find, especially if you live in Virginia, Tennessee or anywhere in Appalachia, is called a country ham. A country ham is dry-rubbed with salt and spices and hung to air-cure for months. It may or may not be smoked and it is usually uncooked. The flavor is concentrated and salty and it is not naturally moist. Cooking a country ham takes more attention than cooking a city ham. You need to soak the ham for a day and then simmer it in water to reduce the salty flavor before baking it. 
The final type of ham is a fresh ham (although this is much less common in most grocery stores). A fresh ham is raw and uncured. It is basically the rear leg of the pig. You could cook it the same way you might cook a pork shoulder (probably braise it) or you could cure it yourself at home and then cook it.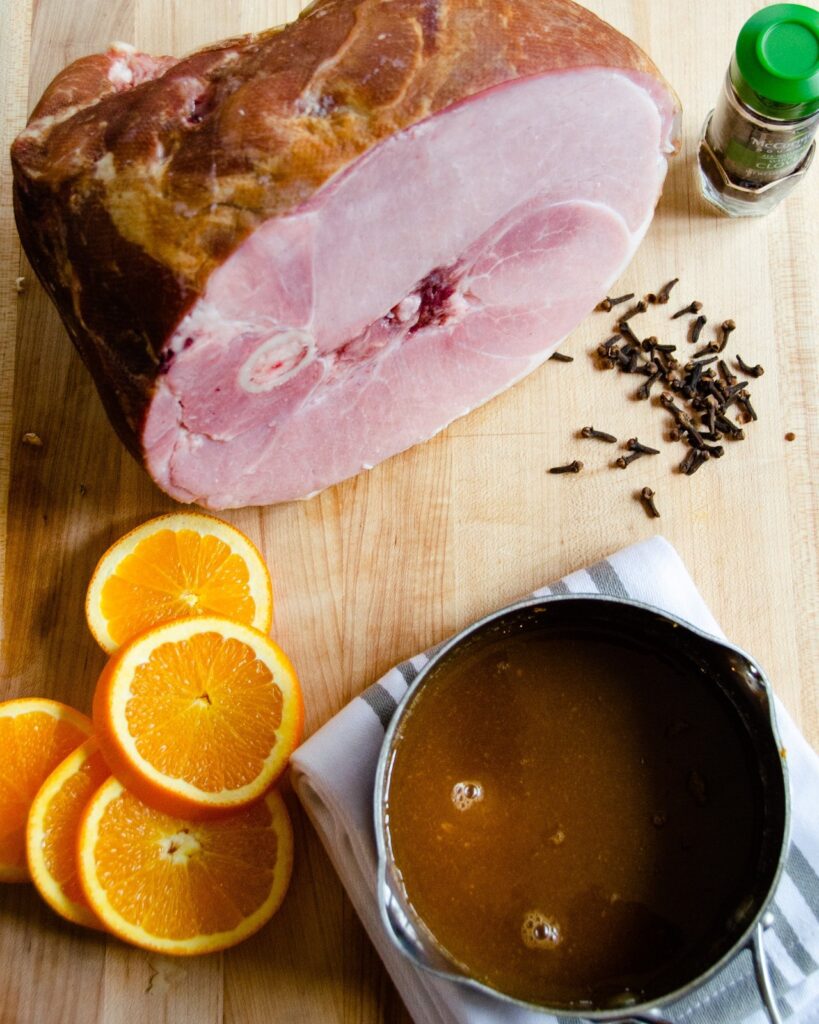 A whole ham is a significant piece of meat so unless you're feeding a huge crowd, you'll probably want to buy half a ham. Bone-in hams are cut into the butt end and the shank end and these two ends do differ slightly. The shank end of the ham has more fat (and consequently more flavor) and is easier to slice because it had one straight bone in it. The butt end of the ham is leaner and more difficult to carve because of the aitchbone (pelvic bone). Boneless hams have had the bone removed and then the meat is forced into an oval shape. The muscle does rejoin and appears to be a single piece of meat when cooked. I've always preferred a bone-in ham because it retains moisture well, tastes fantastic, PLUS you're left with a ham bone which is such a fantastic ingredient for making my favorite soup – split pea. Spiral-cut hams make slicing much easier, but they are more prone to drying out so you'll need to cover the ham with aluminum foil when baking it before removing the foil to glaze the ham for the final stage of baking.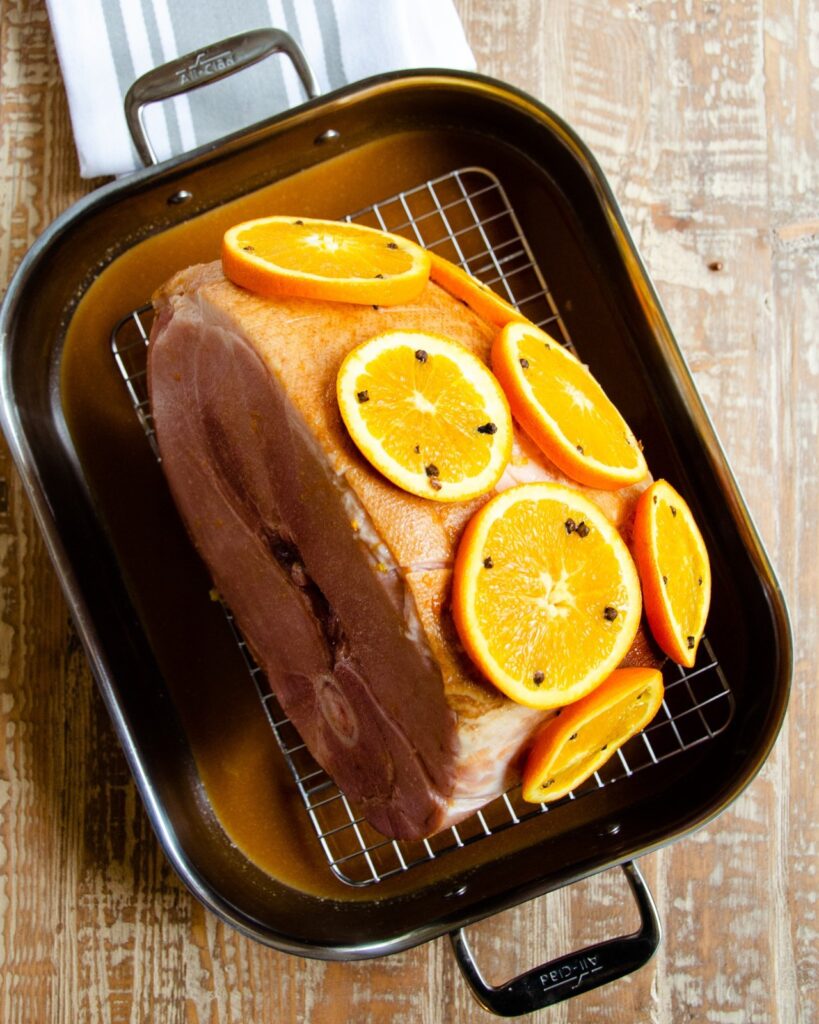 Finally, take a look at the label when you're buying a ham. It's likely that you'll see a description that includes water. Hams that are wet-cured (brined) will sometimes have that brine injected into them. If the label says "Ham with natural juices" it probably has about 7 – 8% added water weight and this is the liquid that naturally comes out of the ham in the curing process. A ham that reads "Ham, water added" could have as much as 10% added water weight. Finally, "Ham and water product" could have any amount of water added to it, increasing its weight and consequently its price, but not its flavor. Your best bet is to find a ham that has only natural juices.
The label will also tell you whether or not the ham has been smoked. If it says "hickory-smoked" you can be sure it was smoked in a smokehouse. If it says "hickory smoke" in the ingredient list, that just means that liquid smoke flavor has been added to the brine.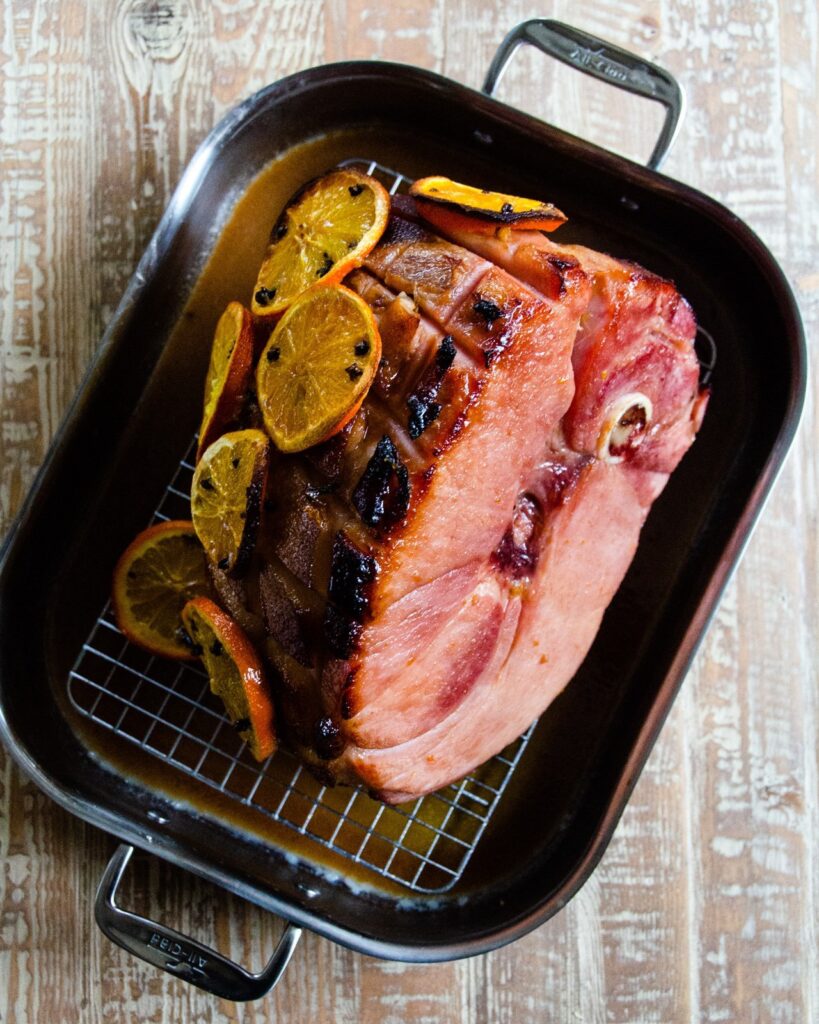 That's a lot of information… see, that's the hardest part. Once you've bought your bone-in (shank end or butt end), cured, smoked, city ham with natural juices, cooking it is easy. This recipe and video shows you how to score the fat on top of the ham (this helps render some of the fat and helps to crisp it up) and season it with cloves and orange slices (although you could use pineapple, apricots, apple, or other fruit). This recipe also includes a glaze that you can baste on the ham and reduce at the end to form a jus for the table. It's so easy if you have a couple hours to let the ham heat up properly. You'll just need a good roasting pan and rack, a bulb baster and a good basting brush to make the job really simple. If you do decide to cook a spiral-cut ham, cover the ham and pan with foil and increase the time to 15 minutes per pound. Then, uncover it and glaze it in the oven for 20 minutes at the end. Serve it with a delicious potato gratin and a green vegetable and some of the cooking jus at the table to moisten your already moist ham.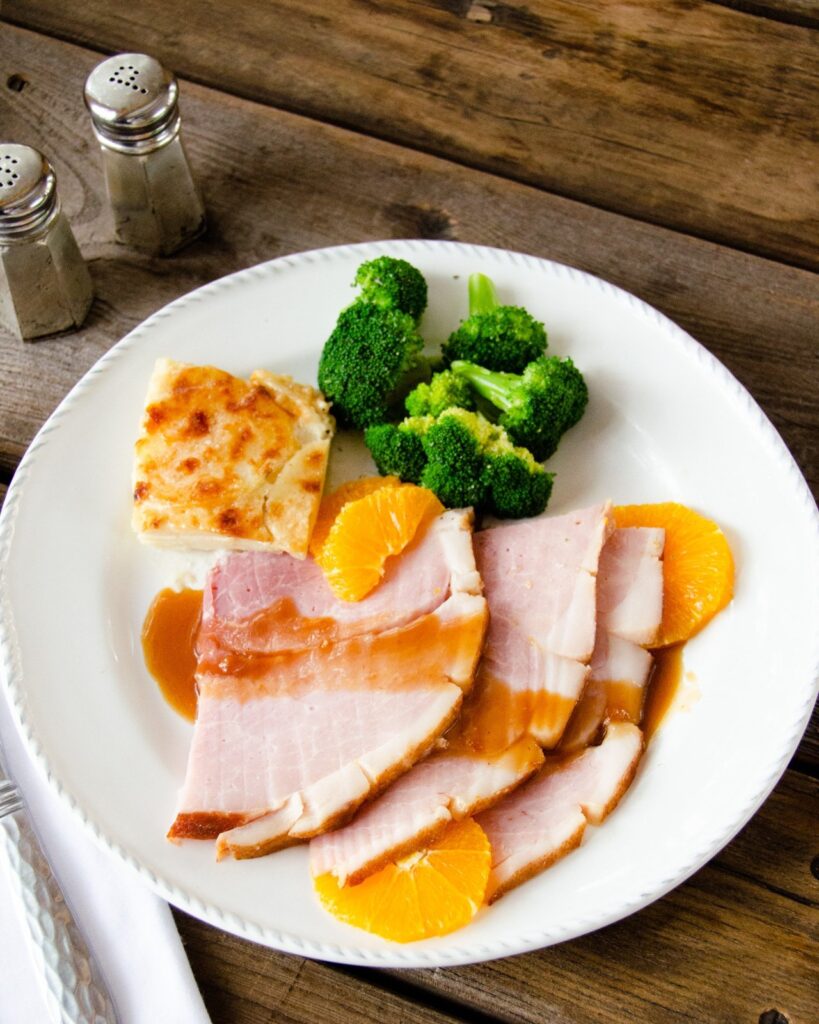 Don't save this delicious dinner for just one meal of the year. Surprise folks with it some Sunday afternoon when you have to time to sit back and watch it cook perfectly in your oven. It's so easy you might just surprise yourself!
If you don't have time to bake a ham in the oven, you can always make a deliciously moist ham in a pressure cooker (see recipe below) and glaze it under the broiler at the end. That's a sure fire way to get a super moist ham in just half an hour.