A ham is actually the rear leg of the pig, from shank to rump, that has been cured, sometimes smoked and sometimes fully cooked. There are three different preparations of ham that you can buy. The first and most common ham is called a city ham. It is wet-brined, usually smoked and fully cooked when you buy it. It can be eaten just as is, or baked and re-heated properly so that it retains its moisture. The recipe below is for a city ham, which is what most people are probably used to cooking.
The second type of ham you might find, especially if you live in Virginia, Tennessee or anywhere in Appalachia, is called a country ham. A country ham is dry-rubbed with salt and spices and hung to air-cure for months. It may or may not be smoked and it is usually uncooked. The flavor is concentrated and salty and it is not naturally moist. Cooking a country ham takes more attention than cooking a city ham. You need to soak the ham for a day and then simmer it in water to reduce the salty flavor before baking it. 
The final type of ham is a fresh ham (although this is much less common in most grocery stores). A fresh ham is raw and uncured. It is basically the rear leg of the pig. You could cook it the same way you might cook a pork shoulder (probably braise it) or you could cure it yourself at home and then cook it.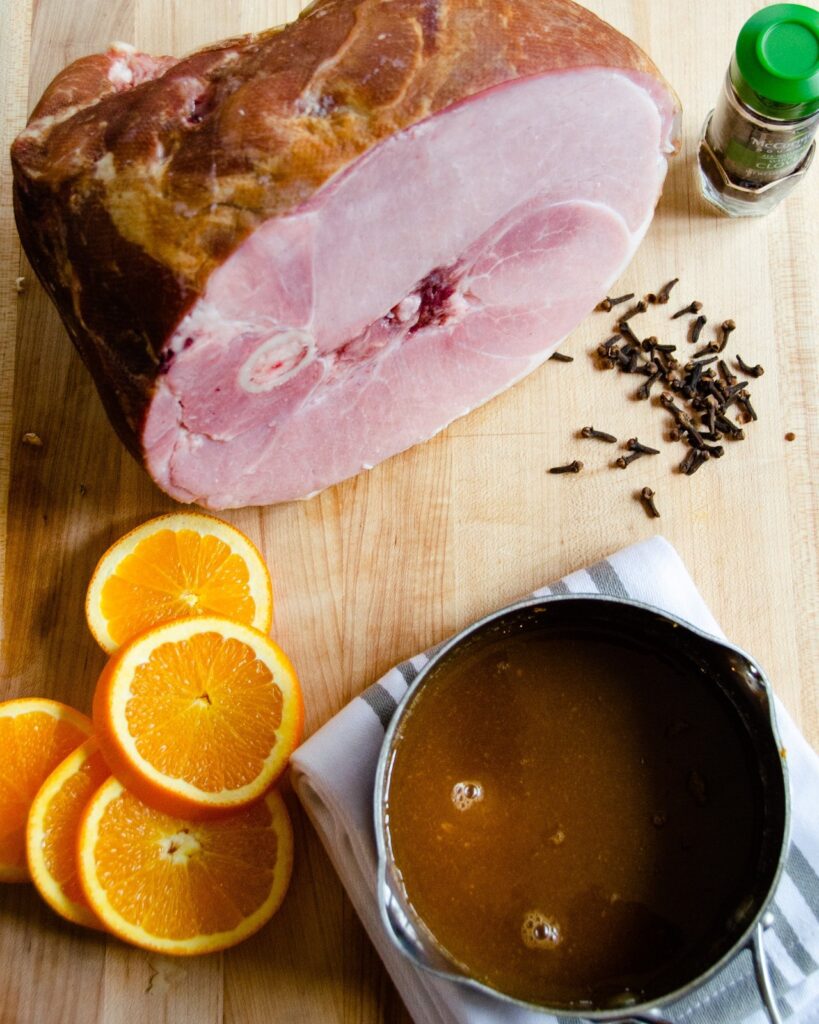 A whole ham is a significant piece of meat so unless you're feeding a huge crowd, you'll probably want to buy half a ham. Bone-in hams are cut into the butt end and the shank end and these two ends do differ slightly. The shank end of the ham has more fat (and consequently more flavor) and is easier to slice because it had one straight bone in it. The butt end of the ham is leaner and more difficult to carve because of the aitchbone (pelvic bone). Boneless hams have had the bone removed and then the meat is forced into an oval shape. The muscle does rejoin and appears to be a single piece of meat when cooked. I've always preferred a bone-in ham because it retains moisture well, tastes fantastic, PLUS you're left with a ham bone which is such a fantastic ingredient for making my favorite soup – split pea. Spiral-cut hams make slicing much easier, but they are more prone to drying out so you'll need to cover the ham with aluminum foil when baking it before removing the foil to glaze the ham for the final stage of baking.