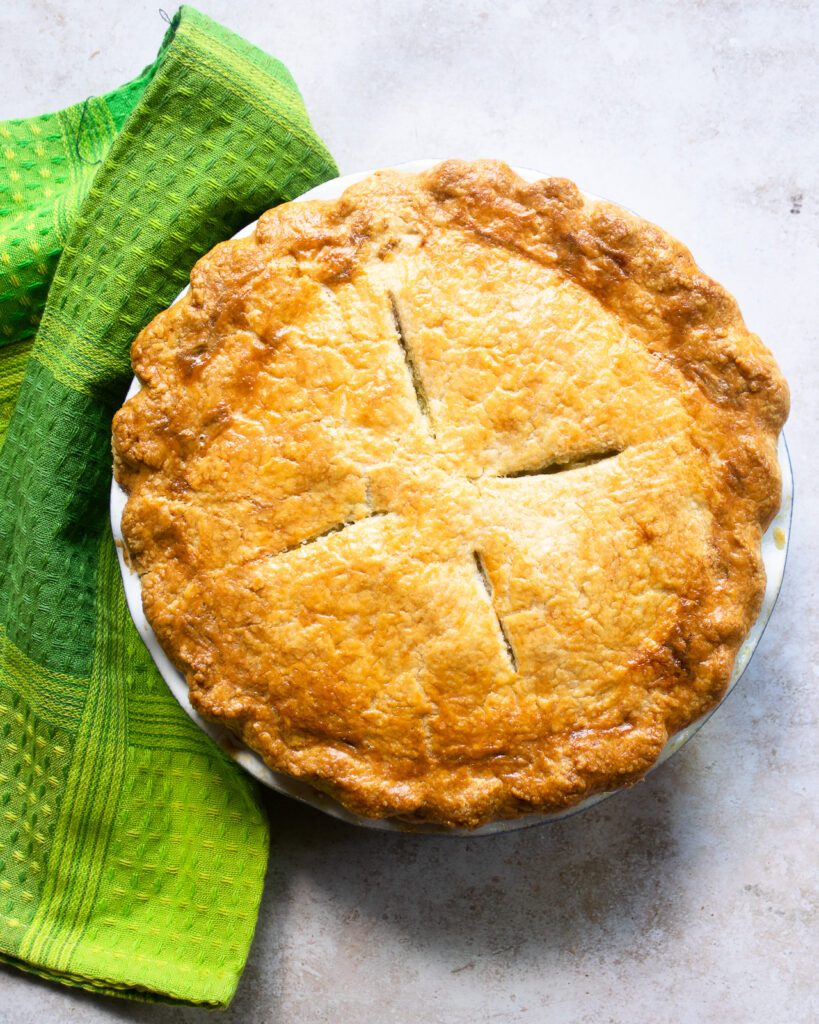 What to Use for a Vegetable Pie
A vegetable pie can be made with almost any combination of vegetables, but I always start with the basics – onions, carrots and celery. From there, take a look to see what you have in your refrigerator and think about texture and color combinations. Leeks are always lovely in a mix of vegetables, lending their gentle onion-y flavor. Butternut or another type of squash is a good veggie to add because it is colorful and its texture softens nicely, thickening the filling a little. Stirring in some kale or chard at the end is a good boost of nutrition and adds nice deep dark green to the mix. What is important regarding the vegetables you add is how you cut them. Leave the carrots in larger chunks to give some ummph to the pie. Finally, the addition of lentils or beans or chickpeas delivers some protein and sustainability (in other words – it will help sustain YOU) to the dish.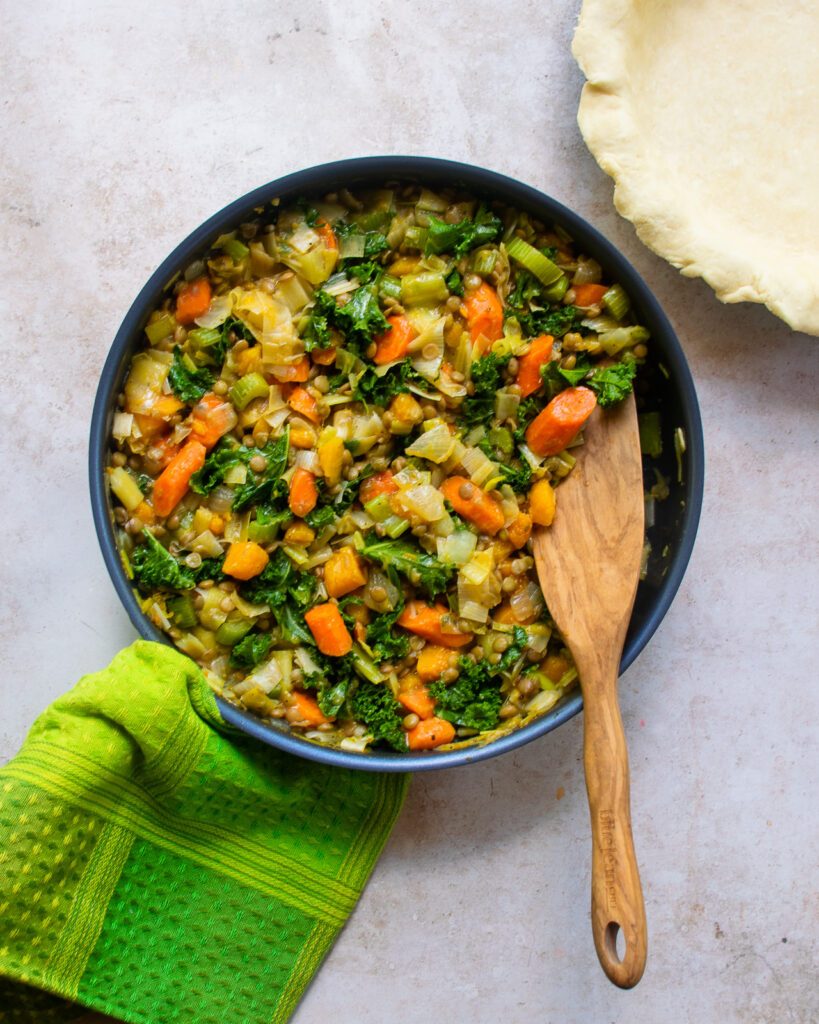 Pastry for Vegetable Pie
I use two batches of my regular pasty recipe for this vegetable pie, minus the sugar. That is necessary if you are lining the bottom AND top of your pie plate with pastry. If you're only going with a top crust, simply make one batch of pastry. Another delicious pastry crust is the pastry from my Tourtière recipe, with sour cream, Cheddar cheese and egg mixed in. It's a little more work, but SO delicious.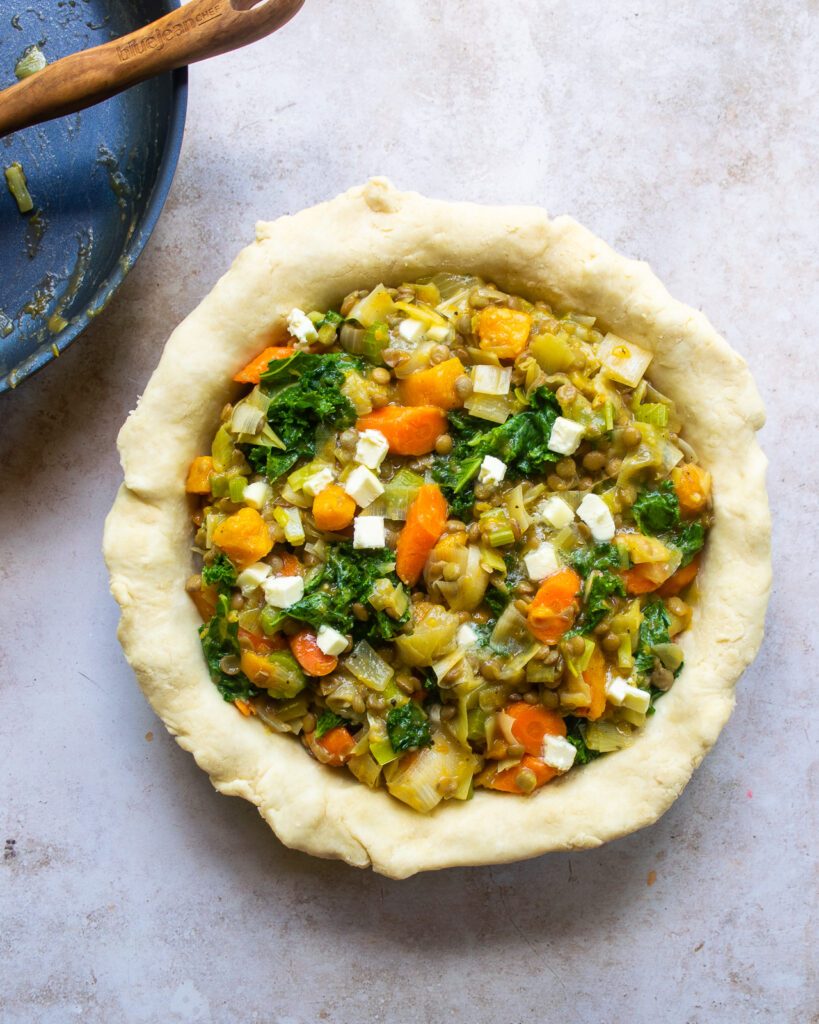 Make Ahead Vegetable Pie
If you would like to make this vegetable pie ahead of time, go for it! Make sure the vegetables are cold before you transfer them to the pie dish. Then, top it with the top crust and hold it in the refrigerator until you are ready to bake it. Or, pop it into the freezer, well wrapped in plastic, for up to 3 months. Defrost the pie overnight in the refrigerator and then bake OR pop it straight into the oven and add an extra 30 minutes of baking time, keeping your eye on the top crust. If it starts to brown too much, tent the top of the pie with aluminum foil.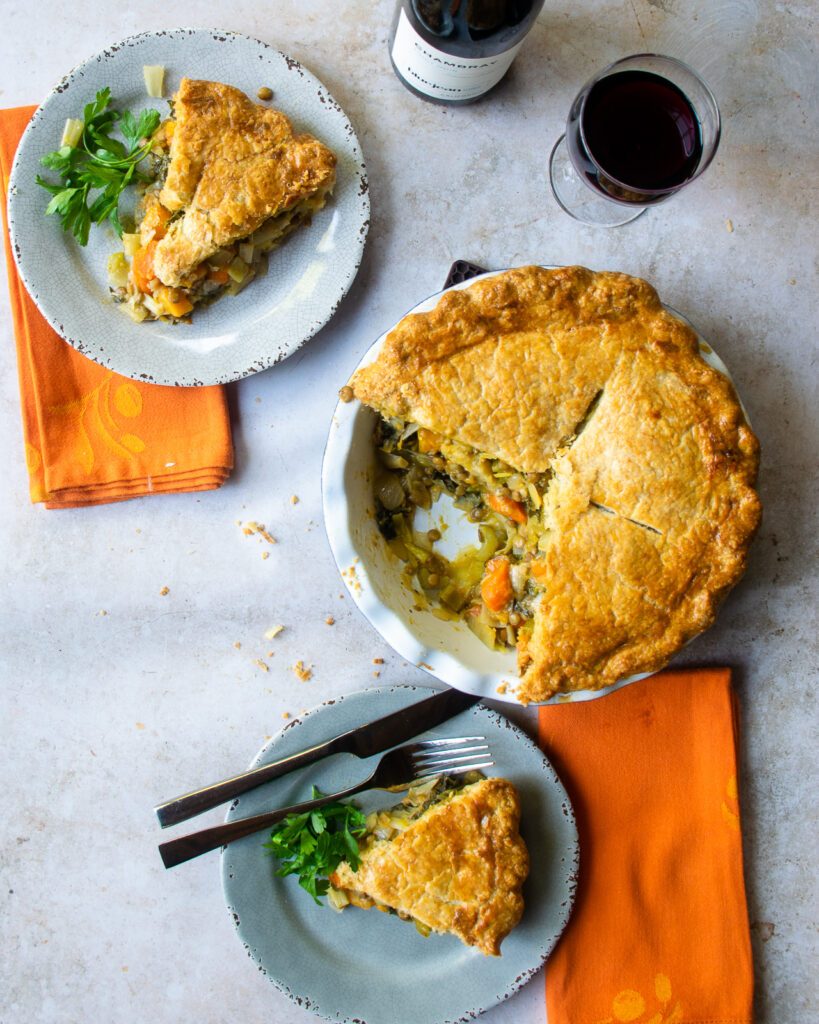 What to Serve with Vegetable Pie
This vegetable pie is so hearty and full of vegetables that you really don't need to serve it with anything. Some delicious mixed greens with a simple vinaigrette would be a welcome accompaniment, or you might choose to serve a little sour cream, chutney or tomato jam on the side.