Imagine going to a wedding and as a wedding favor, each person gets to take home a little jar of homemade tomato jam with a ribbon tied around it and a label hanging from the ribbon. That's exactly what happened at my dear friend, Lisa's wedding. She made this very recipe in bulk and made over 50 little jars of tomato jam. Lisa's tomato jam is something that people talk about after they've had it and ask her for the recipe, so all her friends and family were thrilled to receive a little jar at her wedding.
The jam is simple enough to make, although there are some steps that make it a little more time-consuming. Peeling and seeding the tomatoes is key. (You can read more about how to peel and seed tomatoes in this cooking school article.) Not only does no-one particularly want tomato peel or seeds stuck in their teeth when they are enjoying the jam, by removing both you are left with the tastiest part of the tomato. Because tomato is obviously the key ingredient here, the quality of the tomatoes does matter – try to use only the ripest, tastiest tomatoes you can find. Score the tomatoes, core the tomatoes, blanch them in boiling water and then shock them in an ice bath and the peels will come right off. How much of the inside of the tomato you remove depends on the tomatoes – if there is a white color to the tomato flesh, just cut it out along with the seeds. If the tomato is beautifully ripe and deep red inside, scoop the seeds out with your fingers and use all the remaining tomato in the recipe. 
The photo below is what the mixture of ingredients will look like when you put it all into the sauté pan – not as runny as you might expect. This will simmer, the tomatoes will break down a little and the flavors of the sun-dried tomatoes, caramelized onion, sugar and vinegars will blend.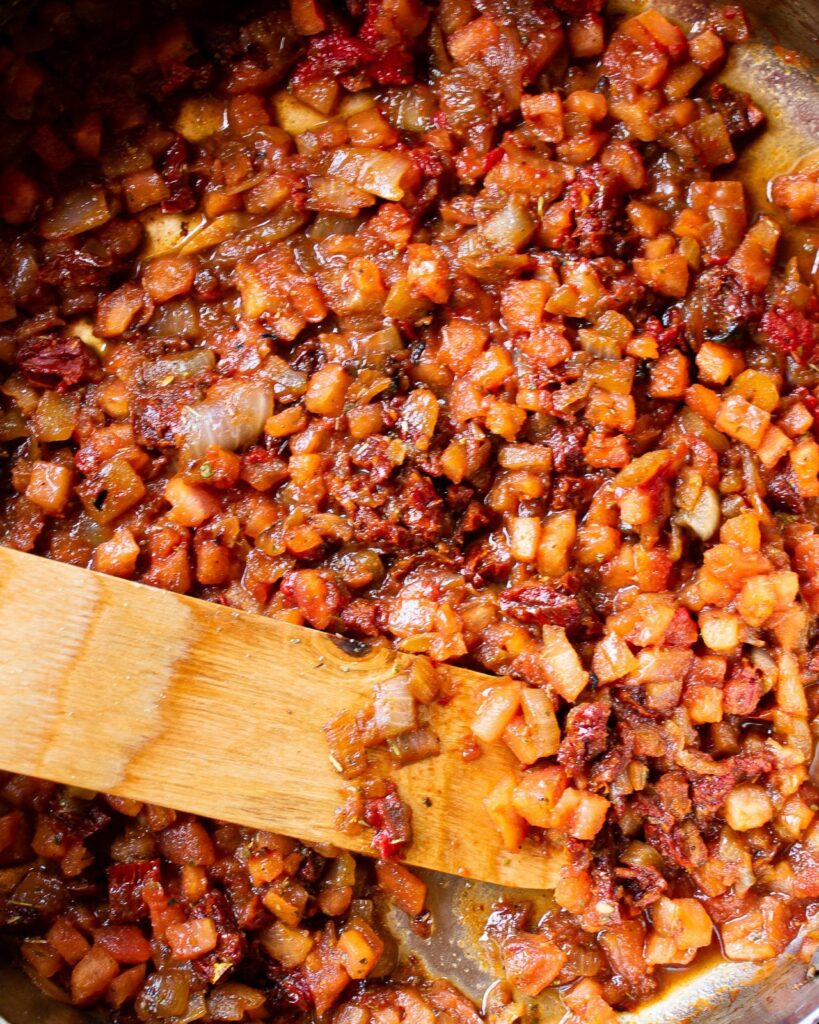 After simmering time, the tomato jam will have thickened and will look like the photo below. It will still be moist, but as you can see, most of the liquid will have reduced and the flavors will have concentrated in the jam. 
This recipe is a scaled down version of what Lisa made for her wedding and makes roughly 10 ounces of jam. That's a perfect amount if you want to have this jam on hand for several weeks to spread on sandwiches, toss in pastas, serve as a condiment for grilled meats or have as an appetizer with crackers. If you want to make more, simply increase the ingredient quantities and preserve the jam in jars sealed with the water bath canning method.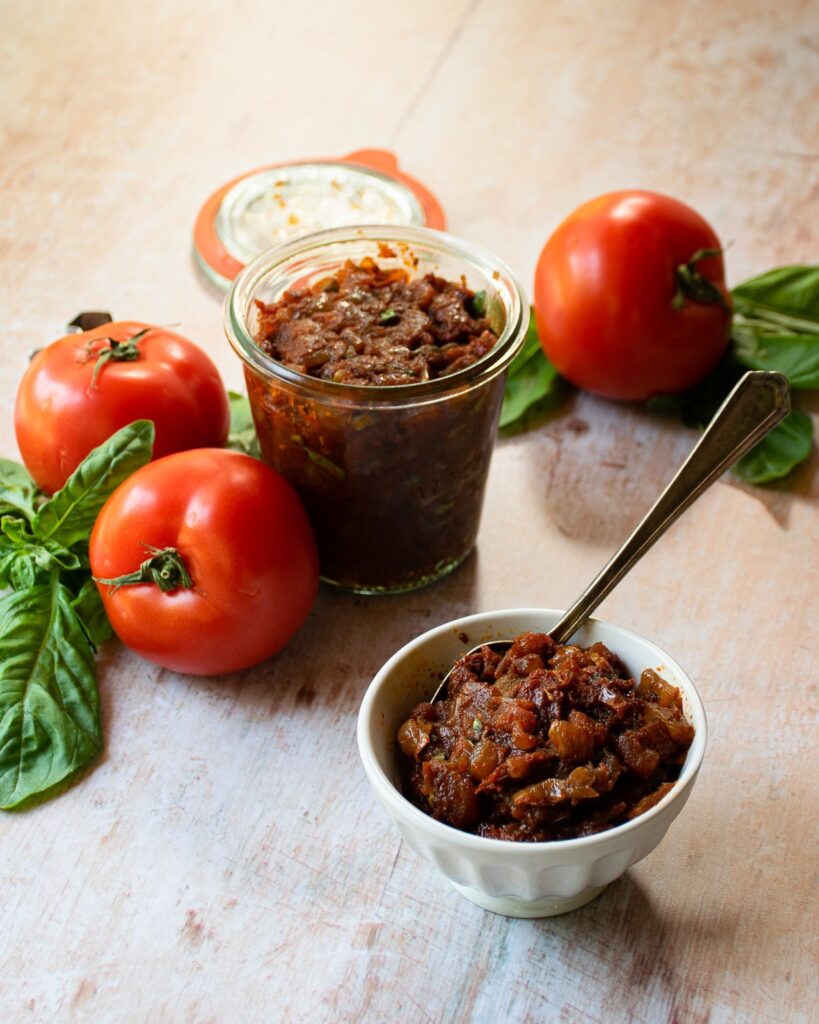 Goat cheese is a perfect tangy complement to this jam. A little jam spread on a crostini with some goat cheese and a little fresh basil is a perfect little hors d'oeuvres for any party. Enjoy the jam and raise a glass to Lisa and Will!